This post is written by me on behalf of General Mills. All opinions are entirely my own. This shop has been compensated by Acorn Influence, Inc. and its advertiser. All opinions are mine alone. 
Now that the holidays are behind us, I can return to my regular scheduled slumber party with the grandkids.
Several times a month, the grandkids come over for a weekend slumber party. The youngest is five and the oldest is 12-going-on-30. Thankfully, there's no diapers, bottles or anything like that to deal with. Did I say that out loud?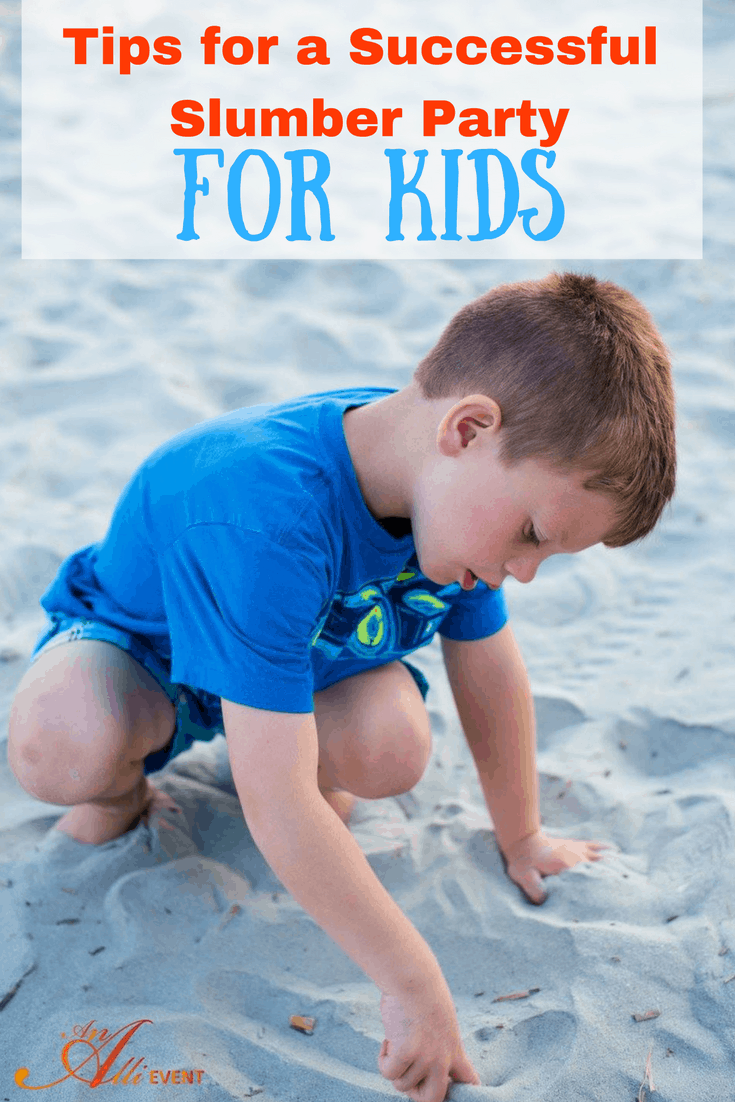 At this point, it's all fun and games . . . and the right foods. I've been hosting slumber parties for a long time – first with my kids and now with the grandkids. By now, I've got things down pat and I have to say that I'm the coolest Nana in town. At least that's what my grandkids think and I'm totally down with that.
So far, I haven't been awakened with loud music and found them dancing on the roof like I did when my son had a 16th birthday party sleepover. He and his friends were on the roof of the house in the middle of the night. Yikes! Now that's he's 28, I need to remind him of his wild and crazy antics.
Moving right along . . .
Tips for a Successful Slumber Party with the Grands
 Have Plenty of Activities on Hand
Kids get bored easily. I always have movies and card games planned. When all else fails, I grab all the throws and blankets and let them build a fort in the great room.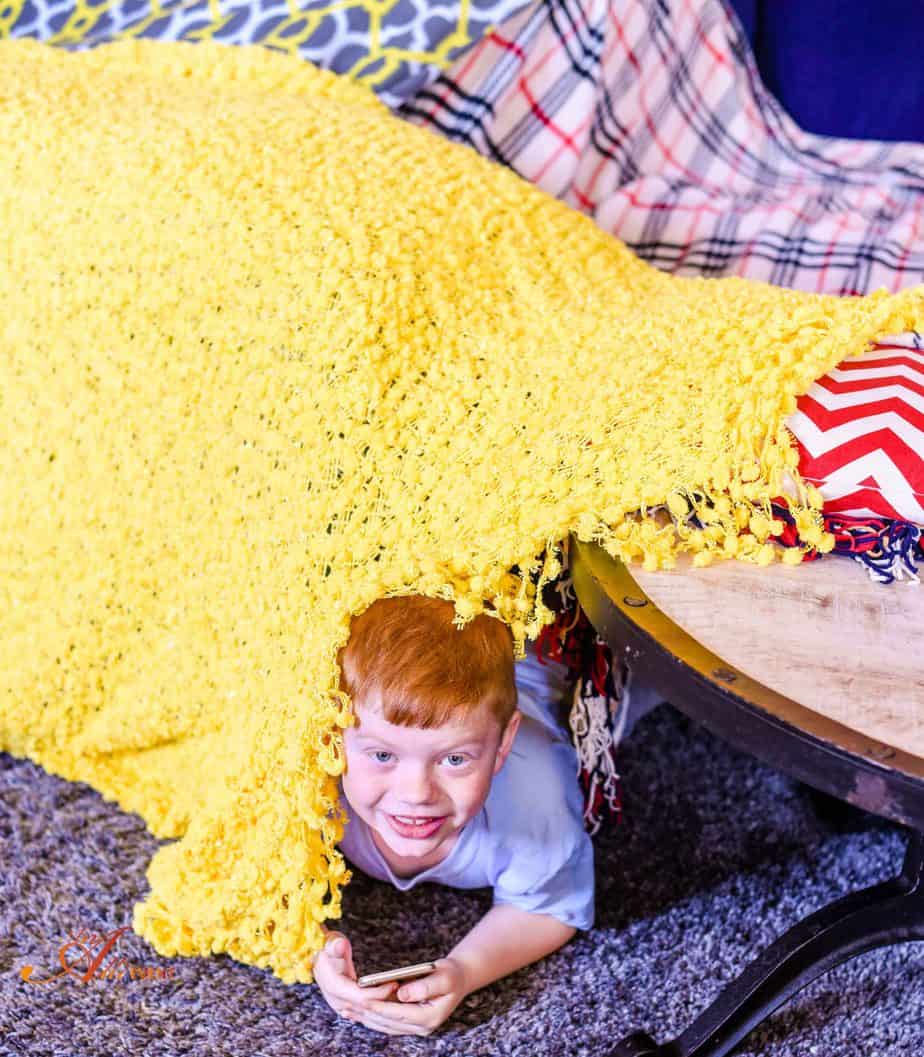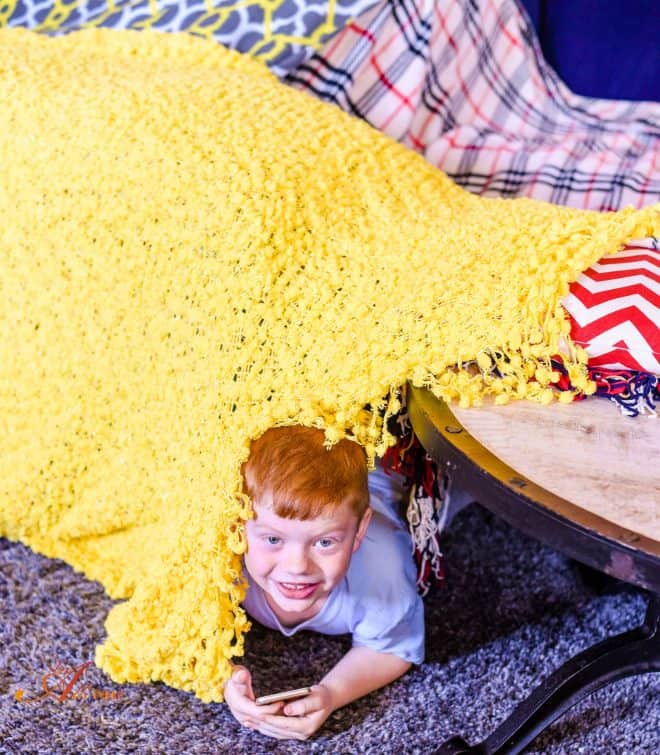 Thankfully, our grandkids are easy to please and they love to play anything as long as my husband and I play with them. Card games are favorites with all the kids. I won't mention that they routinely beat me when it comes to card games.
Helpful Hint: Being present for your grandkids is the most important aspect when having a slumber party.
Have Foods They Love
I always ask the grandkids what they want to eat when we have a slumber party. The two oldest reminds me to have plenty of milk on hand (it goes fast!). I've learned by now that their favorite cereals are Cinnamon Toast Crunch and Lucky Charms.
One of my grandkids is a really picky eater, so I make sure I always have something on hand that he likes. His request for breakfast is always the Cinnamon Toast Crunch with the milk on the side. That's right. He eats the cereal as is and drinks the milk. I've learned not to mix the two. Hey, whatever works, right?
Breakfast is our favorite meal of the sleepover. We all gather around the kitchen table, talking and enjoying each other's company. Of course, my husband has to have his Honey Nut Cheerios. It's been his favorite ever since it was introduced in 1979!
I've found that a wholesome breakfast is just the thing to get the kids ready for a day filled with fun and adventure. That's why I always add my family's favorite Big G cereals to my Publix shopping list.
Have a Few Ground Rules
I jokingly say, "What happens at Nana's stays at Nana's." Contrary to what the parents say, I do have a couple of rules. I'm thinking . . . thinking . . . I know I have some rules . . .
Oh, yeah! The youngest grandkids have a certain time to be in bed and I head to bed at the same time. The older grandsons stay up a little longer watching movies or sports with my husband. The arrangement works out perfectly and no one complains.
Spoil your Grandkids
Spoiling the grandkids (a little)  is the best part of being a grandparent. When their faces light up and they run and jump into your arms when they see you, you know you're doing something right. Of course, the 12-year-old-going-on-30 no longer jumps. He just smiles and gives me a hug.
There you have it, my Tips for a Successful Slumber Party with the Grandkids. Feed them their favorite foods, have fun and shower them with hugs and kisses. Easy peasy!
Have you ever hosted a slumber party for your kids or grandkids?