This shop has been compensated by Collective Bias, Inc. and its advertiser. All opinions are mine alone. #FallWithATwist #CollectiveBias
What's black and white and "fall" all over?  My tailgating party! And how do you know a party is a roaring success?  When everyone asks for your Spicy Chili in Super Rolls recipe.
Tailgating Party Ideas & Chili Super Rolls
I wanted to get away from the traditional "football field" tablecloths – yawn – so I created a black and white theme.  I'll say it's in honor of the refs since they don't get much respect, but I really wanted to glam it up a little bit.  This one is for the girls!  Oh, yeah, and I'm featuring veggie cuisine that everyone will love!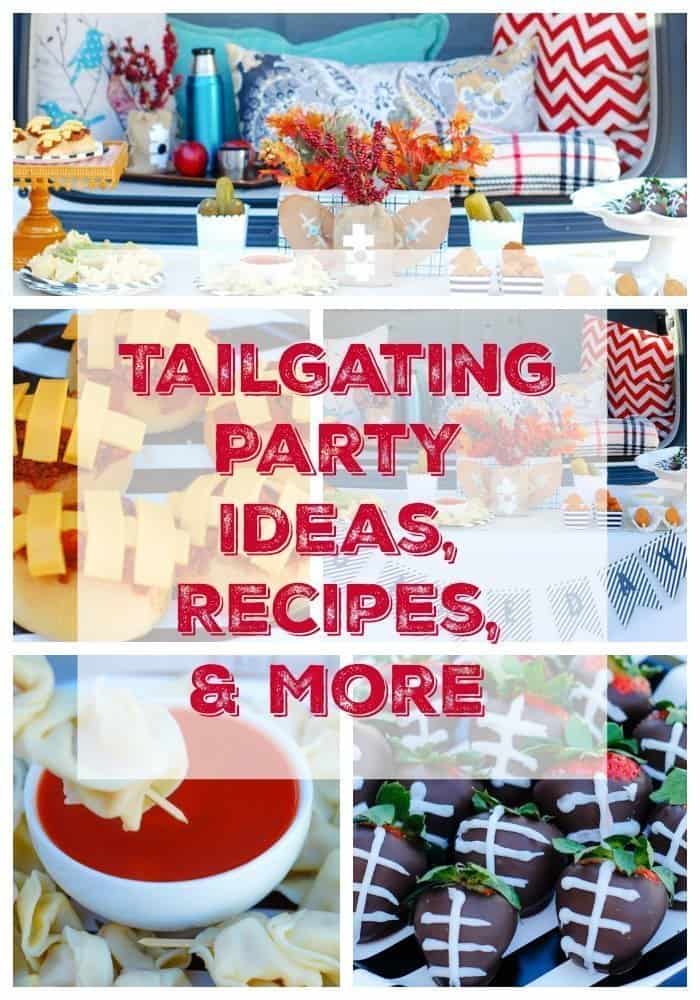 Grab All Your Ingredients
First of all, I headed to Target for all of my party needs, including stopping by the frozen foods aisle for MorningStar Farms Grillers Crumbles, Veggie Corndogs, and Chik'n Nuggets. I also bought a package of my favorite Spicy Black Bean Burgers for later.  Don't you just love one-stop-shopping trips?
DIY Centerpiece
Before the party, make the centerpiece using tissue boxes, construction paper, fall leaves/berries and little burlap bags.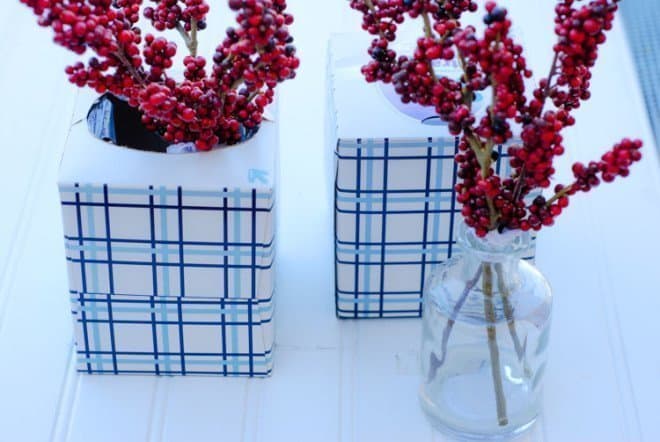 Now it's time to add a few buttons to make the football cutouts pop.
It only takes a few minutes to make the centerpieces. Now it's on to my Spicy Chili in Super Rolls. Here's my complete menu.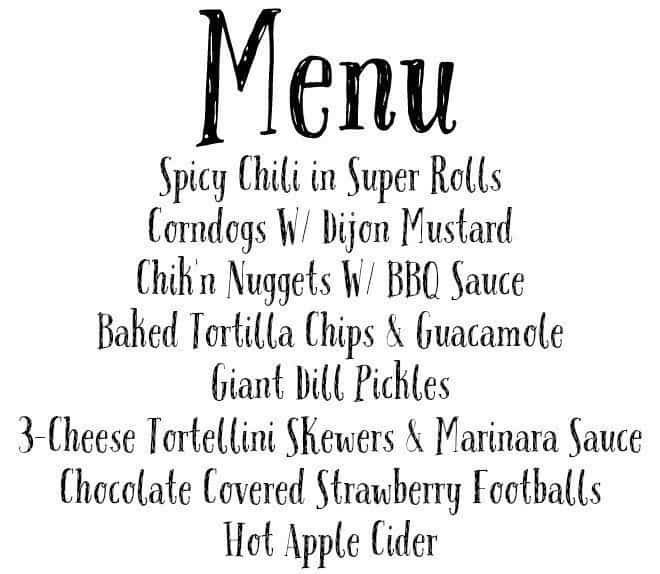 Homemade Spicy Chili
My homemade spicy chili is so easy to make and takes only 15 minutes.
Sauté chopped onions in olive oil until translucent (don't brown). Add 2 cups tomato sauce, 1 can diced tomatoes and green chilis and 1 can kidney beans.
Add 2 teaspoons chili powder and MorningStar Farms Grillers Crumbles, mix well and let simmer for 10 minutes.
Make the Chili Super Rolls
After the chili is done, cut the tops out of rolls and spoon in the chili. Top with cheese slices to represent football stitching. You've got Spicy Chili in Super Rolls – no bowls needed.
Chili Super Rolls
Ingredients
1 (12 oz.) package MorningStar Farms Grillers Crumbles
1 medium onion, diced
1 (10 oz.) can diced tomatoes and green chilis
2 cups tomato sauce
1 (15.5) can kidney beans
2 tsp. chili powder
Dinner Rolls
Cheese slices, for garnish
Instructions
Heat 2 tablespoons olive oil on medium heat.
Add diced onions and saute for two minutes or until translucent.
Stir in tomato sauce, diced tomatoes & chilis, kidney beans, chili powder and crumbles.
Simmer for 10 minutes, stirring occasionally.
Carefully cut out the tops of dinner rolls and stuff with chili.
Cut cheese slices to represent stitching on a football.
While the chili is simmering, dip strawberries in chocolate.  Once they are set, pipe football stitching with white icing. Aren't they cute?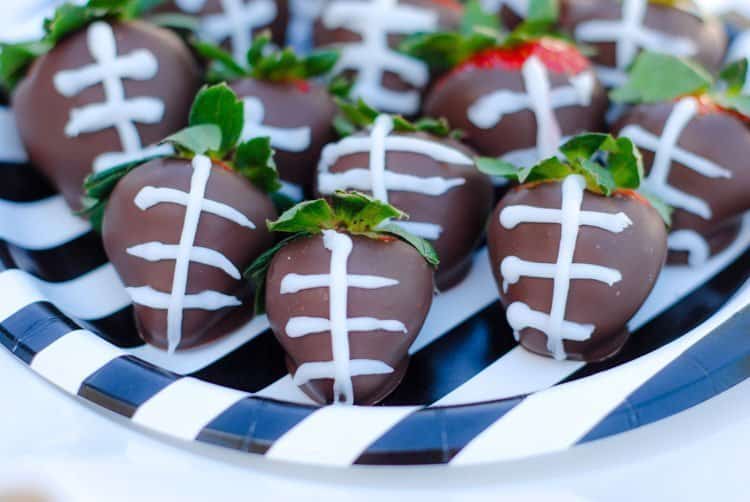 Corn Dogs and Chik'n Nuggets
The corn dogs and Chik'n Nuggets are heated according to package directions.  These corn dogs are amazing and you won't ever guess that they are meatless.
Tortellini Pasta Skewers
You will need fresh Tortellini pasta.  After cooking the pasta, rinse in cold water and thread the pasta onto little skewers.  Marinara sauce is perfect for dipping.
And what tailgating party is complete without baked chips and guacamole?
Now that all the food is ready, let's set up the party!
I used fall inspired pillows and throws to warm up the "tailgate" of my SUV.  This is where I served Hot Apple Cider in thermos bottles.
A white table cover with a gold-threaded burlap runner adds a little glam to my tailgating party. It looks a little bare here, but just wait.  This is just the first step.
Add pops of fall colors, mix up some patterns and create a warm, cozy party atmosphere.
Helpful Hint:  When setting up for a party, I always shop my house first.  You'll be surprised by what you can come up with. It saves time and money.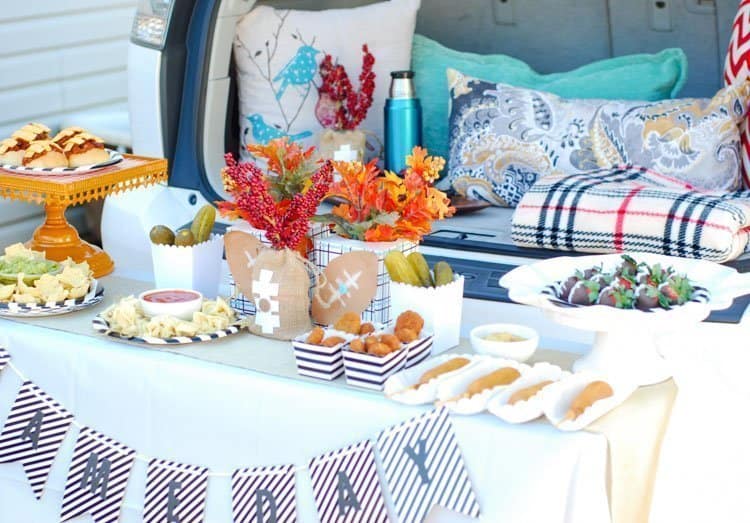 Thanks for stopping by my Veggie Cuisine Tailgate Party.  The meat-lovers and vegetarians all enjoyed my spread.  What's your favorite?