Before I scored my huge dining room table, I always needed a separate table for the grand kids on Thanksgiving.  To be honest, I've always loved styling the kids' space as much as I do the adult table.
Currently I have two grands that are 5 and under, so I decided to go ahead and create an easy Thanksgiving Day Kids' Table to keep them busy before the meal is served.
Helpful Hint:  Kids have a tendency to be much more excited at special dinners such as Thanksgiving and Christmas.  Always have a few non noise making toys, coloring books, crayons, activity books, etc. on hand.  The parents and other guests will be thankful!
In case you missed it, here's the kid's table I did a couple of years ago.
When I was wondering how I would style this year's table, I came across some contact paper with a twist.  It's chalkboard contact paper complete with chalk and a tiny little towel to wipe away mistakes and I knew I had to incorporate it into my design as a table runner.
My round coffee table was chosen with my grandchildren in mind and makes a perfect place for kids to eat!  It's rustic, industrial and can take a beating, but what I like about it the most is that you can adjust the height.
Since all of my grands are boys, I couldn't get too fru fru with the centerpiece, so I used 2 very old toy trucks and loaded the back-end with small pumpkins.  Easy, peasy, but so boyish and indestructible!  It's A-OK to play with this centerpiece!
I bought the cute little Indians, complete with crayons, at Hobby Lobby.  The "chargers" are the owl chair back covers that I used last year.  The seating is my blue garden stools.  They match the napkins beautifully.  The kids won't notice, but I will.
Helpful Hint:  When styling a table for kids, never use breakable or complicated centerpieces or lighted candles.  If you need candles to tie in with the adult table, use battery operated ones in unbreakable candle holders.
I know the grands will have a blast drawing pictures with chalk while the finishing touches are being added to our Thanksgiving dinner.  Speaking of chalk, these little chalk board tags (from Amazon) can be used over and over and make the cutest place cards.
Disney has some great autumn centerpiece and craft ideas.  I really like the one below.  Click here for more!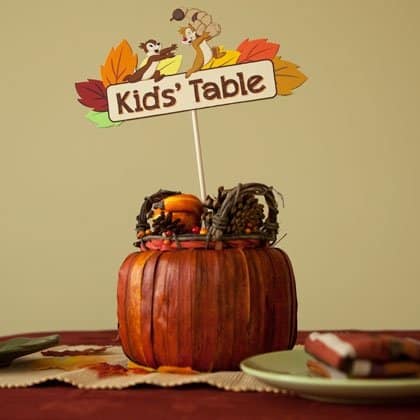 How do you style your Thanksgiving kids' table?