Tis' the season for non-stop holiday parties!  It seems as if it's a never-ending celebration from Halloween to New Year's Day!  Are you hosting any events this season?  Here's my tips on how to make it through the party season with your sanity intact!
 Top 10 Holiday Planning Tips
1.  Plan ahead
It's vital to plan ahead by choosing your party date and mailing or emailing Save the Date cards.   Remember, the closer the date of the party is to the actual holiday, the more likely it is that your invited guests will already have plans.
I like to schedule Christmas parties for the beginning of December.  It helps get me and my guests in the mood for Christmas.  Plus, once it's over, you can breathe a sigh of relief at how awesome it was and that it's, well, over.
Helpful Hint:  Thanksgiving invites should be sent out at least 2 weeks before Thanksgiving, and up to six weeks beforehand.
Christmas party invitations should be mailed at least a month in advance.  Calendars fill up fast in December.
What About the RSVP?
When throwing a party, an enclosed RSVP card (formal) or a phone number/email (informal) is vital!   RSVP, the abbreviation for the French phrase "respondez s'il vous plait," means please respond. When you send an invitation with an RSVP enclosed, the invited guest should let you know whether or not they will be attending the party.
My biggest pet peeve when planning a party is for invited guests to be rude and not RSVP!  Yes, it's plain rude not to do so.  If your event is catered, you will probably be paying per person so you need to know how many people will be attending.
There should be no hard feelings if the invited guest has other plans and sends his or her regrets.  But if they RSVP that they will be there and are a no-show (without a valid excuse), that's just not cool.
2.  Decide on a theme, just don't go overboard!
There is such a thing as too matchy matchy and too themy!  Always remember, less is usually more!
I've done several variations of Christmas parties including A Carolina Coastal Christmas Party, a Gingerbread House Decorating Party for Kids that was featured in an online magazine and here's my Thanksgiving Day 2013 tablescape.
3.  Write Out Your Menu & Grocery List
I usually plan my menu at the same time that I'm blocking out the time and date of the party.  And I tend to go overboard on the menu and wind up exhausted at the party!  Simple is better!  Look through your (or my) recipes and find foods that can be prepared ahead of time.  I tend to shy away from foods (except for rolls, etc.)  that must go into the oven right as the guests arrives.
Helpful Hint:  If you don't like to cook, have your meal/appetizers, etc. catered.  If it's not in your budget to have the meal prepared by a "for real" caterer, talk your BFF, who loves to cook, into helping you!
If you do have your dinner party catered, make sure you arrange the delivery or pickup, etc. in advance and call a few days before  the party to confirm.  I usually go a step beyond and call the morning of the party, too.  I tend to be a little overboard in that area!
Helpful Hint:  I always prepare more food than I think I'll need.  You can always send the leftovers home with your BFF or refrigerate/freeze leftovers for another day.
4.  Line up any extra help you may need.
Your BFF would love to help co-host your party or ask some high school kids to help out.  I once did a Springtime in Paris luncheon and asked the youth group at our church to be the servers.  They all wore black slacks and white shirts and did a wonderful job!  They enjoyed serving, cleaning up and eating afterwards!
5.  Make sure your crystal, china, table linens, etc. are clean, wrinkle free and ready to use.
I always set the table the day before the dinner party.  It saves so much time!  I usually shop my house, yard and woods for centerpieces.  I tend to not use store-bought flowers that much.  I'm more into natural, rustic, free DIY centerpieces.
6.  A couple of days before the party, clean your house.
The day of, you only have to dust and tidy up the bathrooms, making sure you have fresh hand towels, soap, etc.
7.  The day before the party, do as much of the cooking as you can.
You don't want to feel rushed the day of the party!
8.  Have a playlist ready!
When the first guests arrive, there can be an awkward silence, so it's good to have music playing softly in the background.  For really large parties, I have an icebreaker game ready to go so the guests will start mingling.
You can find a great playlist here!
9.  On the day of, finish cooking and set out appetizers (that won't spoil) an hour or so before the party begins.  Wrap tightly to ensure freshness.
10.  Make time for a nice, relaxing bath (heck, who am I kidding – I jump in the shower with mere minutes to spare) so that you will feel and look refreshed. Most importantly, smile and have fun!
No one likes to arrive at a party and be greeted by a hostess that is tired, on edge, grouchy and nervous.  Trust me, it shows!
Helpful Hint:  When hosting a formal dinner party, here's the proper way to seat dinner guests: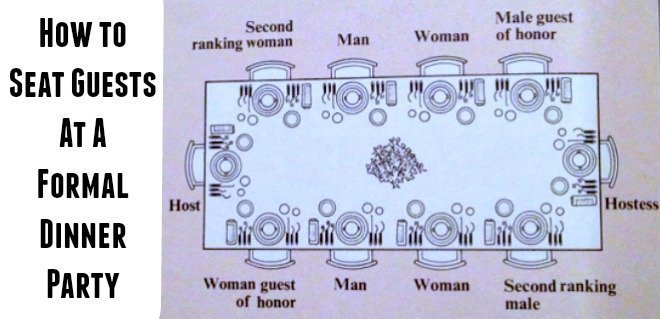 Do you host a holiday party?  If you're attending a party, here's some fabulous homemade hostess gifts!  Need help setting a formal table?  Find it here!