I teamed up with Farm Rich #SmokehouseBBQ and Sverve to bring you this Smoky Halloween Monster Bash. I was compensated, but all opinions are 100% mine.
October always kicks off a busy holiday party season around here. Just looking at all the upcoming commitments can make me tired!
But I've found some shortcuts that save time in the kitchen, yet looks like I've been cooking all day long!
I mean, really, who has time to cook on Halloween? Not me! That's where Farm Rich Smokehouse BBQ meals come to the rescue!
They have an entirely new line of multi-serve meals at Walmart, featuring all-natural, hand-pulled meat with no preservatives! And doesn't the fall season just scream for barbecue? It does at my house!
Please Note: This post was originally published in 2014 and updated on October 19, 2022.
I can no longer find Farm Rich Smokehouse BBQ meals in my local store. After extensive research, I do believe these meals have been discontinued.
However, you can use my slow-cooker BBQ pork recipe OR your favorite BBQ to make my monster sliders!
My Smoky Halloween Monster Bash is so easy to put together. You can even use an entirely different sandwich filling if you'd like.
How To Make Smoky Halloween Monster Bash Sliders
My little monsters are so simple to make. You will need:
Hawaiian rolls for the body
Whole green olives with pimentos for the eyes (attach with toothpicks)
Pickles
BBQ for the filling (or whatever sandwich filling you want to use!)
Spoon a big mound of pulled beef brisket into the "mouth" of the monster so that it looks like his mouth is open! Gross, I know, but kids love it! I promise!
Helpful Hint: I used 1/2 of the beef brisket for the little monsters and the other half for my special recipe below.
I added my own barbecue sauce and pickles and they are good to go.
Talking about quick, delicious, and easy! Aren't these little monster sliders adorable?
If you know me, I can't just stop at one thing.
The little monster sliders may be the main attraction, but the star of the show is a recipe I created using pulled beef brisket.
Let me introduce you to my BBQ Beef and Spinach Nachos!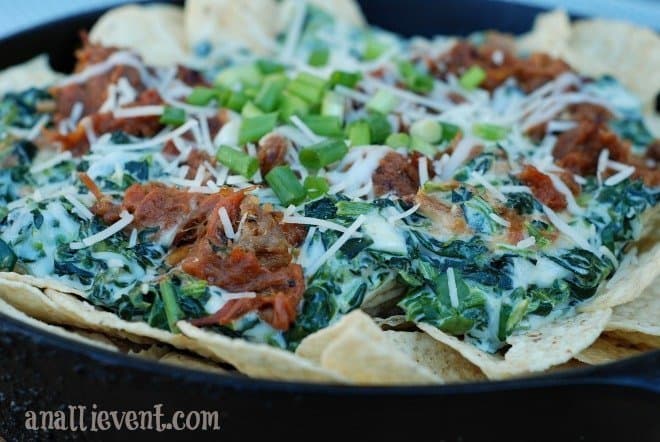 BBQ Beef and Spinach Nachos
Pulled BBQ Beef Brisket and Spinach Nachos are delicious and easy to make.
Ingredients
Pulled Beef Brisket (14 oz.)
2 Tablespoons butter
Frozen spinach, defrosted, with excess water squeezed out (9 Oz)
1 tsp. minced garlic
1 cup heavy cream
1-1/2 cups shredded mozzarella
1/4 cup grated Parmesan cheese
Tortilla Chips
Chives and extra cheese to garnish, if desired
Instructions
Prepare Pulled Beef Brisket according to the directions on the package.
About 5-7 minutes before the beef is done, melt butter on medium heat. Stir in minced garlic and stir for about a minute.
Add spinach and heavy cream and increase heat to medium-high. When the mixture begins to boil around the edges, add cheese and stir until melted.
Mix 1/2 package of beef brisket into the spinach mixture.
Layer tortilla chips in a cast iron skillet and pour the spinach/beef mixture in the middle.
Bake at 350 for 10 minutes. Serve warm.
Notes
I used Farm Rich Smokehouse Pulled Beef Brisket when I created this recipe in 2014. Farm Rich has now discontinued their BBQ product line. Please check your grocery store for other brands of pulled beef brisket (Jack Daniels, Brookwood Farms, etc.)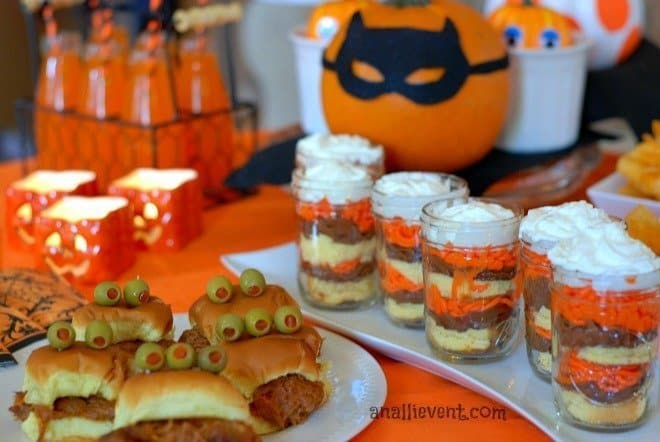 A layered pound cake dessert and orange soda are added to my Smoky Halloween Monster Bash.
Easy DIY Bats
You can attach "bats" to the orange and black straws. Make the eyes by dotting the knotted black ribbon with white chalk.
What did the family think about my pulled beef brisket monsters? The kids and the adults scarfed them down.
This Smokehouse Monster Bash was a really big hit with my grandkids. They loved everything about this party – from the decor to the food, it's a monster smash!
You Will Also Love These Recipes!