Whether you're cooking a romantic dinner for your beau, baking Valentine's Day cookies for your children, or throwing a huge party, we've got you covered. These Valentine's Day Recipes are
And if you like sweets (who doesn't?), you've come to the right place, baby! We're gonna give you some sugar!
Before we dig in, I have to give a shout-out to my fellow southern girl blogger friends for bringing you some amazing Valentine's Day recipes – southern style. You rock! I'll take one of each, please.
Best Valentine's Day Recipes
Check Out These Delicious Valentine's Day Strawberry Recipes
Did someone say strawberries? Is it wrong to want Stacy's Strawberry Cake with Buttercream Icing for breakfast? I have a thing for slow cooker recipes and I'll be trying these Crockpot Strawberry Brownies soon. Be sure and click the links to get the recipes.
This Raspberry Souffle Looks Amazing
Looking for a sophisticated dessert? You've found it. This Raspberry Souffle from The Wetherills Say I Do is the ideal dessert for that special Valentine's Day dinner. If you've got a movie in mind, be sure and make this Valentine's Popcorn. Yum!
This Dulce de Leche Peach Pie is calling my name! Need a kiss? These Rice Crispy Treat Kisses are sure to put a smile on your family's face AND include a free printable! Click on the recipe and visit the Tiptoe Fairy for these yummy sweets.
Valentine's Day Chocolate Desserts
Valentine's Day would not be complete without a little (or a lot) of chocolate. These Chocolate Crumble Baked Donuts from a Savory Feast and the homemade Snickers Fudge Bites from Creative Southern Home will fix all your chocolate cravings.
No southern girl is ever without her iron skillet, right? Dish up some of Written Reality's Easy Skillet Strawberry Cobbler and a scoop of ice cream and all is right with the world. But, wait, there's more – Caramel Cream Bonbons. You had me at caramel!
This easy (that's my kind of recipe) Valentine's Day Chocolate Bark and these beautiful White Chocolate Dipped Heart Cookies from Sunshine & Hurricanes are delicious and oh, so pretty!
Strawberry Soup is one of my favorite soups and the perfect start to that special dinner. You can find the recipe at Little Family Adventure. My Chocolate Trifle with layers of crushed heath bars is not only easy, but it's one of my most requested dessert recipes.
This list would not be complete without leaving you with some party ideas and inspiration from Sarah Sofia Productions, Weddings & Events. The Brie cheese with the cutout heart would be the star of any party.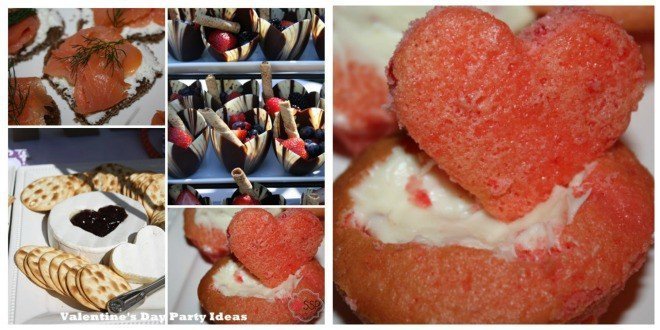 To grab these scrumptious Valentine's Day recipes, be sure and click on the highlighted title of the recipe.
What's your favorite Valentine's Day food?