This shop has been compensated by Collective Bias, Inc. and its advertiser. All opinions are mine alone. #LoveOurVDay #CollectiveBias
I always look forward to Valentine's Day. Over the years, my husband has showered me with roses, candy and beautiful gifts and surprised me with romantic weekend getaways. He always says that Valentine's Day is all about me. I could go on and on about how sweet, kind, compassionate and romantic he is, but you get it, right?
I usually cook my husband a delicious, gourmet Valentine's Day dinner and hand him the least cheesy card I could find.  B O R I N G!
This Valentine's Day I decided to heat things up a bit by creating an unforgettable, romantic Valentine's Day date night gift basket for him (and me).  That's the beauty of this gift basket;  it's a his-and-hers kind of thing.
Sure, dinner and a movie are always fun, but SO predictable. Yawn.  I'm going all out and surprising my husband with a Valentine's Day spa date night at home.  I've included subtle hints in his gift basket.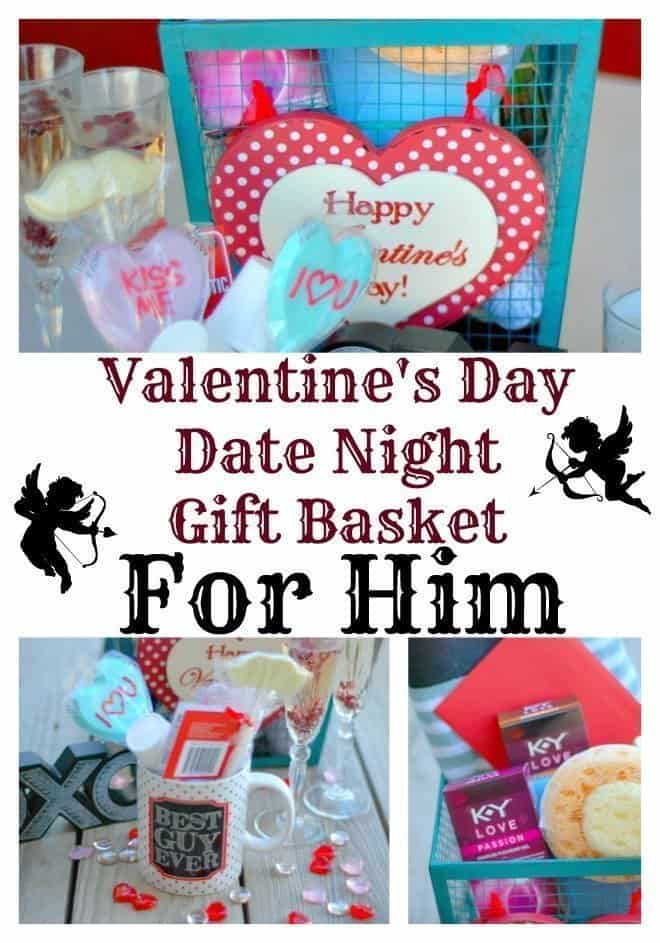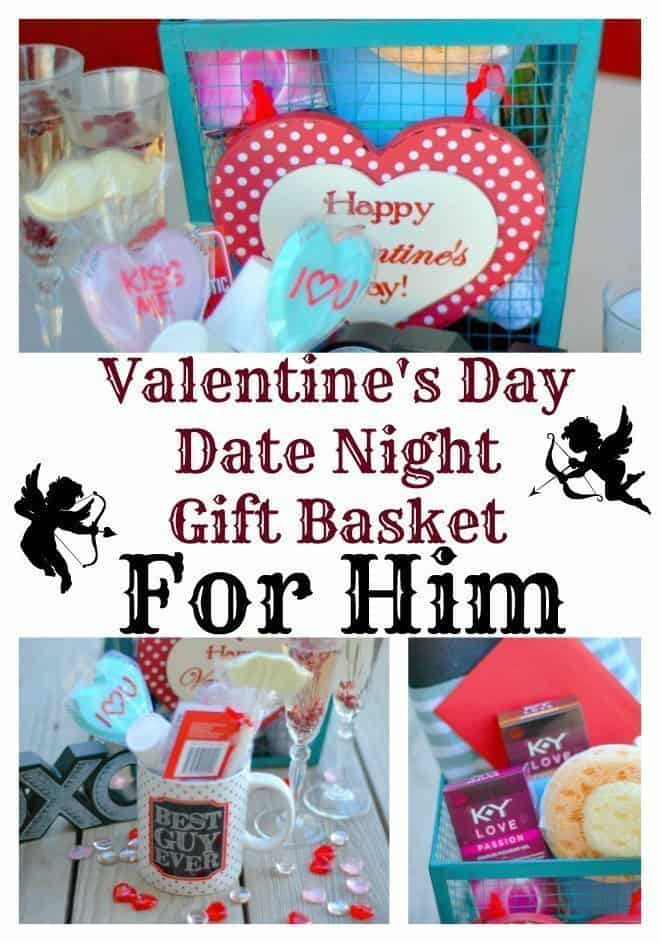 Let's face it, a romantic gift basket for a man can be tricky. Good thing my local Target has date night goodies to surprise my husband with.
Here are some tips to help you create your masterpiece!
Pick out a cool container.
I'm in love with this blue, rustic wire basket.  You could also go a completely different route and use a dop kit, messenger bag or backpack.  Let your imagination run wild!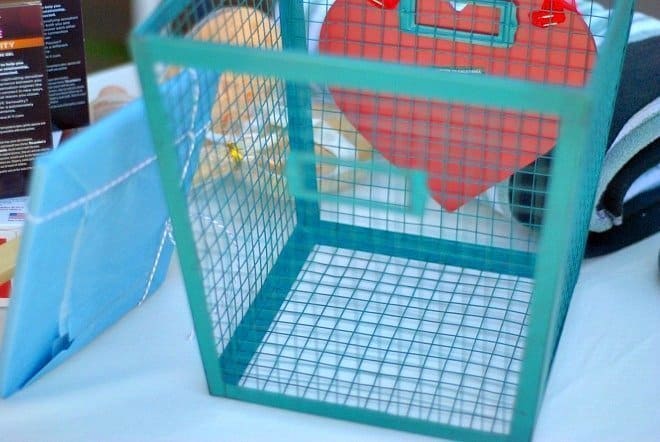 Decide on a theme.
Since this is a Valentine's Day gift, my theme is a sweet & spicy spa/date night at home, so I looked for ways I could pamper my husband.  I found the coolest, manliest towel (on sale) at Target and grabbed it.  I added other bath accessories including a loofah, a natural-bristle back brush, and his favorite shower soap.  Don't forget to include a card or, better yet, a handwritten love letter!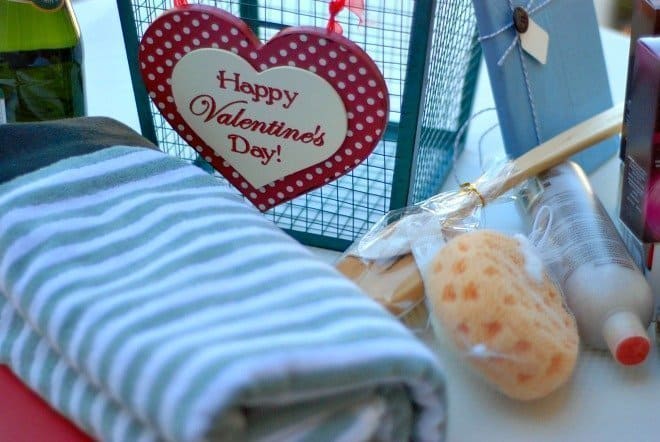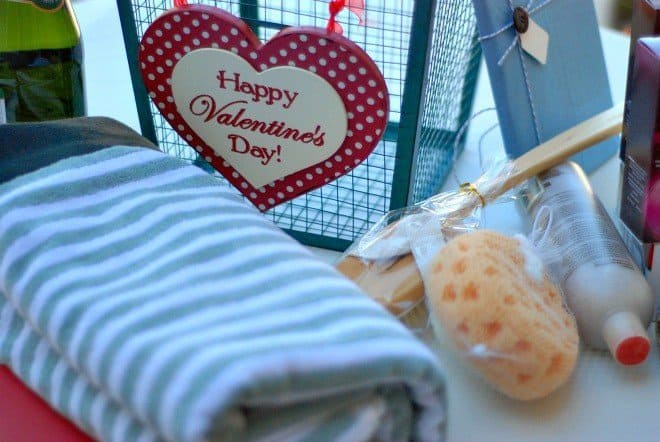 Helpful Hint: One of the ways my husband and I have kept the passion in our marriage for 30+ years is by having frequent date nights, so I added a few items to promote intimacy.  Oh, stop blushing! Keep reading and you'll be thanking me later.
After perusing Valentine's Day displays and the beauty/bath area in Target, I wandered down the feminine care aisle and found a new product by K-Y®.
K-Y® Love Passion and K-Y® Love Sensuality is exclusive to Target for Valentine's Day and is the perfect, intimate gift to add to my husband's gift basket.  I decided to live life on the wild side and grab one of each!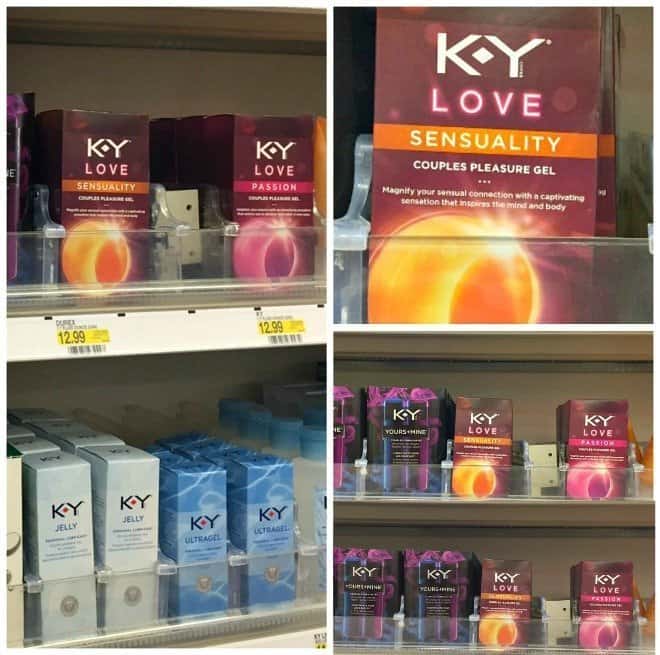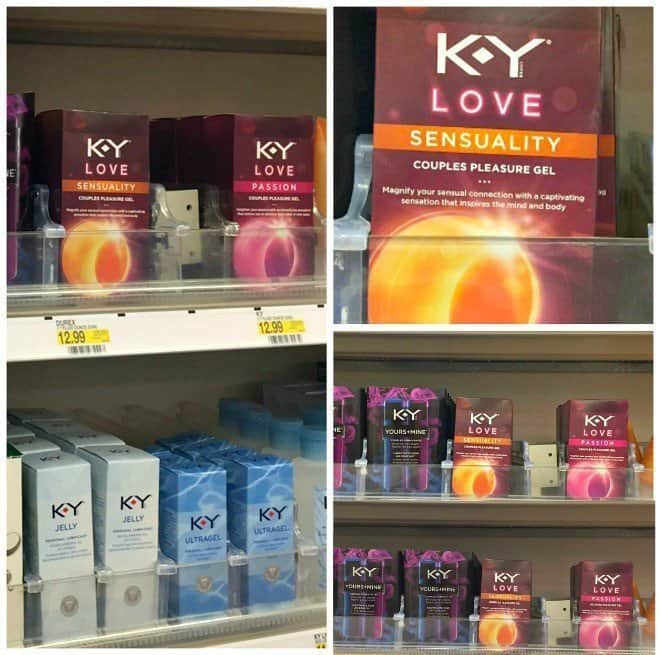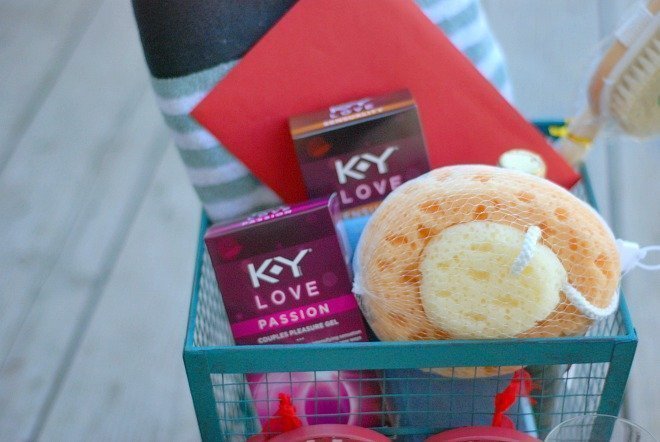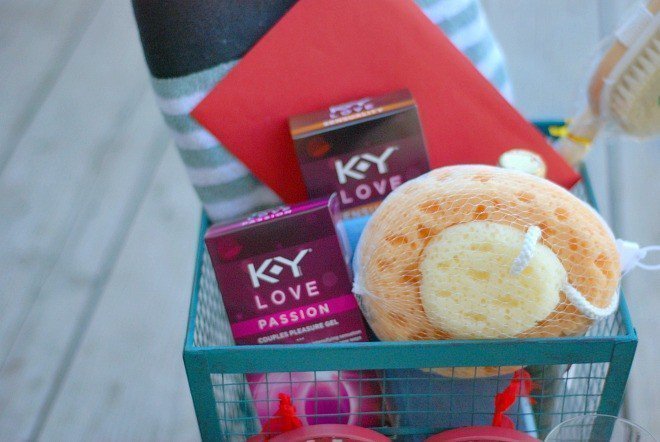 Use tissue paper as a filler AND to wrap some of the gifts.
I always like to include a couple of wrapped gifts in a basket.  I added a box of chocolates since it is a Valentine's Day gift.  Chocolate is also an aphrodisiac.  Wink.   I used twine, tissue paper and added a button.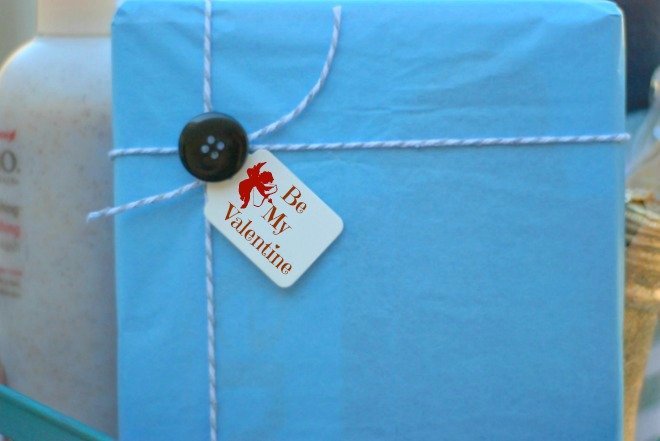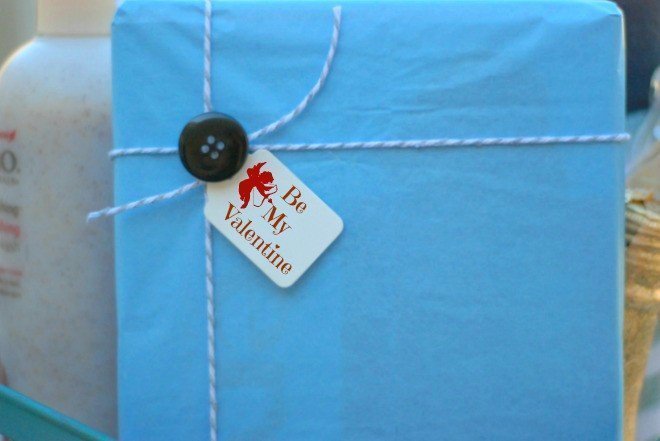 3.  Arrange the gifts in the basket.
Place taller items in the center or towards the back and add medium items in the front.  Place smaller items to fill up empty spaces.  Remember to wrap breakables.  The varying heights of the gifts are so much more appealing to the eye.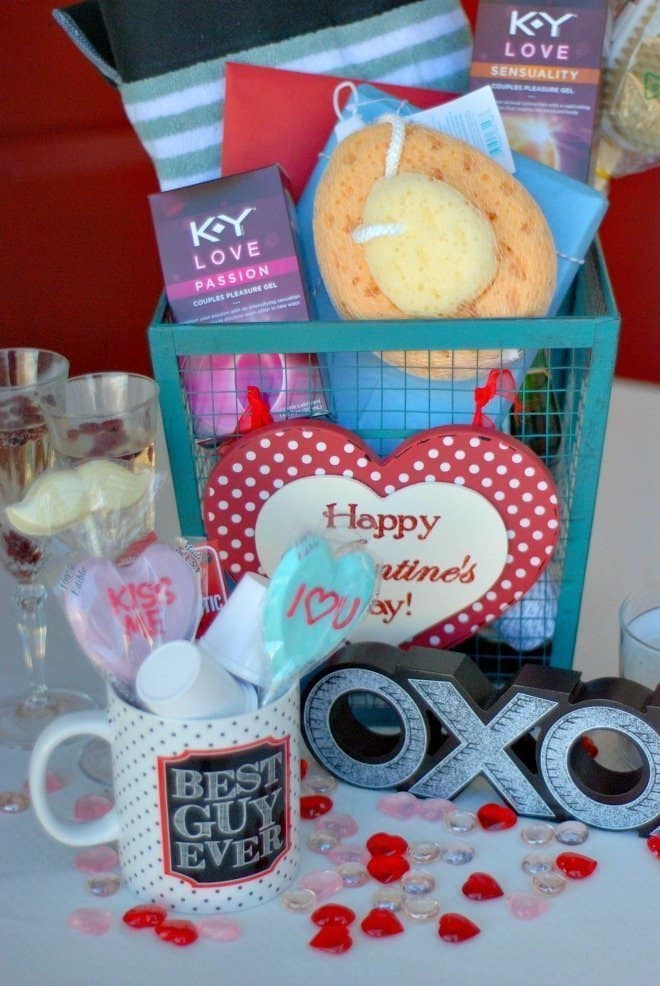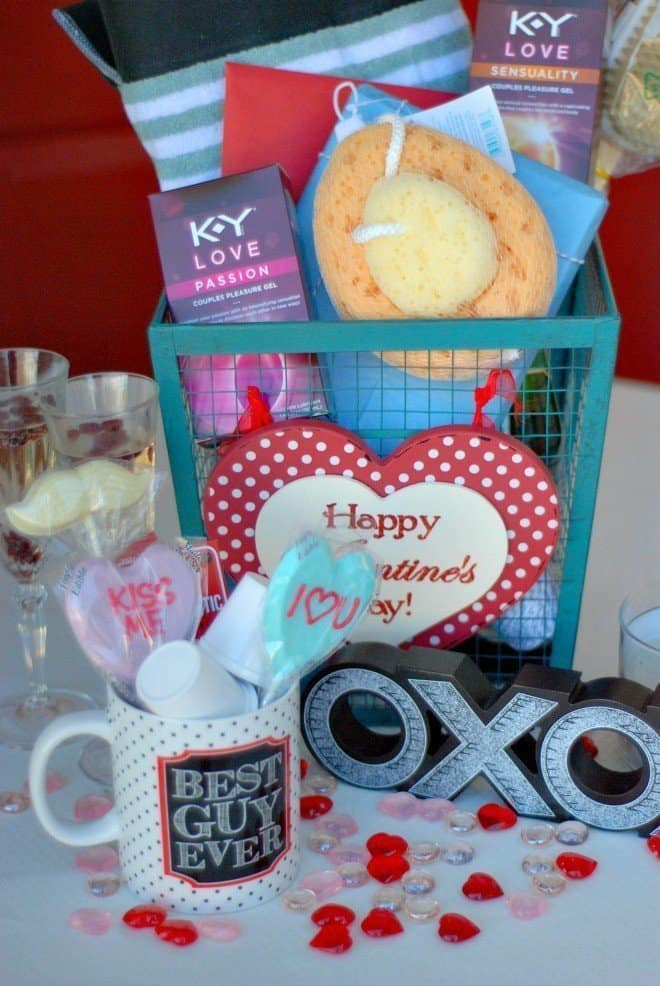 I also added a mug filled with single-serve pods of my husband's favorite coffee.  It will be the perfect ending to a spa date night filled with chocolate, romance, and a whole lot of love.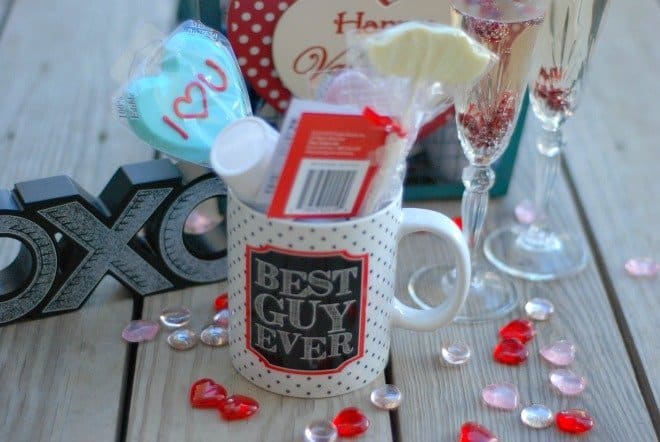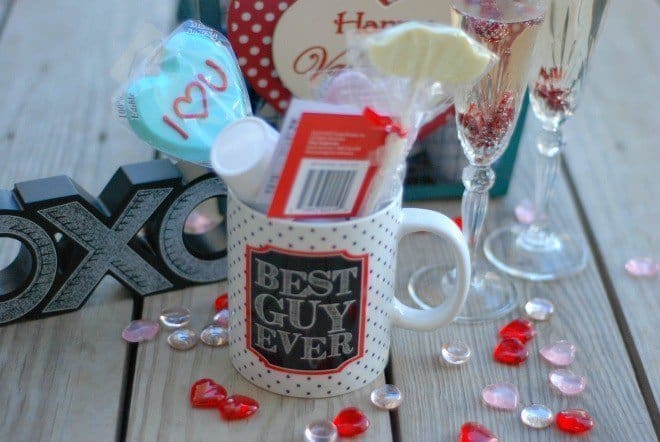 Yes, he is the best guy ever!
What are you giving your guy for Valentine's Day?  Your secret's safe with me.