Valentine's Day Fun Party for Kids was compensated by Collective Bias, Inc. and its advertiser. All opinions are mine alone.
I'm in the midst of planning an awesome Valentine's Day party for the kids and I'm taking you along for the ride. Come on, let's go! Who's ready for some Valentine's Day fun?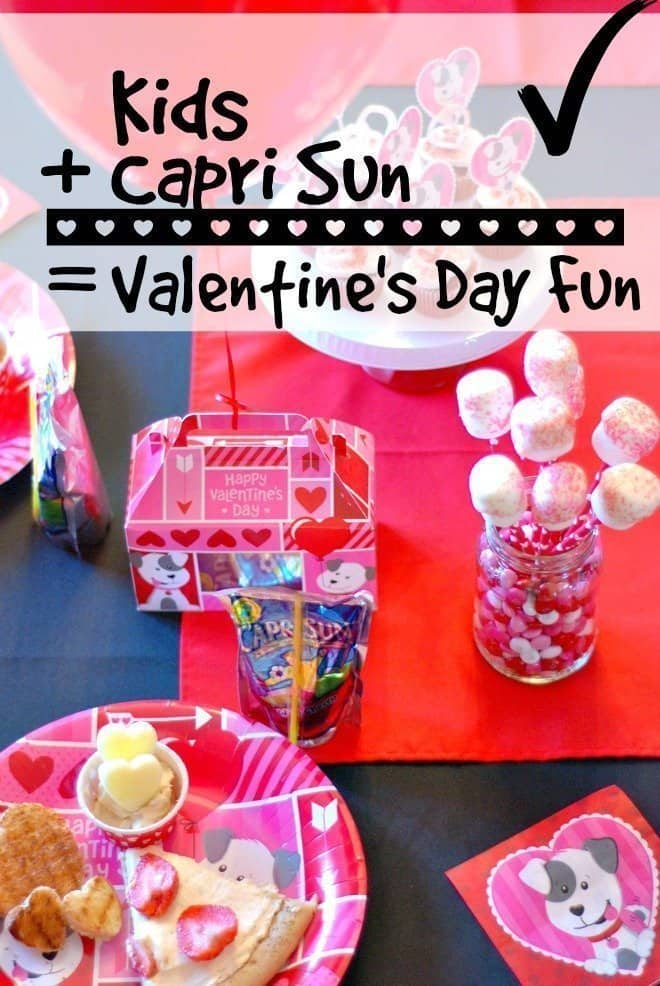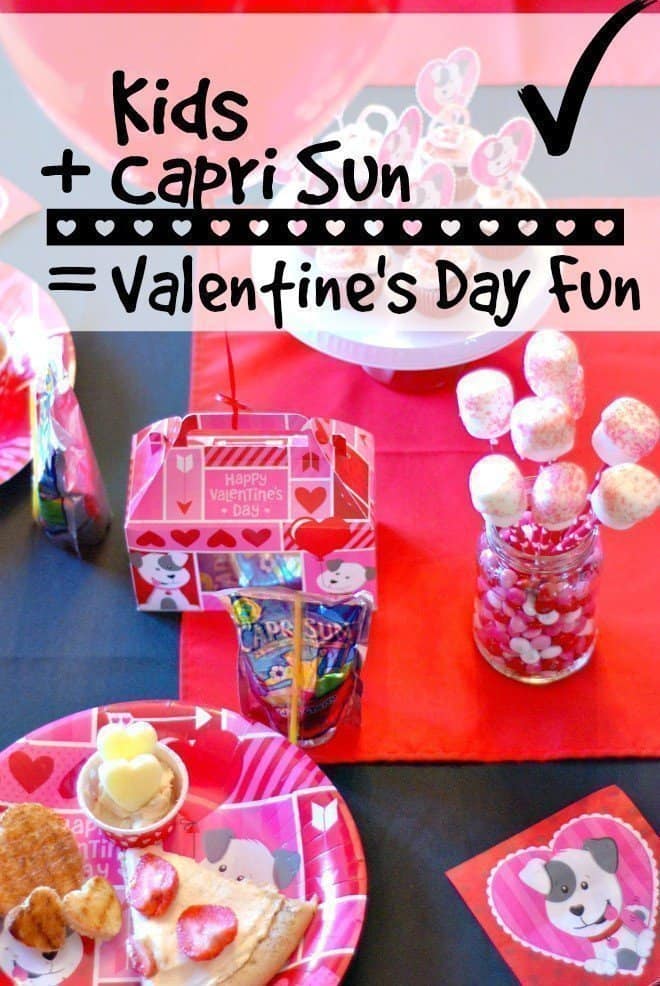 Valentine's Day Fun
I usually start my to-do list with the menu. When planning a menu for kids, simple is the only way to go.
Now is not the time to introduce new foods.
I'm serving heart-shaped grilled cheese sandwiches featuring Kraft singles, strawberry pizza, and Honeycrisp hearts served with my easy, 3-ingredient taffy apple dip.
Mini red velvet cupcakes and chocolate-dipped marshmallows will provide a sweet ending. It will all be washed down with Capri Sun. What's your favorite flavor?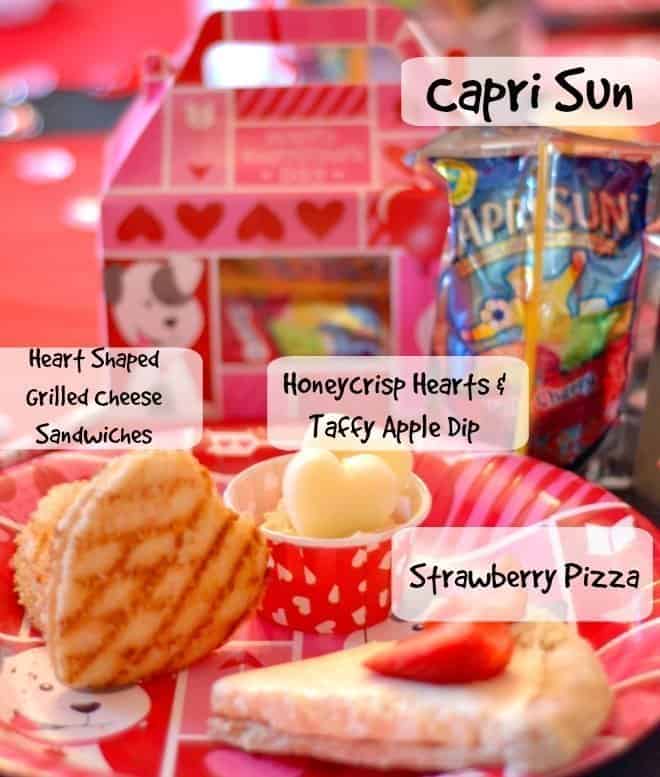 Strawberry Pizza is perfect for Valentine's Day parties because they are shaped like hearts when you cut them in half.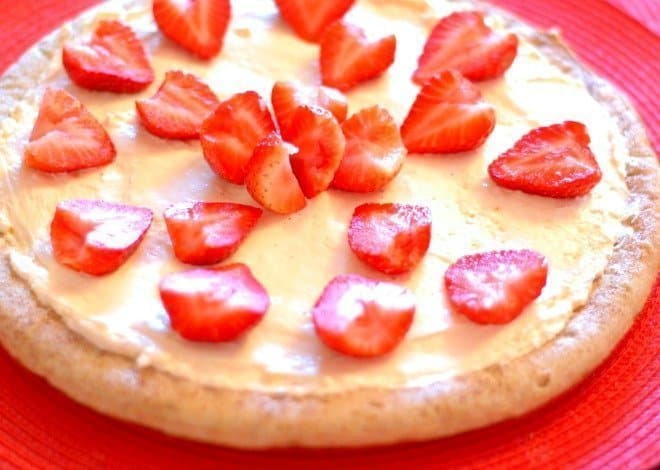 Easy Apple Dip
Don't forget to try my easy apple dip! My children and grandchildren say it's the best dip ever! You probably have everything on hand to make this dip!
Slice the apples. Use a small heart-shaped cookie cutter to make cute little apple hearts out of the sliced apples.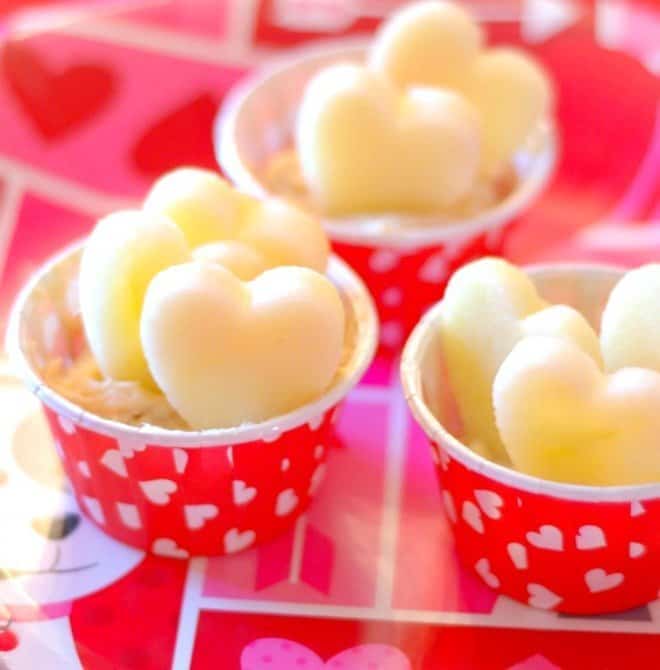 Easy Apple Dip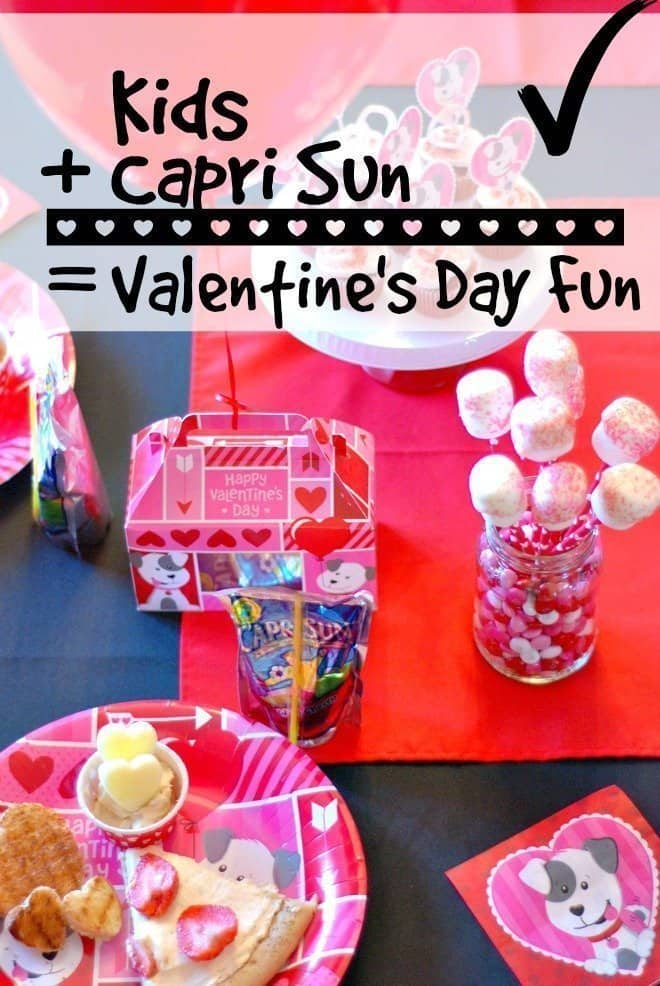 Ingredients
1 block (8 oz.) Philadelphia cream cheese softened
3/4 cup brown sugar
1 Tablespoon vanilla extract
Peanut (optional garnish)
Instructions
Combine ingredients in a large bowl. Mix well (whisk or use a mixer). Store in the fridge. Serve with apple wedges.
Now that the menu is taken care of, let's go shopping and find a theme. Actually, Valentine's Day is the theme, but I'm looking for a theme within a theme.
Let's Go Shopping
Most of the time the vibe of my party is decided way before I ever go shopping. But sometimes I like to take a walk on the wild side and get a spark of inspiration at the store.
I only have 2 stops to make for this party, Sam's Club and my favorite hobby/party shop. I'm going with pretty paper plates so that cleanup will be a breeze.
Once inside the party store, I spotted the cutest puppy-themed paper products and I knew immediately the direction this party was heading! Everyone loves warm, cuddly puppies.
As I thought about the centerpiece (must be non-breakable) I decided to continue in the warm and cuddly direction and use a puppy. No, not a real one – a soft and cuddly toy puppy.
I bought balloons and a few other items and was on my way. I even snapped a photo while out shopping.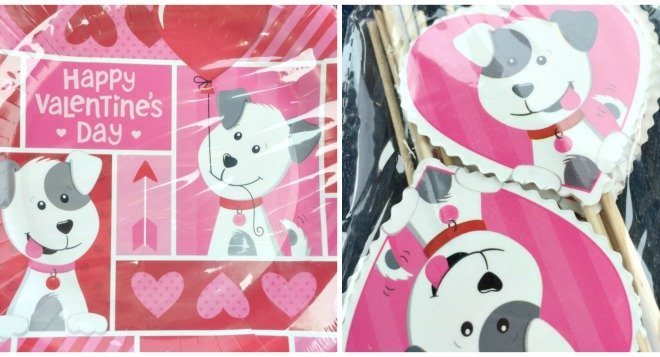 Next stop: Sam's Club! I could spend the entire afternoon in here, but I'm on a mission.
I head to the grocery department to look for the Capri Suns and the other food items I'll need for the party.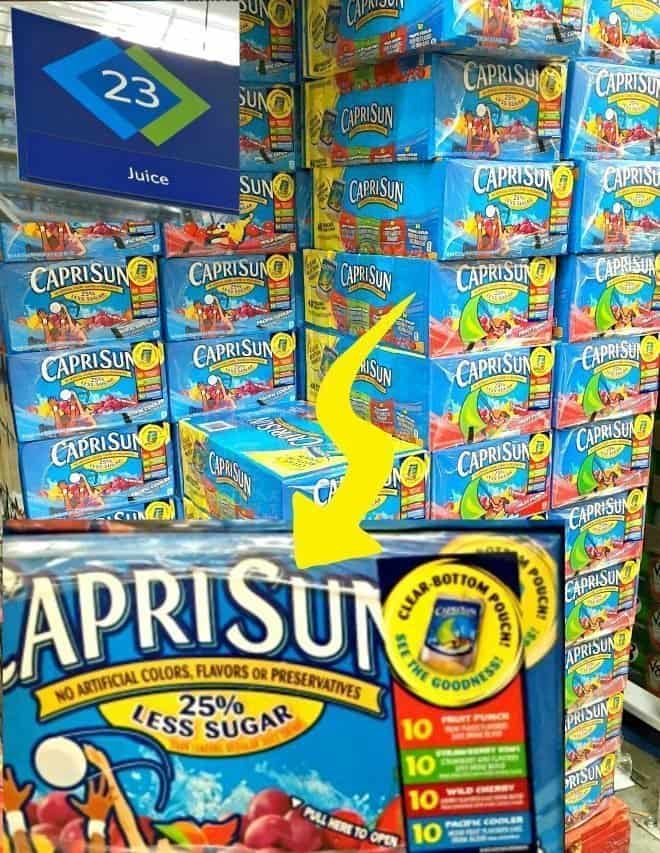 Capri Sun
My kids loved Capri Sun when they were growing up and it's the only drink I keep on hand for the grandkids. I like that there are no artificial sweeteners, colors, flavors, or preservatives.
These drinks have 25% less sugar than other leading juice drinks. It's also a good source of Vitamin E.
And the economical price is right, too. My grandkids love them because they're just plain good!
Shopping At Sam's Club For Valentine's Day Fun
I grabbed the Capri Sun Variety Pack because it contains 10 pouches of each flavor: Fruit Punch, Pacific Cooler, Wild Cherry, and Strawberry.
Each child can choose their favorite and I'll have enough to send home in their treat boxes.
While in Sam's, I made a stop in the bakery department to grab some mini red velvet cupcakes.
I'm going to dress them up, flick a little flour on my shirt and no one will ever know I didn't bake them myself. (They are THAT good).
How To Make White Chocolate Hearts
(I embellished the cupcakes with chocolate hearts by melting white chocolate, piping heart shapes onto foil, and adding pink sparkles.
Once they hardened, I gently peeled them away from the foil and placed them on top of the cupcakes with a little puppy-love heart.)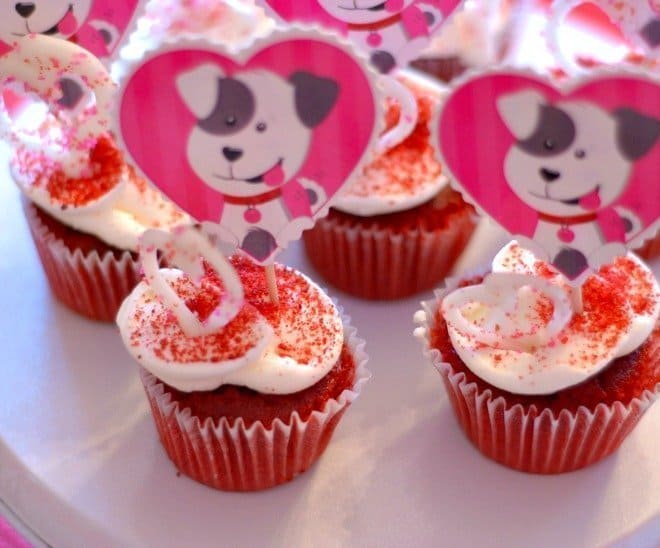 Valentine Cardholders
As the kids arrive, I'll have their Valentine's Day card holders assembled and ready for them to add the finishing touches.
This is a great way to have something for my guests to do as soon as they arrive.
I went old school and used paper plates – one cut in half and hot glued together – for the cardholders. It took me back to my childhood years!
Stickers, etc. are great for the kids to use to personalize their cardholders.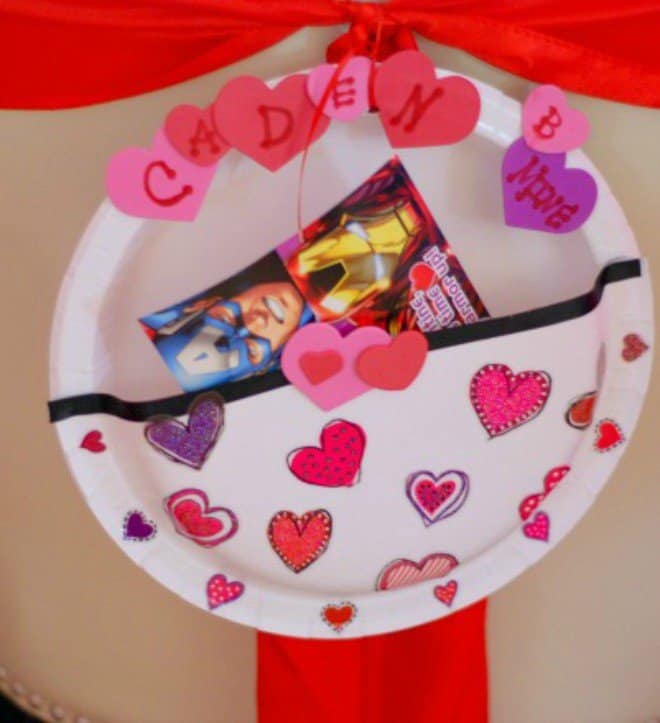 Once the card holders are done, in order to keep them off the table (and the floor) I'll secure them with a ribbon and hang them from the back of the chairs.
When it's time to pass out the cards, the music is cued and a contest begins to see how fast the cards can be stuffed into the holders.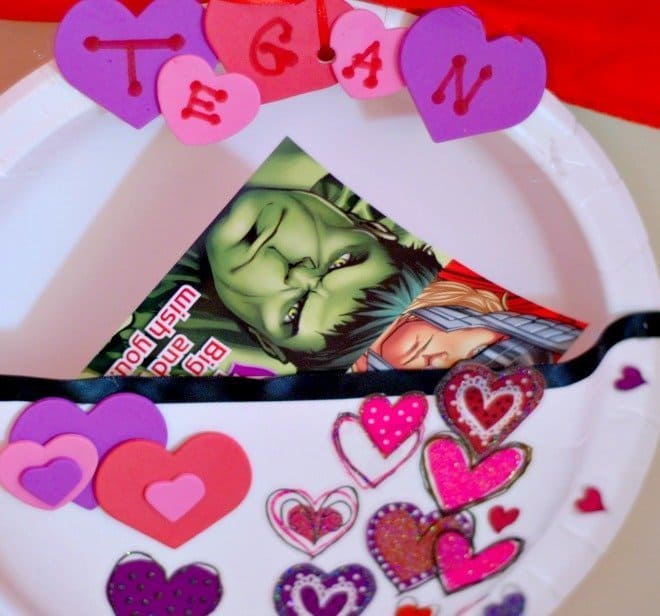 More Valentine's Day Fun
Everyone will get a chance to guess how many candy pieces are in the jar holding the chocolate-dipped marshmallows. The winner gets the candy and the centerpiece.
How To Make Chocolate Dipped Marshmallows
Insert heart-covered straws into the bottoms of regular-sized marshmallows.
Dip the tops of the marshmallows into melted white chocolate. Add a few sprinkles, and stick the straws into a square of florist foam to dry.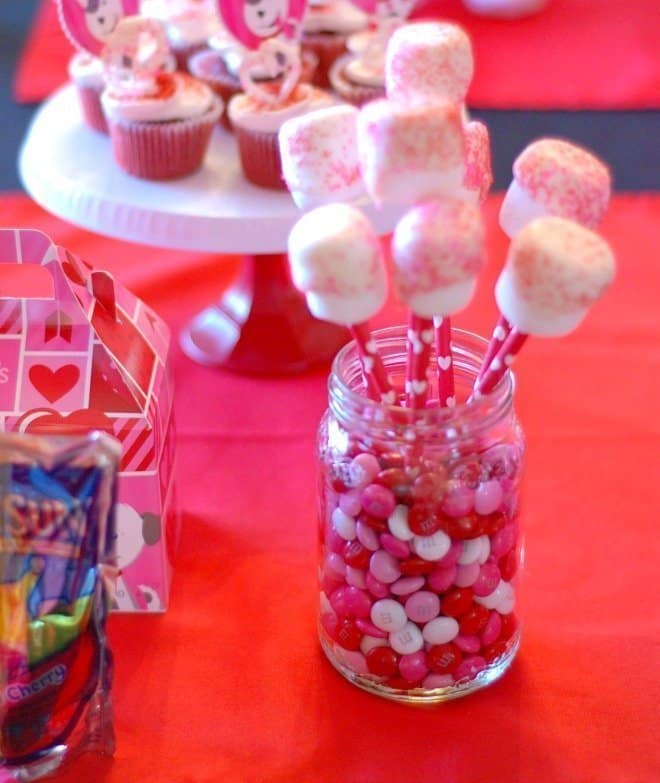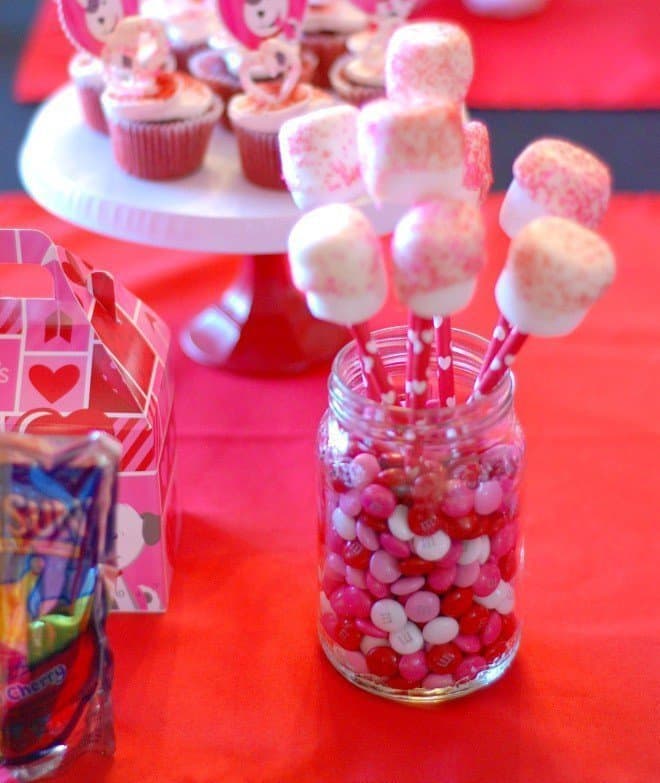 Once the party is over, everyone gets a treat box filled with little prizes including pencils and notebooks, a balloon, and a Capri Sun for the road.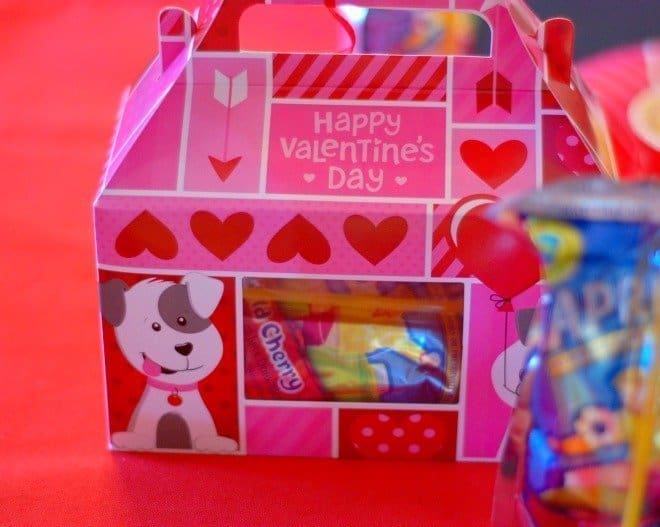 I always have a blast planning a Valentine's Day party and the best part . . . the easy cleanup!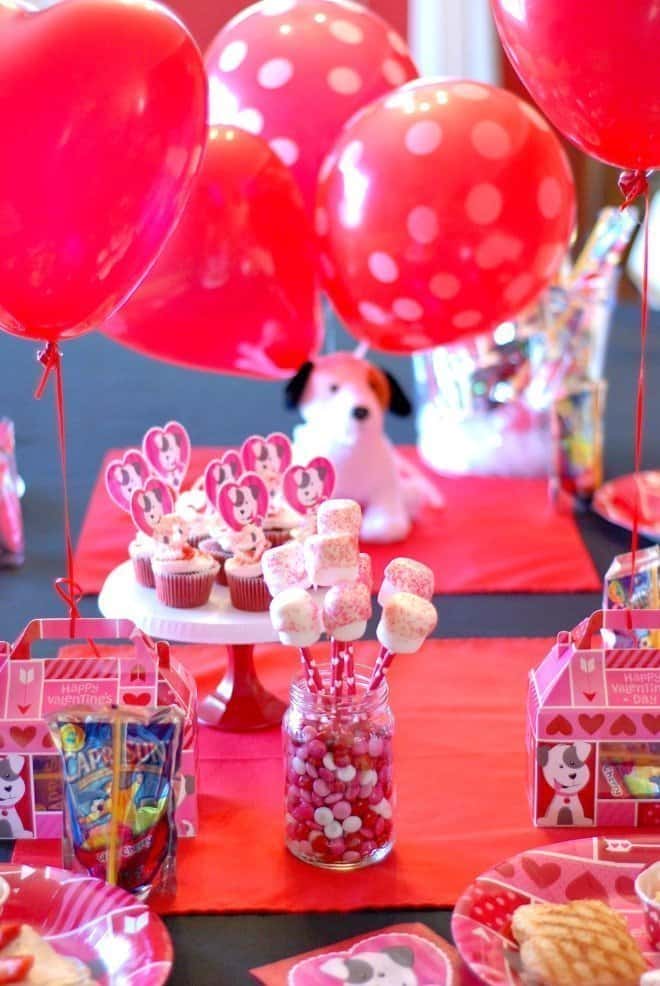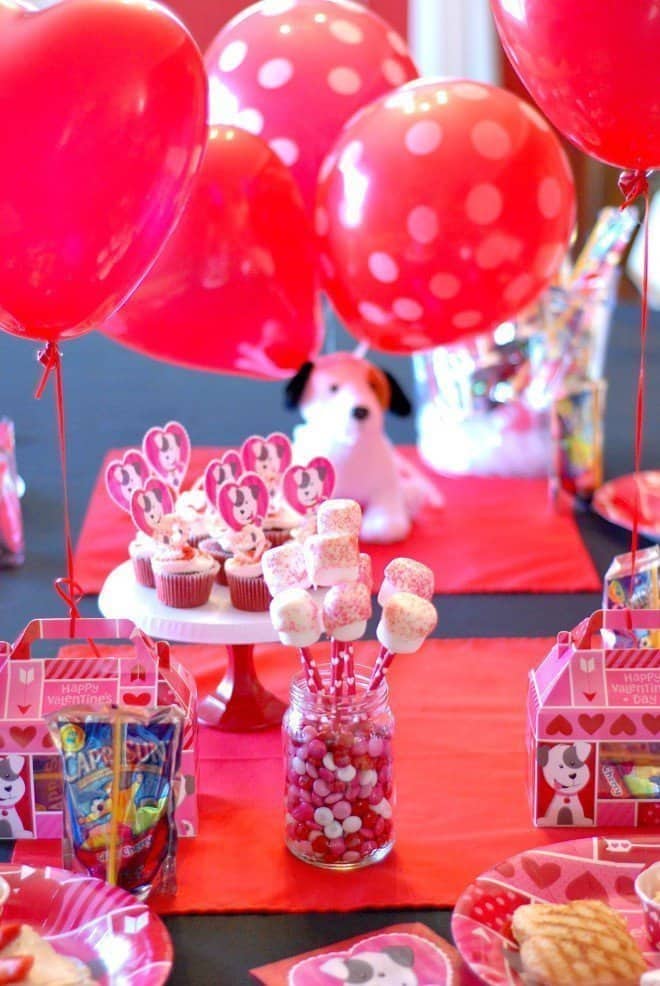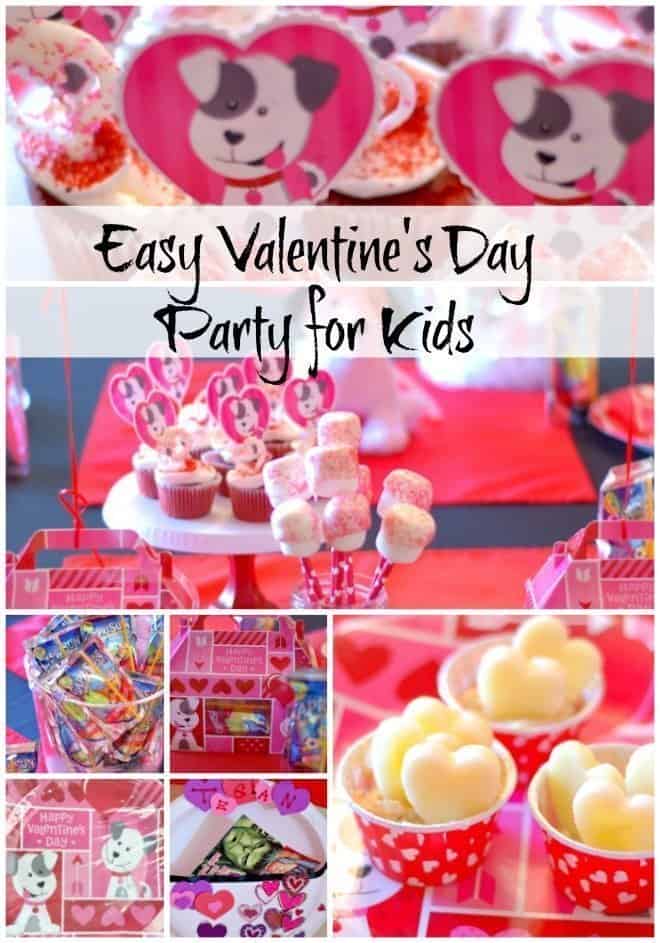 You May Also Like