Wooden High Chair Makeover with Chalk Paint contains affiliate links to some of the products I used. If you click a link and make a purchase, I may receive a small commission at no extra cost to you. 
I'm more of a cooking and party planning type girl. However, every once in a while, I like to try an easy DIY project. When someone gifted my daughter in law with an old wooden high chair, she offered it to me, and I scooped it up. She had a high chair and didn't need another one.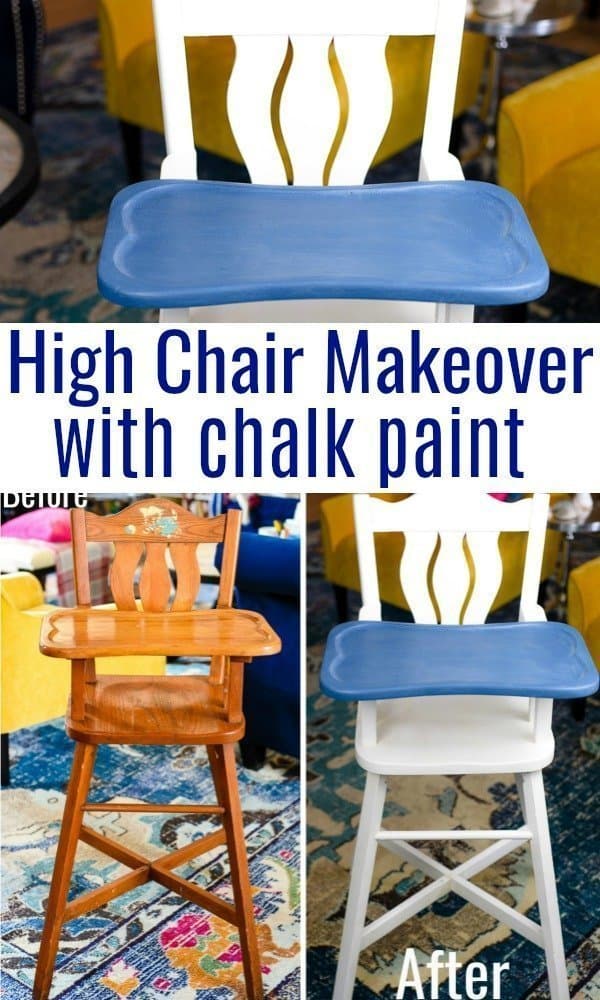 If this high chair could talk! The sweet person who gave it to my daughter-in-law said that it had been in their family for generations. As soon as I saw it, I knew the direction I was going in since the wood is showing a lot of wear and tear. You can't really tell in the before photos, but trust me, this chair has seen better days.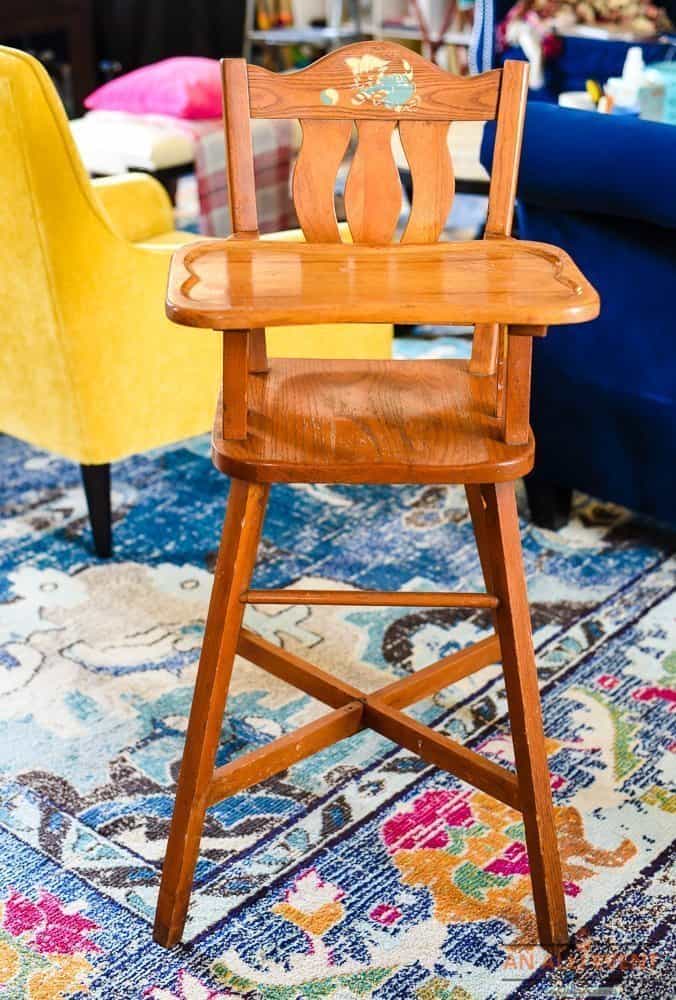 The size of this high chair is ideal for my house. The one I had for the oldest grandkids was way too big and I donated that thing a few years ago. I don't know what I was thinking when I purchased the oversized high chair. Plus, it was difficult to keep clean. This one is just right!
Wooden High Chair Makeover
Because I'm not a huge DIY crafty person, I had only used chalk paint once before this project. It's easier to work with than I thought and I love that I don't have to sand this piece. And since I'm not going for a rustic, distressed look, the instructions are pretty straightforward.
My color choices for this wooden high chair makeover is blue and white. I almost went all white, but at the last minute, decided to add a pop of blue.
We're in the beginning stages of adding a sunroom, tearing off the old deck and adding a bigger deck attached to the sunroom. After the sunroom is complete, stage two consists of gutting my entire kitchen and completely redoing it. It's a big project and may take a while, but I'll keep you updated as we go. I said all that to say this high chair will match my new kitchen once it's completed.
My house is cottage style (old and cozy – wink) and I like everything light and bright. I joke with my husband that I could live in a glass house because I love natural sunlight. I'm beginning to sound like a rerun of House Hunters, except I'm not 25 and I don't have a 1.2 million dollar budget. Sigh.
Also, I'm a messy painter. I try to be neat, but it just doesn't happen when it comes to painting. Just make sure you protect your floors with a dropcloth and wear something old. At least I'm not painting a ceiling. Getting paint out of my hair is not fun!
Let's get this makeover started!
Materials
Chalk Paint – Rust-Oleum Linen White
Chalk Paint – Rust-Oleum Coastal Blue
Topcoat – Rust-Oleum Ultra Matte Chalked Paint
First of all, I cleaned the high chair using plain old soap and water. Don't use any type of oil cleaner because the paint may not adhere to the wood. Since you really don't have to sand the chair prior to painting with chalk paint, I gladly skipped that tedious step.
Here's how it looks after one coat of paint.
The photo below is after two coats of chalk paint. We're getting there. I decided to go with three coats to be on the safe side.
After giving the chair three coats of chalk paint and letting it dry overnight, I added a protective topcoat. It's easier than applying wax and I love the finished product.
Helpful Hint: Use cans of tuna under the legs of the high chair. It makes it so much easier to paint.
Finished Product
This painting project didn't take long at all. I had so much paint left over that I've decided to paint a wooden bench that sits at the end of the bed in my guest room. I'll keep you posted.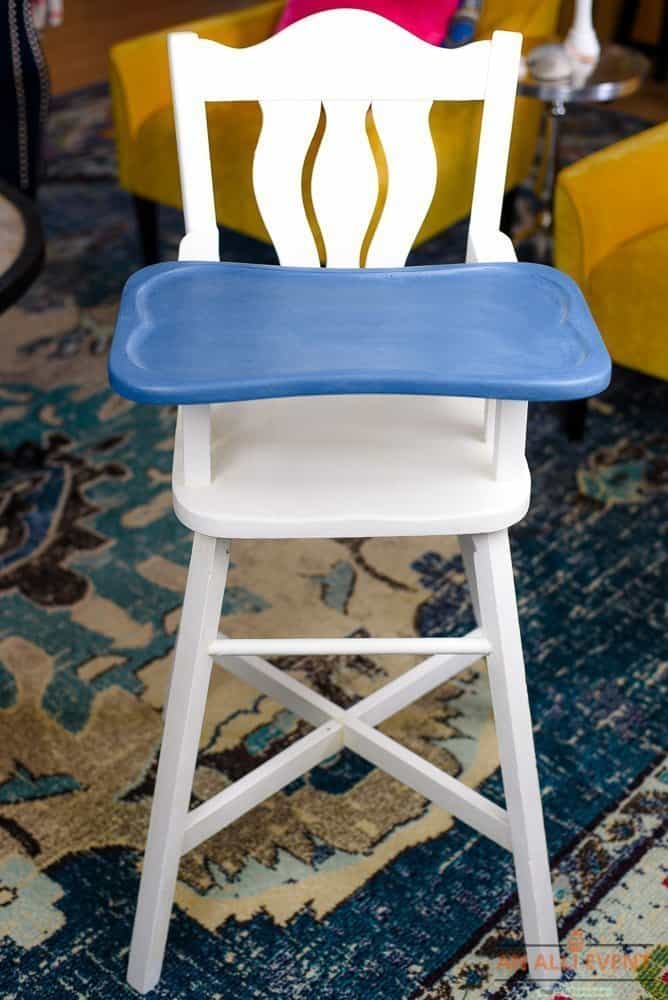 This easy wooden high chair makeover was actually fun and I'm looking forward to using this high chair for many years to come. Bring on the grandkids!
P.S. High Chair can be written as one word or two, just so you know. I went with two because that's how I roll.