5 Ways to Clean Your Kitchen With Lemons has been compensated by Collective Bias, Inc. and its advertiser. All opinions are mine alone. #MyPledgeCastle #CollectiveBias
I always have a mile long list of improvements and updates I want to make to my house. Please tell me I'm not the only one!
My home is my castle and I wouldn't want to live anywhere else. It's where my family lives, eats, sleep, plays and entertains, so I like to pamper my house. The kitchen is the heart of my home and it's where I make the biggest messes.  That's why I'm sharing 5 Ways to Clean the Kitchen with Lemons. Your kitchen will be sparkling clean and your house will smell fantastic.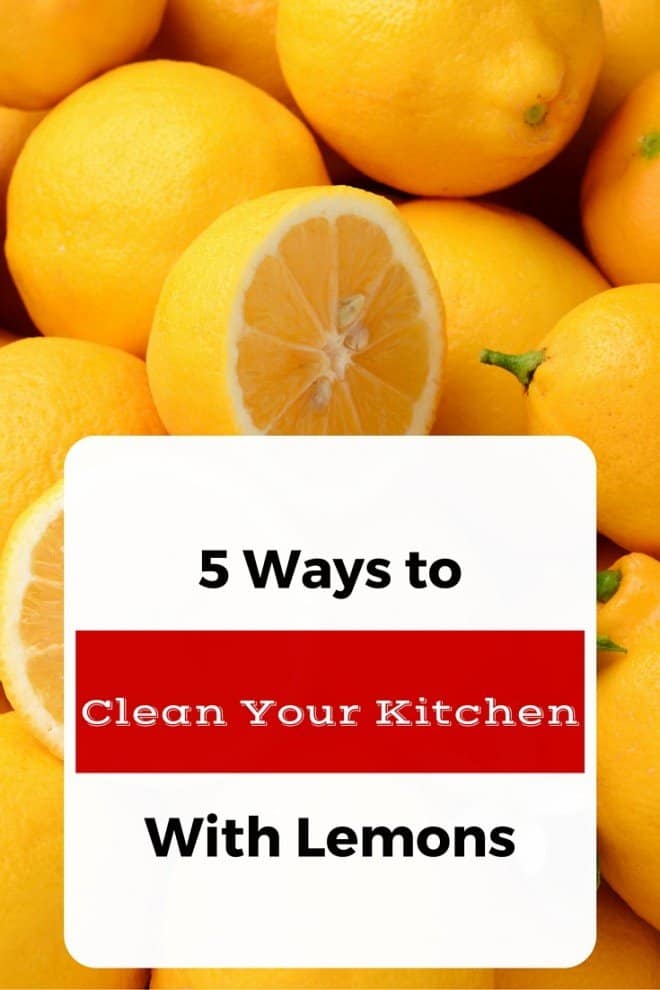 Stainless Steel Appliances
A few years ago I was able to cross stainless steel kitchen appliances off my "must have" list. My old, beige kitchen appliances were on their last leg when my husband surprised me with a new stove with double ovens, a new dishwasher and a bottom freezer refrigerator – all in gleaming stainless steel.
No one bothered to tell me how difficult stainless steel was to clean. I tried every cleaner under the sun and I never liked the way my appliances looked. Then I happened to notice that Pledge® Lemon Clean Furniture Spray could be used to dust, shine and protect a variety of household surfaces including wood, laminate, stainless steel, leather, marble, granite, and plastic.
I was impressed when I learned that the same Pledge® I trusted with my wood furniture could also clean my stainless steel appliances. After just one cleaning session, I was sold. Pledge® Lemon Clean Furniture Spray is the only cleaner I use on my kitchen appliances.
Whenever I'm running low on Pledge® Lemon Clean Furniture Spray, I stop by the cleaning aisle in Kroger and stock up. I like that I don't have to run all over town looking for Pledge®. I can always find it at my favorite grocery store.
It's nice having one product that cleans and protects my wood furniture and also cleans and shines my stainless steel.
You'll also find lemons in the fruit bowl on my counter. I use them to flavor water and iced tea. I also use them in recipes and to keep avocados and apples from turning brown.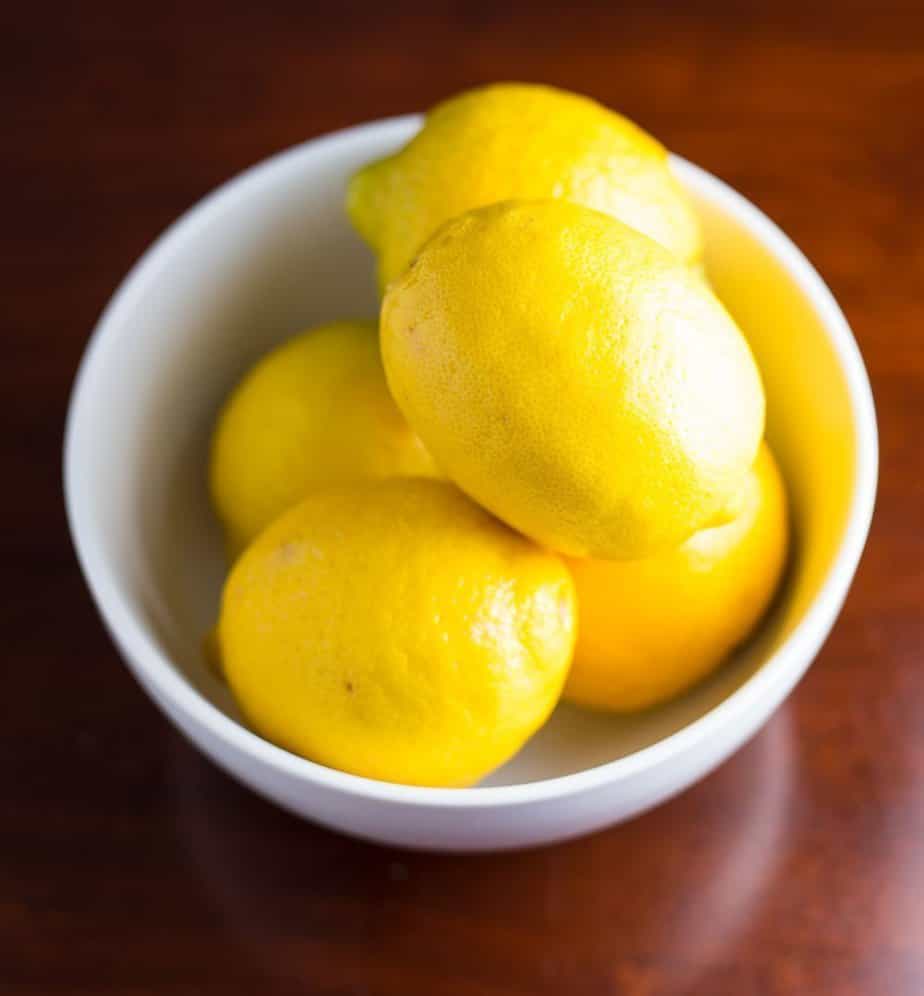 Lemons play a big part in keeping different areas of my kitchen clean, too. Who knew lemons could serve so many different purposes?
5 Ways to Clean the Kitchen With Lemons
1.  Clean Your Cutting Boards
Once a month, sprinkle coarse salt on your cutting boards. Slice a lemon in half and rub the entire board with the lemon (cut side down, of course), releasing juice as you go. Let sit for 5 minutes. Rinse, dry and recondition the wooden cutting boards with coconut oil or white mineral oil.
2.  Freshen the Garbage Disposal
Once your cutting boards are clean, cut up that lemon and throw it in your garbage disposal. Run water, grind it up and you're done.
3.  Get Stains Out of Plasticware
Squeeze lemon juice into your plastic container. Add baking soda and warm water.  Let soak for 5-10 minutes. Wash and rinse the stains away.
4.  Freshen the Fridge
Do you have a stinky fridge? Dab lemon juice on a cotton ball or sponge and leave it in the fridge for several hours.
5.  Clean the Inside of the Microwave
I always use a cover when I heat foods in the microwave. Why does the inside always get so grimy and dirty? It has to be the kids!
To easily clean the microwave, add 3/4 cup water to a medium bowl. Add the juice of one lemon. Microwave on high for 3 minutes or until the lemon water comes to a boil. Don't open the door! Let stand for 5 minutes. Open the door and remove the bowl of water. Remove the turntable and wipe clean. Wipe the inside of the microwave starting at the top and working down. Replace turntable.
You can print out 5 Ways to Clean the Kitchen With Lemons here: Free-Printable-1 Free-Printable-2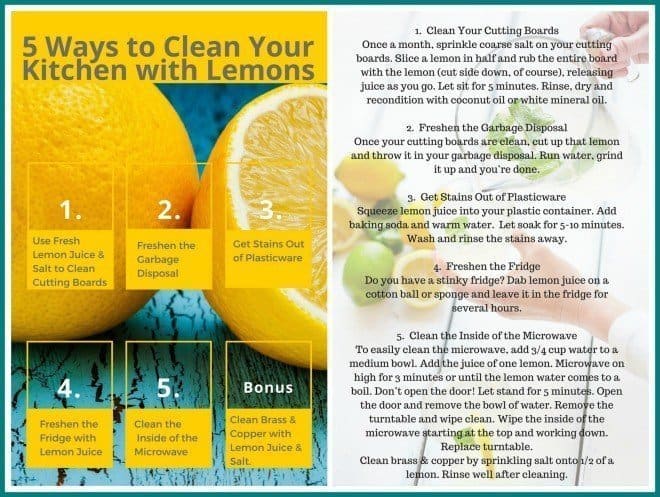 Helpful Hint: I also keep Pledge® Lemon Wipes on hand to wipe up dust, dirt, and messes. The wipes fit right in my kitchen drawer. When I make a mess in the kitchen, I can grab a wipe and quickly clean, condition and protect while leaving behind the fresh lemon Pledge® scent.
Added bonus: The Pledge® Lemon Wipes feature Allergen Trappers® to remove dust and up to 90% of the allergens found in dust.
I love the feeling I get when my kitchen is sparkling clean and it smells like freshly squeezed lemons. Have you ever used lemons in your cleaning routine?
To get even more helpful cleaning tips, join me in following Pledge® on Facebook.