Brighter Smile With Optic White was compensated by Collective Bias, Inc. and its advertiser, Colgate-Palmolive. All opinions are mine alone.
What's the first thing you notice when you meet someone new?
My eyes go straight to their smile and teeth. I always notice a bright smile and white teeth.
Am I the only one who does this?
No Fake Smiles Allowed
I can spot a fake smile a mile away!
A real smile uses more muscles, including those around the eyes and a fake smile uses only the muscles around the mouth.
Do you remember the old phrase, "turn that frown upside down?" I've got a few fun facts about smiling that will put a permanent smile on your face.
Smiling, real or fake relaxes the body and lowers the heart rate. People who smile and laugh often are less likely to develop heart disease.
Smiling Improves Our Mood
Studies have shown that smiling releases endorphins, lifts our mood, and reduces stress.
Smiling also increases productivity, encourages trust, and is contagious. Fifty percent of people will return a smile.
Here's my personal fave: Did you know that smiling makes you look younger?
I've noticed that it also erases those parentheses around my mouth. I'll never frown again! 🙂
Smile!
I'm totally convinced that I should smile more, but I drink my fair share of coffee and tea. These 2 habits contribute to a less than stellar smile.
Tea and coffee are used for dying fabric. Just imagine what it does to my teeth! Yikes!
Colgate Optic White Express
During my latest shopping trip to Walmart to grab some toothpaste, a bright display of a new product, Colgate® Optic White® Express, caught my eye.
I was impressed when I saw that I could actually get whiter teeth in 3 days just by brushing!*
Hey, I'm brushing anyway, why not get a brighter smile at the same time?
As I was scanning the package (red, one of my favorite colors) I noticed that Colgate® Optic White® Express has twice the amount of whitening ingredients than Optic White Sparkling Mint.
And unlike most whitening toothpaste, it contains hydrogen peroxide, a professionally recommended ingredient for quicker results.
Find Colgate Optic White at Your Local Walmart
Psst: I'm so glad I found Colgate® Optic White® Express at my local Walmart!
My teeth are much whiter and I'm smiling more.*
And I almost forgot to mention how much I like the taste. When it comes to toothpaste, the taste is major for me!
It has just the right amount of tingle and leaves my mouth feeling minty fresh.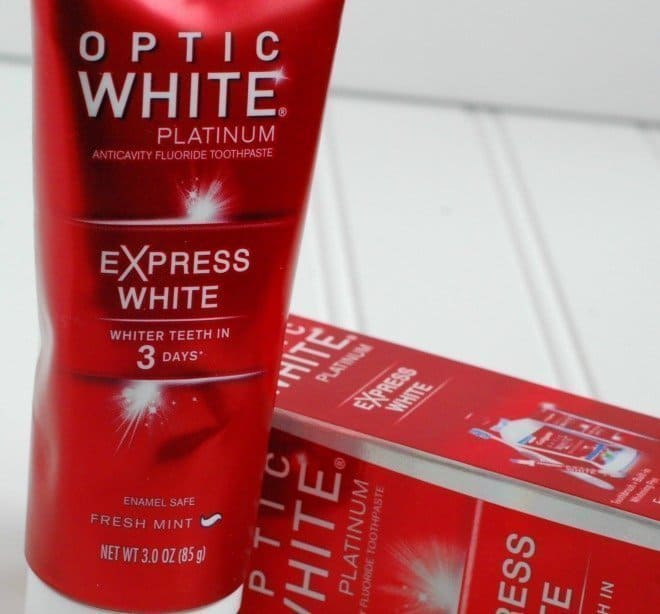 Is your smile genuine?
Would you smile more if your teeth were whiter?
*For best results, use as directed for 4 weeks.
You'll Love These Posts, too!