Beautiful Christmas Tree Decorating Ideas contains affiliate links. If you click a link and make a purchase, I'll make a small commision with no extra cost to you. 
It's the 10th day of the 12 Days of Christmas series and today is all about Christmas Trees. Of course, the song, O Christmas Tree, is looping in my head. My favorite version is this one by Aretha Franklin. As I'm humming, I'm also excited about sharing four beautiful Christmas tree decorating ideas.
My daughters say I don't come visit them enough. Truth is, my house is the central gathering spot and most of our family get-togethers happen here. I thought I'd surprise my daughters and drop by with camera in hand. Of course, I called first because I am southern to the core and we always call first. 🙂
Welcome to Day 10 of the Fourth Annual 12 Days of Christmas Series!
We have teamed up with 50 plus bloggers to bring you oodles of DIY Ideas and Recipes to make your holiday season merrier. There are 12 different posts in the series and we have spread them out over a four week period with three posts per week. Now is the time to subscribe!
GO HERE for the complete list of Dates and Topics plus a collection of most popular holiday ideas including ornaments, games, recipes and more from all 50 plus talented bloggers!
It's Day 10 and we are sharing our Christmas Tree Decor!
Beautiful Christmas Tree Decorating Ideas
DIY Woodland Theme – Daughter #1
I simply love this tree! Holly is so gifted and she made many of these ornaments herself.
Here's a photo of the entire tree unlit.
Traditional and Eclectic Designs – Daughter #2
Daughter #2 lives in a historic Dutch Colonial on Main Street and goes all out when it comes to Christmas decor. Every year, she puts up at least 4 trees. She has two traditional trees.
She also has a pink/lime tree in her sunroom and the kids have a Hallmark tree in their upstairs den. I start a Hallmark ornament collection for each grandchild on their first Christmas.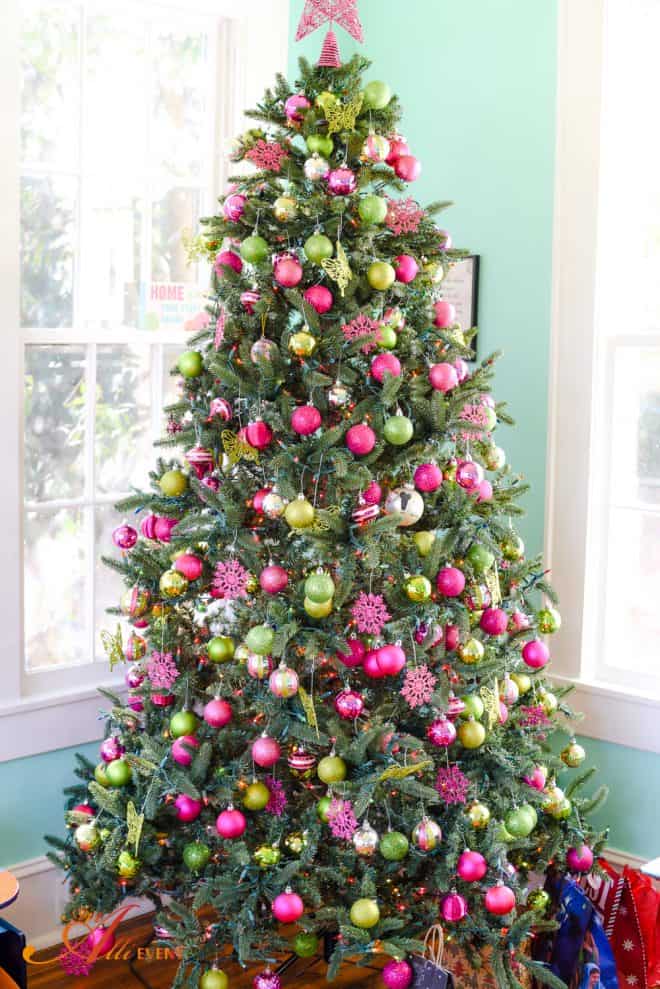 I love everything about Rebekah's house and Christmas decor.
Scandinavian With Classic Elements – Daughter #3
Daughter #3 is a minimalist and likes clean lines. Caitlin's tree is so pretty and has me wishing for snow.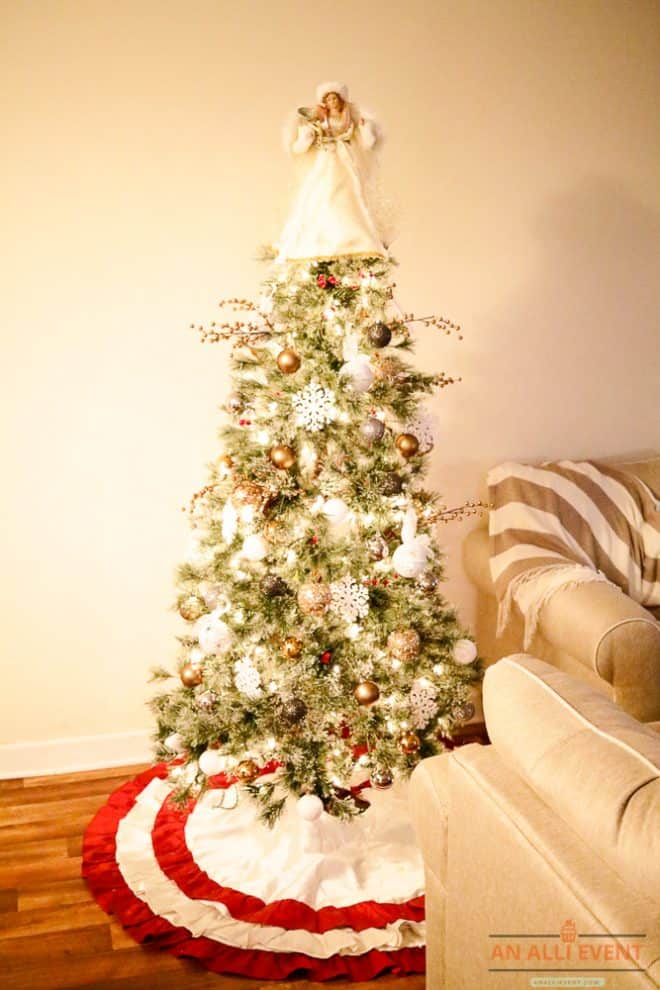 My Tree
I was late to the party this year. I normally have all my Christmas decor up before Thanksgiving (blogging world, you know) but this year I cut down on the decor. It was a few days after Thanksgiving before this baby went up.
I meant to get a photo before I started stacking gifts. Oops. When you have 5 grandkids and you actually do your Christmas shopping early, they start stacking up. I don't have a lot of storage in this house, so as soon as I wrap/bag gifts, they go under the tree.
My tree is usually a hodgepodge of collected ornaments that have been accumulated over the years. I will always keep those handmade ornaments the kids made at school. I also collect ornaments when I travel. This year, I hung those ornaments on my tabletop dining room trees. My main tree is decked out in red and white, plus my Father Christmas collection.
My oldest daughter gives me the new Hallmark Father Christmas ornament each year to add to my collection. Isn't that sweet?
If you want to take some photos of the lights blurred on your tree, here's my tutorial.
I didn't include my daughter-in-law because she and my son are busy moving into their new house. They just recently closed on it and they hope to be in it and settled by Christmas. She has a Starbucks tree and I can't wait to see it. I'll share it when I can.
If you're looking for a new Christmas Tree, Wayfair has some pretty ones and the prices are very reasonable.
Scroll down for many more Christmas Tree decor ideas you can use this holiday season!