How to Throw the Best Pajama Party for Women contains affiliate links. If you click a link and make a purchase, I may receive a small commission at no extra cost to you.
I recently hosted a Christmas pajama party for 50 women. We all wore Christmas PJ's and had the best time! Of course, you don't have to wait for Christmas to throw a pajama party. But a themed party is always loads of fun.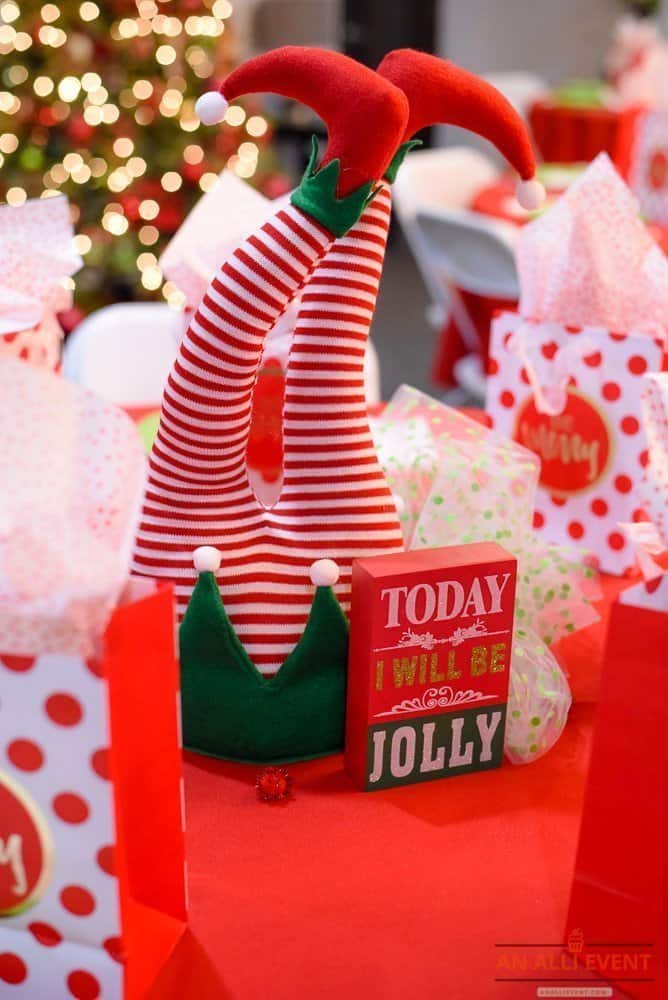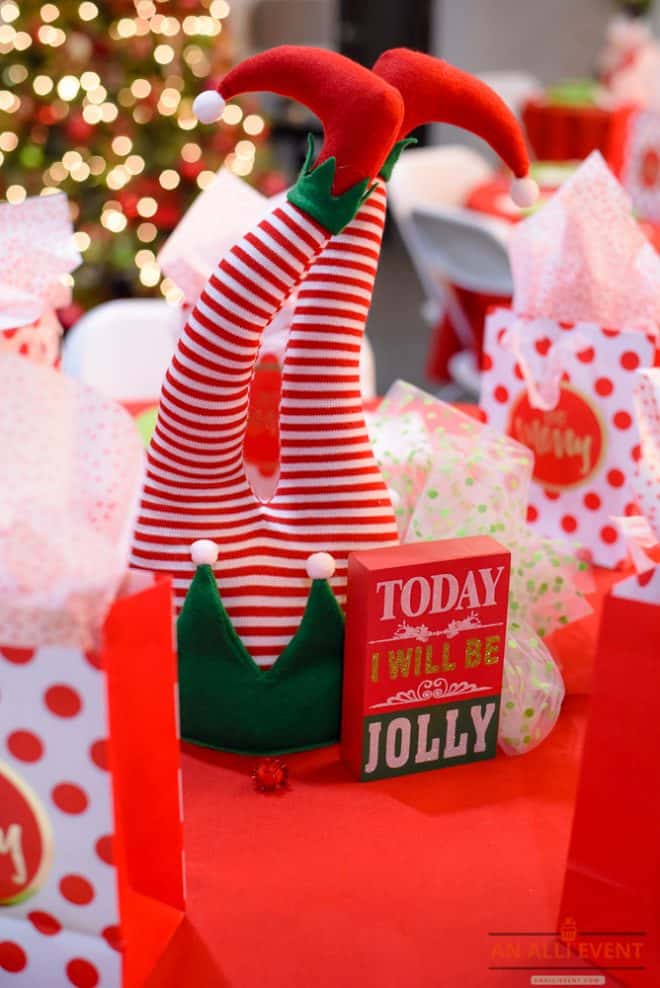 We didn't play truth or dare or have a pillow fight but we did play games, have prizes and eat good food. We also didn't have an actual sleepover. I mean, when it comes to sleeping, I want my own bed, thank you very much.
Make sure the invites state that it's a pajama party and invites everyone to wear their pajamas.
The Pajama Party Theme
A casual party calls for a whimsical theme. When I saw these elf hats in the At Home store, I knew they were just what I needed for my centerpieces. Lime green plates and bowls rounded out the theme nicely.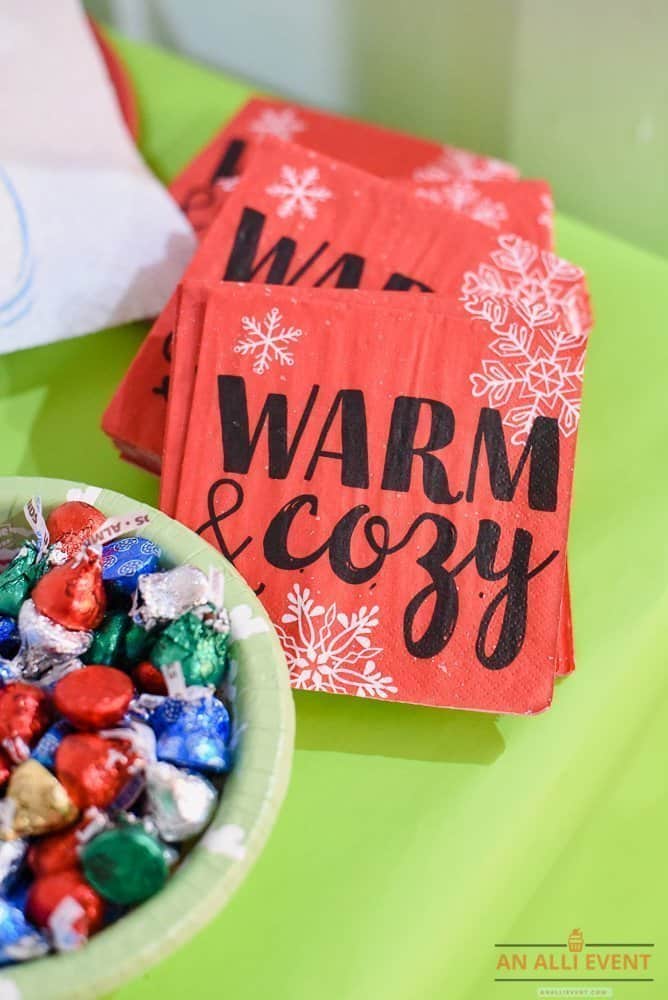 The Food
A pajama party calls for casual food. Soup, salad, a charcuterie board, and a dessert bar is perfect for a pajama party.
Below is the menu I printed out for each place setting.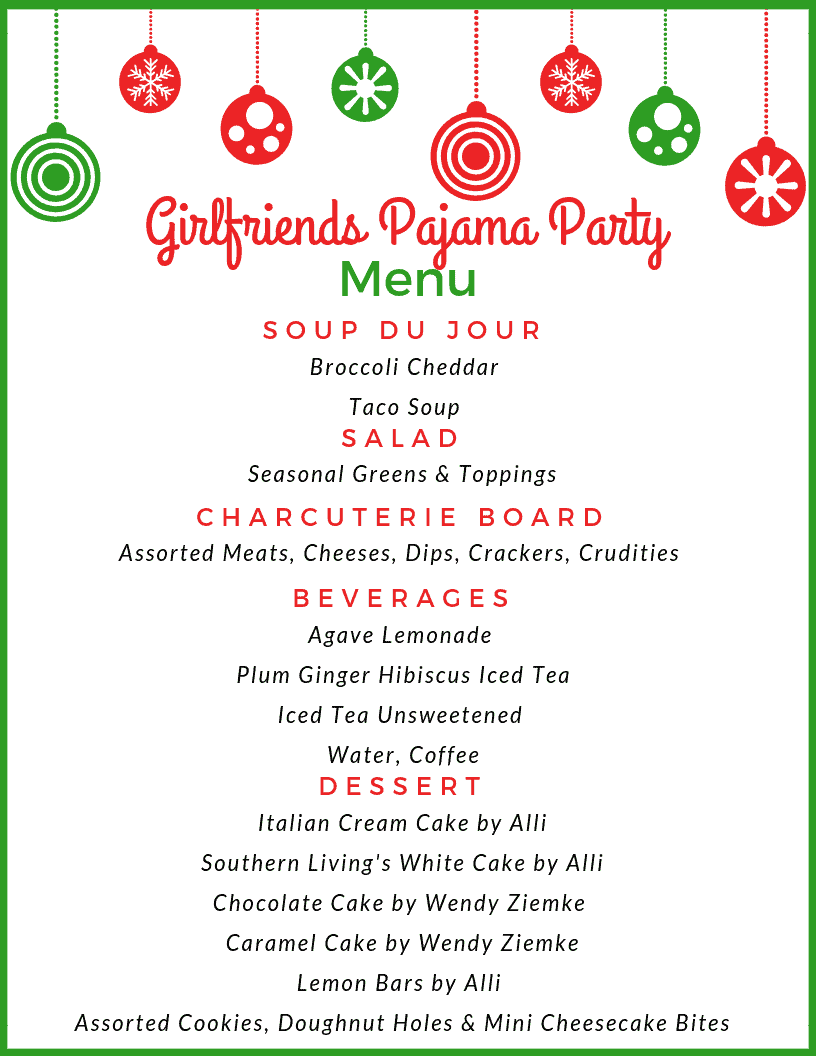 In case you're not familiar with a charcuterie board, "Charcuterie (Shahr-cute-uh-ree) is a French word devoted to prepared meat products, such as bacon, ham, sausage, terrines, galantines, ballotines, pâtés, cured meats, and confit. It is often served with various cheeses, crackers & bread, and other fun additions like jams, candied nuts, and more!"
My charcuterie board included meats, various cheeses, crackers, bread, dips, pimento cheese (because southern, you know), spicy mustard, olives, nuts, etc. I also used sprigs of Rosemary as a garnish.
I was too busy to take photos of the food. Dang.
Desserts included my Italian Cream Cake and Lemon Squares.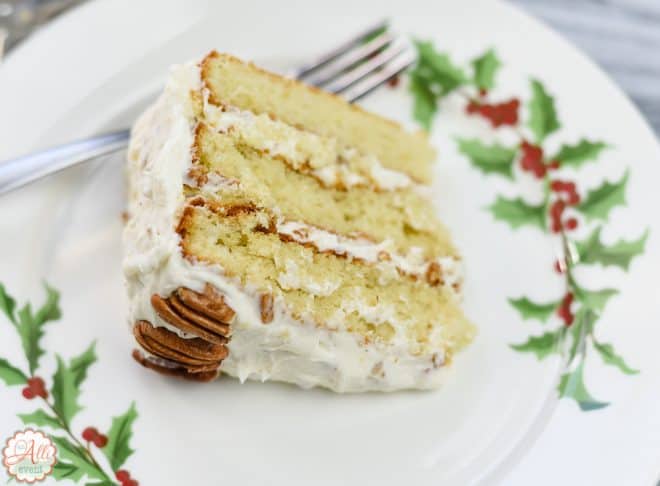 I also made the Southern Living's White Cake. It's on the cover of their December magazine. It also got rave reviews. The buttercream frosting is a tad too sweet for my taste, but then again, I don't like overly sweet frosting.
The Games
I'm always on the lookout for fun games and this year we had a blast. Here are the games we played.
Purse Scavenger Hunt
I had a long list of items that might be in your purse. You get a point for each item and at the end of the game, the person with the most points wins. Someone even had a pair of socks in their purse. Yep, it was on the list. Here's a good list to use.
The prize for the purse scavenger hunt was a beautiful Michael Kors purse. Of course, the prize can be something small as well.
Pass The Orange
For this game, you need 10 volunteers for two groups of five. Each team forms a circle. Each player must keep their hands behind their backs during the entire game.
Place an orange under one girl's chin on each team. The team who passes the orange all the way around the fastest wins the game.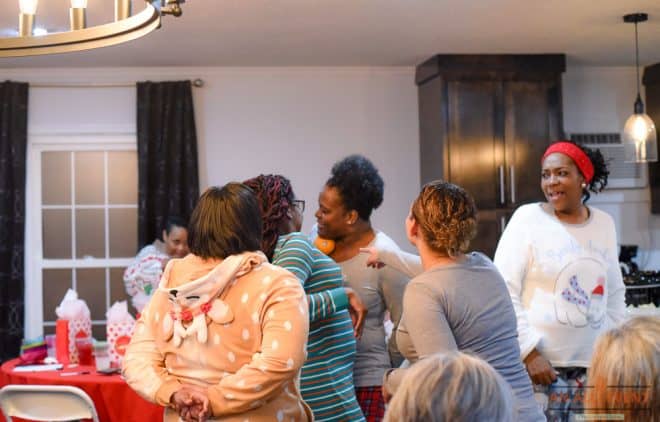 If the orange is dropped, it has to be picked up without using hands. You'll need two oranges for this games. And, yes, one team did drop their orange and ended up losing.
Christmas Bingo
I used this site to generate 50 Bingo cards with a Christmas theme. They have all kinds of themes and up to 30 cards are free. I had to pay $10 for the remaining 20 cards I needed for 50 players.
Family Feud
Family Feud is always a fun game to play and this time around, I bought the real deal game. My favorite question was "We asked 100 men to name a car you'd trade your mother for." This is the game I purchased.
The Guests
When I decided to host a pajama party, I really had no idea how the party would be received. Oh, me of little faith. Every woman showed up and showed out with their Christmas themed pajamas.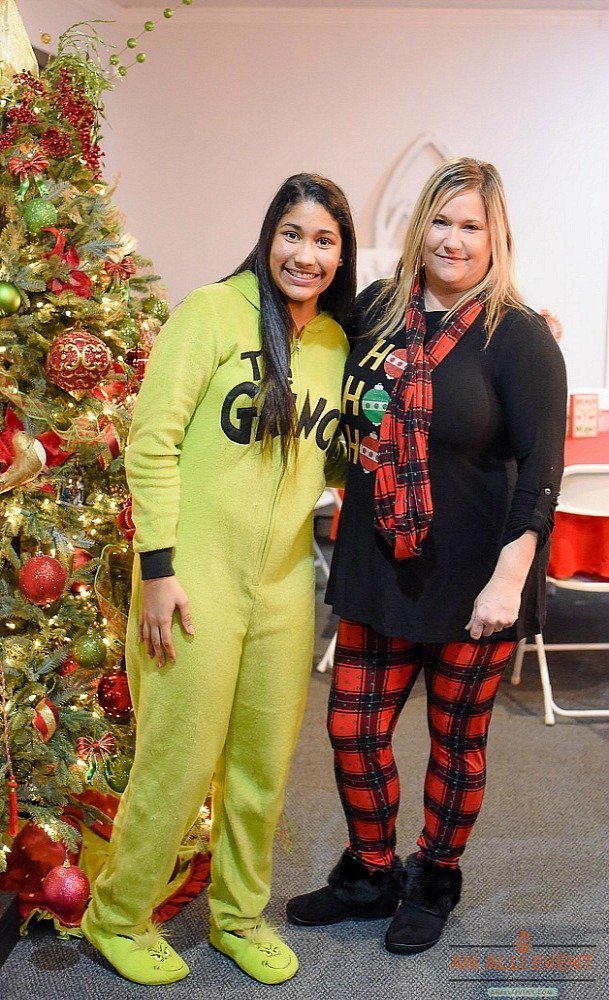 I didn't have time to take pics during the party so I grabbed the following photos from some of the ladies. These sisters (and a sister-in-law or two) rocked it with their matching pajamas.
I'm glad I wasn't judging the pj's because they were all adorable.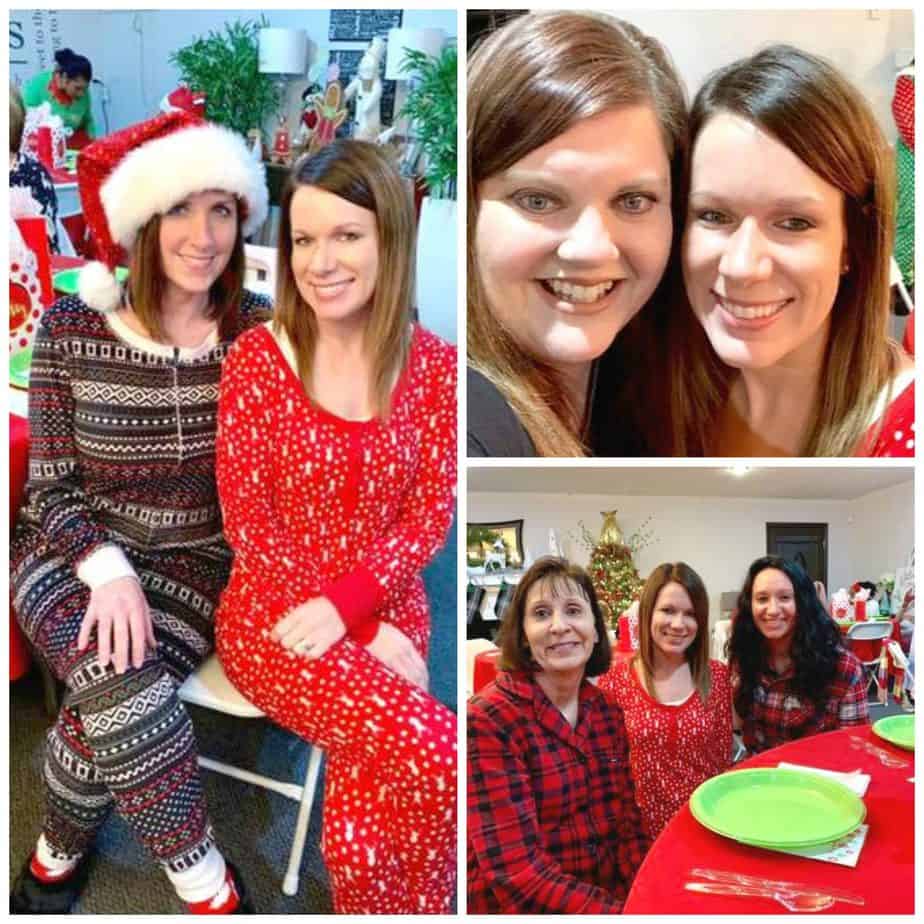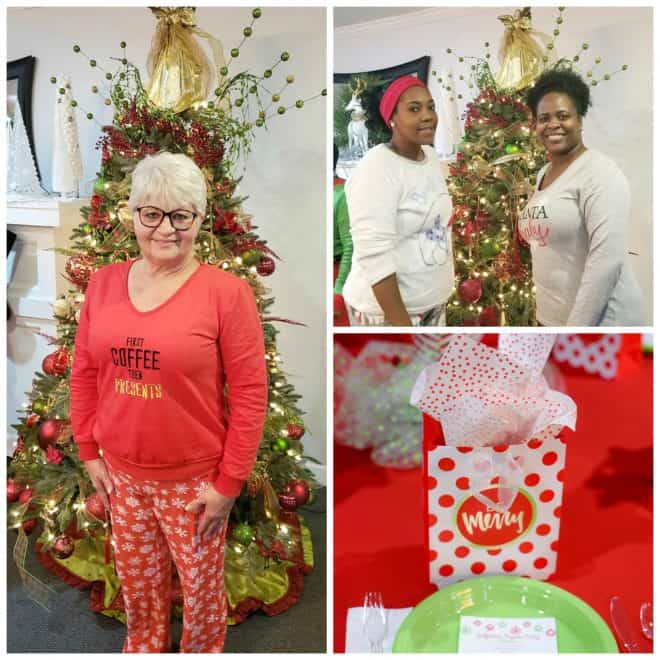 Best Pajama Party Gifts and Prizes
As all the women arrived, I had a secret judge walking around to see who was dressed the wackiest, who had on the cutest outfit and who showed the most Christmas spirit. The three winners all got prizes from Ulta. They have awesome makeup/skincare gift sets.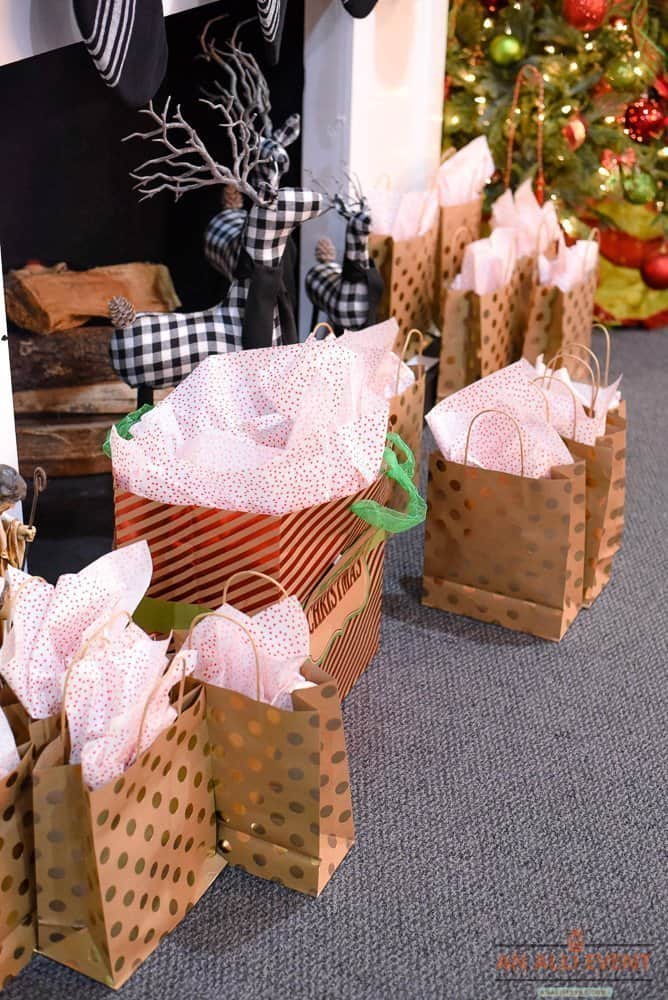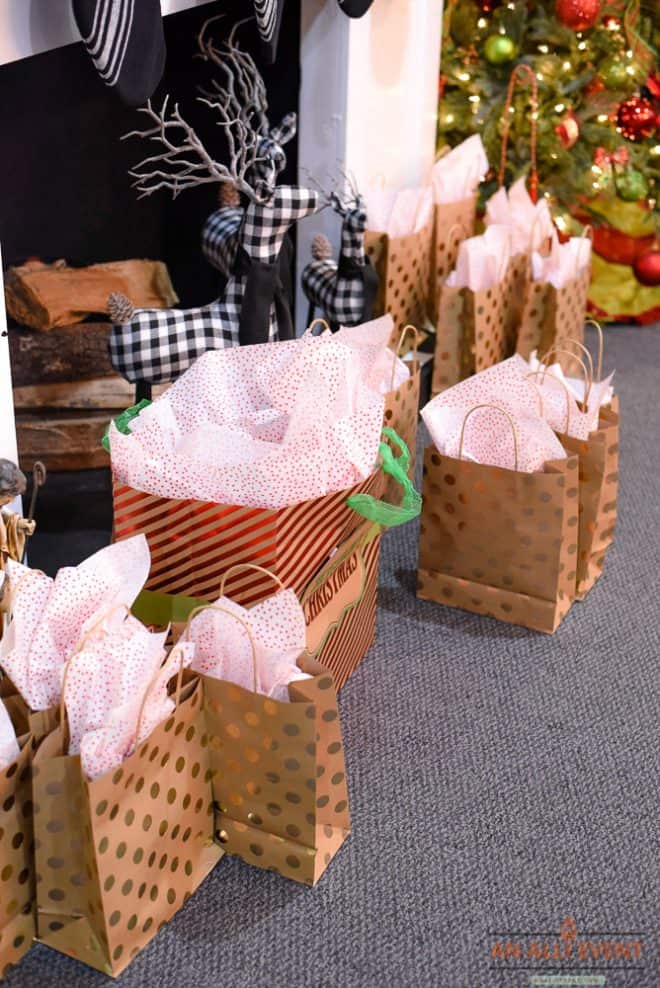 At my parties, no one goes home without a gift. Each of the 50 place settings included a winter scent handsoap from Bath and Body Works.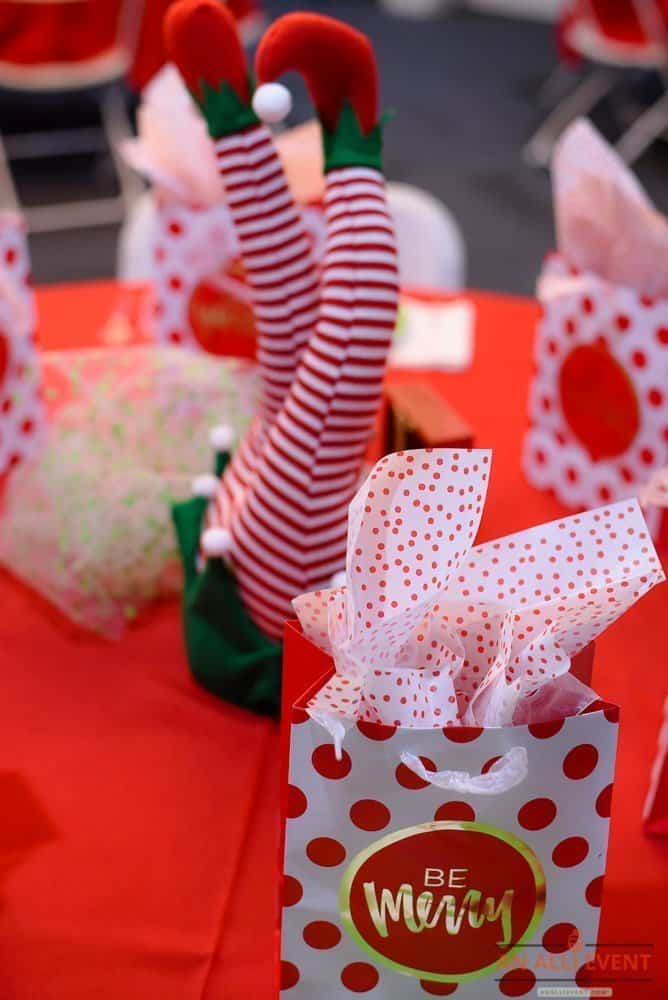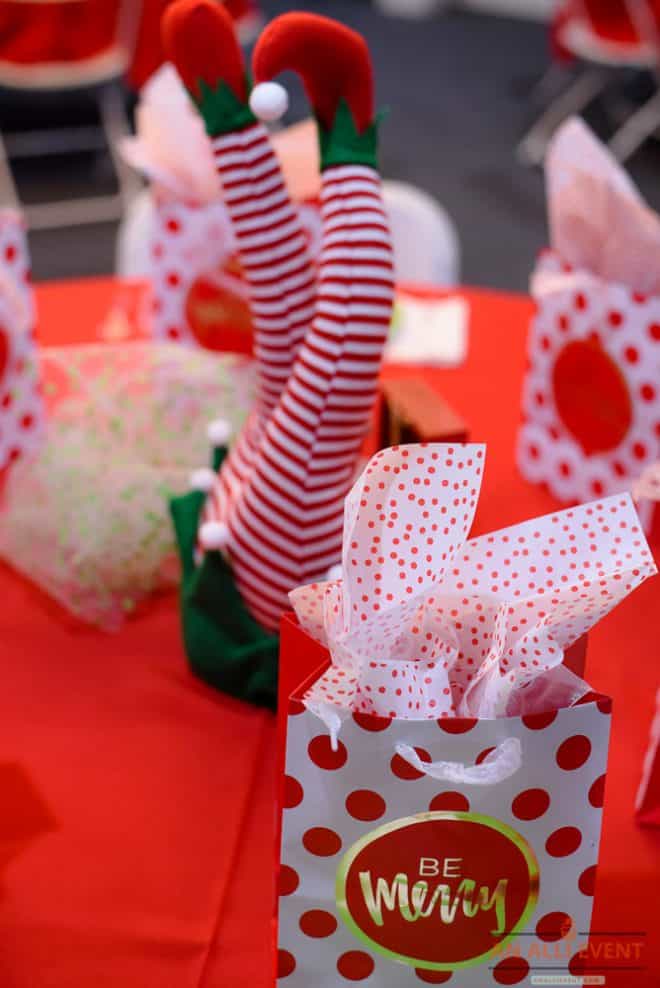 I heard several people say that this was the best party ever. I have to admit that wearing my All My Jingle Ladies Christmas pajamas, my reindeer slippers and my hair in a ponytail was the most comfortable I've ever been at a party.
Some parties are boring. Some parties are stuffy. Not this party! A pajama party is whimsical and just plain fun. When can we do it again?