This post, Budget Friendly Boys Bathroom Makeover, contains affiliate links. If you click a link and make a purchase, I may receive a small commission with no extra cost to you.
After completing my master bathroom remodel, the Boys Bathroom Makeover was next on my list of projects. This budget-friendly makeover is finished and I couldn't be happier. Here's how it looks now!
I love shiplap! So, when we moved into our 1900's colonial home, I was pleased to find it in almost every upstairs room. It's a Joanna Gaines' paradise!  Shiplap was on every wall except the upstairs bathroom. It was covered in powder blue. Add the ugly, dated vintage wallpaper and you have a bathroom that's old and grimy.
The bathroom is a small room (9′ x 6′) and felt cramped. It features a pedestal sink, tub/shower combination, and toilet. Am I the only one who hates pedestal sinks? Sure, they're pretty, but there's no storage.
The tub did not have tile surrounding it, so the wood was rotting from being wet. A huge window (the size of a door, no kidding!) was right above the bathtub. Why would anyone put a window that large in the tub/shower area? The tile on the floor was peel and stick and just plain ugly. It needed a makeover and I was ready to give it one.
Boys Bathroom Makeover
Step 1 and my favorite step – designing the perfect plan for this bathroom. The industrial/farmhouse look is what I wanted this bathroom to reflect. A masculine feel had to be incorporated since it is an all boy bathroom. This bathroom wouldn't have a glitzy chandelier, but it would still be just as beautiful.
I hired a contractor to do the boys bathroom makeover. Impatience got the better of me, so I decided to go ahead and remove the wallpaper.  I was hoping to discover gorgeous shiplap behind that ugly wallpaper and I couldn't wait any longer.
Demolition Day for Boys Bathroom Makeover
With fingers crossed, I enlisted the help of my boys and we went to work. Removing wallpaper is a tedious task that I hope to never do again. It was a long process, but finally, it was all down. No shiplap, just linoleum! Could shiplap be hiding behind the linoleum? There was only one way to find out. I removed some of the linoleum and there it was – shiplap!  I decided to wait for the contractor to remove the rest of it.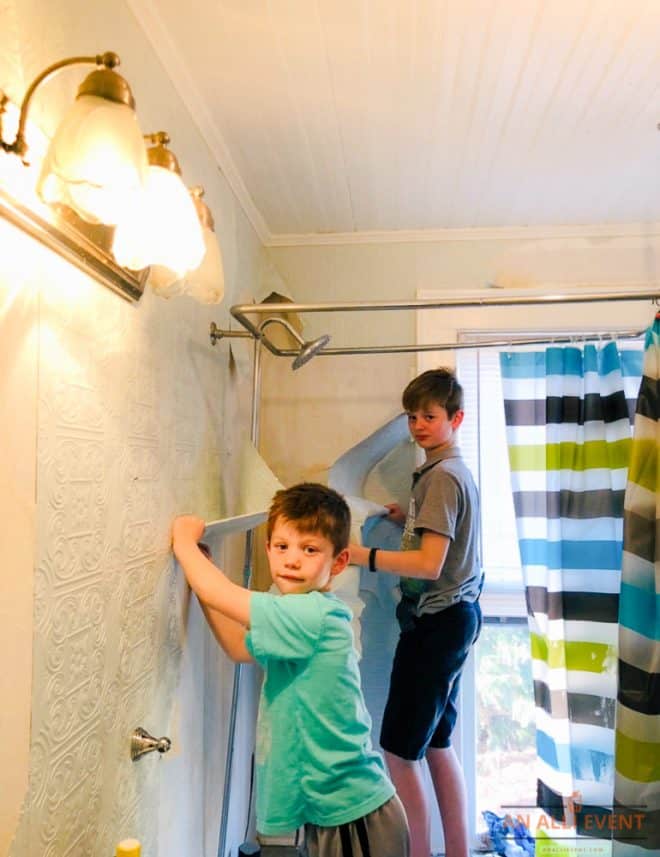 My dreams were short-lived because as soon as the contractor removed the rest of the linoleum, we found that the shiplap was in horrible condition and needed to be replaced. That's ok, shiplap is shiplap whether it's old or new.
The bathroom received a complete gut, but the layout stayed the same. I would've loved to change the layout, but that gets expensive and wasn't in the budget. I decided to remove the window in order to give the boys a large stand-up shower. My boys range in age from 14-7 and a tub is no longer needed.
Added Storage
The main problem with this bathroom was storage. My home is large and spacious, but it does not have closets, and that means no linen closet. It was almost a deal breaker when we first considered the house, but we've learned ways to work around it.  By building a cabinet to the right of the shower, it created space to store towels and other bathroom essentials.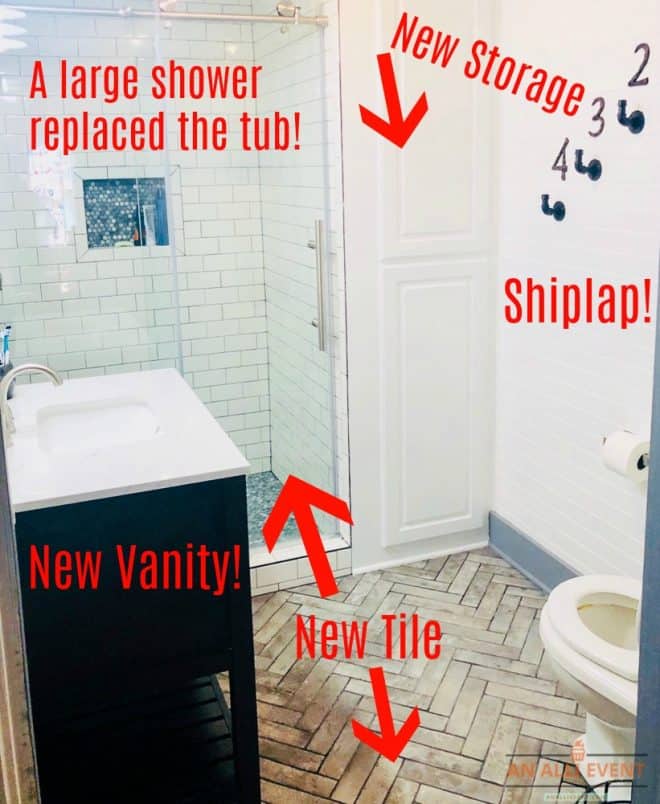 I chose white walls and gray trim and found the perfect bathroom vanity. It's a beautiful mahogany single sink vanity with Carrara stone top from Lowes. The vanity has four drawers, which is perfect for my four boys. They each have their own drawer. It's important to have personal space even in a shared space.
The Tile
I love subway tile, so I used it for the shower walls on this boys bathroom makeover. For the shower floor, I wanted something youthful and fun, that still fit with my design. I decided on Penny Tile that had different shades of gray. My boys love it. They say it feels great on their feet. I originally wanted to use brick as the floor, but I was concerned about the upkeep in a bathroom.
Home Depot has a beautiful brick-look tile, but I was a little skeptical. I chose for it to be laid in the herringbone pattern and I am in love! It's my favorite thing in the bathroom and I love the gray color. It hides dirt which is very important with four boys.
I have a custom shower glass in my master bathroom. It is expensive and I wanted a cheaper door for my boy's bathroom.  I found a sliding glass door with 3/8″ thickness and had my contractor install it. It took forever to install, and it still makes a creaking noise when you close the door. I only paid $545.00 for it, so I can live with the little bit of noise. It looks pretty and keeps the water in the shower, so overall we are happy with it.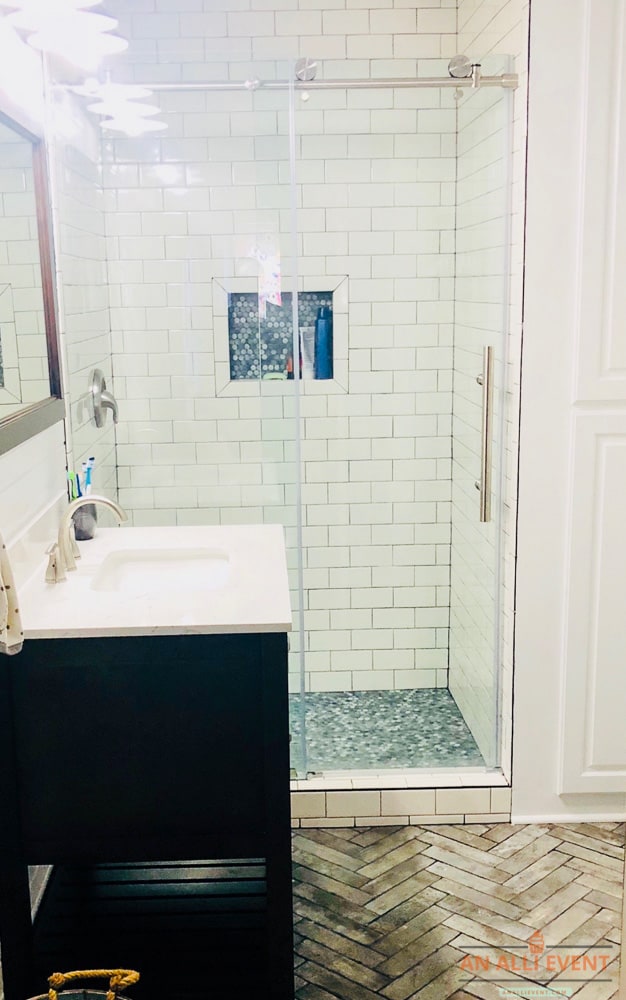 The light fixtures for this bathroom are so cute! They're cute in a masculine way. The vanity light is oil rubbed bronze and the ceiling light is black. They both scream farmhouse.
Designated Space
I created a designated place for the boys to hang their towels because I hate towels on the bathroom floor.  (I'm sure I'm the only mom who has problems with their kids throwing things on the floor. lol)
Hobby Lobby is my go-to store, and they have the perfect black industrial pipe hooks. Score!  I use these as towel holders and I also purchased bronze numbers 1-4. I gave the boys numbers based on their birth order. Tyler, my oldest, is number 1. Logan, 2, Caden, 3, and Tegan is 4. It's a cute, non-babyish idea and the towels are no longer found on the floor.
The Boys Bathroom Makeover is complete and I am so happy. The bathroom feels more spacious and has more storage. On to the next project!
Shop The Look
Click on the orange links below to show this look!
Black Pipe Metal Wall Hook – Hobby Lobby
Ceiling Light – Amazon
Vanity Lights – Amazon 
Shower Floor Tile – The Builder Depot
Subway Tile – Find similar at Wayfair
Vanity – Lowe's
Brick Look Floor Tile – Home Depot
Frameless Sliding Shower Door – Amazon