This post, Complete Bathroom Remodel, contains affiliate links. If you click a link and make a purchase, I may receive a small commission at no extra cost to you. 
We recently went through a complete bathroom remodel including a reconfiguration. We're so happy with how it all turned out. Here's our story.
My husband and I purchased our two-story, 1900 colonial home four years ago. It's truly a southern charmer featuring a white exterior, black shutters, and brick porch.  The first time I saw it, I was in love! I saw potential and my husband saw work. It was a fixer-upper, but I watch enough HGTV so I knew that we could make it our dream home.
Some people think that the kitchen is the most important room in a house. I beg to differ. I have four boys and at the end of the day, all I want to do is get in the tub and relax by myself for a few minutes. When people ask what my hobbies are, I just laugh and realize that those people don't have a lot of kids. Taking a bath is my hobby!
Complete Bathroom Remodel
Our home has two bathrooms and they were both hideous! The only downstairs bathroom is located in the master bedroom, so we decided to renovate that one first. Sorry, boys!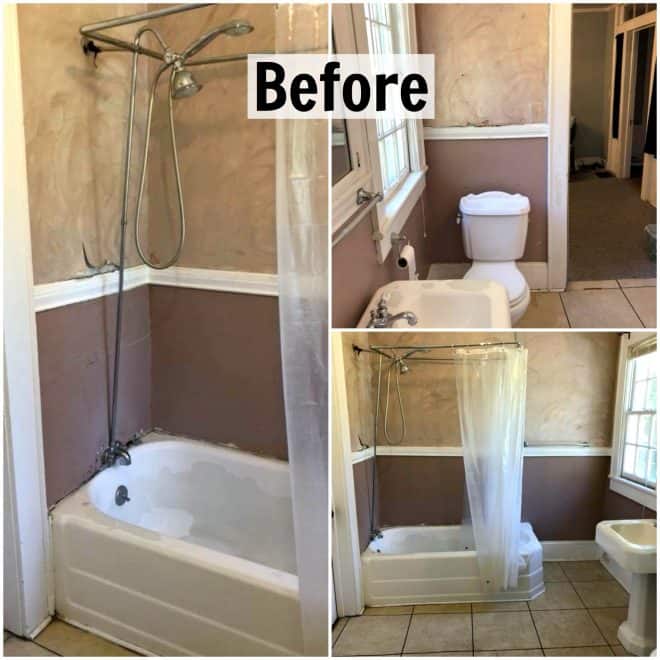 There was so much wrong with this bathroom. From the color to wood around the tub, mold, etc…I could go on and on. The worst part of the bathroom was the layout.  It was wasting a lot of space. The bathroom is a 9′ x 7′.
I find it a little crazy that a 4,000 sq ft home has only one small bathroom downstairs. It's an old home and it is what it is.
Configuration is the Name of the Bathroom Game
I didn't see the need to add on square footage. It's expensive and would be a nightmare.  I also realized that I could get everything I wanted in that space.
My must-have for my bathroom is a double sink vanity and a claw-foot tub with a separate shower. That's a tall order for a smallish space.
My husband told me there was no way all of that would fit. However, where there's a will, there's a way. I sketched, we measured and rearranged until I finally hit the jackpot.
My vanity and toilet are now on the left side of the room and my tub and shower are on the right. The bathroom had two doors. One has now been removed, and the other door is replaced with sliding barn doors. It also had two windows and we decided to do away with one window to add more usable space.
The layout is decided. The contractor is hired and I am one step closer to the bathroom of my dreams.
Shopping for Tile
While waiting for my contractor to arrive, I focused my attention on the fun part of my renovation, shopping. I am the queen of deals! I never pay full price for anything, so I began researching to find the best deal on the tile. My style is Modern Farmhouse with a traditional twist (is that even a style or did I make it up?).
I was set on using subway tile in the shower. I think subway tile is classic and will always be in style. Lowe's had the cheapest price for subway tile. I also purchased white pebble mosaic tile for the shower floor and shower nook.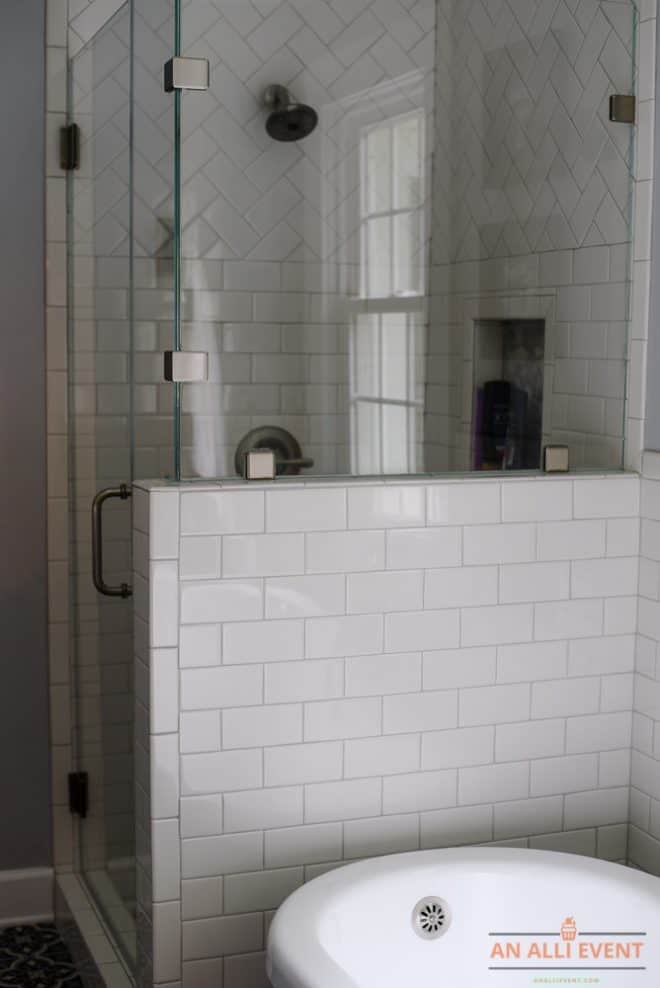 Cement tile for the floor was on my wish list, but since that was out of my budget, I chose porcelain tile that looked like cement tile from Wayfair. I love the floor! My contractor tried to tell me that it was too busy, but he was wrong. I told him to stick to construction. lol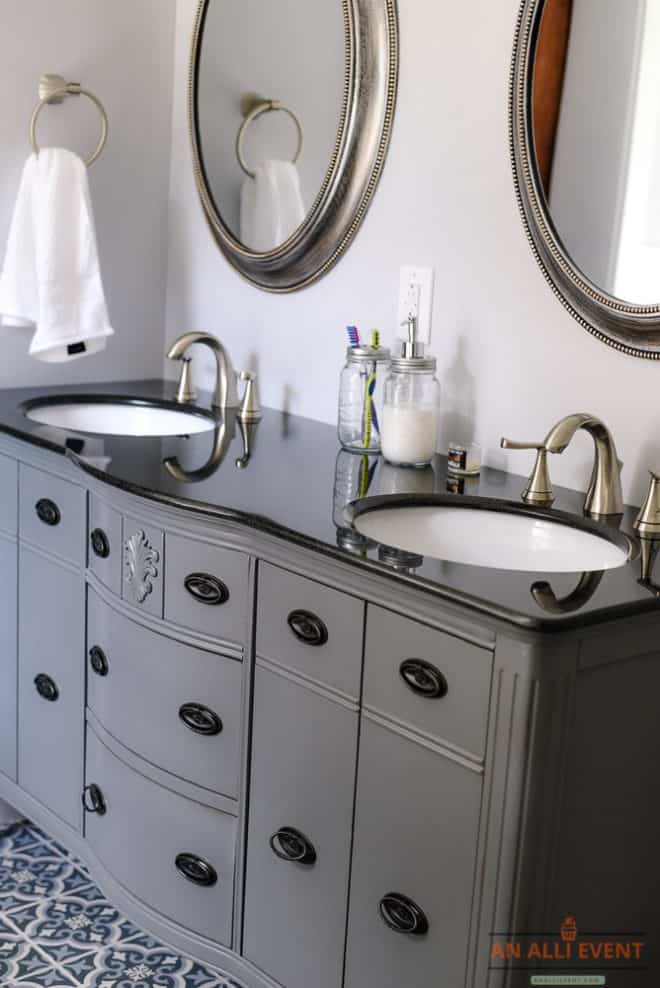 Claw-Foot Tub
My parents gave me an old claw-foot tub. I really wanted to restore it and use it in my bathroom. Unfortunately, it was missing the feet and I learned that trying to match feet to an old claw foot tub is like trying to find a needle in a haystack. Finally, I found a beautiful white tub with black feet from Home Depot that matched my decor, so all was right again in the world.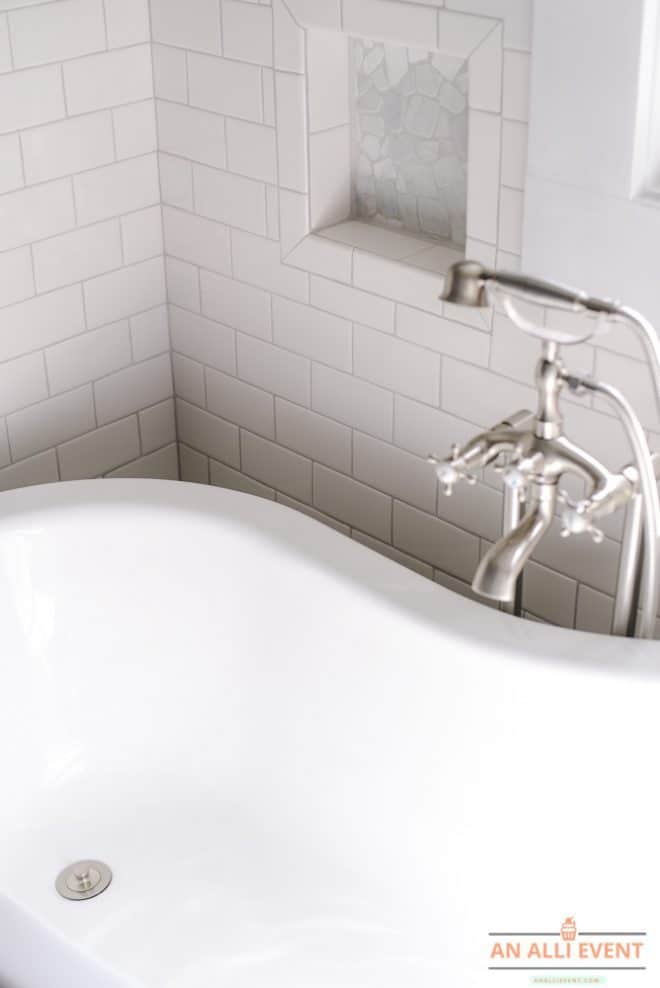 Vanity, Light Fixtures, Mirrors
I bought the perfect vanity, light fixtures, and mirrors and purchased all of the not-so-fun things like the toilet, faucets, and light switch covers. I picked out the perfect color, white metal by Behr, for the room and was ready to watch the bathroom come together.
My husband is a handyman, a jack of all trades, so he made the sliding barn doors for me. I think he did an amazing job and saved us several hundreds of dollars by making them himself.
Six people using the same bathroom is enough to put anyone over the edge. Why do boys always have to use the bathroom at the same time? After a delayed renovation, the bathroom was finally finished! I am so happy with how it turned out. I love it! It's beautiful and relaxing. Now, on to the next project.
PS – It's hard to get the entire bathroom in the photos, so here's a little video I made with my phone.
Shop This Look by Clicking the Orange Links Below
Floor Tile – Wayfair
Mirror – Joss & Main – find similar ones here
Vanity Lights – Joss & Main
Vanity – Home Depot
Subway Tile – Lowe's Home Improvement
Shower Floor Tile – Lowe's Home Improvement
Flushmount Light Fixture – Amazon
You May Also Like
How to Create a Relaxing Coastal Inspired Bathroom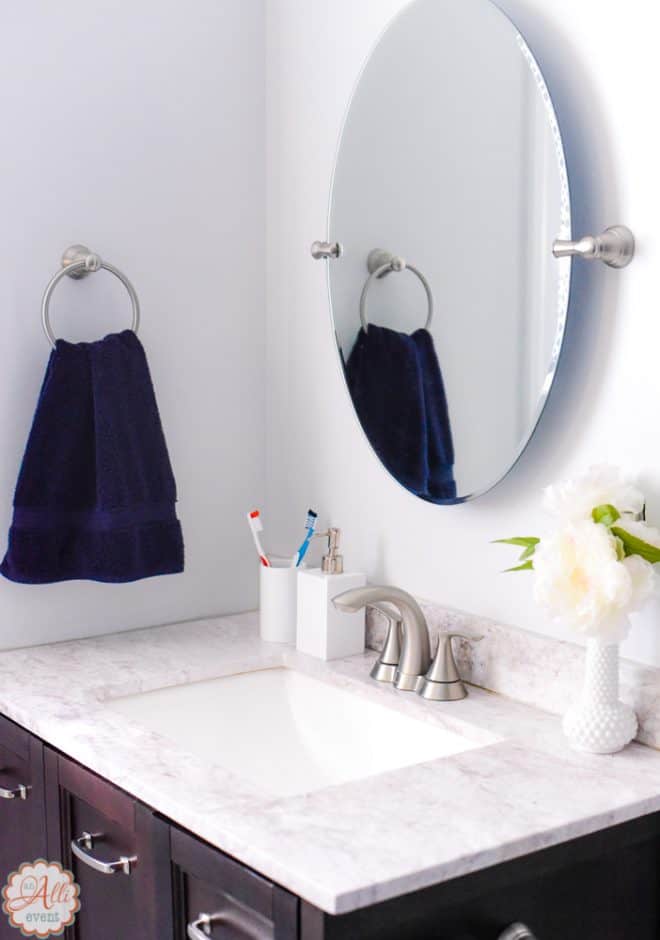 How to Clean Your Bathroom in 20 Minutes
When a Bathroom Remodel Turns Ugly