Thanks to Tyson for supplying me with their delicious crispy chicken strips!  The recipe is my own creation!
When I was given the opportunity to create a simple, creative recipe using Tyson's crispy chicken strips, I jumped at the chance. As I was thinking about all of the different directions I could go, it hit me – a simple twist to my chicken cordon bleu! Then I added a chipotle ranch dipping sauce.  You can't have a wrap without a spicy dipping sauce.
Then it was time for a taste test.  I decided to serve the wraps for Sunday lunch alongside a soup and salad.  I whisked the ingredients together for the chipotle ranch dipping sauce before heading to church so that the flavors could marry.  I also placed the ingredients for my soup in the slow cooker and it simmered away while my family and I were at church.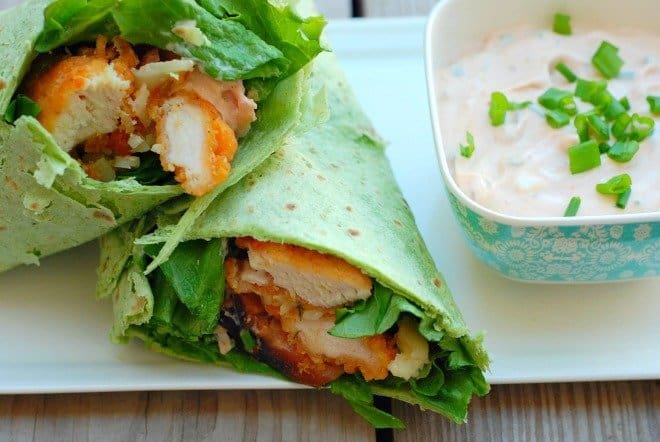 When we returned home, I put together the salad while the Tyson crispy chicken strips were heating in the oven.  As soon as they were done, I layered the ham, cheese and chicken onto the wraps, rolled them up and stuck them in the oven for 10 minutes so that the cheese would melt.
I doubled my recipe because I knew the family would enjoy them.  The wraps were a huge hit and everyone went back for seconds.  I knew they would!  The last wrap was cut in half and shared because they were that good! Maybe next time I need to triple the recipe!  The entire family loved my new recipe and have asked me to make it again and again.  Score!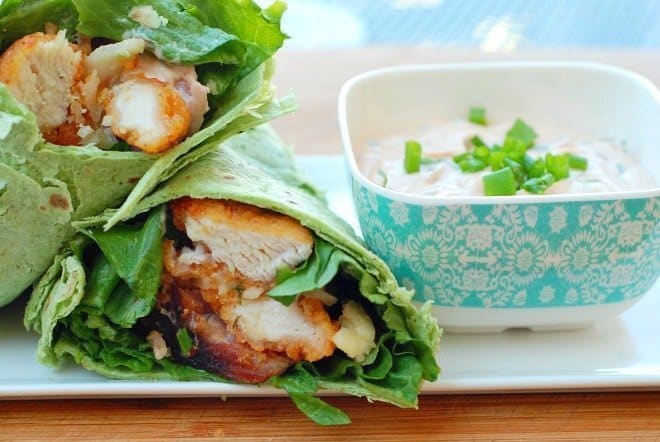 Chicken Cordon Bleu Wrap
Ingredients
8 Tyson's crispy chicken strips
8 slices deli ham
8 slices Swiss cheese
4 Spinach Herb wraps, large (or wrap of your choice)
Chipotle Ranch Dipping Sauce
1/2 cup light mayo
1/2 cup low-fat Greek yogurt, plain
1 Tablespoon chopped chives
I Tablespoon dry ranch dressing mix
Dash of garlic powder
1 canned chipotle chile in adobe sauce, minced, plus a teaspoon of the sauce.
Instructions
Whisk all dipping sauce ingredients together and store in the refrigerator.
Heat Tyson's chicken strips according to package directions.
When chicken is done, layer ham, chicken and cheese equally on all 4 wraps.
Roll and place in the oven for 10 minutes. Serve with chipotle ranch dipping sauce.
These crispy chicken wraps are perfect for a quick lunch or snack.  Try them and let me know what you think.