Sometimes, you just want a few bites of something sweet but you don't want to wreck your diet plan. That's when I make Chocolate Covered Banana Bites. I can eat one and I'm good to go. I just have to make sure I don't eat them all!
Special thanks to ZeroCater for sharing the graphic down below!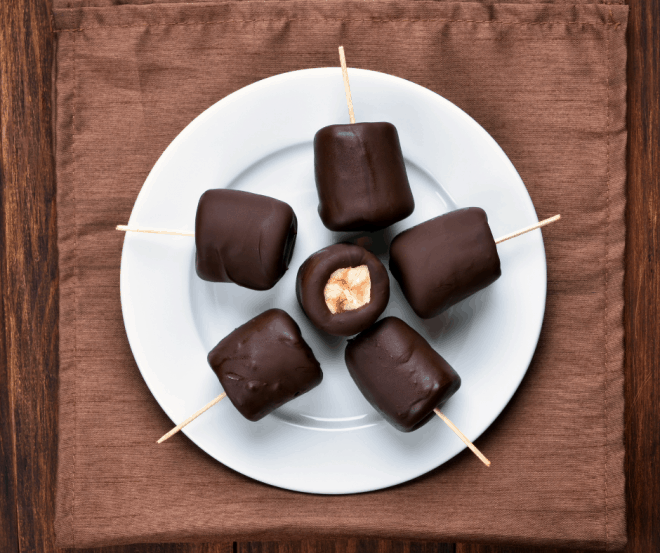 About three months ago, I made a promise to myself to exercise every single day. Sometimes, it's a long, intense workout and occasionally it's a short one. But I get up and move every single day!
It's all about baby steps with me, so once I got my workouts down pat, I began to restructure my eating plan. That' includes eating healthier snacks.
When you're working out, you don't want to undo all your hard work by eating unhealthy foods on a regular basis. I always save my once-a-week special splurge for Sunday dessert. Even then, I watch my portion size.
My husband and I both try to eat foods that are better for us. That means planning ahead and including small mid-morning or afternoon snacks. When it comes to snacking and craving something sweet, homemade granola bars are another favorite. Again, I have to make sure to watch portion sizes.
Frozen Chocolate Covered Banana Bites are a snack that's easy to make. Make sure to store them in the freezer!
Chocolate-Covered Banana Bites
Yield: 10 servings
Chocolate Covered Banana Bites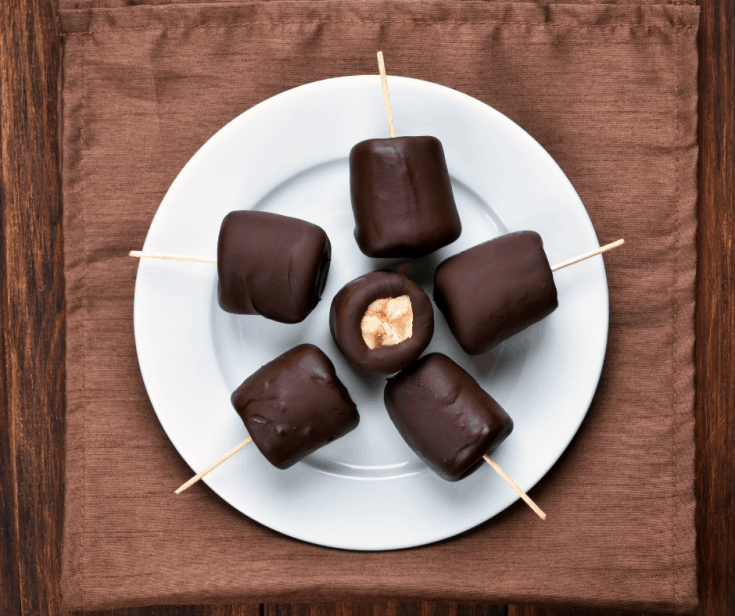 These chocolate banana bites are perfect when you want something sweet but don't want to wreak your diet.
Ingredients
2-3  bananas
12 oz. semi-sweet chocolate chips
One tablespoon coconut oil
Toothpicks
Instructions
Peel bananas and slice into 1-inch slices. Insert toothpicks into the banana slices and place on a parchment lined baking sheet and freeze for 25-30 minutes.
In a microwave-safe bowl, microwave the chocolate chips and coconut oil for 30 seconds. Stir and microwave in 15-second intervals, stirring after each interval, until chocolate is smooth. Remove the banana slices from the freezer and dip each one in the chocolate. Let stand until chocolate is firm. Store in the freezer.
Nutrition Information
Yield
10
Serving Size
1
Amount Per Serving
Calories

207
Total Fat

12g
Saturated Fat

7g
Trans Fat

0g
Unsaturated Fat

4g
Cholesterol

0mg
Sodium

4mg
Carbohydrates

30g
Fiber

3g
Sugar

23g
Protein

2g
Another snack I've always enjoyed is Keto Fat Bombs.
Of course, way back when I first started making these, they were called something else. I don't even remember what they were called.
I've never put them in a mold. I just mix all the ingredients up in a small, freezer-proof bowl, and once frozen, I break them into pieces like chocolate bark.
Keto Chocolate Bark aka Fat Bombs
You'll need:
1/2 cup nut butter
1/4 cup cocoa
1/4 cup melted coconut oil
non-sugar sweetener to taste (I use Splenda because I despise the taste of Stevia. My daughter tries to convert me but to no avail)
Stir everything together in a bowl until well combined and place in the freezer until firm. Break into pieces to eat. Make sure to store it in the freezer.
Awesome Infographic
The infographic below includes a recipe for granola bars and mix-and-match ideas for an adult version of ants on a log and trail mix.
What's your favorite sweet snack?
You May Also Like
Tropical Macadamia Nut Trail Mix