This post, Deep Fry Your Turkey the Easy Way, contains affiliate links. If you click a link and make a purchase, I may receive a small commission with no added cost to you.
My Thanksgiving wouldn't be complete without a deep-fried turkey. At one time, it was a southern thing, then it took the country by storm.
My mom and dad deep fried their Thanksgiving bird for years before the world caught on. When you deep fry your turkey, it's so moist and tender on the inside and crunchy on the outside.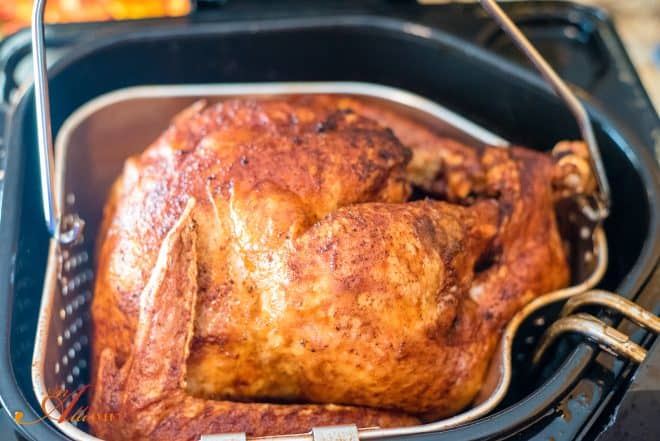 I have to admit that at first, I was a little hesitant to deep fry my own. I mean, that's mom and dad's job. Also, the six o'clock news was full of stories about people setting their decks on fire because they didn't know how to properly deep fry a turkey. It can be downright scary if you don't know what you're doing.
Then it happened. I found an electric fryer made specifically for deep frying turkeys inside. Yes! You no longer have to head to the deck to deep fry your turkey. Let's all do a happy dance.
I use the Butterball Indoor Electric Turkey Fryer. It's da bomb!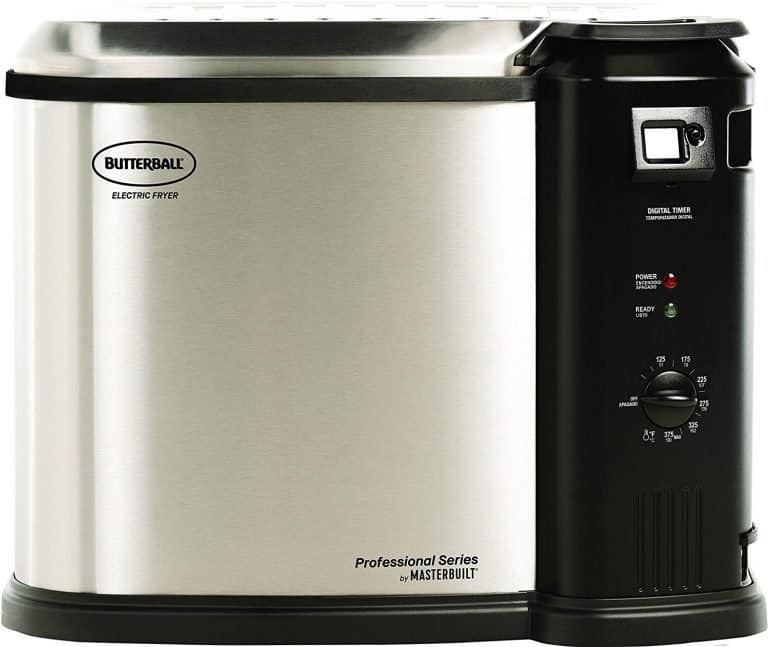 Why deep fry your turkey?
It's easy.
It doesn't take as long as roasting a turkey.
It frees up oven space. I have double ovens and I still don't have room to be roasting a turkey all morning.
Your turkey will be moist (no more dry, chewy turkey).
It will be crunchy.
Oh, so tender.
It's delicious!
Let's get started!
How to Deep Fry Your Turkey
I usually choose a Honeysuckle White Fresh Turkey. They're available at my local Kroger store.
Make sure your turkey is completely thawed. Here's how to do it. (I always use a 12 lb. turkey. It fits perfectly in my turkey fryer.)
Remove the giblets. (I won't take the time to tell you about the first time I cooked a turkey in the oven and forgot to remove the giblets from one end) Blush Blush.
I use the giblets to make giblet gravy, but you can do with them as you please. Just don't leave them in the turkey. Check both ends!
Pour peanut oil into the deep fryer. There's a slash on the inside of my fryer for a guide. Actually, there are two. Fill up the oil until it's even with the top slash – not the top of the fryer. Turn the fryer to 375º F.
A light will come on when the fryer is ready (if you use the same fryer I use).
Meanwhile, pat that bird completely dry.
Rub the turkey with mom's deep-fried dry turkey rub. Don't skip this step unless you just want salt and pepper, but that's kinda boring.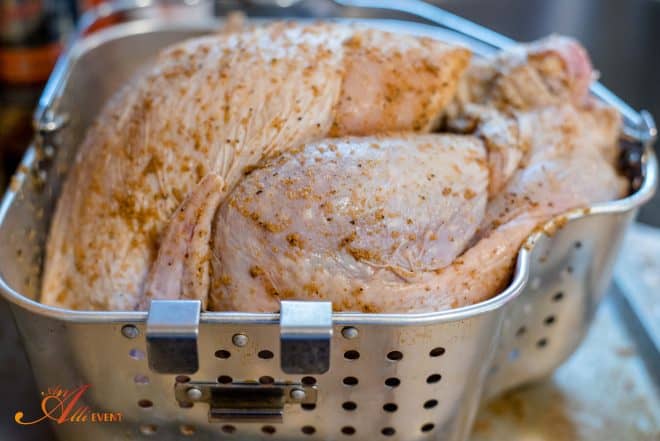 Spray the basket with cooking spray and place the turkey inside the basket. Using the lifter, slowly lower the turkey into the hot oil. Be careful! I always get my husband do this part and he uses heat resistant gloves in case the oil splatters.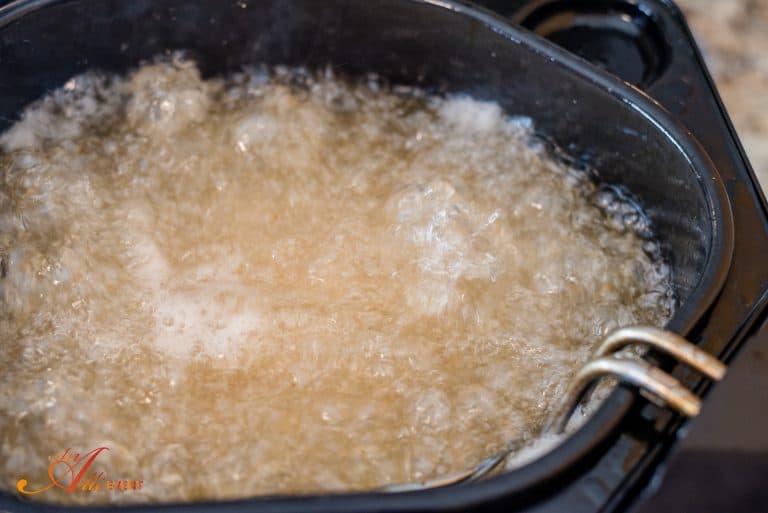 Lay the lifter over on its side and set the timer. I always deep-fry my turkey for 4 minutes per pound. For a 12-lb. turkey, it takes 48 minutes.
Helpful Hint: I always use Peanut Oil When Deep Frying a Turkey
Yes, it's a little pricey, but it's the best oil for deep frying. Period. Peanut Oil has a high smoke point and neutral taste. It's also low in saturated fats and high in polyunsaturated and monounsaturated fats. I buy the big jug from Walmart. You'll use most of it in your deep fryer.
Have you ever deep fried a turkey? It's really easy.
More Thanksgiving Day Recipes and Free Printables
Grab Mom's Deep Fried Turkey Rub recipe by clicking here!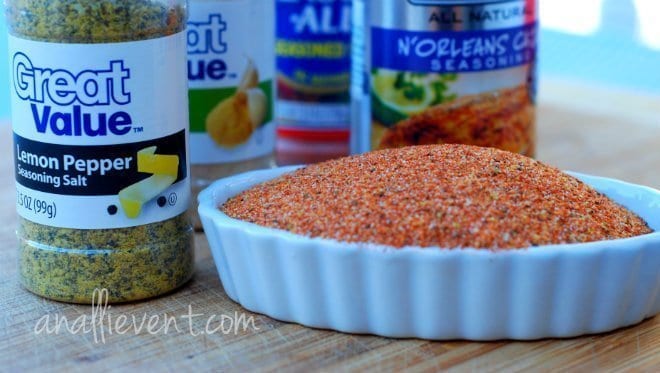 Have you downloaded a FREE thanksgiving-planner? You still have time!
You may also like my Thanksgiving Day Menu and Cornbread Dressing Recipe.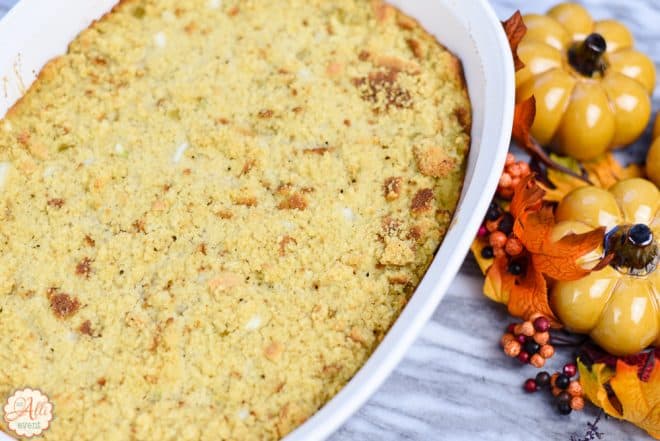 Here are even more Thanksgiving Day Side Dishes.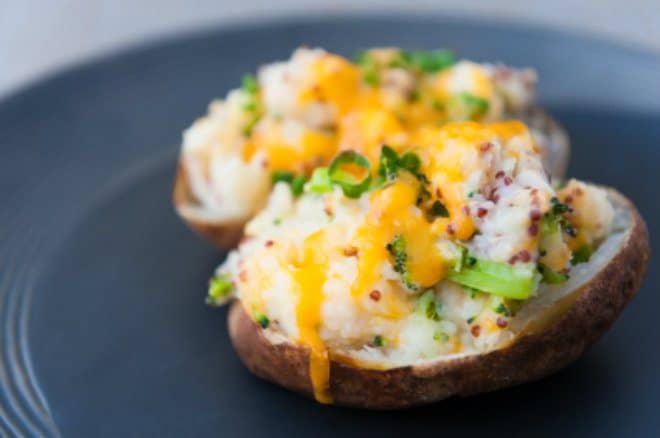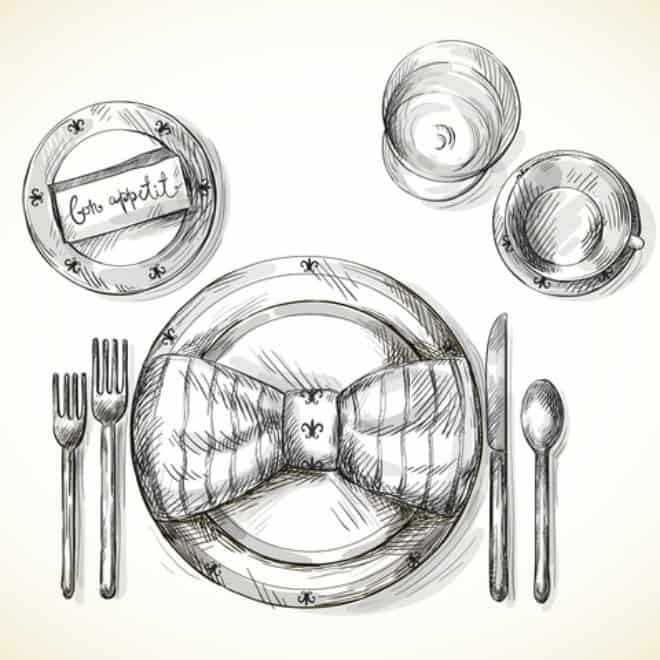 Cozy Rustic Thanksgiving Table