Thanksgiving Day is right around the corner. Are you ready? In the past, I've featured my huge table that seats 14 (but we squeeze in 15 or more). This time around, I'm featuring a cozy, rustic Thanksgiving Table.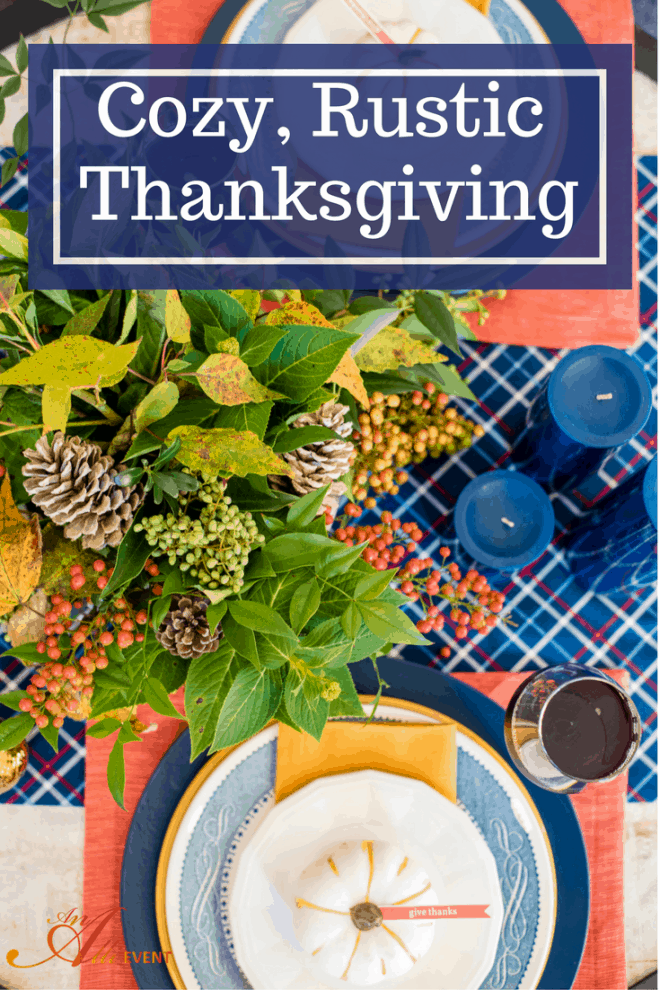 You can take my table setting and multiply it by as many as you want and duplicate the centerpiece several times for a really long table. Did I mention that the entire centerpiece came from my yard?
First of all, I scout my yard. Then I head to my daughter's house to grab some berries. The entire centerpiece is free. The pinecones came from my yard and I bleached them.
If you look closely, you'll notice that the mustard-colored plates are used time and again in my table settings. I bought them at World Market several years ago and they are still in stock. I can add to my collection as the family grows.
How to Set a Cozy, Rustic Thanksgiving Table
Layer, layer, layer – For me, it's all about layering and texture. I start with a navy charger. In its former life, it was a cheap dollar store gold charger. I painted it navy to match my decor and I'm in love with these chargers.
Then I add my mustard plates, followed by the blue and white dishes that my mom gave me. After she suddenly passed away this past May, the things she's given me are even more precious.
Small white dessert plates are added over a mustard-colored napkin. I finish it off by topping the dessert plates with a pumpkin.
I added a "give thanks" tag to the pumpkins.
If you'd like to add a "give thanks" tag to your tablescape, you can download them here: give-thanks
Shop Your Garden for Centerpiece Materials
As I mentioned above, I always shop my yard/garden for centerpiece materials. If I don't find everything I need, I head over to my daughter's house.
For this centerpiece, I started with a white bowl. I used clear tape for grids to support the berries and branches. You don't need florist foam at all.
These acorn salt and pepper shakers add a little more rustic charm to my tablescape and I have to say that I'm in love. I found them at Home Goods.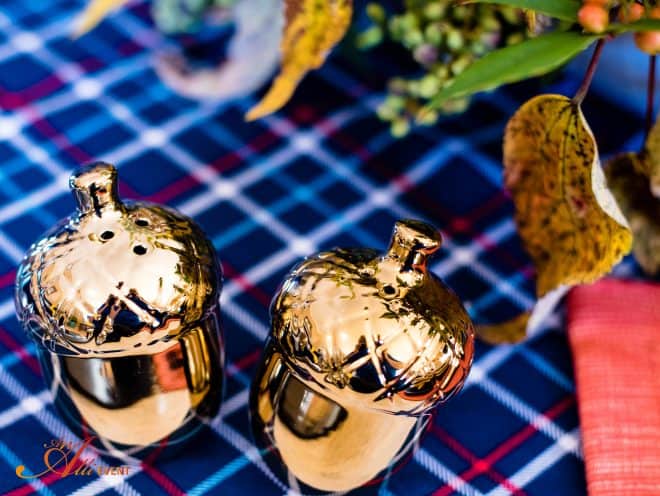 The table runner is just plaid material. I couldn't find a table runner that I wanted, so I made a no-sew one. I just turned under the edges and pressed them with an iron. It only takes a minute or two.
Orange place mats and navy candles add a pop of color and complete my cozy, rustic Thanksgiving table.
You may also like my fall home tour. It includes another fall tablescape.
Are you hosting Thanksgiving this year?
Thanksgiving Tablescape Blog Hop
Monday
Craftivity Designs / My Life From Home / Dazzle While Frazzled / What Meegan Makes
Tuesday
Our Crafty Mom / Blue I Style / The Magic Brush Inc / Designers Sweet Spot
Wednesday
/ Celebrate & Decorate / My Creative Days / Frazzled Joy / An Alli Event
You May Also Like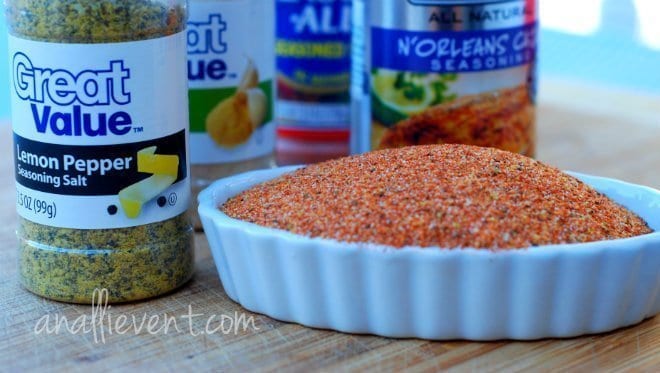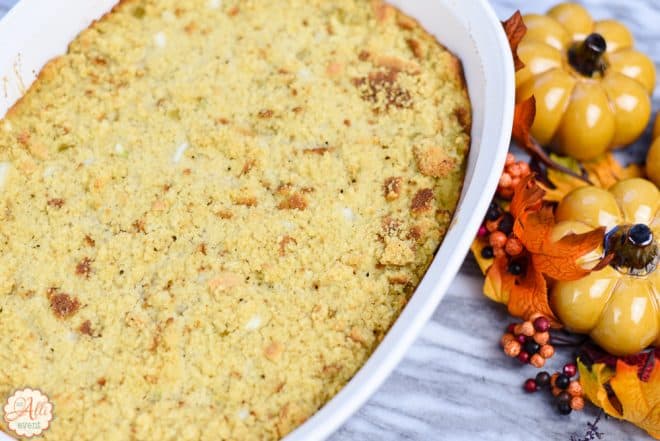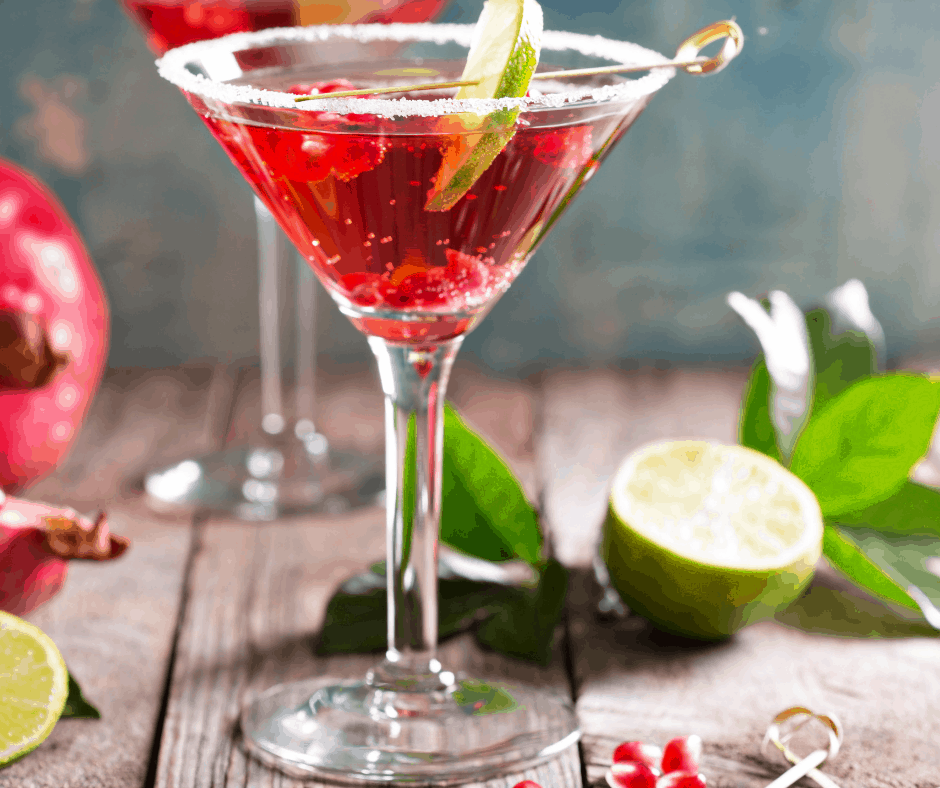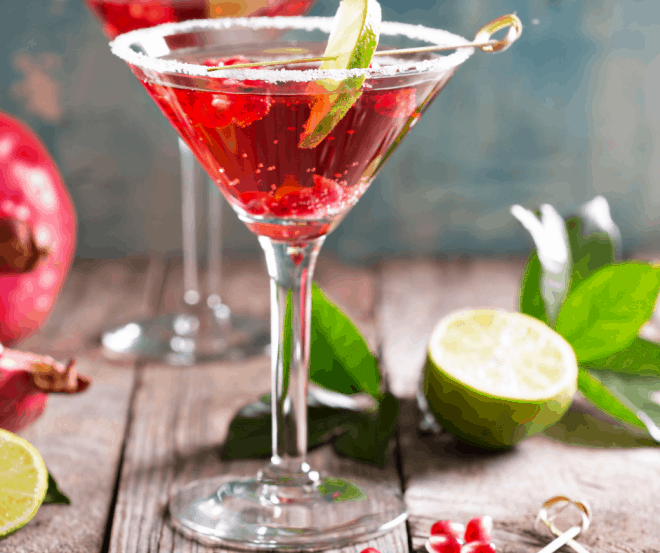 Free Thanksgiving Planner Printable