This post, Mom's Deep Fried Turkey Rub contains affiliate links. As an Amazon Associate, I earn from qualifying purchases.
If you've never had a deep-fried turkey for Thanksgiving, you just don't know what you're missing. Mom and dad have been deep frying their holiday bird for decades. Deep-fried turkey is crispy on the outside and so tender on the inside.
We always use mom's deep-fried turkey rub when we fry a turkey. We just stir the seasonings together, rub them on the turkey and we're good to go.
Actually, the first time I tasted this moist, crispy, well-seasoned turkey was at my parents' house. And I've been on the bandwagon for several years now.
Our Family Is A Big Fan of Deep-Fried Turkey
The fried turkey not only tastes better than baked (in my humble opinion) but frying it also frees up my ovens and my time since the turkey fries so quickly. Mom's Deep Fried Turkey Rub seasons the turkey perfectly.
My parents fry their bird outside using their propane-fueled deep fryer. I did that for a few years until I found an indoor electric deep fryer and I love it. It's just an easier clean up for me.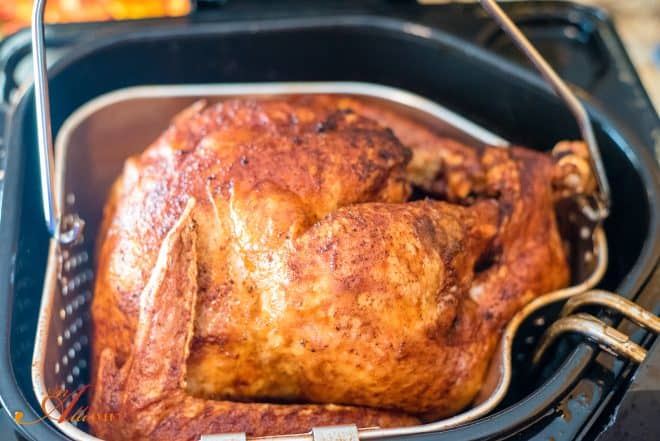 This is the turkey fryer I use.
Ingredients You'll Need For Mom's Deep Fried Turkey Rub
You can find the simple recipe down below. Here are the ingredients you'll need:
Garlic Powder
Seasoned Salt (I use Lawry's with no MSG)
Cayenne Pepper (just a pinch!)
Lemon Pepper
Creole Seasoning (like Zatarain's)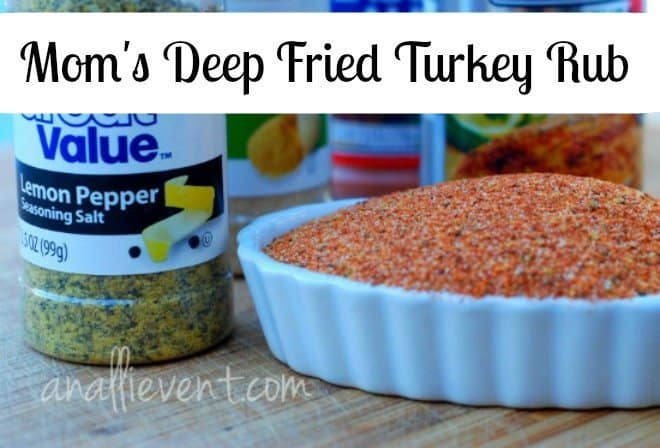 Fried Turkey Cooking Times
Deep-fried turkey only takes about 3 minutes per pound to fry in my electric turkey fryer. The oil takes about 30 minutes to heat before adding the turkey so make sure you add the preheating time to your Thanksgiving Day timeline. Grab my free Thanksgiving Day planner.
Always follow the directions on your deep fryer when you fry a turkey.
Tips For Deep-Frying a Turkey
Make sure the turkey is completely thawed! Rinse to make sure all ice crystals are removed from the turkey and pat dry with paper towels.
Remember to remove the neck and giblet pack!
Rub the turkey with mom's turkey rub before frying!
Please use extreme caution when deep-frying a turkey!
What Kind Of Oil Do You Use To Fry A Turkey?
I always use peanut oil for deep frying because of its high smoke point. The turkey cooks quickly without absorbing very much of the oil. Plus, peanut oil is stable and doesn't have an odor and it has a neutral taste.
I know peanut oil is expensive and it takes a lot to fill the turkey cooker, but it's worth it to me for this one day out of the entire year.
Mom's Deep Fried Turkey Rub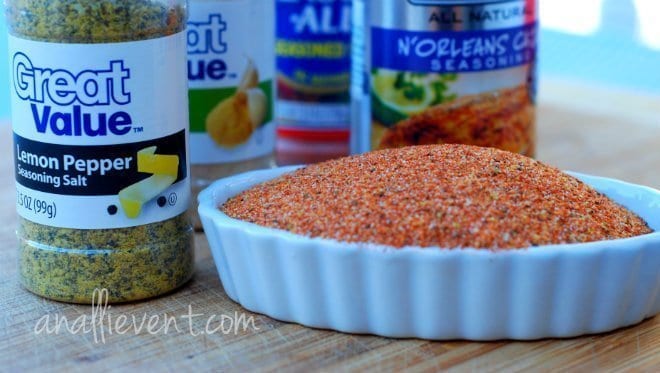 We always use Mom's Deep Fried Turkey rub when we fry our turkey at Thanksgiving. It seasons the turkey to perfection.
Ingredients
2 Tablespoons Garlic Powder
2 Tablespoons Seasoned Salt
1/2 teaspoon Cayenne Pepper
2 Tablespoons Lemon Pepper
2 Tablespoons Creole Seasoning
Instructions
Combine all ingredients and rub on turkey. It's best to rub the turkey the night before and let sit overnight in the fridge. But I've actually done it 30 minutes before frying and it was still good. Deep fry 3 minutes per pound at 325 degrees or according to your deep fryer. Enjoy!
Notes
Use whatever brand you'd like for the seasonings. I do use Lawry's seasoned salt with no MSG.
Nutrition Information
Yield
12
Serving Size
1
Amount Per Serving
Calories

11
Total Fat

0g
Saturated Fat

0g
Trans Fat

0g
Unsaturated Fat

0g
Cholesterol

0mg
Sodium

1751mg
Carbohydrates

2g
Fiber

1g
Sugar

0g
Protein

0g
How do you cook your Thanksgiving turkey?
Click the link below to see how I deep fry a turkey!
You can see exactly How to Deep Fry a Turkey.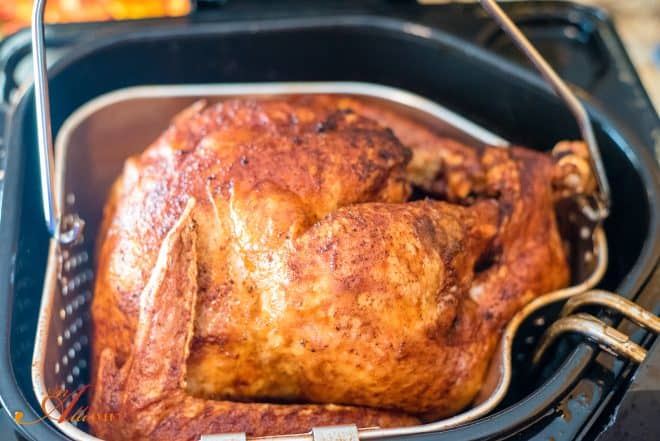 If you had rather roast that bird, I've got you covered on how to roast a turkey.