I have extremely dry hair.  When you add in lowlights, highlights and sunlight, well, my hair can be a hot mess.  I'm sure you guessed by now that I'm not a natural blonde, but I play one in real life.  And, it's true, blondes do have more fun! 🙂
I've tried expensive specialty salon shampoos and not-so-expensive brands from my local big box stores and I've never found one that's made me completely happy.
When I recently received a VoxBox in the mail, I assumed it would be a small one-use-only sample packet of shampoo. I was pleasantly surprised when I opened the gift and saw what was inside.  Here's a photo I snapped with my iPhone.  I was too lazy to grab the Nikon.
I researched the Dessange brand and found out that it was established by Jacques Dessange in 1954 when he opened his first salon in Paris by the prestigious Champs-Elysées, attracting glamorous celebrities and later becoming the Official Hairstylist at the Cannes Film Festival.
Today, Dessange, a symbol of French luxury, provides its unique and sophisticated hairdressing expertise through a network of over 400 salons in 45 countries. They've expanded with the launch of a new, premium brand, offering exclusive salon techniques at home.
Here's what I received:
Dessange Paris California Blonde Illuminating Shampoo
We all know that blonde is a shade that can lose luster and fade with time.  The California Blonde collection is designed to moisturize and protect color treated blonde hair.  This special formula is enriched with passion flower extract.
I was impressed the first time I used it.  To me, it's all about the lather and the rinse.  The lather felt creamy and when I rinsed, I was completely sold!  My hair didn't feel stiff and stripped like it has with a lot of shampoos I've tried.  It felt soft before I ever used the conditioner.
Dessange Paris California Blonde Illuminating Conditioner
The ultra nourishing shampoo is supposed to tame and smooth dry, unruly hair.  And it did just that.  My hair felt nourished, but not oily.
Dessange Paris California Blonde Brass Color Correcting Creme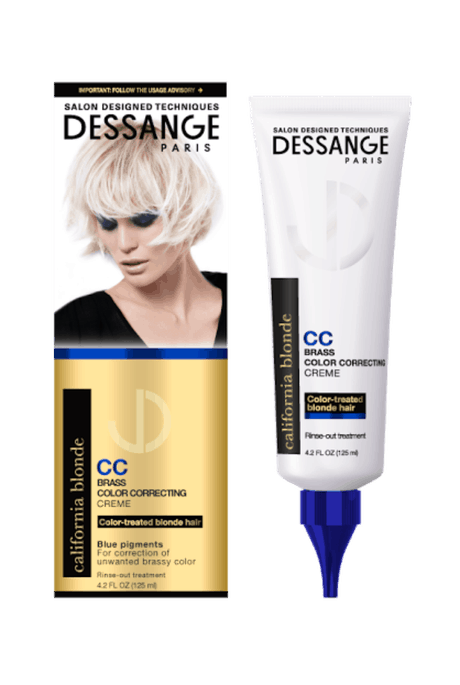 I'm so not all about that brass!  The correcting creme is a weekly, in-shower treatment formulated with linseed oil and blue pigments to neutralize brassiness and nourish the hair.
I've tried many color correcting cremes that promise amazing results, but I was stunned (in a good way) at the results from just one use of this creme.  Don't be shocked when you open the tube and see the dark blue creme.  Yes, it's a darker blue than any correcting creme I've ever tried, but it works beautifully.  Bye, bye brass!
I definitely recommend all 3 products!  The best news?  You can find Dessange products at your local Target.
What's your favorite shampoo for  dry, colored treated hair?
I received these products complimentary from Influenster for testing purposes.  My opinions, as always, are my own. #JadoreDessange