This post, French Bread Pizza, is sponsored by Mahón-Menorca Cheese. All opinions are my own.
French Bread Pizza is easy to make. The homemade pizza sauce, combined with delicious Mahon-Menorca cheese takes it over the top!
Sometimes, you just want pizza. In a hurry! That's why I love the ease and convenience of this pizza.
When my kids were little, we had pizza night just about every Friday night. We'd watch a movie and have our favorite pizza delivered right to our door.
These days, I live out "in the country" as we say – three miles from town – and we don't have pizza delivery. That's where this easy and versatile french bread pizza comes in.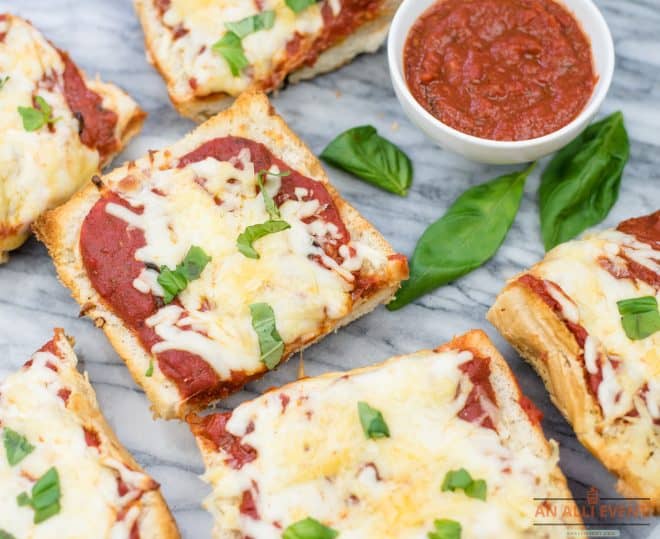 French Bread Pizza
Make sure to buy the large, soft loaf of French (or Italian) bread to make this pizza. You don't want to use a hard baguette.
After slicing the bread in half horizontally, brush half of the garlic/butter sauce on the cut sides of the bread. Set aside.
The remaining garlic/butter sauce is the base of the pizza sauce. Add tomatoes and tomato paste to the garlic/butter in the saucepan. Heat on medium, stirring occasionally, and bring to a simmer. Reduce heat to medium-low and cook for 15 minutes.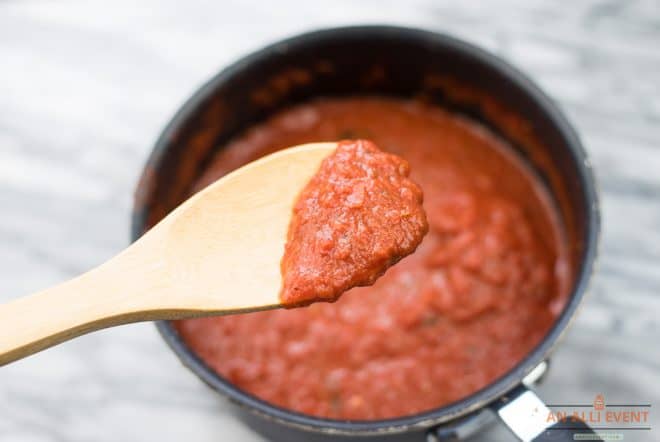 While the sauce is simmering, sprinkle 1/4 of the mozzarella cheese over the bread. Cook, about 5 minutes, or until the cheese is barely melted.
Remove the bread from the oven and top with the pizza sauce.
Add the remaining mozzarella cheese and Mahón-Menorca cheese.
Mahón-Menorca Cheese
Mahon cheese is a delicious Spanish cheese from the island of Menorca. This is a very versatile cheese and is often grated and used for topping pasta, rice and vegetable dishes.
Mahón-Menorca Cheese can be found in specialty stores nationwide. You can also find this delicious cheese at Fairway Markets, Harris Teeter, Saveway, Kroger, Murray's, Central Markets, Costco, Gourmet Garage, West Side Markets, Zabar's, Central and Town & Country Markets in Seattle.
How to Grill French Bread Pizza
I made this pizza in the oven, but you can also grill it. After topping the pizza, loosely wrap the bottom and sides of the french bread with aluminum foil. Grill, covered, over medium-high heat for 15-20 minutes or until heated through and the cheese is melted.
After the pizza is done, sprinkle with additional Mahón-Menorca cheese and chopped basil leaves before serving.
Additional Toppings for French Bread Pizza
I love this pizza with just sauce and cheese. If you're like my son and want lots of toppings, you can definitely add them to this pizza.
ground beef and 1/2 cup chopped onion (brown in a skillet, drain and add to pizza sauce before simmering for 15 minutes)
sliced pepperoni
sliced ripe olives
sliced mushrooms
bell pepper
red onions
How to Freeze Pizza Sauce
This pizza sauce makes more than I need for the pizza, so I freeze the leftover sauce. To freeze the sauce, let cool and freeze in a freezer-safe container. Freeze for up to 3 months.
Make the Pizza Sauce Ahead of Time
You can also make the pizza sauce ahead of time and freeze the sauce in muffin tins. Freeze until solid, pop the frozen cubes out of the tins, and place them in freezer-safe containers. Thaw overnight in the refrigerator before using, or microwave frozen cubes in 30-second increments until they melt into a sauce.
Yield: 8 servings
French Bread Pizza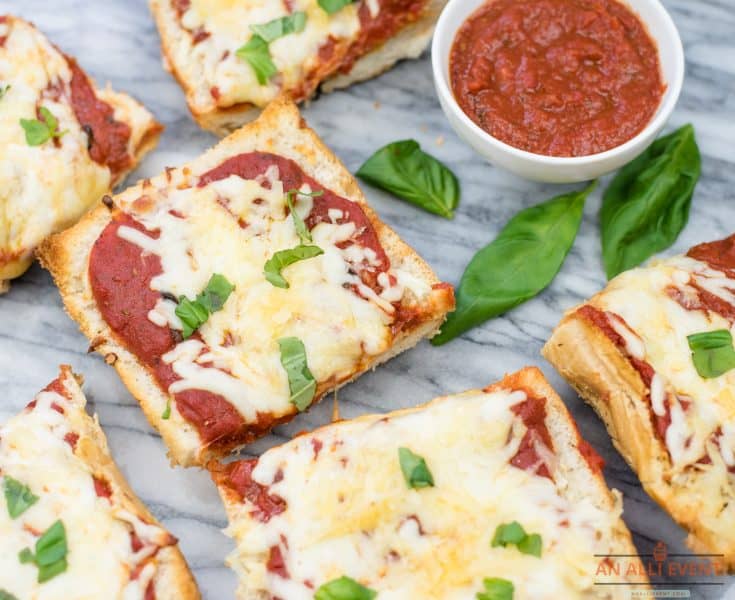 French Bread Pizza with homemade pizza sauce is a delicious and easy weeknight meal. This pizza is also great for parties.
Ingredients
4 Tablespoons olive oil
2 Tablespoons butter
1 teaspoon minced garlic
Pinch red pepper flakes
1/4 cup minced fresh basil leaves
1 (6 oz.) can tomato paste
1 (28 oz.) can crushed tomatoes
1 Tablespoon dried oregano
1 Tablespoon Italian seasoning
1/2 teaspoon salt
1 teaspoon grape jelly
1/4 teaspoon pepper
1 cup mozzarella cheese
1/2 cup shredded Mahón-Menorca cheese
Instructions
Heat butter and oil in a medium saucepan over medium-low heat until butter is melted. Add garlic, pepper flakes, basil, Italian seasoning, and oregano. Cook, stirring occasionally until garlic is softened, but not brown (about 2 minutes). Remove half of the garlic mixture and set aside.
To the remaining garlic mixture in the saucepan, add tomato paste, crushed tomatoes, grape jelly, salt and pepper. Increase heat to medium and bring to a simmer. Reduce heat to medium-low and cook, stirring occasionally, for 15 minutes.
Preheat oven to 400º F. While the sauce is simmering, slice bread in half lengthwise. Brush cut sides with the garlic mixture. Sprinkle 1/4 cup mozzarella cheese over the surface of the bread. Cook about 5 minutes or until the cheese is slightly melted.
Spread sauce evenly over bread. Top with remaining mozzarella cheese and Mahón-Menorca cheese. Bake for 10 minutes or until cheese is melted.
Nutrition Information
Yield
8 servings
Serving Size
1
Amount Per Serving
Calories

216
Total Fat

18g
Saturated Fat

8g
Trans Fat

0g
Unsaturated Fat

9g
Cholesterol

34mg
Sodium

384mg
Carbohydrates

7g
Fiber

2g
Sugar

4g
Protein

8g
To learn more about Mahón-Menorca cheese, make sure to follow along on Facebook, Twitter, and Instagram.
You May Also Like
Sun-Dried Tomato and Mozzarella Pizza