This shop has been compensated by Collective Bias, Inc. and its advertiser. All opinions are mine alone. #LeaveBlandBehind #CollectiveBias
When we lived in Tulsa, we had pizza delivered every Friday night. It was a favorite family tradition and we'd watch a movie, eat pizza and enjoy the start of a brand new weekend.
When we later moved to a small town in South Carolina and bought a house in the country, the kids didn't understand why the pizza guy couldn't find us. I tried to explain that we were not in the city any longer, but it took a while to sink in! So, I started a new tradition – making my own pizza the easy way.
Pizza night is still a favorite at my house. Sun-Dried Tomato and Mozzarella Pizza is the newest pizza addition to the menu. I start with a storebought crust to save time. My secret weapon is McCormick Sundried Tomato Basil Pasta Seasoning. It's one of the New McCormick Pasta Seasoning Blends and you can find it in the spice aisle at your local Walmart. These new seasonings take the guesswork out of recipe-free cooking!
McCormick Pasta Seasoning Blends have no artificial colors or flavors and it helps me make meals I feel good about serving to my family. These blends also offer more flexibility than boxed sauces when I'm preparing meals. You just heat on the stovetop in a bit of water or milk and then toss with hot cooked pasta. It can't get any easier than that!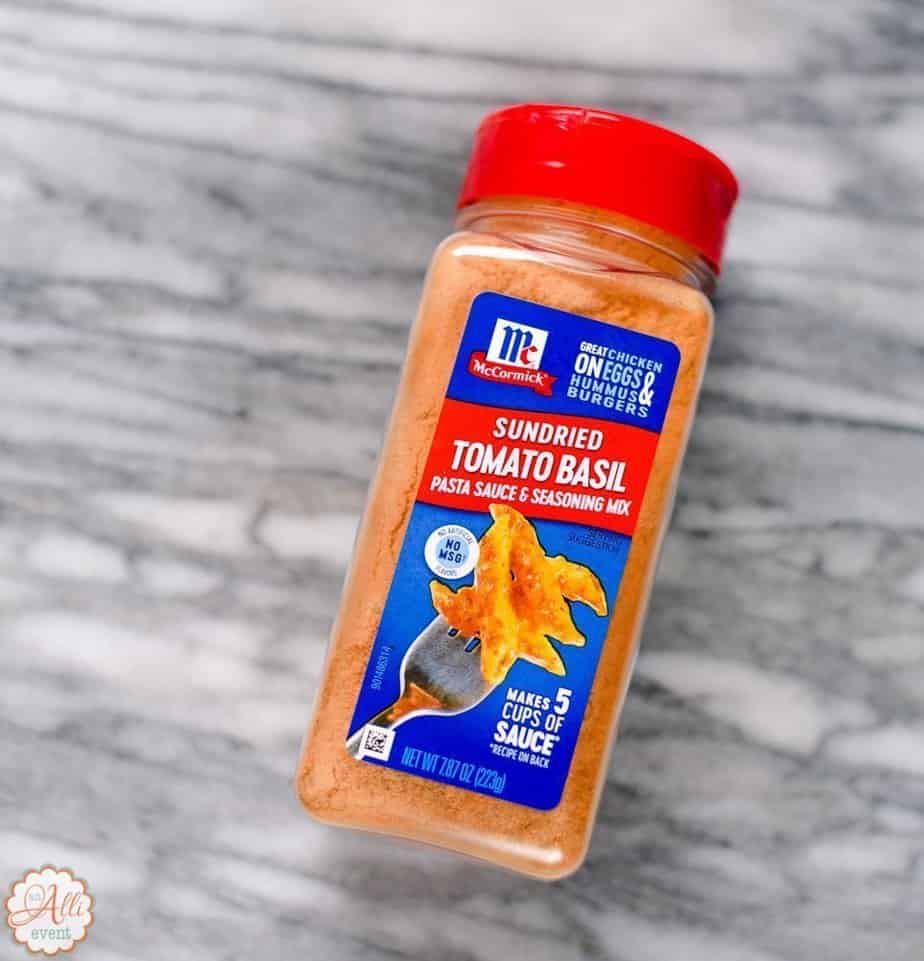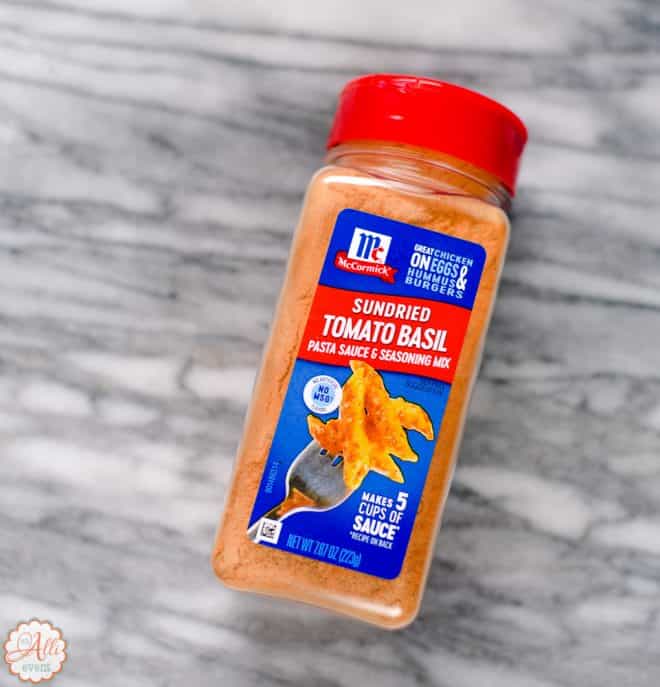 I love the added flavor of McCormick Sundried Basil Pasta Seasoning when I'm making Sun-Dried Tomato and Mozzarella Pizza. Other flavors include McCormick White Cheddar Pasta Seasoning and McCormick Parmesan Alfredo Pasta Seasoning. I'm looking forward to trying them all!
Let's Make Sun-Dried Tomato and Mozzarella Pizza
Lightly brush the top of the pizza crust with olive oil.
Blend the Sundried Tomato Basil Pasta Seasoning, butter and milk on medium-high heat. Bring to a boil and cook for one minute or until thickened.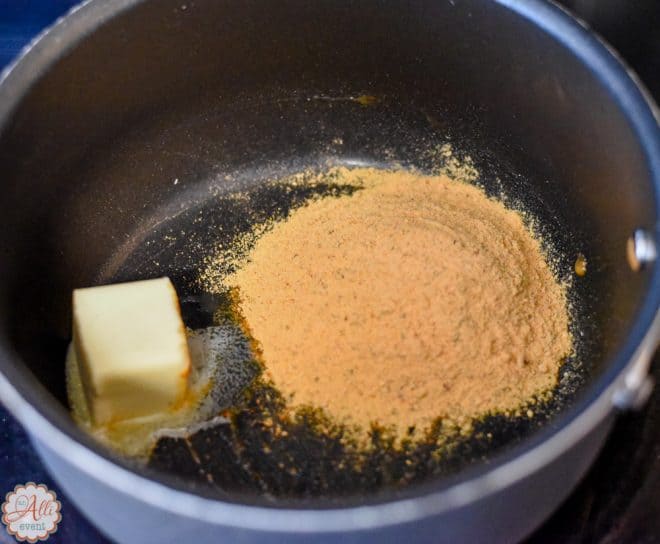 Spread half of the sauce onto the pizza crust and top with kalamata olives, sun-dried tomatoes, and cubes of fresh mozzarella.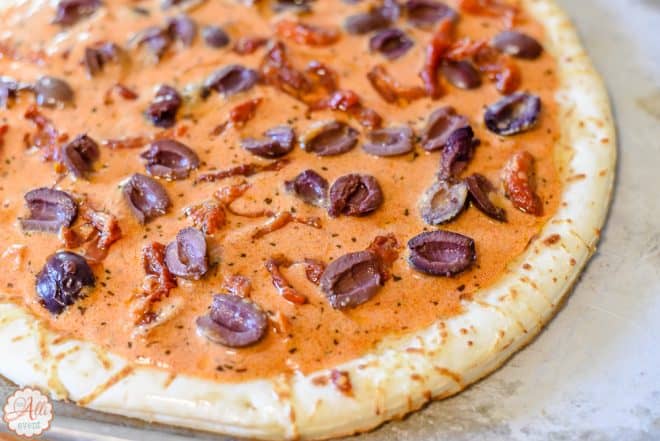 Sprinkle with snipped basil.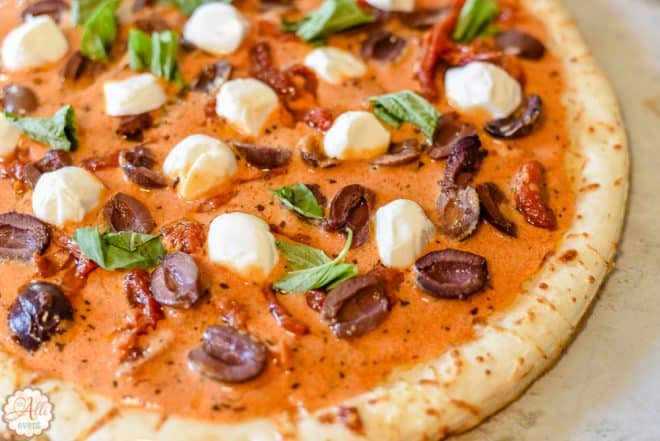 Bake for about 10 minutes or until cheese is melted and crust is golden brown.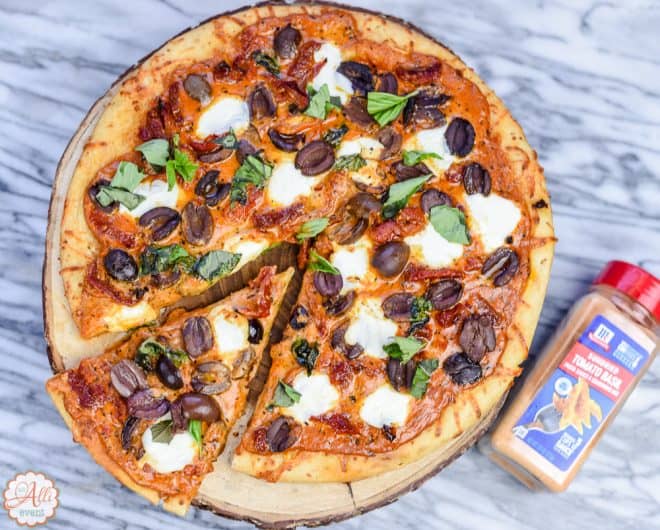 Helpful Hint: This sauce is enough for two pizzas, but today I'm only showcasing one. I definitely make two when the entire family is coming over. When I only make one pizza, I serve the remaining sauce on the side as a dipping sauce.
I made this pizza a few days ago and my son immediately called dibs on the leftovers. He's an expert on all things pizza and he later sent me a text that read, "This pizza is awesome." I totally agree!
How to Make Easy Sundried Tomato and Mozzarella Pizza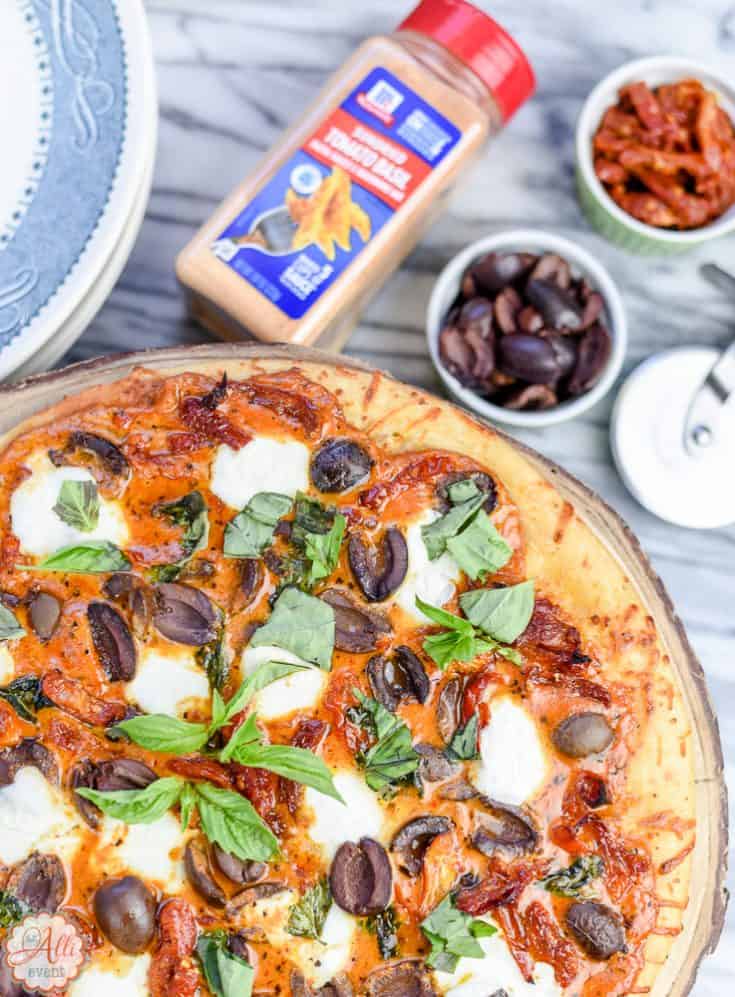 Ingredients
1 pizza crust
McCormick Sundried Tomato Basil Pasta Sauce
2 Tablespoons butter
3/4 cup milk
Sundried tomatoes in olive oil
Cubed fresh mozzarella cheese
Kalamata olives
Snipped basil
Instructions
Preheat oven to 425º F.
Prepare the McCormick Sundried Tomato Basil Pasta Seasoning according to directions on the packaging.
Brush the pizza crust lightly with olive oil. Spread half the sauce evenly over one pizza crust.
Top with sundried tomatoes, cubed mozzarella, Kalamata Olives and snipped basil.
Bake at 425º F for 8-10 minutes or until crust is golden brown.
Serve pizza with remaining pasta seasoning sauce on the side.
These days, we don't miss the pizza delivery guy at all. He just can't compete with my easy, flavorful Sundried Tomato and Mozzarella Pizza!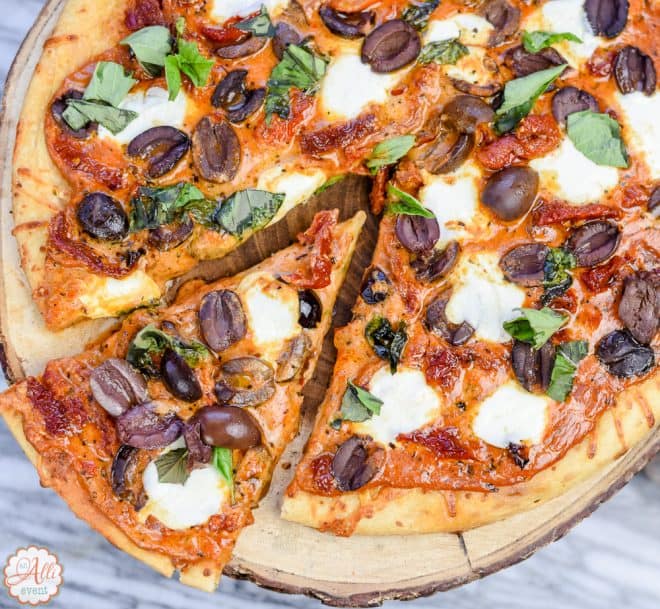 Do you have pizza night at your house? You'll definitely want to add my Sundried Tomato and Mozzarella Pizza to your menu.