Thanks to Swanson for sponsoring Gazpacho Shooters & Grilled Shrimp Skewers. All opinions are mine alone.
Appetizers are my jam and these Gazpacho Shooters & Grilled Shrimp Skewers don't disappoint. Gazpacho is actually a Spanish style soup made from tomatoes, veggies, and spices. This soup is served cold so it's the perfect summertime soup.
Gazpacho is Perfect for Summertime
I just so happen to be a soup loving girl, but who wants to eat hot soup this time of year? Not me!
Gazpacho to the rescue! It's a delicious, chilled, tomato juice and chicken broth-based soup that's full of good-for-you-veggies. I usually keep the good-for-you part a secret. And there's no cooking involved!
You'll always find Swanson Chicken Broth in my pantry – winter, spring, summer, or fall. It's a good thing that I can now buy it by the 6-pack in the soup aisle at Sam's Club. It's one of those staples that I always have on hand and I use it several times a week.
How to make Gazpacho
Gazpacho is so easy to make. Give all the veggies a rough chop, combine them with the tomato juice and Swanson Chicken Broth and puree it all together in a food processor or blender until the veggies are very finely chopped. You're gonna drink the gazpacho, so you don't want huge chunks.
Be sure and blend in two batches. Chill in the fridge until time to serve or at least two hours.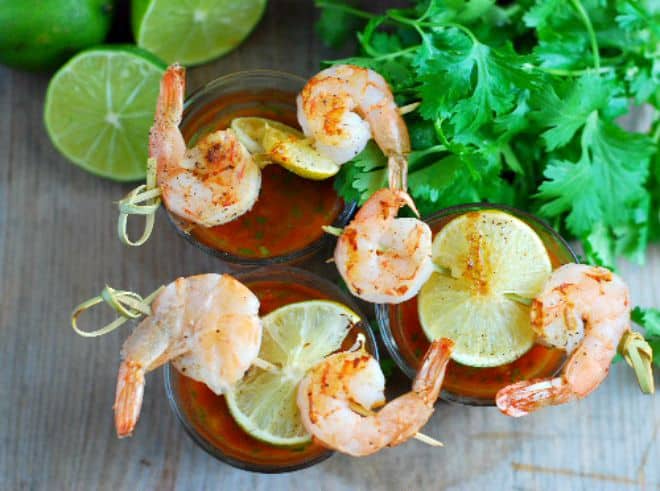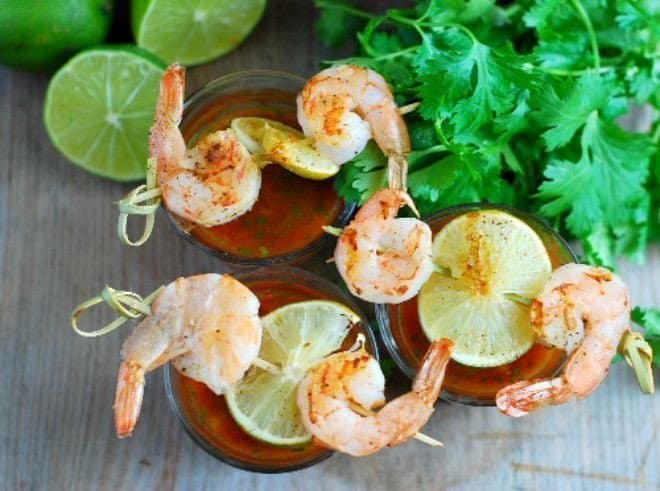 How To Prepare The Grilled Shrimp For Gazpacho Shooters
To prepare the grilled shrimp, I always soak the bamboo skewers for about five minutes in cold water so they won't char during the grilling process.
Peel & season the shrimp (I buy the ones already deveined. I just hate deveining shrimp.). Thread on a skewer through the body and the tail, add a thin slice of lime between the shrimp. It gives it some color, it's pretty and I happen to love grilled limes.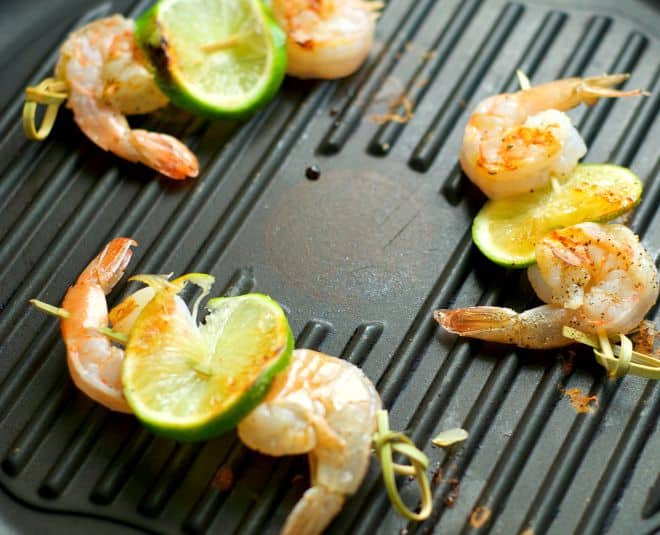 Helpful Hint: Grill the shrimp about 3-4 minutes on each side or until they are opaque and turn pink. Be careful not to overcook the shrimp. Overcooked shrimp are tough, rubbery, and not very tasty.
Once the shrimp are done, pour the gazpacho into shot glasses, top with a shrimp skewer, and serve.
This recipe serves 8-10. You can store the leftover soup in an airtight container in the fridge. It will keep for 5 days.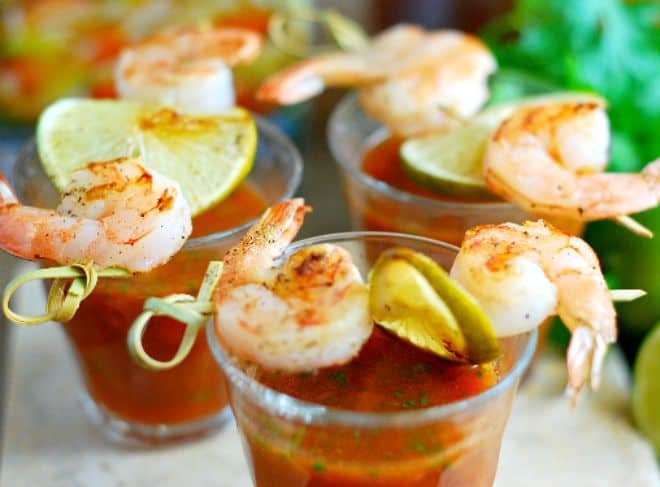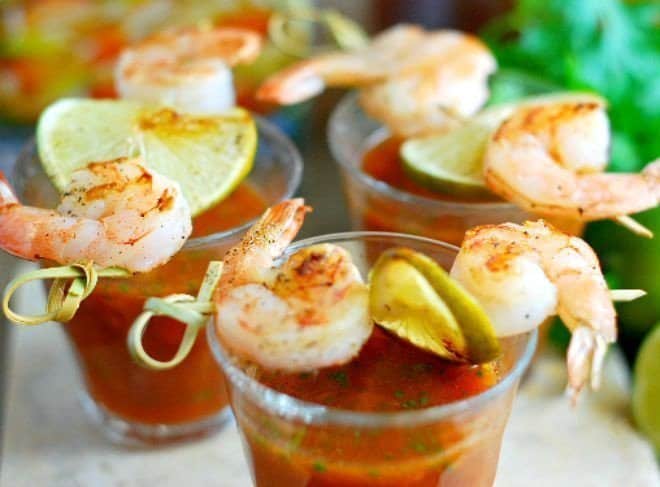 You Will Also Love These Recipes:
Yield: 8-10 servings
Gazpacho Shooters and Grilled Shrimp Skewers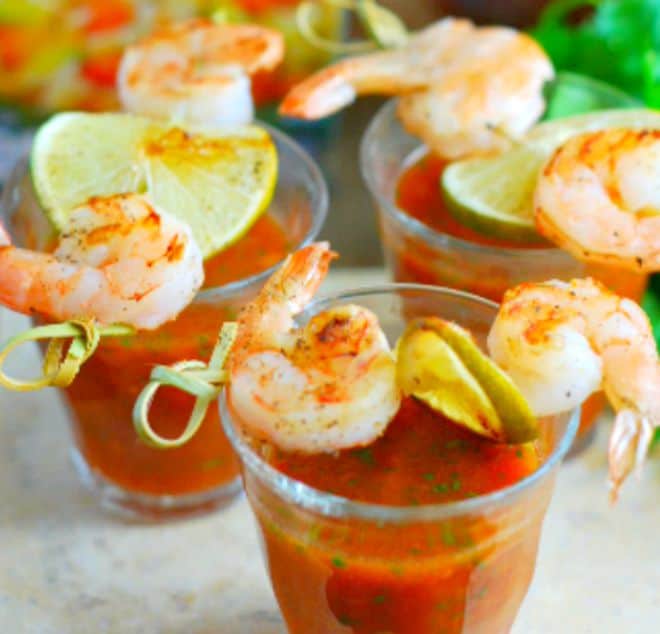 Gazpacho Shooters are cool and refreshing. Top with grilled shrimp and limes for the perfect appetizer.
Ingredients
Gazpacho Ingredients
1 cup Swanson Chicken Broth
4 cups tomato juice
1/3 cup onion, rough chopped
1/3 cup green bell pepper, chopped
1/3 cup chopped celery
1/3 cup chopped cucumbers
1/3 cup chopped cilantro
1 tsp. cumin
1 tsp. salt
1/4 tsp. pepper
1 tsp. hot sauce (optional)
Grilled Shrimp Ingredients
1 pound X-Large Raw Shrimp, peeled and deveined
2 limes
Salt and pepper to taste
Small bamboo skewers
Instructions
To make gazpacho: Place all the gazpacho ingredients in a large bowl. Pour half into a food processor or blender. Puree until veggies are finely diced. Repeat with the other half of the ingredients. Refrigerate until well chilled (about 2 hours).
To make grilled shrimp skewers: Soak the bamboo skewers for about five minutes in cold water so they won't char during the grilling process. Squeeze the juice of one lime over peeled and deveined shrimp. Slice the other lime into thin slices. Salt and pepper to taste. Thread shrimp onto skewer alternately with lime slices. Grill for 3 minutes on each side.
When ready to serve, pour gazpacho into shot glasses and serve with grilled shrimp skewers.
Nutrition Information
Yield
8
Serving Size
1
Amount Per Serving
Calories

77
Total Fat

1g
Saturated Fat

0g
Trans Fat

0g
Unsaturated Fat

0g
Cholesterol

72mg
Sodium

1094mg
Carbohydrates

9g
Fiber

1g
Sugar

4g
Protein

9g
Originally posted August 2015, updated September 2020