Grandma's Apple Tarts are crisp on the outside with a delicious homemade apple filling on the inside. Many people call these hand pies but we've always called them apple tarts.
When I think of Grandma, I can't help but think of apple tarts, tea cakes, and hoecakes. You can find the hoecake recipe here.
My Grandma's Apple Tarts
Grandma Elrod is my mom's mother and we were very close. She passed away when I was 18. It was my first experience of losing someone that I dearly loved and it was difficult to say goodbye.
I'm so glad that I have so many fond memories to look back on and draw upon and that I will see her again one day!
Grandma suffered a stroke when I was just a wee toddler. My grandma was bedridden throughout my entire childhood and right up until she passed away. I do remember her being in a wheelchair a few times during the early days.
Precious Memories
Looking back, I never heard her complain or gripe about not being able to walk. And that's the only way I had ever really known her, so it was natural to me.
Out of necessity, grandma had a housekeeper/cook. Grandma's housekeeper was a sweet little old lady named Annie. Of course, when I was little, anyone over 30 was considered old!
We adored Annie and she was part of the family. That woman could cook! My favorites of Annie's was apple tarts and tea cakes – just like Grandma used to make!
I remember it just like it was yesterday, running into the kitchen, telling Annie hello and grabbing an apple tart or a tea cake. Her apple tarts (some people call them turnovers or hand pies) were not made from canned biscuits (not that there is anything wrong with that). Those were the real deal – from scratch. If I close my eyes, I can almost taste them.
Ingredients for Grandma's Apple Tarts
The complete recipe card is below. Here's a list of ingredients you'll need to make these hand pies.
Dough
self-rising flour
granulated sugar
shortening (I use Crisco)
buttermilk
Apple Filling
dried apples
granulated sugar
light brown sugar
fresh lemon juice
ground cinnamon
salt
Cinnamon Sugar
granulated sugar
ground cinnamon
Vegetable Oil (for frying)
Note: Don't be afraid of making the dough for these apple tarts. I say that because I used to be intimidated by the thought of making my own pie crust. But these turned over perfectly!
And her Tea Cakes Recipe
I had to try out several tea cake recipes before I found the ones that tasted like Annie's. And where did I find the recipe? At Southern Plate, of course!
Writing this post has taken me back to the simpler days of my childhood, including weekend fish fries at grandma's, along with all the aunts, uncles and cousins, and all the Chinaberry fights between the boy and girl cousins! I think I'll have a tea cake, a cup of decaf coffee and reminisce for a few more moments . . .
Back to the hand pies aka apple tarts – Grandma's Apple Tarts never, ever disappoint!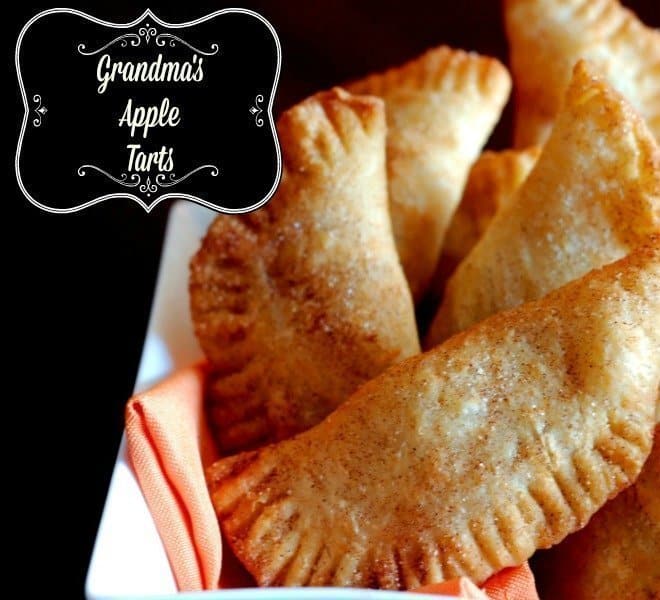 You May Also Like These Recipes
Yield: 1-1/2 dozen
Apple Tarts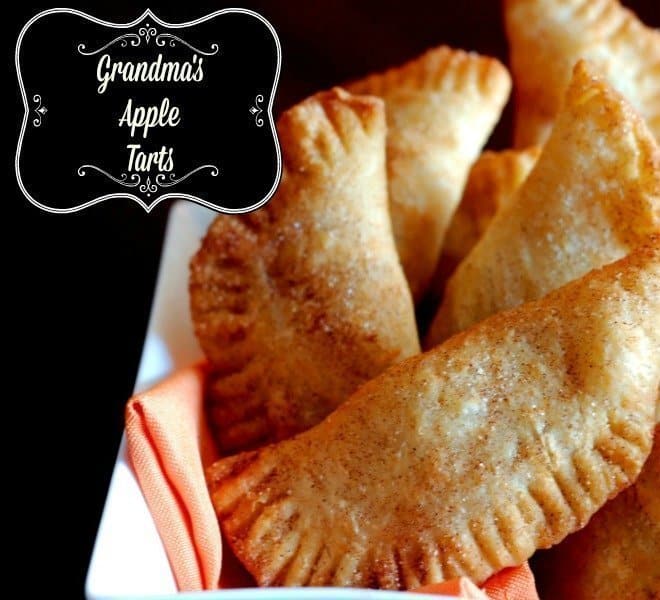 Apple Tarts always remind me of grandma. These apple hand pies are just like grandma made.
Total Time
12 hours
50 minutes
Ingredients
Dough
2-1/2 cups self-rising flour
2 Tbsp. granulated sugar
1/2 cup shortening (like Crisco)
3/4 cup buttermilk
Apple Filling
1 (5 oz.) package dried apples
2 Tbsp. granulated sugar
2 Tbsp. light brown sugar
1-1/2 tsp. fresh lemon juice
1/4 tsp. ground cinnamon
1/8 tsp. salt
Cinnamon Sugar
1/4 cup granulated sugar
1 Tbsp. ground cinnamon
Vegetable Oil (for frying)
Instructions
(Prepare dough and filling the day before) Prepare the dough by stirring together flour and sugar. Cut in shortening with a pastry blender or fork until crumbly. Add buttermilk, stirring just until moistened. Shape dough into a disk and wrap in plastic wrap. Chill 12-24 hours.
Filling: Bring apples and water (about 3-1/2 cups) to a boil in a large saucepan over medium-high heat. Reduce heat to low and simmer, stirring occasionally, for 1 hour. Remove from heat, cover, and let stand for 1 hour. Drain and mash apples (use a fork or pastry blender) with 2 Tbsp. granulated sugar and the next four ingredients. Cover and chill for 12-24 hours.
Prepare cinnamon sugar by stirring together the 1/4 cups sugar and 1 Tbsp. cinnamon in a small bowl.
To fry: In a dutch oven, add 2 inches of oil. Heat to 350 (I use a candy thermometer to make sure the oil gets to 350.) Turn dough out onto a lightly floured surface and divide it into 18 portions. Flatten each portion into a 3-inch circle and then roll into a 5-inch circle. Spoon 1 Tbsp. filling into the center of a circle. Brush the edges with water and fold the dough over the filling. Press edges with a fork to seal. Fry in batches (don't crowd). Watch carefully as it only takes 3-4 minutes to fry. Transfer to a paper towel-lined baking sheet. Sprinkle both sides with the cinnamon-sugar mixture.
Note: When I made these last week, I made the filling per directions and let it sit for 1 hour. Then I stuck it in the fridge for about 20 minutes. It worked fine.
Nutrition Information
Yield
18
Serving Size
1
Amount Per Serving
Calories

140
Total Fat

7g
Saturated Fat

2g
Trans Fat

0g
Unsaturated Fat

4g
Cholesterol

4mg
Sodium

201mg
Carbohydrates

18g
Fiber

1g
Sugar

7g
Protein

2g
Originally published in September 2013 and updated in August 2020.