This shop, 5 Ways To Get Your Front Porch Ready For Spring, was compensated by Collective Bias, Inc. and its advertiser. All opinions are mine alone.
Did winter wreak havoc on your front porch or deck? Are your colorful flowers a distant memory?
Old man winter left my front porch looking pretty rough. It needs a coat of paint and a lot of sprucing up. What condition is your porch or deck in? No worries! I've got 5 Ways to Get Your Front Porch Ready for Spring.
A year ago (has it been that long?) we had our front porch totally redone. I was told to wait a while before painting it. I don't think the contractor meant to wait an entire year. Oops.
Since the sun is out and the warm, gentle breeze is rustling the leaves of the trees, it's the perfect time to spruce up my porch and yards.
Let's get started!
5 Ways to Get Your Front Porch Ready for Spring
1. Scrub It
Remove everything from the porch and give it a good scrubbing. Fill a bucket with warm sudsy water, grab a sponge and scrub everything you removed from the porch.
Then do the same for your front door, railings, etc. Save the floor for last. Give it a good sweeping and mopping.
Helpful Hint: I use a power washer to clean my porch and the outside of my house. If you don't have one, you can rent one for the day OR hire someone else to do it for you. It saves time and elbow grease.
2. Paint It
If you need to paint or stain the railings, the porch, or the front door, now's the time to do it. Be sure to wait until everything has thoroughly dried from the scrubbing.
It really doesn't take very long to paint a porch. I use a roller with a long handle. Check the weather to make sure there's no rain in the forecast. You'll be amazed at how much a coat of paint will freshen up your front porch.
Helpful Hint: Check the shutters to see if they need a fresh coat of paint.
3. Refresh Planters and Plant Flowers
If your front porch planters have taken a beating over the winter months, you don't have to buy new ones.
Grab a can of spray paint (for outdoor use) in a color that compliments your porch, shutters, and front door. Spray paint is one of my best friend's and it can breathe fresh life into an old planter.
Once the planter is completely dry, add pretty flowers. Flowers will transform a front porch into a beautiful space! If your porch is shaded, this is not the place to plant sun-loving plants. Don't forget to water thoroughly.
Doesn't this look better?
4. Add Accessories
I love to sit on the front porch, so I have a little table and chairs, plus a glider bench. In the spring, I add cushions, pillows, and a rug to create a cozy outdoor space.
Be sure and use fabrics made especially for the outdoors.
The glider bench is my favorite place to sit and read or watch the kids play.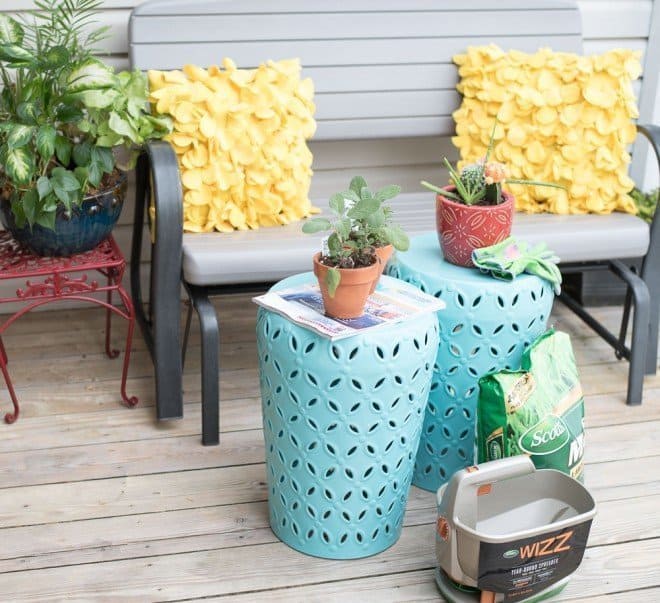 5. Spruce up the Yard
Don't forget the lawn! It's not fair to get your front porch all dressed up and leave the lawn out in the cold.
I use Scotts® Green MAX™ Lawn Food. It contains essential nutrients for deeper greening in 3 days and a 2-in-1 formula!
While I was in Walmart choosing flowers and Scotts Green MAX™ Lawn Food, I also grabbed a WIZZ™ Spreader. It's a new, battery-operated spreader that spreads my lawn food quickly and easier.
That means less hand fatigue for me. You can use it year-round to feed, seed, weed, and melt!
The WIZZ™ spreader holds up to 2,500 sq. ft. of Scotts® lawn care products and features Scotts® exclusive EdgeGuard® and HandyLock™ Technology.
You can totally spruce up your porch, deck, and yard in 5 easy steps! Here's a free printable: 5 Ways to Get Your Front Porch Ready For Spring