Lemon Blossoms are mini lemon cupcakes dipped in a delicious lemon glaze. These cupcakes are so moist and delicious.
I Love Cookbooks And Lemon Blossoms
I have a confession to make: I love cookbooks, especially church cookbooks. Especially old church cookbooks and I have a . . . few.
Some of them are literally falling apart because I've used them many times throughout the years, or because of their old age.
A few of them have stains where I've made that same cake, pie, etc. over and over throughout the years. Lemon Blossoms and Church Cookbooks are two things that I'm passionate about.
Most of my church cookbooks were given to me by my mom. Many of them represent the area churches in my hometown. That right there is reason enough to cherish them all.
Sure, you'll find some of the same southern recipes (many with a little twist) in those cookbooks, but there are always new recipes to try, too.
My Favorite Cookbook (at the moment!)
My favorite cookbook at the moment is Our Best for His Glory, compiled by the members of First Baptist Church of Rochelle, GA. It was published in 2007 and has 472 pages of deliciousness.
I first saw this cookbook years ago when I was visiting mom and dad in my beautiful hometown. They had bought a newly published copy and had ordered one for my sister and me.
Since mine had not been delivered yet, they let me take their copy back to South Carolina. Thanks, mom and dad!
Inside the front cover, my dad had written a list of his favorite recipes – 7Up Cake, page 284; Fruit Cobbler – 292, Texas Sheet Cake – 350, Squash Casserole, page 139, and so on.
It's near and dear to my heart because of his handwriting. I carried on his tradition when I added Lemon Blossoms – page 274.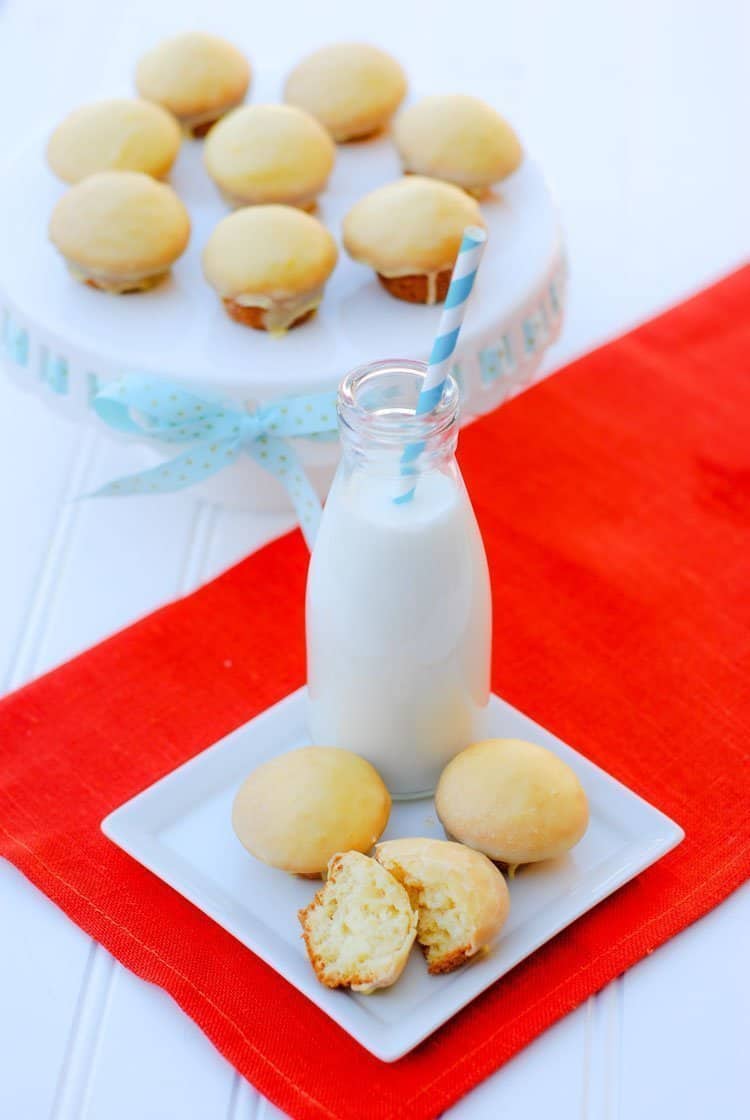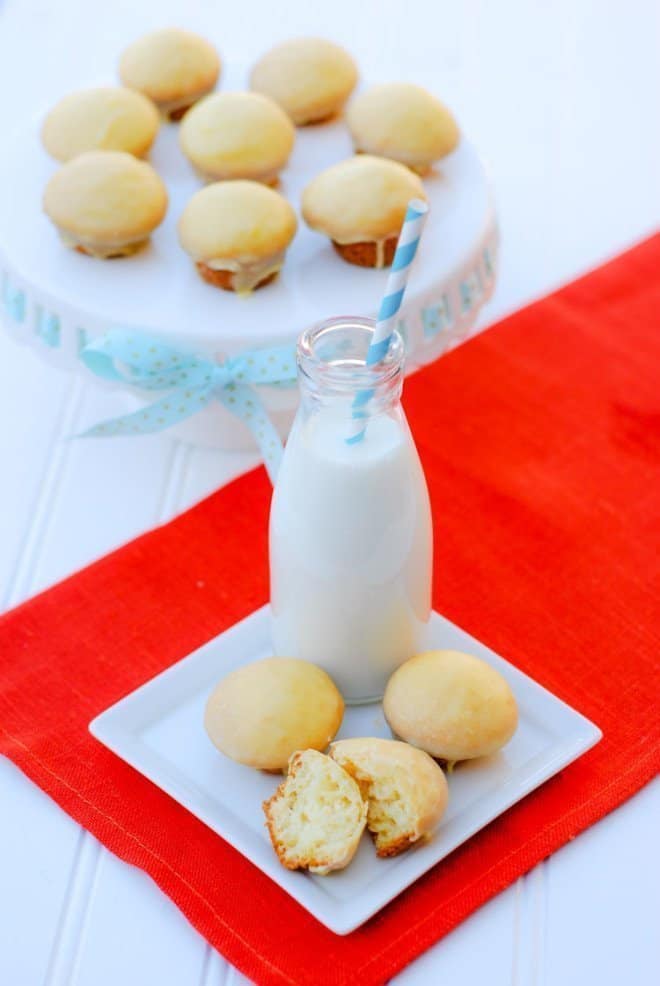 I'm not certain, but I do think Lemon Blossoms are a southern thing, too. I've been eating and making them for years.
Lately, instead of digging up my old recipe for lemon blossoms, I just flip through that cookbook.
Oh, that's another thing about my hometown cookbooks. I know just about everyone that submitted a recipe.
This particular cookbook includes recipes from my aunt, cousin, cousin-in-law, and my cousin's cousin on the other side. I claim them all.
Every single time I open that book, it's like stepping back in time and revisiting my beloved hometown. I'm a little biased, but I think my hometown has more great cooks than anywhere else on earth.
Every time I make lemon blossoms for the family or for a party, they are all gobbled up, fingers are licked and the recipe is asked for. I just nod my head and say, "Lemon Blossoms – page 274." Enjoy!
Ingredients You'll Need To Make Lemon Blossoms
yellow cake mix
instant lemon pudding mix
eggs
vegetable oil
Glaze:
confectioners' sugar (powdered sugar)
fresh lemon juice
zest of one lemon
vegetable oil
water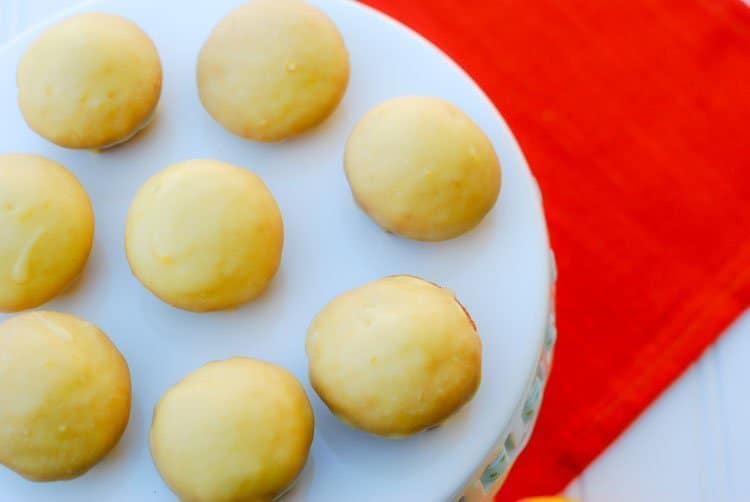 Yield: 48 mini cupcakes
Lemon Blossoms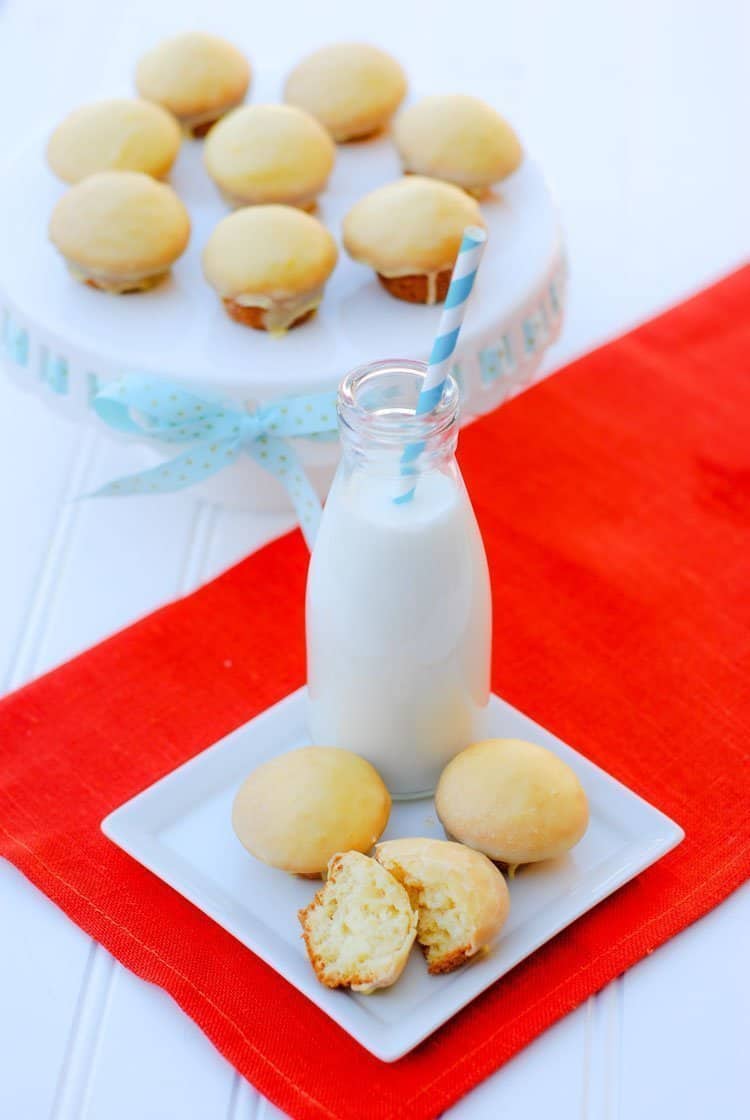 Lemon Blossoms are tender mini cupcakes dipped in a delicious lemon glaze.
Ingredients
18-1/2 oz. package yellow cake mix
3-1/2 oz. package instant lemon pudding mix
4 large eggs
1/4 cup vegetable oil
Glaze:
4 cups confectioners' sugar
1/3 cup fresh lemon juice
1 lemon, zested
3 Tablespoons vegetable oil
3 Tablespoons water
Instructions
Preheat oven to 350º. Spray mini muffin tins with cooking spray.
Combine the cake mix, pudding mix, eggs and oil and blend well with electric mixer until smooth, about 2 minutes.
Pour a small amount of batter into each tin, filling each muffin tin halfway full.
Bake for 12 minutes. Turn out onto a tea towel.
To make the glaze:
Sift the sugar into a mixing bowl. Add the lemon juice, zest, oil and 3 Tablespoons water. Mix with a spoon until smooth.
With fingers, dip the cupcakes into the glaze while they are still warm, covering as much of the cake as possible.
Place on wire racks positioned over waxed paper to catch drips.
Let the glaze set for about an hour before storing in containers with tight-fitting lids.
Recommended Products
As an Amazon Associate and member of other affiliate programs, I earn from qualifying purchases.
Nutrition Information
Yield
24
Serving Size
2 cupcakes
Amount Per Serving
Calories

131
Total Fat

5g
Saturated Fat

1g
Trans Fat

0g
Unsaturated Fat

4g
Cholesterol

31mg
Sodium

36mg
Carbohydrates

21g
Fiber

0g
Sugar

19g
Protein

1g
What's your favorite cookbook?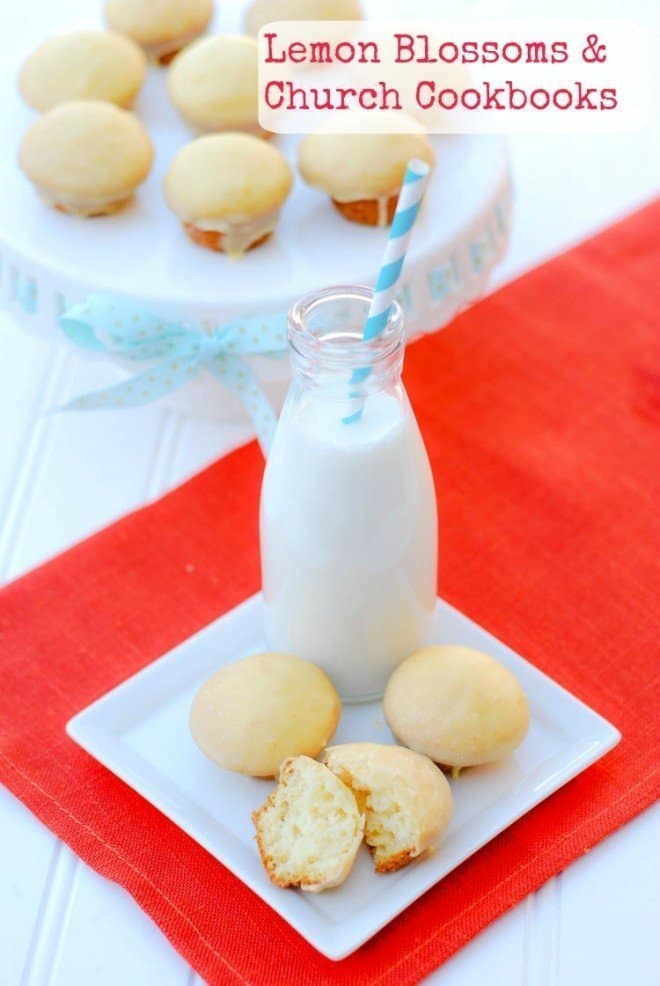 PS – I received another cookbook from my mom this past Christmas. It's a hometown cookbook that was published in 1974. I love it and it seems that congealed salads were all the rage back then. 🙂
Check Out The Delicious Recipes Below!
Originally Published in March 2016 and updated in August 2021