It will soon be fall, y'all, and my thoughts always turn to apples when I think about shorter days and a soon-to-be chill in the air.  I love apples all by themselves, but I really like them all gussied up in the form of a dessert so I decided to share my top 5 apple recipes!
I recently made easy apple dumplings for Sunday dessert.  It's one of those recipes that I've had forever and is always best served with Blue Bell Vanilla ice cream.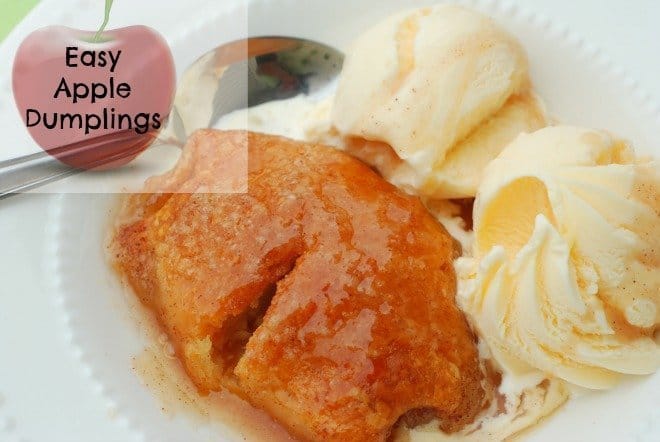 Yield: 10
Easy Apple Dumplings
Prep Time 10 minutes

Cook Time 40 minutes

Total Time 50 minutes
Ingredients
1 large Granny Smith apple
1 Can Pillsbury Crescent Rolls
1/2 cup butter
2/3 cups sugar
1/2 tsp. cinnamon
1 tsp. vanilla
3/4 cups 7-up or Sprite
Instructions
Preheat oven to 350 and lightly grease an 8 x 8 baking dish.
Peel the apple and cut into 10 wedges.
Separate the crescent rolls into triangles
Starting at the wide end, roll each apple wedge in crescent roll dough. Make sure apple is completely covered with dough and pinch to seal. Place in baking dish.
Melt butter in a saucepan on medium heat. Add the sugar and cinnamon and whisk until slightly thickened.
Remove from heat and stir in vanilla.
Pour mixture over the apple dumplings. Then pour the 7-up over the dumplings.
Bake for 40-45 minutes or until golden brown.
Serve warm with vanilla ice cream.

Another of my favorite apple desserts is Apple Bread with Praline Topping!  You can find the recipe here!
Crumb Top Apple Pie is a recipe I've been making for over 30 years.  If you like a really good crumbly top crust, this one's for you.  You can find it here!
My all time favorite apple dessert and the one that brings back the most memories of growing up is Grandma's Apple Tarts.  She and her beloved maid, Annie, made the best fried apple tarts in the world!  I can close my eyes and see them rolling out the dough and crimping the edges with the tines of a fork.  Here's the recipe!  (It also includes grandma's tea cakes, but that's a whole 'nother delicious story!
Speaking of apples, here's the easiest and tastiest taffy apple dip in the world!
I do hope you try one or more of my top 5 apple recipes.  What's your favorite way to eat apples?