Thanksgiving is right around the corner! With that in mind, I'm sharing my Thanksgiving Menu and my Mom's Cornbread Dressing. I've also highlighted other recipes so you can click the link to get the recipe.
You'll find Mom's original recipe in the notes of the printable recipe card down below!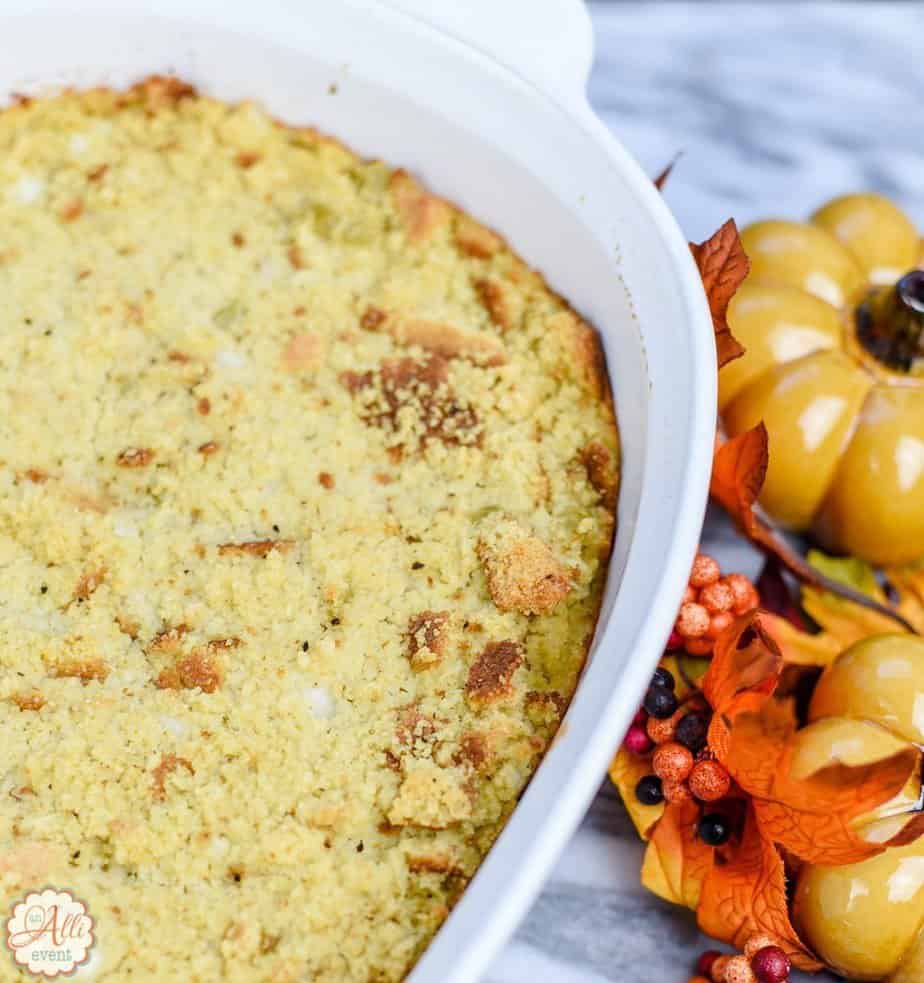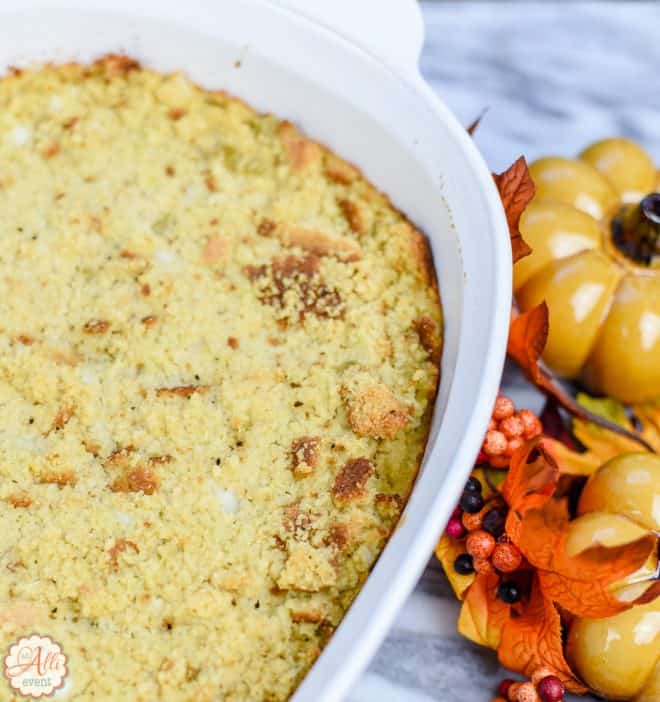 My Thanksgiving Day Menu
Mama's Cornbread Dressing & Giblet Gravy
Cranberry Sauce
Lighten Up Sweet Potato Casserole
Baby Butterbeans
Sister Schubert Yeast Dinner Rolls
Desserts
Because my children always request their favorite dish for Thanksgiving, my menu pretty much stays the same each year – lots of meat and heavy on the starches!
Don't judge – it's Thanksgiving! I usually add a squash or broccoli casserole but Mom's Cornbread Dressing and the dumplings get all the attention!
In the South, it's dressing, not stuffing! No sausage for me, thank you. No chestnuts or raisins, just mom's cornbread stuffing (with a twist).
I grew up not helping my mom make the dressing. Why would I ruin such a beautiful thing? Then the inevitable happened. I grew all the way up!
One year we couldn't make it home to Georgia for Thanksgiving or Christmas. My husband and I were living in Oklahoma (25 years ago).
Between his job, us both in school and the kids in school as well, it was just out of the question.
After several episodes of hysteria, I decided to cowboy up (Oklahoma – cowboy – get it?) and make my own Thanksgiving dinner, all by my twenty-something-year-old self.
And we decided to invite 30 of our closest friends (some from other countries) over for dinner. Am I a complete idiot?? Probably!
But I am adventurous! So, first things first: I called Mama.
A Phone Conversation with Mama
Note: Mom graduated to heaven in 2016 so this conversation about my Thanksgiving menu will always stand out in my sweet memories of mama.
Me: "Well, mama, you know we can't come home for Thanksgiving this year. If you are still speaking to me, I gotta know two things.
I need to know how to make turkey and dressing and I need your recipe for chicken and dumplings (from scratch, mind you)." I actually was a pretty decent cook by then, as long as I did not have to make the "D" words – dumplings and dressing.
Mom: "Well, honey, I don't use recipes. I mean, I just add this and that and . . .
Me: "What?????? No recipe? What do you mean, you don't have a recipe?"
Mom: "You make two cake pans of cornbread, but you put extra eggs in it to make it richer. I call it egg-bread.
Then you crumble it up. Add a diced onion and some diced celery – oh, about a cup full.
Then you mix it all up and salt and pepper it. We don't add sage. We don't like sage. (Well, I do a little bit but don't tell Mama). Then you pour in the chicken stock until it's kind of thin.
Pour it into a greased 13″x 9″ pan and bake it at 350 for about 45 minutes or until it's nice and crispy on top."
Crispy Top and Delicious Middle
We like crispy on top. We don't like soggy and we don't like hard-boiled eggs chopped up in our dressing.
Well, I knew I probably shouldn't mess with a good thing, but I just had to.
I axed the chopped celery and added a can of cream of chicken soup and a can of cream of celery soup and I think it's divine.
In my book, mama's dressing is still the best dressing in the South. But then, she was the best cook in the South! And I pray that I inherited a tiny bit of her good cooking abilities.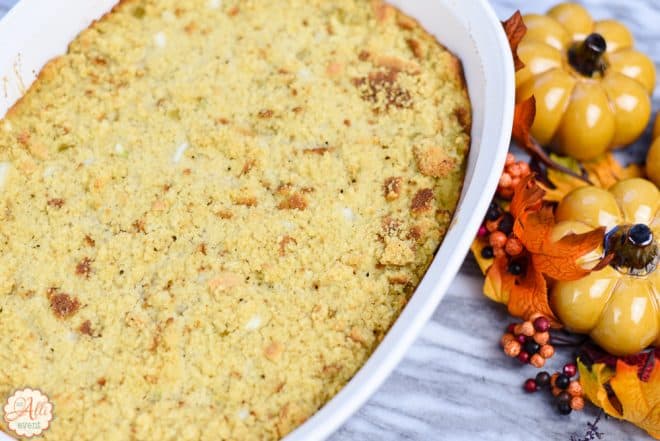 Ingredients
Cornbread Ingredients
self-rising cornbread mix (not plain cornmeal)
eggs
vegetable oil
milk (or buttermilk)
Dressing Ingredients
chicken stock (about 32 oz.)
Cream of Celery Soup
Cream of Chicken Soup
onion, diced
salt and pepper to taste
I don't care for an abundance of celery so the cream of celery works great for me.
If you don't want to use the cream soups, you can use 1 cup diced celery and 1/2 to 1 cup diced onion and it will be just like my mom's.
The kids are quick to call dibs on any leftover dressing. Daughter #2 doesn't like onions, so right before I add the onions, I take out some dressing and place it in a ramekin.
When I get ready to bake the dressing, I add a little stock to the dressing in the ramekin for my daughter. I'm sweet like that. Wink.
Giblet Gravy for Cornbread Dressing
My husband refuses to eat dressing without giblet gravy. Some of the kids won't touch it with a ten-foot pole. I can take it or leave it, but I must have cranberry sauce. And yes, my kids only eat the canned cranberry sauce. 🙂
Yield: 14-16 servings
Mom's Cornbread Dressing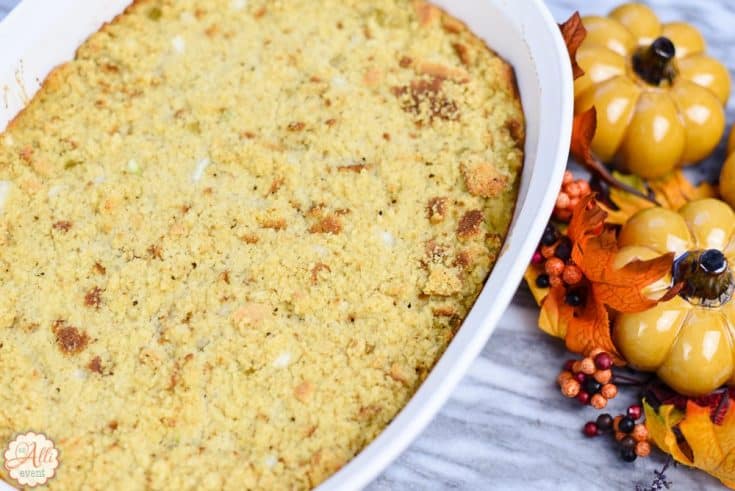 Mom's Cornbread Dressing is creamy with a slight crunch on top. It's delicious!
Ingredients
Cornbread Ingredients
2 cups self-rising cornbread mix (not plain cornmeal)
3 eggs
2 Tablespoons vegetable oil
1-3/4 cups milk (or buttermilk)
Dressing Ingredients
Chicken stock (about 32 oz.)
1 can Cream of Celery Soup
1 can Cream of Chicken Soup
One large onion, diced
Salt & Pepper to taste
Instructions
Bake the cornbread early in the day or the day ahead. Preheat the oven to 400º F. Grease and flour two round cake pans. In a large mixing bowl, add the cornmeal mix, eggs, oil, and milk. Mix until combined. Bake for 25-30 minutes or until golden brown. Cool for 10 minutes before removing from the pans and cooling completely.
In a large bowl, crumble the cornbread.
Add diced onion, cream of celery and cream of chicken.
Mix well and add salt and pepper to taste. We like lots of pepper.
Stir in the chicken stock until soupy. This is where you just have to "eyeball it."
Pour into a greased 13" x 9" baking pan. Cook at 350 until the top is crispy, about 45 minutes.
Notes
The cooking time is based on how long the dressing cooks, not the cornbread.
If you want to make Mom's original recipe, leave out the cream soups and add 1 cup diced celery and 1/2 to 1 cup diced onion when you add the chicken broth.
Nutrition Information
Yield
16
Serving Size
3/4 cup
Amount Per Serving
Calories

207
Total Fat

9g
Saturated Fat

2g
Trans Fat

0g
Unsaturated Fat

6g
Cholesterol

41mg
Sodium

505mg
Carbohydrates

25g
Fiber

2g
Sugar

7g
Protein

6g
This date is calulated by Nutritionix and may not be completely accurate.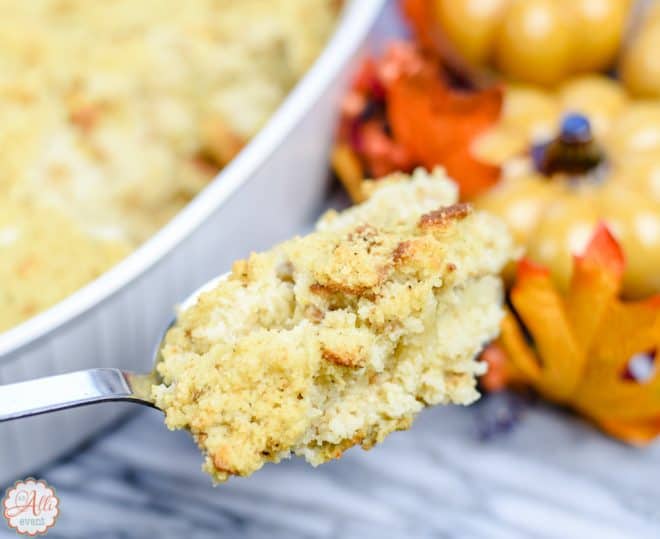 One More Thing
Every southern cook makes their cornbread dressing a little different. Usually, the recipe has been handed down from one generation to the next. It's our differences that make the world go round!
So, is it stuffing or dressing for you? Feel free to make it mom's way (chopped celery) or my way (cream of celery). Either way, it's delicious.
You will love this Pecan Pie Cobbler. It's the recipe that has taken Facebook by storm!
I wrote this post in November of 2012 when I first started this blog. I updated it (added notes, etc.) in October 2023. Enjoy!