I don't know about you, but I tend to gain a few lbs. during the winter.  I guess I'm not as active and I tend to eat more hardy type meals when it's cold outside.  It's too hot in the south to eat during the summer!
Spring usually finds me trying to lose those pesky 5 lbs. so I pay attention to every morsel that goes into my mouth.
But there is something about Sundays that causes me to crave something sweet.  So Sunday is the one day that I allow myself to indulge.  In order not to undo all of my hard work, I try to bake desserts that are lower in fat and calories.
Recently I made my Skinny Cherry Cheese Pie.  Actually I made two because the entire family was having lunch at my house.   I left the cherry topping off of one of them (for the picky eaters). Everyone loved the pies and no one guessed that they were lower in fat and calories (less than 250 calories per slice).  Score!  I could possibly eat the entire pie, but then, it would no longer be low calorie.
Skinny Cherry Cheese Pie

Ingredients
1 reduced fat graham cracker crust
8 oz. fat free cream cheese, softened
½ cup splenda (helpful hint: don't pack it, just scoop loosely)
8 oz. light whipped topping
1 tsp. vanilla
1 can lite cherry pie filling, chilled (I place the can in the fridge for a few hours)
Instructions
In a medium mixing bowl, beat cream cheese, Splenda and vanilla flavoring until well blended.
Add whipped topping and mix until well combined.
Spread in the graham cracker crust and place in the fridge for several hours or overnight.
Just before serving, spread the cherry pie filling over the top of the pie.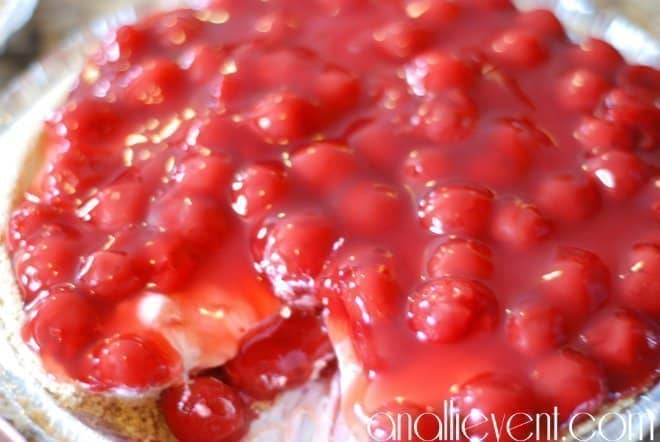 What's your favorite low calorie dessert?

Print Friendly