Thanks for stopping by day one of The 12 Days of Christmas Blog Hop! Today is all about DIY wreaths and I'm sharing an easy DIY Snowy Christmas Wreath. Make sure to visit all the blogs at the end of the post to find other amazing DIY wreaths.
Welcome to Day 1 of the Fourth Annual 12 Days of Christmas Series!
We have teamed up with 50 plus bloggers to bring you oodles of DIY Ideas and Recipes to make your holiday season merrier. There are 12 different posts in the series and we have spread them out over a four week period with three posts per week. Now is the time to subscribe!
GO HERE for the complete list of Dates and Topics plus a collection of most popular holiday ideas including ornaments, games, recipes and more from all 50 plus talented bloggers!
It's Day 1 and we are sharing DIY Wreath Ideas!
When it comes to DIY seasonal decorating, I like easy. That's one of the many reasons I love this Snowy Christmas Wreath. This wreath is pretty in plaid with a touch of snow (white yarn) and a few bottle brush trees.
Last year, I made a plaid Christmas wreath to adorn the sled on my front door. We rarely have snow here so I try to incorporate faux snow every chance I get. My sister sent me the sled from Colorado because I had a hard time finding one in South Carolina. I thought I was going to have to use a surfboard instead, but my sister came through for me.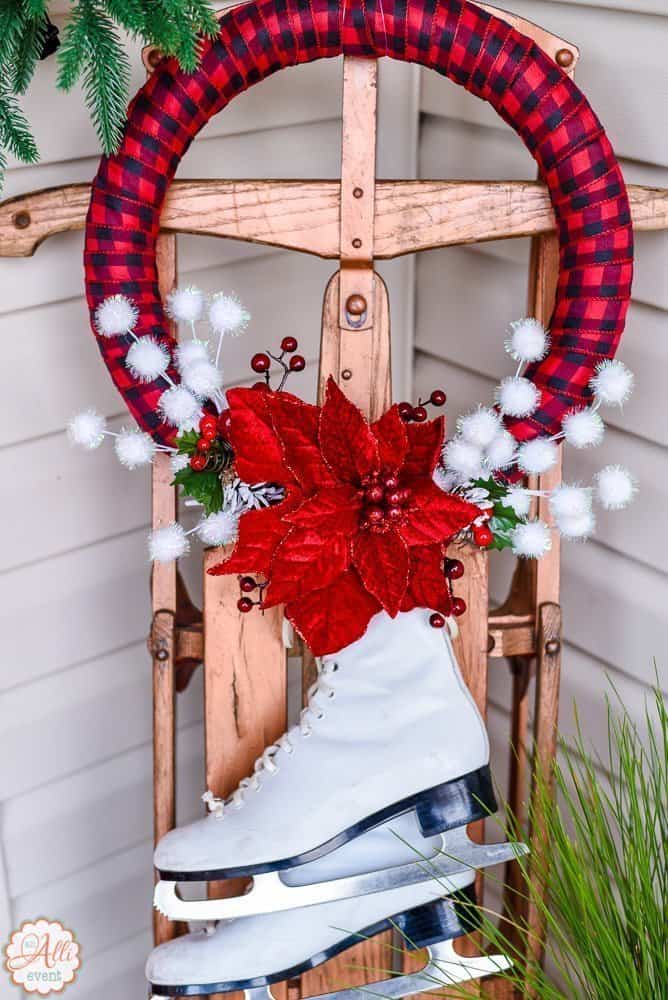 My Snowy Christmas Wreath is made very similar to the wreath above and it doesn't take long to complete. I find a good movie I previously recorded, turn it on and start wrapping the foam form. Before you know it, you're done.
Snowy Christmas Wreath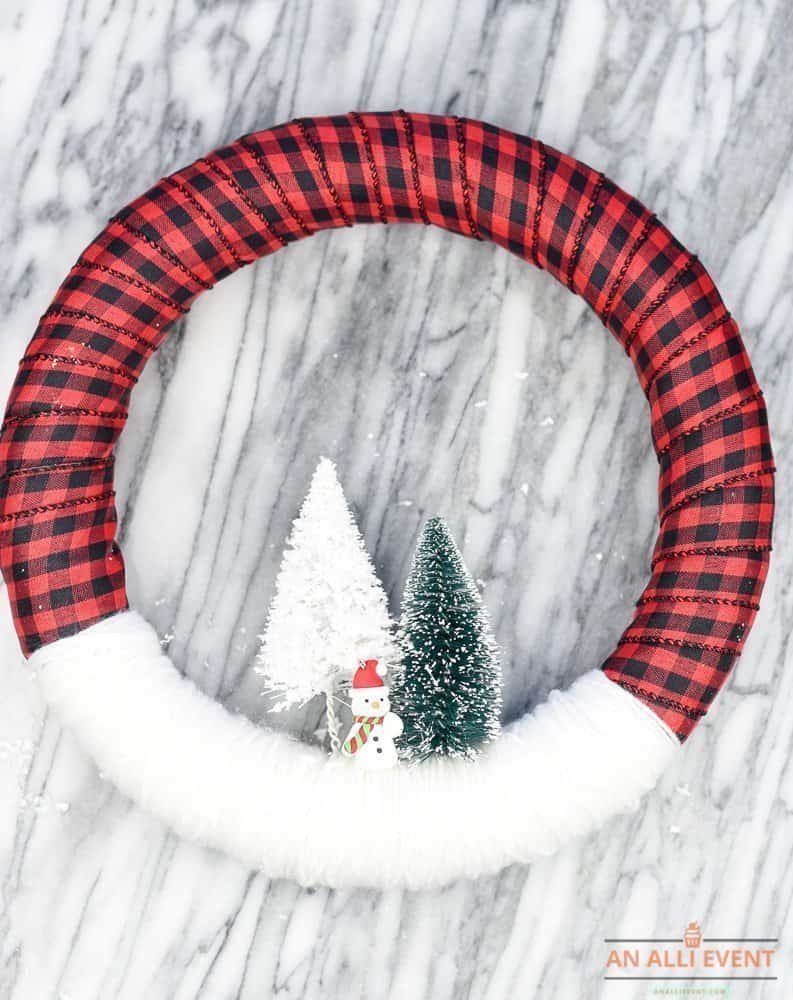 To make the snowy Christmas wreath, you will need:
1 Foam Wreath
Plaid Ribbon
White Yarn
Floral Pins (or straight pins)
Bottle Brush Trees & a Tiny Snowman (I used a mini ornament)
Hot Glue Gun
Start wrapping the foam wreath with the plaid ribbon, overlapping and pulling the ribbon tightly as you go. Insert a floral pin through the ribbon and into the foam wreath when you first start wrapping.
Leave a third of the wreath uncovered. I admit that I kind of guesstimated on this. It's all good.
Wrap the uncovered part of the wreath with white yarn.
Tuck the ends in on the back side of the wreath and secure with floral pins.
Glue the bottle brush trees onto the white yarn with a hot glue gun.  I removed the little tree stand on the bottle brush trees and just inserted them into the foam wreath. I hot glued the little snowman.
You're done! Wasn't that easy?
Scroll down for many more DIY Wreath Ideas for your holiday season!