It's kind of an ordeal a big deal every year around Thanksgiving when I do the "entire family" text and tell them it's time for our annual family pic/Christmas card.  There are 13 of us in all and the making of a family Christmas card can be downright hysterical!
These are the responses – (my interpretations):
Daughter #1 – Why don't you just do you and dad and the grand kids this year?  Please?  I refuse to be in it.  I'm so not photogenic!  Really, my husband and I don't have to be in it.  Really, we don't.  And you always pick the one that I look awful in!  Me:  What part of family picture don't you understand?  People will think we disowned you!
Daughter #2 – What do you want me to wear?  What should the kids wear?  What time?  What day?  I'm practicing my very photogenic smile!  Me:  Oh, yeah, you're the good child, the obedient child.
Daughter #3 – (The Photographer) Great!  Wish I could take them AND be in them!  Poses?  No problem.  I take a zillion pics of myself everyday AND post them on Facebook.  I will get one of my (many) photographer friends to take it.  This is gonna be good and remember,  if it bends, bend it!  Me:  What the heck????
Son #1 – I mean, really, how long is this going to take?  I mean, (yeah, he says that a lot) I'm not making a field trip out of it.  (Interpretation:  It had better be over real fast)  And, yes, I'm gonna wear a shirt with writing on it even though you remind me not to every year and  I will be at least 20 minutes late!  Me: Just be here and be on time.  It's just a picture!
Son #2 – I'll be there!  What should I wear?  What are you wearing?  I've got to get a shape-up (hair cut).  But I will always be fashionably late!  Me:  Remember, if you don't show up, you won't be in the family picture.  (The guilt trip usually gets them EXCEPT for daughter  #1 – see above!)
And dear hubby and the sons-in-law just go along with it all!  So this year we had them "done" the Saturday after Thanksgiving, not knowing that a nor'easter  was heading our way (remember, we live in the mild south).  I kid you not, it was blizzard-like conditions.  I was expecting it to snow any minute and I really thought I would freeze to death before it was officially over but they had to be outside – better light – and bitter wind!
So the CD gets back a week later and we (daughters and I – the guys could care less) are pouring over the pics.  Actually, I had already picked out the one for the Christmas card before they arrived.  And of course daughter #1 (see above) despised it.  I loathed the one she wanted to use.  (She reminded me of the year I had everyone wear white shirts.  I never, ever want to re-live that experience again)!
Anyway, back to this year (as I beat those white shirt memories out of my head).  The wind was blowing my hair straight back and it looked like I had a crew cut!  So the what-pic-will-win tug-of-war began, everyone knowing full well who would triumph! You have to realize that I'm not the most photogenic person in the world, either, so there.  Then daughter #1  emphatically declares that this is THE last family Christmas pic she will ever be in because she always gets thrown under the bus.  Oh, please.
So bright and early Monday morning before ordering our Christmas cards, I make a very important phone call to my lawyer – OK – my cousin paralegal, in Atlanta.  So I go through the entire ordeal and then I ask her the BIG question: Should I take one for the team – meaning print an ugly pic of me so that everyone else would look good.  After a bit of back and forth, we made a joint decision.  They are MY Christmas cards so it's ultimately MY decision.  Take one for the team?  Pfft – I threw daughter number 1 under the bus and then drove over her – again and again!  There you have it – the makings of a Christmas card!  🙂  Can you guess which daughter is which?
The pic that won!
The pic that LOST!  I can't believe I'm even posting this!
The sexy pic! Too sexy for Christmas cards, in my humble opinion!  But I'm having a really good hair day!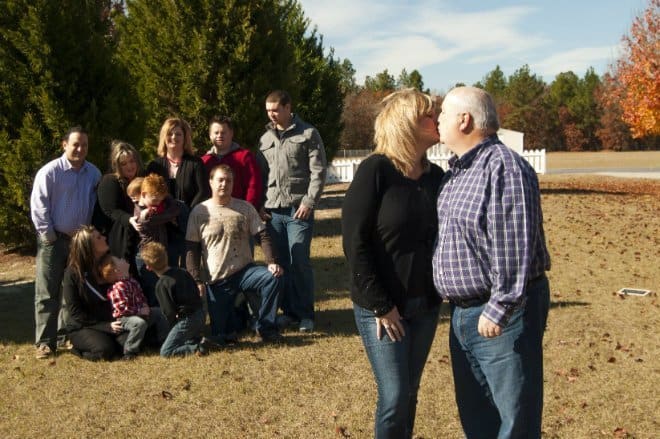 The crazy pic!  I jumped.  I really did.  I think I landed too quickly.  Yeah, that's it.
The pic with the grands – How sweet!
And I didn't even post the really BAD ones.  I didn't show you the one where my husband and I look like a remake of Powder (a movie)  and I had coal black roots.  Why would a natural blonde have coal black roots??? Wink wink.   There's one of the girls (yes, I'm included) lying down looking at the sky with our heads together like a big ol' snowflake.  Does anyone want to guess what happens to a 53 year old face when you lie down?  Anyone?  Certainly not the 20 something year old photographer who actually thought I would look good in it.  It was bad.  Really bad!  And I'm still picking the sticks and stones out of that sweater.
All kidding aside, I have to give a shout-out to Randi Hunt Photography, Charlotte, NC for having the guts to actually agree to do a photo shoot with us!  You rock!

Print Friendly