A Gingerbread House Decorating Party is so much fun – for kids and adults!
Welcome to my Gingerbread House Decorating Party! This party was held on a Saturday morning, early in December, for our preschoolers and children's church kids. It started at 10:30 AM and was over at 12:30 PM. I like to do kid's events early so the party doesn't interfere with afternoon naps.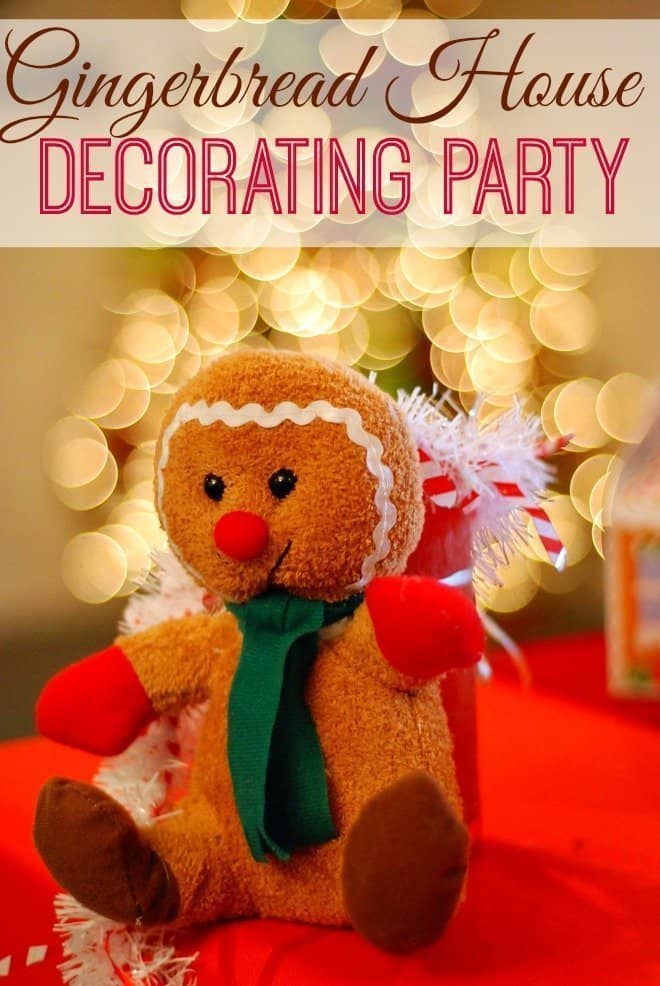 Decorating for this party is so much fun! The tree is already up so that's good. Add some colorful Gingerbread Man decor and you're done.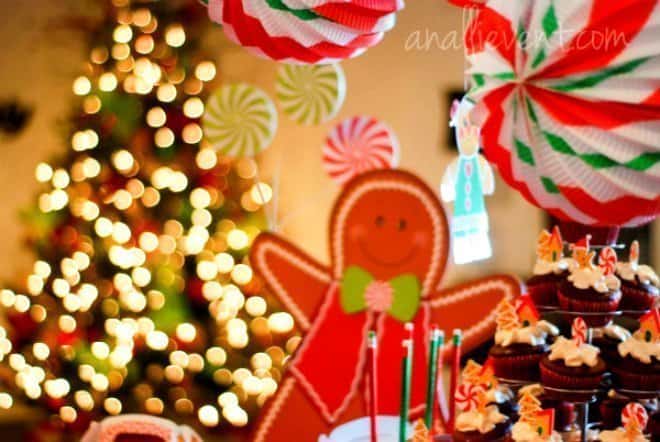 Start a Gingerbread House Decorating Party Off On The Right Foot
As the children arrive, welcome them to this festive party by playing kid-appropriate Christmas music playing in the background.
Guess How Many Game
Invite the kids to guess how many M&Ms are in a jar. Of course, the person that guesses the closest, without going over, is awarded the jar of candy. Some of the answers will be quite amusing.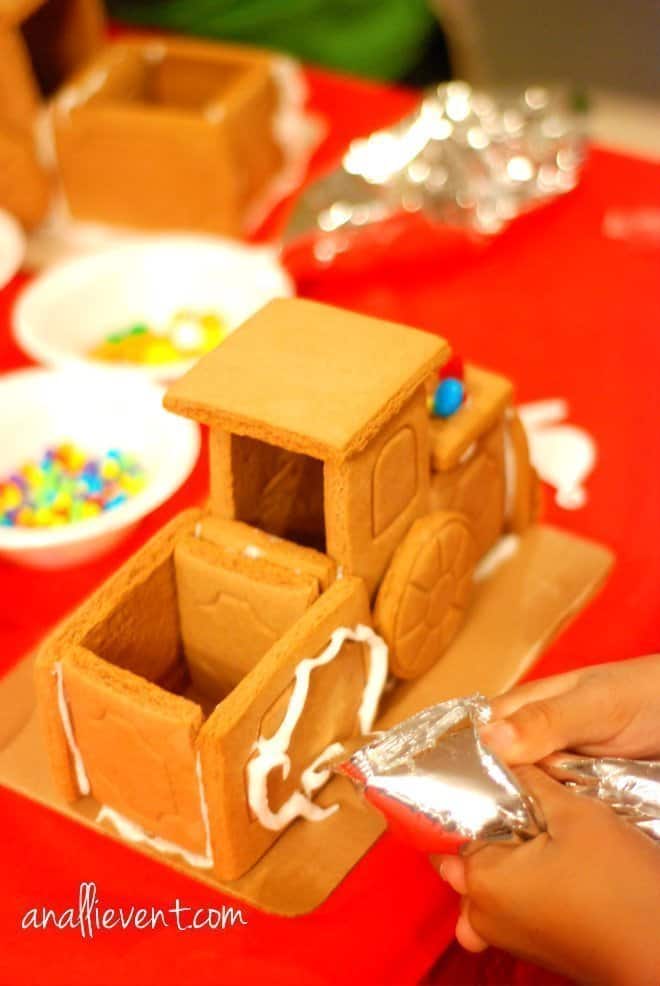 Delegate When Hosting a Gingerbread House Decorating Party
To make it easier for the children, my faithful elves and I pre-assembled the gingerbread houses and trains the day before. Not one house or train came tumbling down! Good work, elves!
It helps so much to have friends to help with a party like this.
Children Are Good Decorators
The one element that surprises me is how well children can decorate gingerbread houses. I imagined the younger children (2-3) would get lots of help from their parents, so I was amazed that they just jumped right in there and were incredible decorators!
Set up the assorted candy-filled cups and decorator icing all along the center of the tables, within easy reach of all the kids.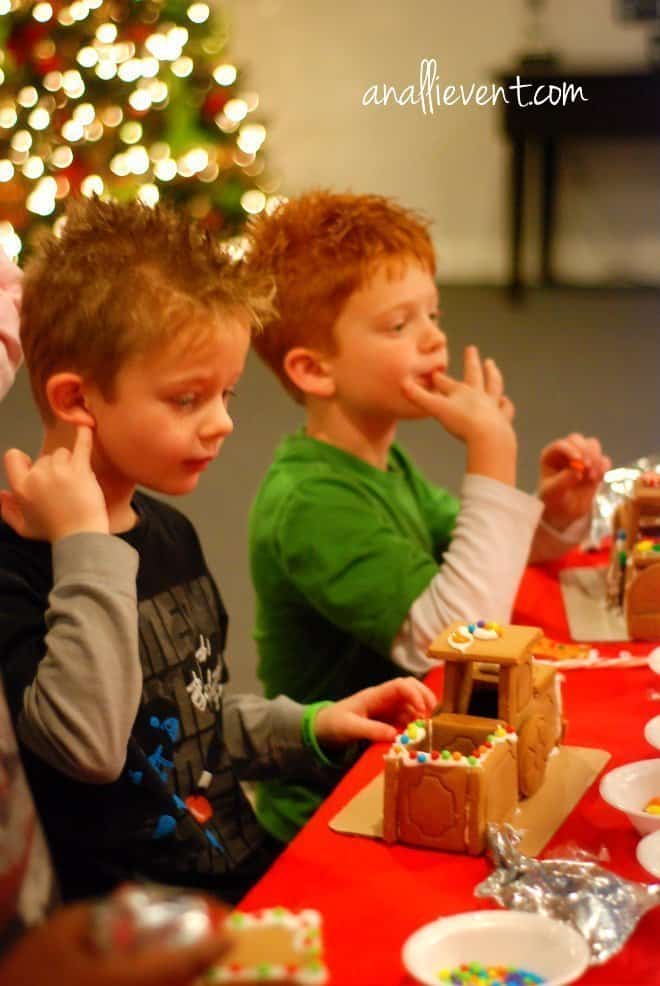 After the kids get finished decorating their gingerbread houses and trains, move them to a safe place to dry. Have the children gathered around the Christmas Tree to enjoy the reading of "The Gingerbread Man."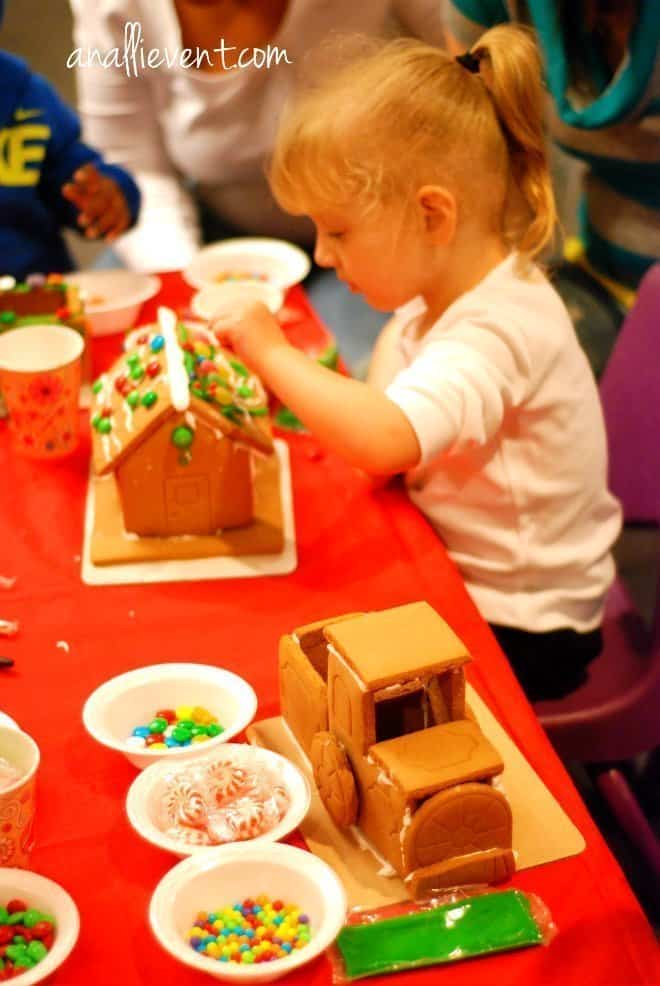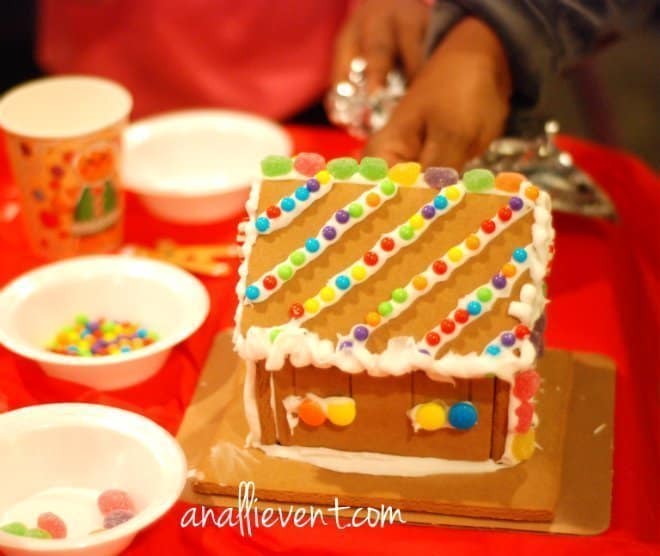 Lunch is Served
After decorating and reading, the kids are ready to eat. A simple meal of sandwiches and chips is perfect for this party. A dessert table adds a festive element to a Christmas party. Include fruit, too!
Gingerbread House Decorating Party Games
After lunch, it's time for a few lively games of charades! My, how time does fly when you're having fun! Musical chairs is another fun game for the kids to play.
Before you know it, it will be time to go home with a decorated house or train and a box of goodies! Run, run, as fast as you can, you can't catch me, I'm the Gingerbread man!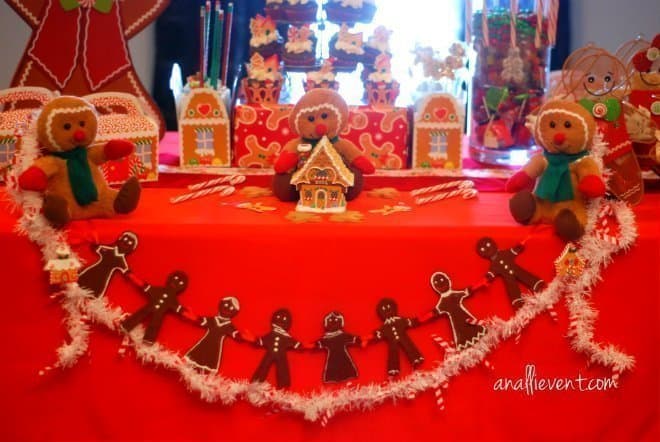 Here's the recipe for the gingerbread boy/girl garland I made.
Gingerbread Boy Garland (NON-EDIBLE)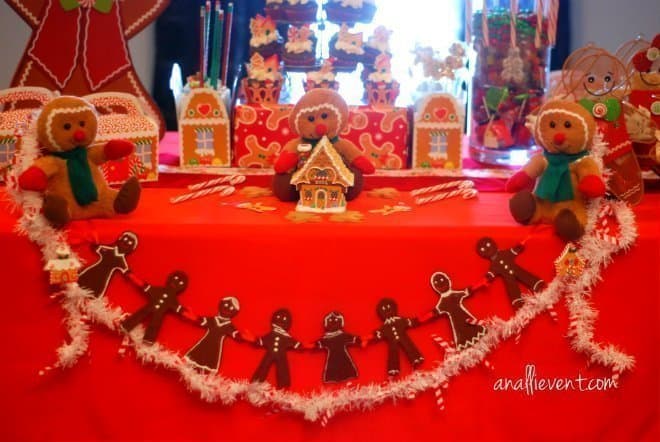 These non-edible gingerbread boys and girls are so cute. They are perfect to string together to make a gingerbread garland.
Total Time
2 hours
15 minutes
Ingredients
1 cup ground cinnamon
1 Tablespoon ground cloves
1 Tablespoon Ground Nutmeg
3/4 cup applesauce
2 Tablespoons Aleene's tacky glue
Ribbon or gold cord
Instructions
In a medium bowl, combine cinnamon, cloves, and nutmeg. Stir in applesauce and glue. Work mixture with hands for 2-3 minutes to form a ball. If the mixture is too wet, add more cinnamon. If it's too dry, add more applesauce.
Knead on a cinnamon-sprinkled surface until dough holds together. Divide into four equal portions. Roll out each to 1/4-inch thickness.
Cut with cookie cutters. Place on cookie sheets. Use a pencil (I used a chopstick) to make a small hole in the top of each for hanging (OR if making gingerbread men garland, make a hole in both hands). Make sure the hole goes all the way through.
Place in a 250 degrees oven for 2-3 hours. Once they have cooled, attach the gingerbread boys/girls together with ribbon, leaving a large looped ribbon at both ends of the garland for hanging. Reminder: These are non-edible!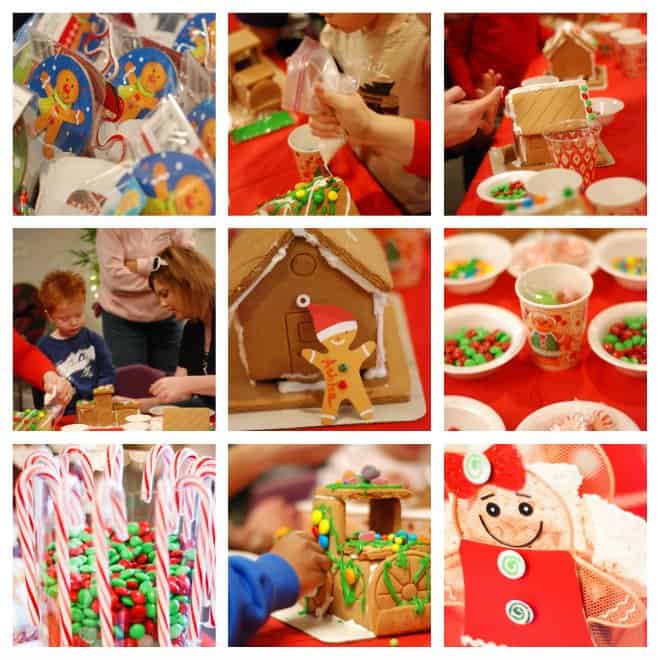 Our Gingerbread House Decorating Party was a huge success. The kids loved every minute of this fun party.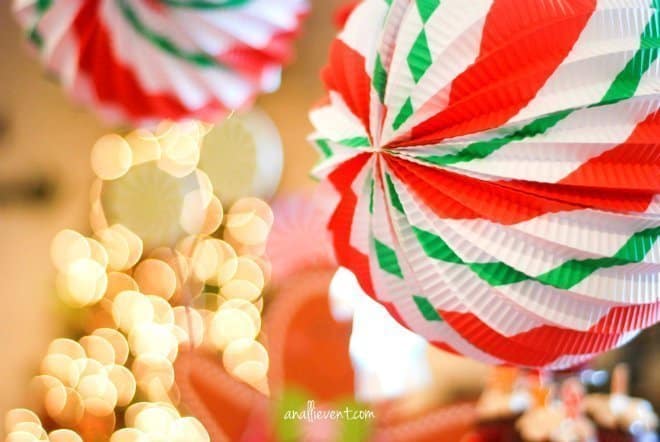 Favors
When the kids leave the party, make sure they have take-home favors to thank them for coming. These boxes are so cute.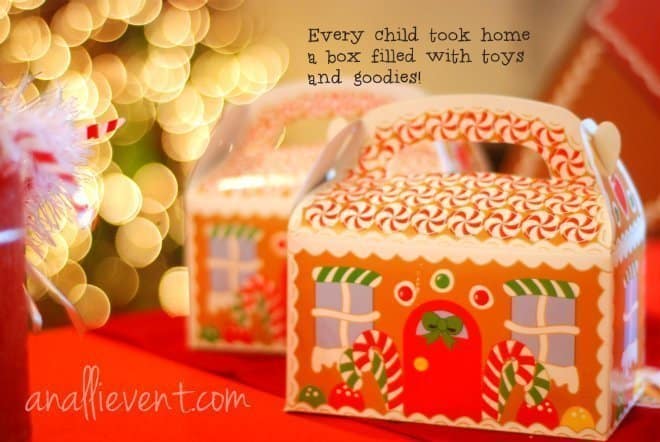 This is such a fun party and it's a great way to celebrate the Christmas season.