You won't miss the meat in Easy Vegetarian Black Bean Chili. This chili is perfect on a cold and rainy day.
Once fall arrives, I'm all about soup, chili, and stew. Once it gets really cold, I could eat some type of soup or chili every night.
Vegetarian Black Bean Chili happens to be my very favorite chili ever! I have it at least once a week, sometimes twice! This chili is delicious all year round, but when fall arrives and there's a chill in the air, I'm inspired to have chili night as often as possible.
Serve this chili with cornbread and top it with anything you like – jalapeno peppers, tortilla chips, chives, sour cream, etc. but it tastes great just the way it is.
Easy Vegetarian Black Bean Chili
This chili is easy to make. Start by sauteing garlic and onion in a tablespoon of hot oil. Stir in the seasonings and saute for 3 minutes.
Next, stir in the beans and diced tomatoes. Add 2 cups water. Bring to a boil, stirring occasionally. Reduce heat to low and simmer for about 30 minutes.
You Can Use Dried Black Beans Instead of Canned
It's more prep work because the beans need to be soaked. You can soak them overnight or at least for 3 hours. The cook time will be extended as well. You'll need to simmer the chili until the beans are tender, about 2-3 hours. Also, you'll need to add extra water if the beans begin to dry out.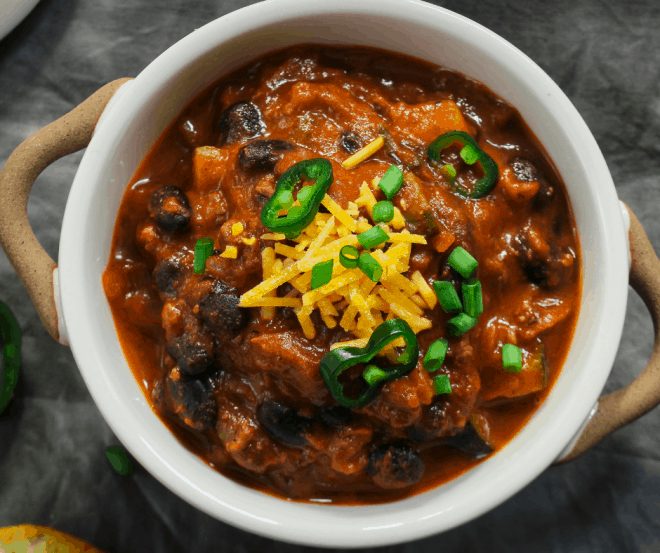 Toppings for Easy Vegetarian Black Bean Chili
For me, chili must be garnished with some tasty toppings. Try some (or all) of these topping ideas:
Chopped cilantro (I know, you either love or hate it. I LOVE cilantro)
Cubed avocado
Tortilla chips
Corn chips (my husband's favorite topping)
Sour Cream
Lime wedges
Shredded lettuce
Chopped tomatoes
Chives
I usually include most of these toppings when I'm serving chili. Buffet style is the way to go and everyone can pick their favorite toppings or none at all.
What to Serve With Vegetarian Black Bean Chili
Whenever I serve chili, I tend to keep things simple, meaning, it's chili, toppings, and cornbread.
Sometimes, I'll add a fresh green salad. You can also serve rice. Black beans and rice pair wonderfully together.
I rarely serve chili without cornbread. I mean, they just go together. Of course, if you're not a fan of cornbread (gasp!), a sourdough bread works well.
Yield: 4 servings
Vegetarian Black Bean Chili
Vegetarian Black Bean Chili is flavorful and filling. This is my favorite chili and the recipe can be easily doubled.
Ingredients
3 cans black beans, 15.5 oz. each
1 large sweet onion, chopped
3 garlic cloves, minced (I use the minced garlic in the jar)
1 Tablespoon vegetable oil
4 tsp. chili powder
1 tsp. ground cumin
1/2 tsp. pepper
1/4 tsp. salt
2 (14.5 oz.) cans petite tomatoes with jalapeno peppers (or plain tomatoes if you don't like the extra spiciness)
Instructions
Drain and rinse 2 cans black beans. Do not drain the 3rd can.
Saute onion and garlic in hot oil in a large dutch oven over med-high heat 5-7 min. or until tender. Stir in chili powder and next 3 ingredients and saute 3 minutes.
Stir in diced tomatoes and the beans.
Add 2 cups water.
Bring to a boil over med-high heat. Reduce to med-low and simmer 30 minutes, stirring occasionally. Enjoy!
Nutrition Information
Yield
4
Serving Size
1
Amount Per Serving
Calories

222
Total Fat

5g
Saturated Fat

0g
Trans Fat

0g
Unsaturated Fat

4g
Cholesterol

0mg
Sodium

233mg
Carbohydrates

36g
Fiber

12g
Sugar

6g
Protein

11g
When you add the spices to the onion and garlic and saute for a few minutes, it really wakes the spices up and adds such a depth of flavor. It's so much better than just throwing in the spices when you add the beans.
Helpful Hint: Sometimes I add thinly sliced carrots or a can of corn to give my vegetarian black bean chili a little twist. So take this recipe and make it your own.
Hope you like this chili as much as I do!
You May Also Like
Slow Cooker Vegetarian Taco Soup