Can you hear it? It's the sound of fall calling out for Delicious Vegetable Soup. Soup season is here! For me, one of the best things about fall and winter is soup.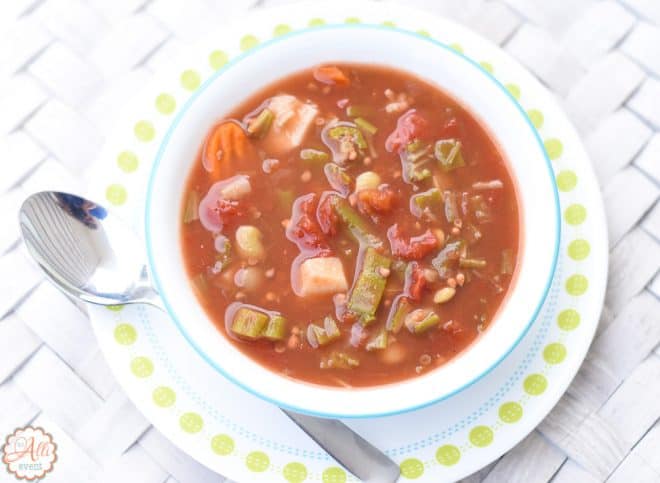 The best thing about Versatile Vegetable Soup is that it's versatile! Duh!
You can add your favorite veggies and leave out the ones you don't care for. Sometimes my soup simmers on the stovetop and other times, it goes into the slow cooker. It's a comfort meal in a bowl.
Let's Make Delicious Vegetable Soup
I always start by heating two tablespoons of olive oil. Add one large chopped onion and cook until the onions are translucent.
Then, I add vegetable broth, diced tomatoes, water, chopped carrots, frozen baby lima beans, celery, green beans, potatoes, and corn. Add salt, pepper, and Italian seasoning. Simmer on medium-low heat for a couple of hours or until lima beans are tender, stirring occasionally.
How To Make Delicious Vegetable Soup In The Slow Cooker
After sauteing the onions, place all the ingredients in the slow cooker and cook on low for 3-4 hours or until the lima beans are tender. (I'm obsessed with tender lima beans.)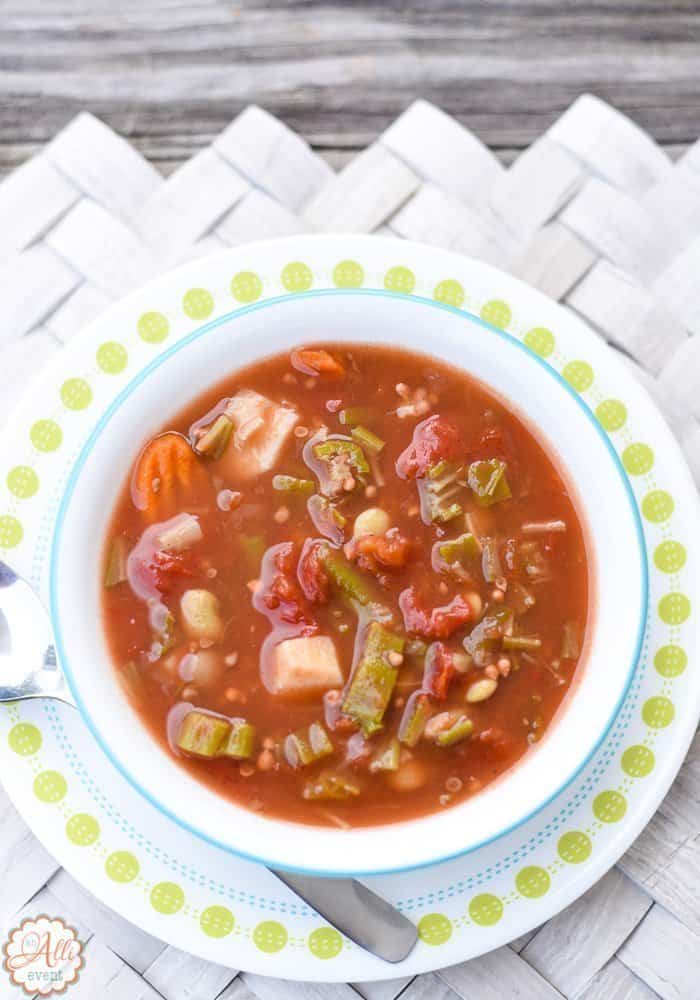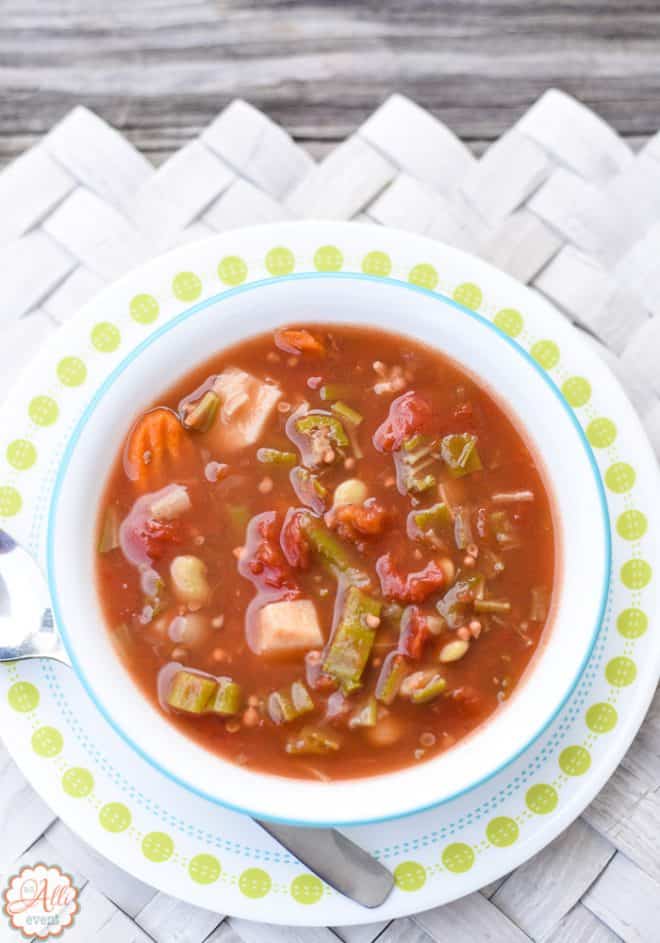 Where's the Beef?
At this point, my husband usually asks, "Where's the beef?" Because I'm such a nice person, I usually make two batches. Vegetable Soup for me and Vegetable Beef Soup for him. I brown a pound of grass-fed beef, drain and add to his pot of soup.
Vegetable Soup Ingredient Suggestions
I always add sliced okra to my vegetable soup because I heart okra and my freezer is packed with sliced okra from my dad's garden. I wait until about 20 minutes before the soup is done before adding the okra or it gets too soft.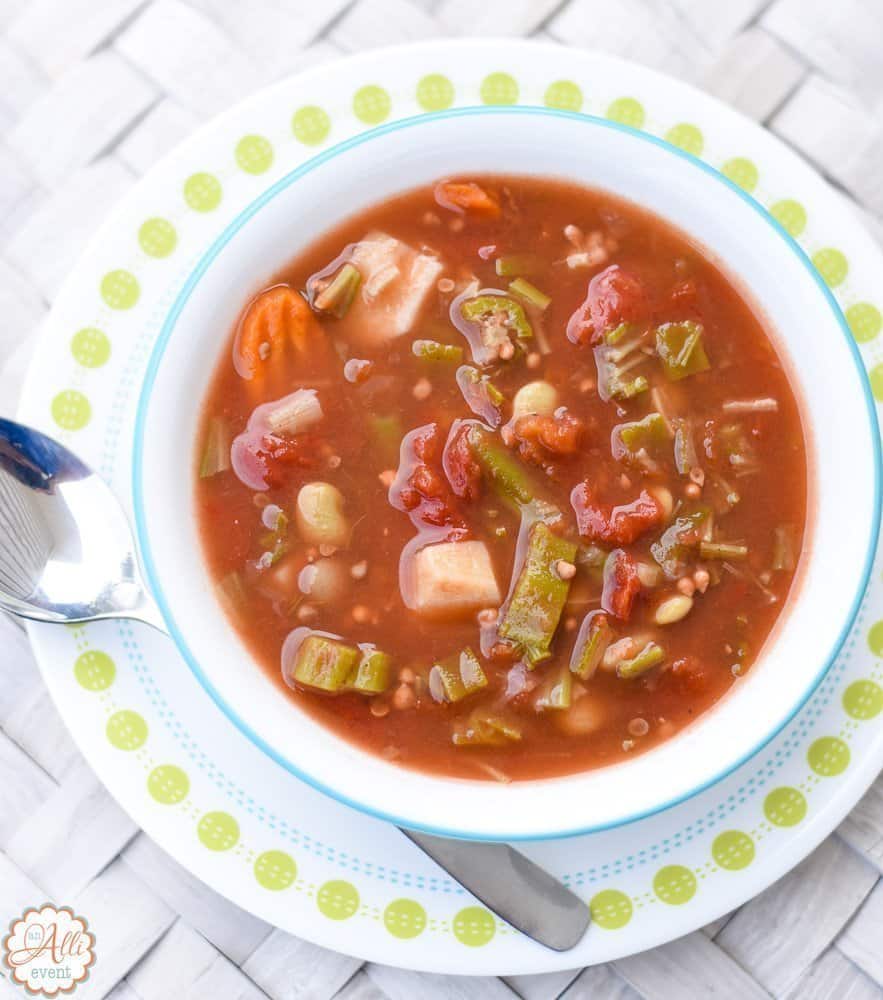 My husband wouldn't touch okra with a ten-foot pole (southern saying) so I never add okra to his half of the soup.
You could also add:
squash
turnips
cabbage
zucchini
broccoli
cauliflower
frozen peas
asparagus
sweet potato
Freeze the Leftovers
Got leftover soup? Freeze it! After the soup cools, place in labeled and dated zip-lock freezer bags. Let out excess air and seal. Lay bags in a single layer to freeze. Once frozen, stack to save room. To thaw: Thaw overnight in the fridge. Reheat on medium-low, stirring occasionally.
Whenever I crave soup, the only thing I need besides that comforting bowl of vegetable soup is Grandma's Hoe Cakes or Aunt Jean's Cornbread Sticks. For me, soup must have cornbread!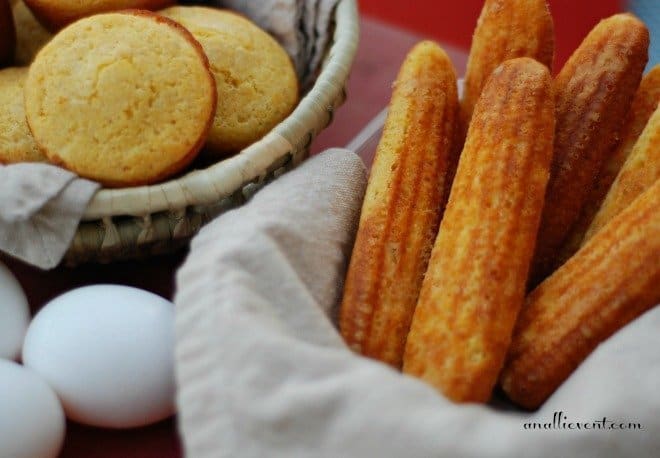 If there's a chill in the air, chances are, you'll find me in the kitchen throwing together my favorite soup. And I always pray for leftovers!
What's the one vegetable that must be in your vegetable soup?
You May Also Like These Recipes
Yield: 8 servings
Vegetable Soup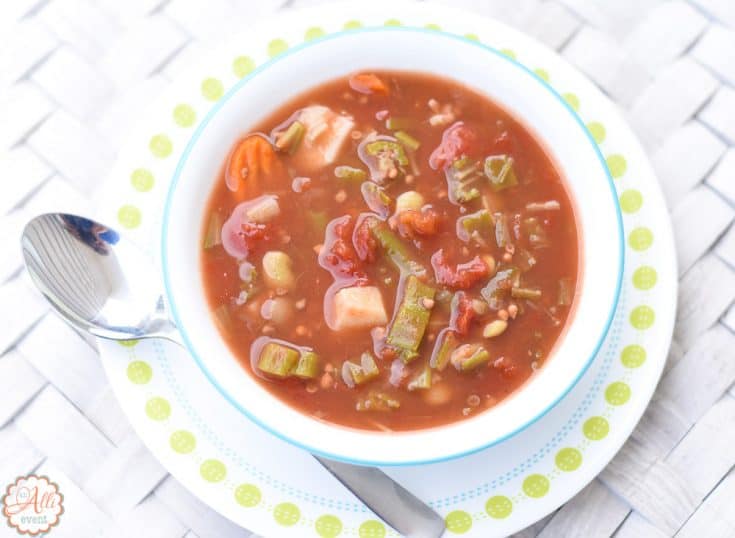 Delicious Vegetable Soup is easy to make and so versatile. Leave out the veggies you don't like. This soup is a family favorite during fall and winter.
Ingredients
1 large onion, chopped
2 Tablespoons Olive Oil
Vegetable Broth, 14 oz.
1 cup frozen baby lima beans
2 cans diced tomatoes
1 cup water
1 cup sliced carrots
2 stalks celery, diced
1 large potato, diced
1 can whole kernel corn, drained (or 1 cup fresh corn)
2 teaspoons Italian Seasoning
1 can green beans, drained
1 cup sliced okra (optional)
Salt and Pepper to Taste
Instructions
In a large stockpot, cook chopped onion in olive oil on medium-low heat until translucent, stirring often.
Add all ingredients and bring to a boil.
Cover and simmer on medium-low until all vegetables are tender, about 30 minutes, stirring occasionally.
Recommended Products
As an Amazon Associate and member of other affiliate programs, I earn from qualifying purchases.
Nutrition Information
Yield
8
Serving Size
1
Amount Per Serving
Calories

140
Total Fat

4g
Saturated Fat

1g
Trans Fat

0g
Unsaturated Fat

3g
Cholesterol

0mg
Sodium

272mg
Carbohydrates

24g
Fiber

5g
Sugar

5g
Protein

4g