Don't you just love Thanksgiving? I do! Yes, it's a lot of work if you're going to host (like me), but it's such a wonderful time of the year. It's a good time to share my favorite Thanksgiving side dishes.
The week leading up to Thanksgiving can be crazy busy, but I love every minute of it. Don't you? That's why I'm sharing some of my favorite Thanksgiving side dishes and my recipe for stuffed potatoes – a family favorite.
These stuffed potatoes have been served at every Thanksgiving Day meal I've ever hosted. I'm sharing the recipe down below!
Here is what the week leading up to Thanksgiving looks like.
Sunday
We go to church on Sunday. We're blessed in that we get to worship with our entire family at church. I'm thankful that my kids and grandkids live nearby and we see each other often, even at church.
Monday
Monday is all about shopping with two of my daughters. Thanksgiving week is usually the week we shop for Christmas outfits for my grandsons.
If you have boys, then you know how difficult this can be. There will be one rack of cute boys stuff (dressy) and one million racks of adorable girls stuff. Yawn! How many argyle vests can one boy own?
Monday is the day I'll take the turkey from the freezer and put it in the refrigerator for the great thaw-out!
Tuesday
Sprucing up the house – bathrooms, you know the drill! If I'm having overnight guests, I make sure the guest bedroom is clean and welcoming.
Wednesday
Today will be the pre-Thanksgiving Day cooking marathon! I try to prepare most of my favorite Thanksgiving side dishes ahead of time.
I even make the cornbread dressing a day ahead, but I don't add the broth/stock until right before I cook it on Thursday. The flavors marry overnight, covered, in the fridge.
Wednesday is also the day I make all the desserts. I prepare all the sides that can be made ahead, except for the baking part. I will mix the ingredients for mom's dry rub for the deep-fried turkey!
Then, lastly, I mix up the ingredients for mocha punch! My refrigerator is officially packed to capacity and I wish I had two – but just for Thanksgiving and Christmas.
Thursday – the big day!
Around 10ish (but I will be up by five) I bake the cinnamon rolls and get out the punch bowl for my famous mocha punch. The smells of deliciousness waft through the house and awaken all the sleepy heads around here! I always watch the Macy's Thanksgiving Day Parade! Oh, I've died and gone to heaven.
We eat our Thanksgiving Day meal at 6 pm. My son-in-law has a family reunion at noon on Thanksgiving Day. I told them years ago that I'd be happy to move my feast to dinnertime. Now, I have all day to putter around in the kitchen, watch a little Duke Basketball, football and then, the feast.
Favorite Thanksgiving Side Dishes
It's time to share my family's favorite Thanksgiving side dishes. Just click on the orange links to get the recipes.
Mom's Cornbread Dressing
I always serve mom's cornbread dressing. Thanksgiving wouldn't be the same without cornbread dressing. Don't forget the cranberry sauce!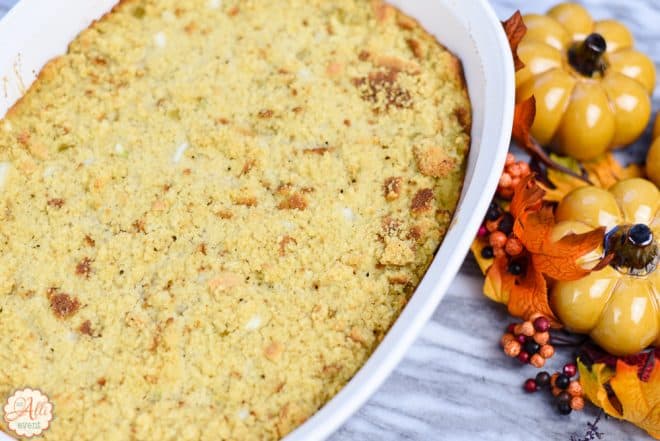 Mom's Chicken and Dumplings
My kids love dumplings but they really don't like chicken in their dumplings (insert eye roll). After boiling the chicken for the stock, I remove it. My husband munches on the chicken while he watches the football games.
Mom's Chicken and Dumplings always take me back to my childhood.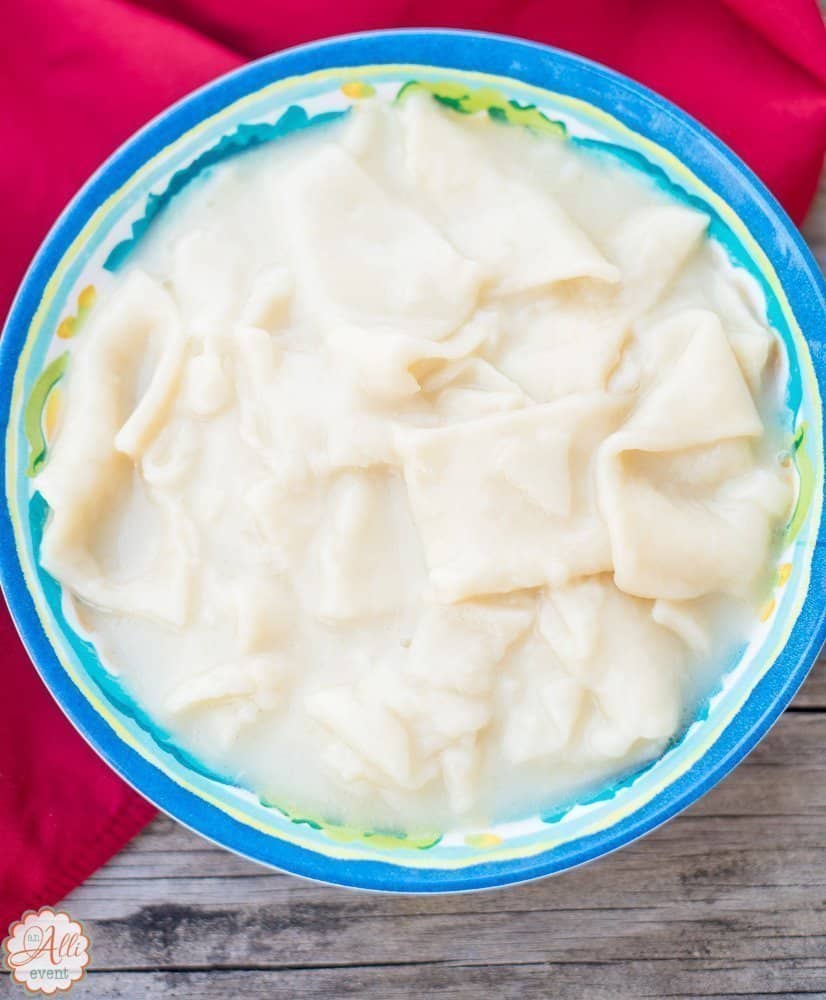 Sweet Potato Casserole
I took my favorite sweet potato casserole recipe and lightened it up a tad. It was way too sweet for my taste. I like this sweet potato casserole much better.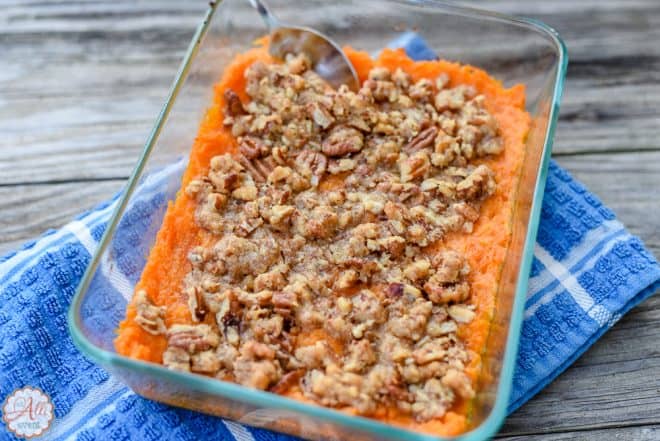 Vegetables
I also serve baby butterbeans and another veggie. It changes from year to year. Honestly, on this one day of the year, it's all about the starches for me. Just keeping it real.
Autumn Apple Salad
I found Autumn Apple Salad in a Taste of Home magazine a gazillion years ago. Since then, it has become Alli's Apple Salad. Isn't it funny how recipes get attached to the person who always prepares the dish?
My daughters would be so disappointed if I didn't include this Thanksgiving side dish. It can be made the day before and I always cross my fingers in hopes of having leftovers. This is the best-congealed salad ever.
Giblet Gravy
I haven't shared my giblet gravy recipe yet. It's coming soon so hold your horses. My husband won't eat cornbread dressing without a heaping spoonful or two of giblet gravy on top.
Sister Schubert's Yeast Rolls
These yeast rolls are my go-to for Sunday dinners and special occasions like Thanksgiving and Christmas. I don't have the time or inclination to make rolls from scratch. Why should I? These rolls are divine.
I love that these rolls come in packs of 10 and 20. Since I always have at least 16 people over for the Thanksgiving Day meal, I always grab the 20-count package of rolls. You can find them in the freezer section of your favorite grocery store.
Stuffed Potatoes
I've been making Stuffed Potatoes since I was in my 20's! Friends and family always request these potatoes. If I left these potatoes off my Thanksgiving Day menu, the kids would be so disappointed.
I've given many of my friends this recipe over the years. Last year, when we attended the wedding of a friend, they mentioned how much they love my stuffed potatoes.
Stuffed Potatoes are hard to photograph! In these photos, there's extra cheese and chives so the potatoes don't look so dull and yellow.
In real life, they don't have bacon and chives on top. Feel free to add them, because they are much prettier.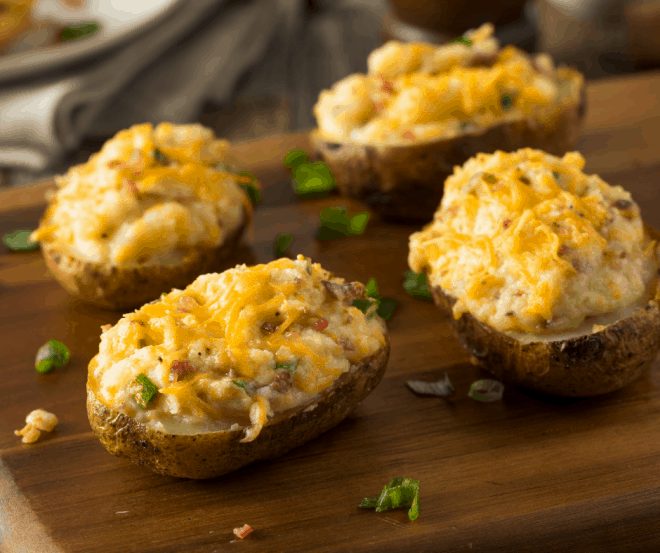 Yield: 8 Servings
Stuffed Potatoes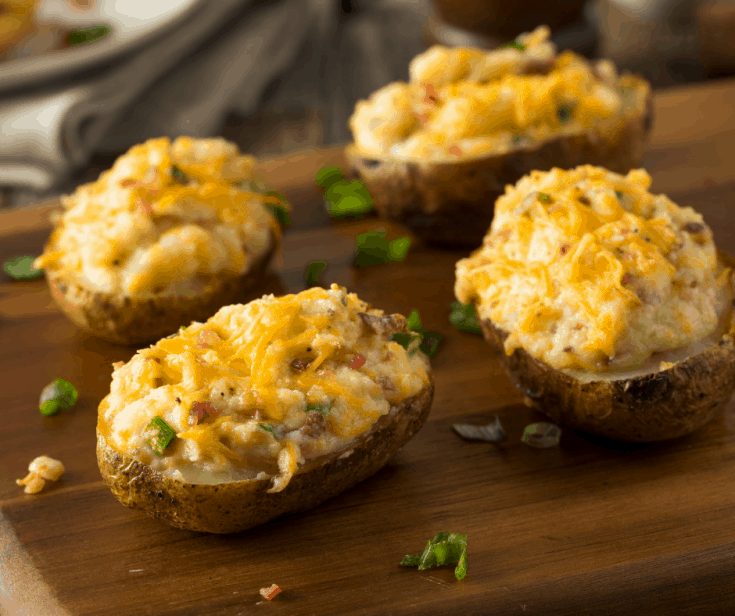 The insides of the baked potatoes are mixed with two types of cheese, seasonings and stuffed back into the potato skins. These potatoes are a family favorite.
Cook Time
1 hour
30 minutes
Total Time
1 hour
45 minutes
Ingredients
4 Large Baking Potatoes
3/4 cup Butter
Garlic Salt (to taste)
1 Cup shredded Mozzarella Cheese
2 Tablespoons Worcestershire Sauce
1 Cup shredded Cheddar Cheese
Parmesan Cheese
Instructions
Bake potatoes at 350º F. for one hour or until done. Cool slightly and cut in half lengthwise.
Spoon out potatoes into a large bowl, leaving enough along the sides and bottom so that the potato does not collapse.
Add the rest of the ingredients except for the Parmesan. Stir until well blended. Place potato mixture back into the skins. Place potatoes in a large baking dish sprayed with cooking spray and sprinkle with Parmesan. Bake at 350º until browned and bubbly – about 30 minutes.
Nutrition Information
Yield
8
Serving Size
1
Amount Per Serving
Calories

388
Total Fat

24g
Saturated Fat

15g
Trans Fat

1g
Unsaturated Fat

7g
Cholesterol

67mg
Sodium

420mg
Carbohydrates

34g
Fiber

3g
Sugar

3g
Protein

10g
Main Dishes
I know we're talking about our favorite Thanksgiving side dishes. However, we need to talk about the main event. I always have a baked ham and a deep-fried turkey on Thanksgiving.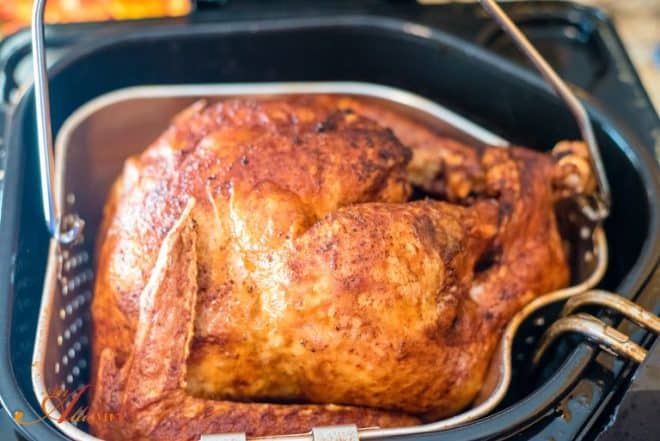 Time for Dessert
I usually prepare three desserts on Thanksgiving. After Thanksgiving dinner, we usually wait a little while before enjoying dessert and coffee.
Favorite Lemon Squares
These lemon squares begin with a lemon cake mix and they are the best ever. I've tried many lemon bars in my life and these remain my favorite.
Overlook the outline of the bunny. I always serve these at Easter and that's when I took the photo.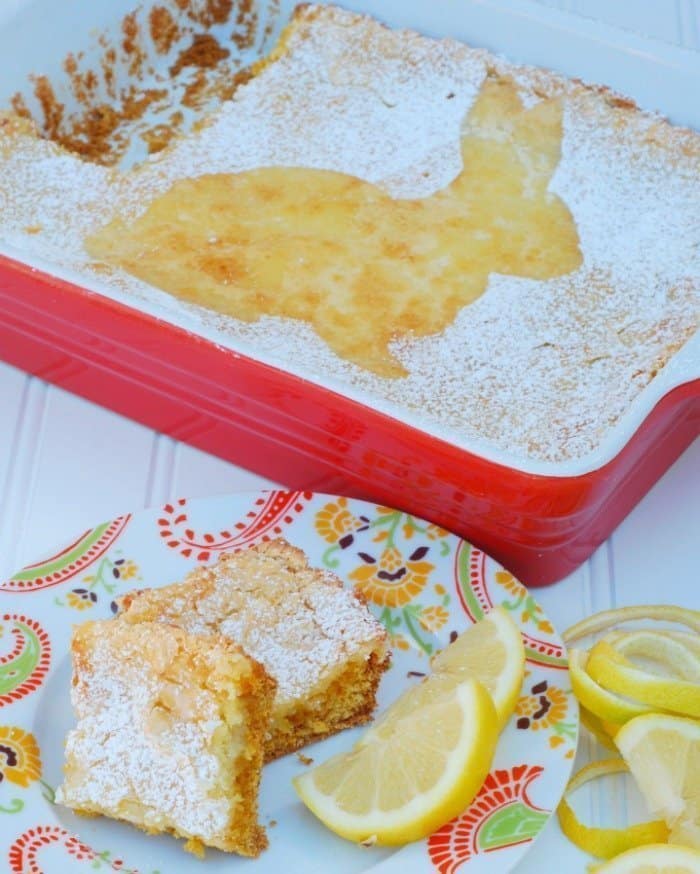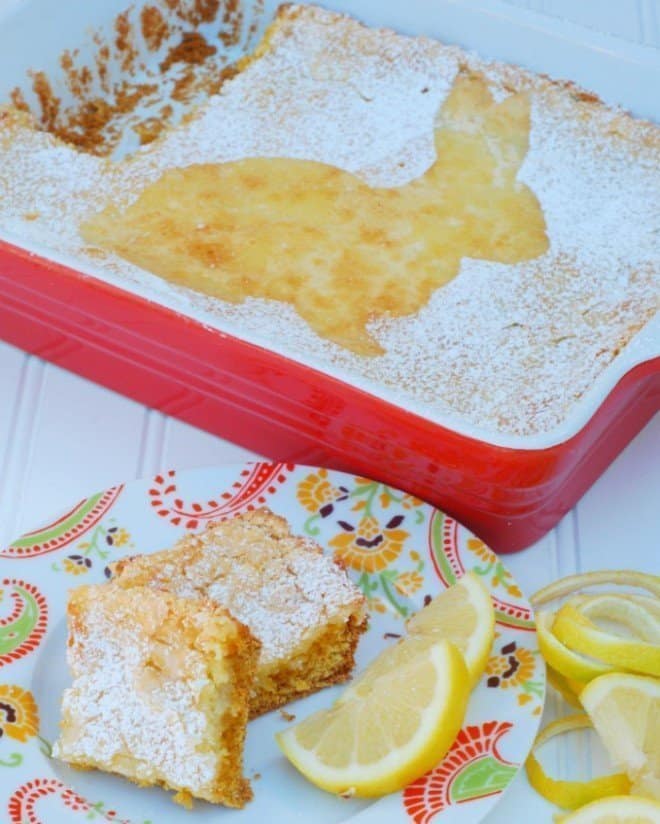 Triple Layer Chocolate Mousse Cake
I've made many chocolate cakes over the years. This Chocolate Mousse Cake is my all-time favorite. I've given out this recipe more times than I can count. The frosting is out-of-this-world good.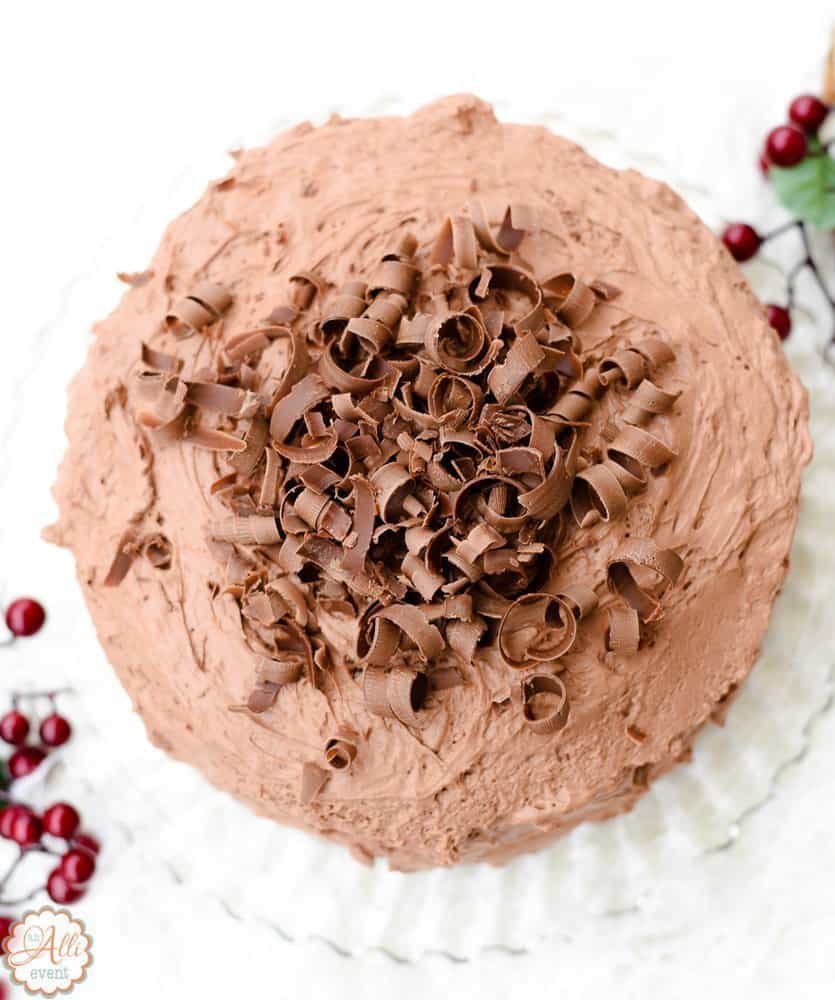 Pecan Pie Cobbler
Last, but certainly not least, is Dixie's Pecan Pie Cobbler. My sweet cousin, Dixie, gave me this recipe and it has become a favorite at my house. This is the recipe that went crazy viral on Facebook and Pinterest. It's still going strong!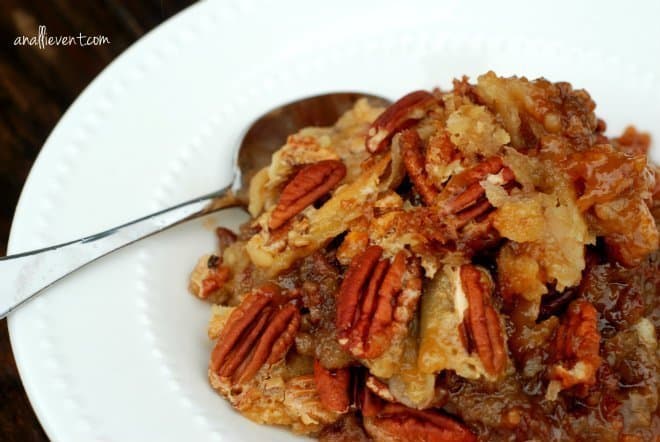 This completes my Thanksgiving Day menu, including our favorite side dishes. It looks like a lot but I have a large family. I encourage the kids to divide the leftovers among themselves and I even provide food storage containers.
I hope you have a fabulous Thanksgiving with family and friends.