One of my favorite things about winter is soup. I do believe I can eat soup, chili or stew every single day of the year, but especially during the fall and winter. My family loves easy soups like taco soup that I usually make with ground chuck. Sometimes I mix it up a bit by replacing beef with chicken. It becomes Taco Chicken Soup. I also make a Vegetarian Taco Soup. So, there you go.
As you know, my grown kids, their spouses (I claim them as my kids too) and the grandkids come over for lunch on Sundays. Some Sundays, I make a full-on southern meal and do a lot of the cooking on Saturday and early Sunday before church. This past Saturday was crazy busy, ending with a semi-formal dinner in Columbia. Yes, I wore a little black dress and yes, it was fun. Since I didn't have a lot of time to cook, I decided Sunday was a perfect day for soup and pimento cheese sliders.
Sunday is the one day I always have dessert. Apple pie for a crowd is just the thing for my large family. I'll share the recipe later.
I often make my own pimento cheese, but in the last few years, I've fallen in love with Palmetto Pimento Cheese. Y'all, it's amazing! It's the "pimento cheese with soul" and it's now sold nationwide. There was a time when you could only buy it in South Carolina.
Let's make Slow Cooker Vegetarian Taco Soup
This one is so simple! Add all the ingredients to a slow cooker. Stir to combine. If you want Chicken Taco Soup, top with boneless, skinless, chicken thighs. Cover and cook on high for 5 hours or low for 8.
Serve in bowls and top with your favorite garnishes. Garnish with shredded cheddar cheese, sour cream, tortilla chips, and pickled jalapeno slices.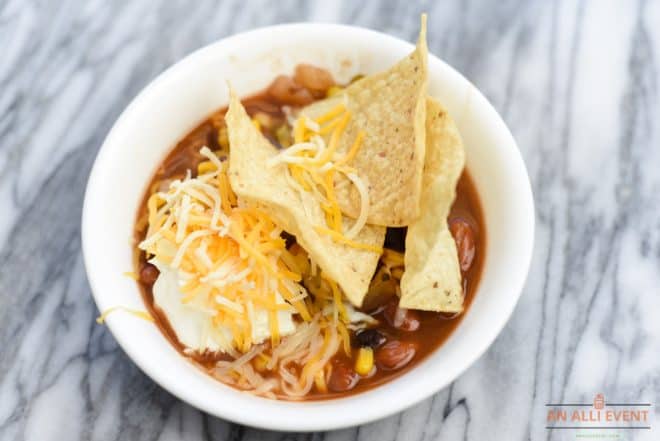 I actually made two different types of taco soup this past Sunday – Vegetarian, and Chicken.
How to Make Chicken Taco Soup
I didn't get any photos of the Chicken Taco Soup, but all you do is add 2-1/2 pounds boneless, skinless chicken thighs after you add all the other ingredients. Cover and cook on high for 5 hours or low for 8.
Turn the slow cooker off, carefully remove thighs, shred with two forks and stir the chicken back into the soup mixture.
Most of my family likes dark meat when it comes to chicken. You can replace the chicken thighs with chicken breasts if you prefer.
Traditional Taco Soup
To make tradition taco soup, add one and a half to two pounds ground chuck to a skillet. Brown the ground chuck, drain and add to the slow cooker with all the other ingredients. Give it a stir and cook on high for 5 hours or low for 8.
Easy Taco Chicken Soup In the Slow Cooker
Ingredients
1 large sweet onion, chopped
1 can (15 oz.) kidney beans
1 can (15 oz.) black beans
1 can (15 oz) pinto beans
1 (15 oz.) can whole kernel corn, drained
2 cans (10 oz. each) Ro-Tel tomatoes
1 can water
1 (8 oz.) can tomato sauce
1 package taco seasoning mix
1 package ranch dressing mix
Shredded cheddar cheese (garnish)
Tortilla chips (garnish)
Sour cream (garnish)
Pickled Jalapeno pepper slices (garnish)
Instructions
Place chopped onions, beans, corn, Ro-Tel tomatoes, water and tomato sauce in a slow cooker. Add the taco seasoning and ranch dressing seasoning. Stir to combine.
Cover and cook on high for 5 hours or low for 8 hours.
Serve in bowls and top with shredded cheddar cheese, tortilla chips, sour cream and pickled Jalapeno pepper slices, if desired.
https://www.anallievent.com/slow-cooker-vegetarian-taco-soup/
You May Also Like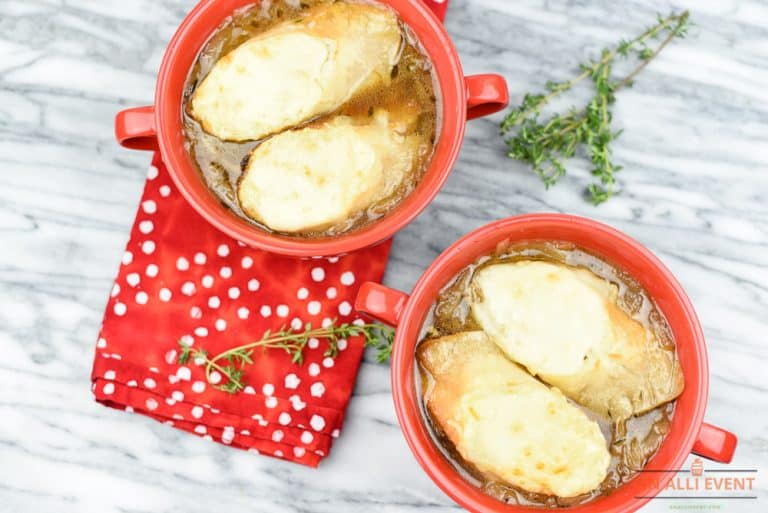 Homemade Slow Cooker Chicken Noodle Soup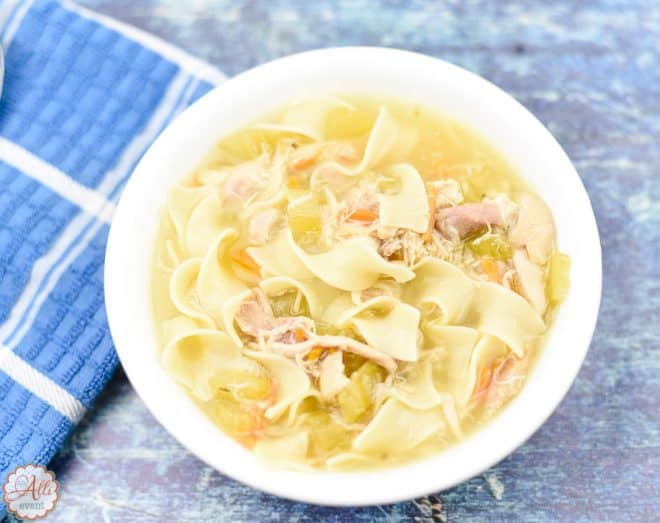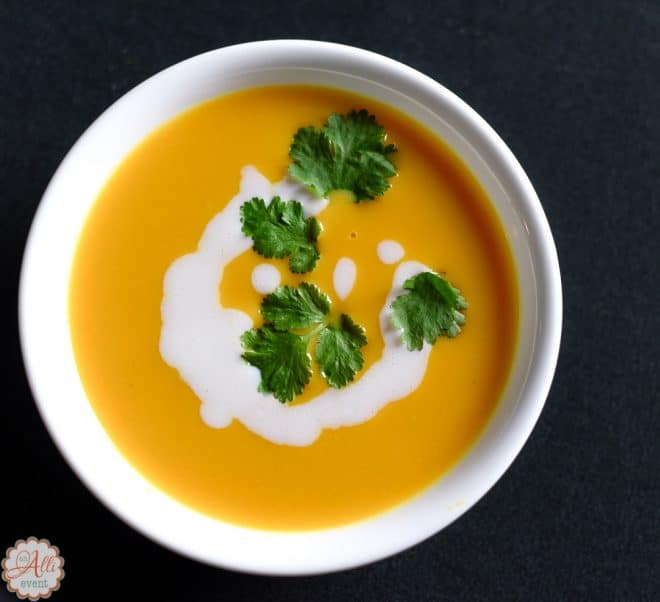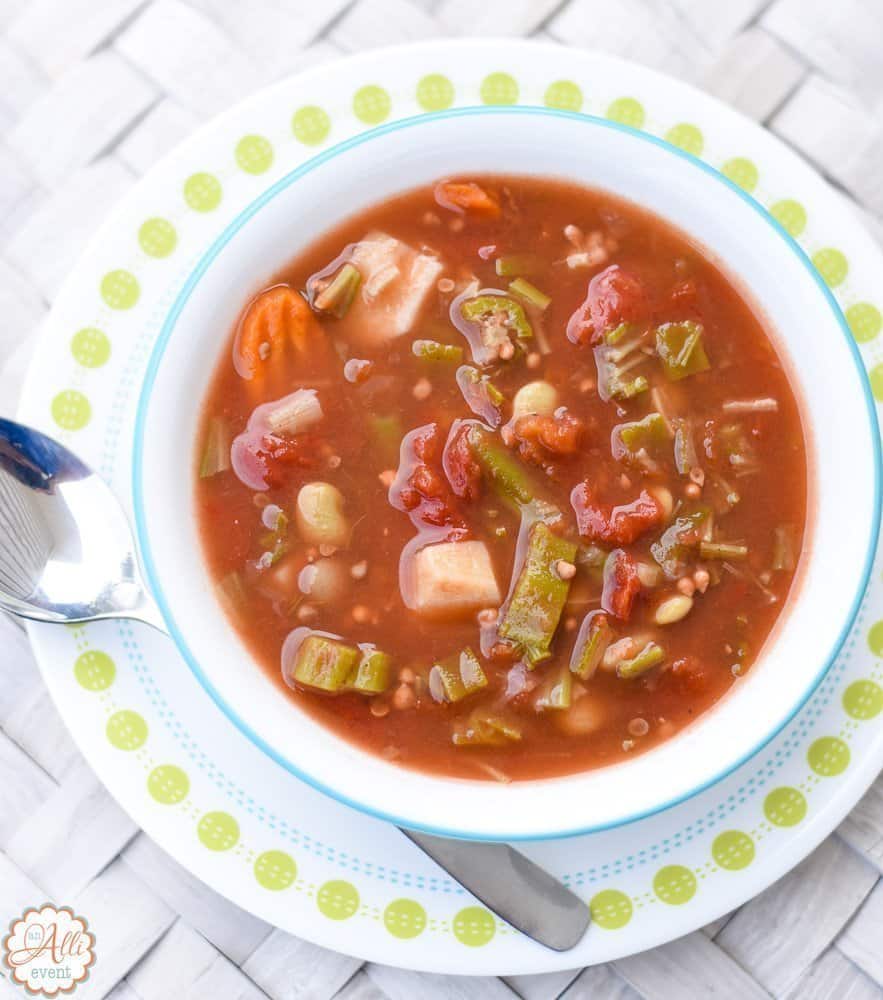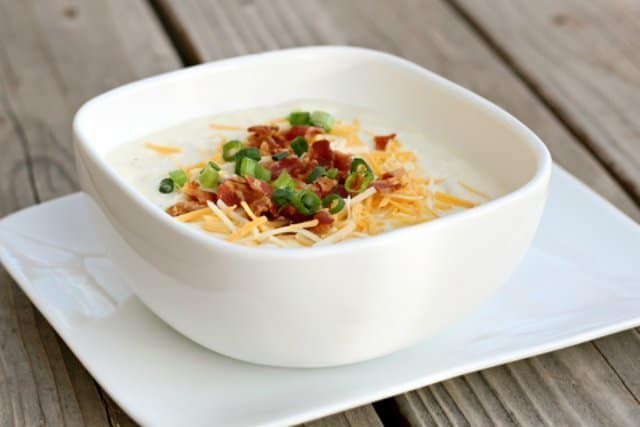 Print Friendly