Vidalia Onion Rings have a nice crunch on the outside. Onion slices are dipped in flour, an egg/milk mixture, and bread crumbs before frying in a skillet.
Vidalia Onions Are The Best
I grew up in Georgia, not far from Vidalia, home of the best onions in the world. For me, no other onion comes close.
Vidalia onions are sweet onions grown in a specific territory in south Georgia. These onions are perfect for cooking because they are mild and don't take over a dish.
I learned to make Vidalia Onion Rings from my mom and I laugh at TV chefs when they try to pronounce Vidalia. I know I shouldn't, but I do.
How To Pronounce Vidalia
One time we were traveling to visit my husband's mom (we have to go through Vidalia). My youngest daughter, who was born in Georgia, but didn't grow up there (I know, it's so sad), saw the Vidalia city limits sign and she – gasp, groan, slap my forehead – mispronounced Vidalia. She said it just like the TV chefs say it.
I instantly repented for neglecting to teach her one of the most important lessons in life – how to correctly pronounce Vidalia. And then an argument ensued. She insisted that she was pronouncing it correctly and I was the one mispronouncing that word. I just had to prove her wrong!
So we stopped at the first convenience store we could find. I did have to use the restroom and grab a bottle of water, but I also had ulterior motives!
As we paid for our purchases, I casually asked the clerk, "How do you pronounce Vidalia?" She immediately spit-out the correct southern way of saying that word! And I gave my daughter an I-told-you-so grin, an eye roll and a don't-ever-cross-me look when it comes to southern speak. I, along with that store clerk, am the queen!
And now you are wondering how to really pronounce Vidalia! You know you are!
Correct South Georgia Way: Vidalia – Vie-Day-yah
Incorrect Way: Vuh-dell-yuh
Got it? (I hope so!) 🙂
Any way you choose to pronounce it, Vidalia Onions are the best onions in the world. Period!
Chef Bobby Flay said it best, "Vidalia onions aren't just the most famous onions in the world; I think they may be the only famous onions in the world." I totally agree, Bobby!
Who Discovered The Vidalia Onion?
The onions were first accidentally discovered near Vidalia, GA, in the early 1930s. It is an unusually sweet variety of onion, due to the low amount of sulfur in the soil in which the onions are grown. Mose Coleman is believed to be the person who discovered the sweet Vidalia Onion variety in 1931. Thank you, Mose!
The Vidalia onion was named Georgia's official state vegetable in 1990.
Vidalia onions are the star of many recipes and are perfect to use when cooking, served raw as a condiment and they make the best onion rings.
Speaking of Vidalia Onion Rings, here's my favorite recipe for making them and I never use any other onion!
Vidalia Onion Rings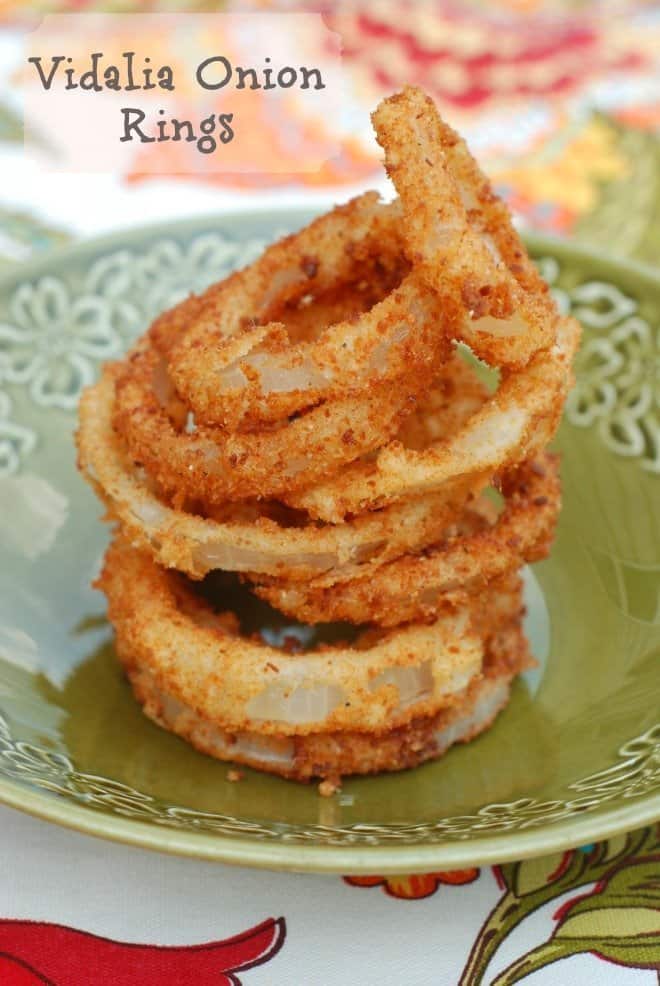 Helpful Hint: Set up your onion ring dipping station before you begin the frying process. It makes it a lot easier.
How To Bake Vidalia Onion Rings
If you choose to bake the rings instead, preheat the oven to 450º F. and line baking pans with parchment paper. Place Vidalia onion rings in a single layer and bake until golden brown, about 14-20 minutes.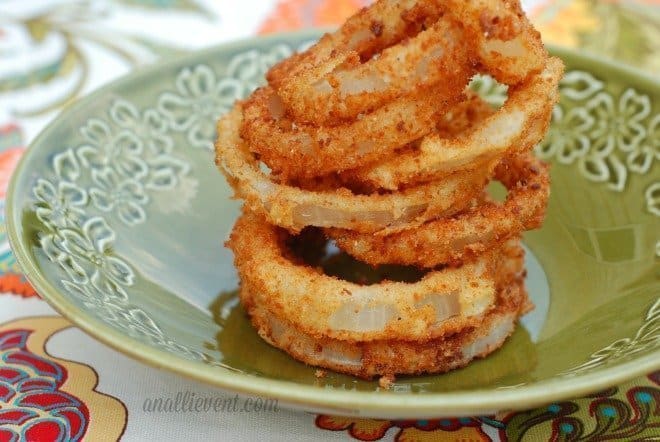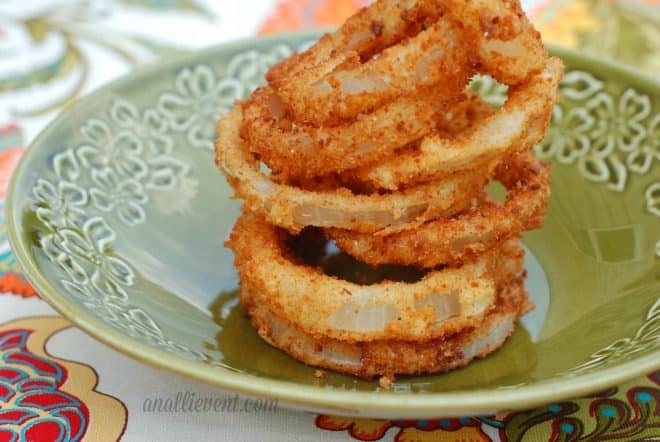 You May Also Like These Recipes
Yield: 4 servings
Vidalia Onion Rings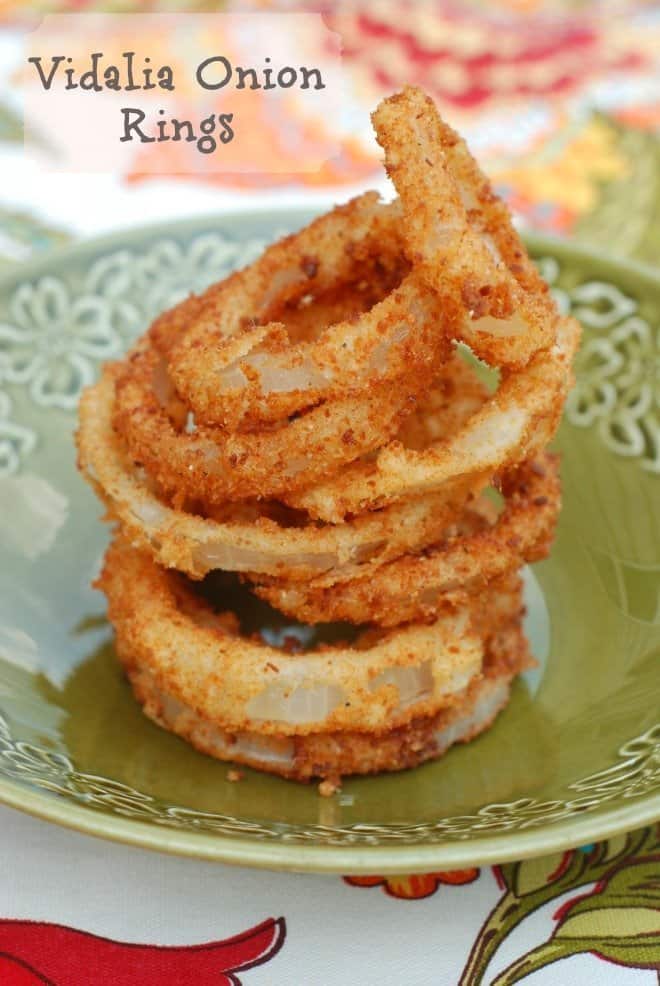 Vidalia Onion Rings are crunchy on the outside and slightly sweet.
Ingredients
1 large onion cut into 1/4" slices
1 cup all-purpose flour
1 tsp. baking powder
1 tsp. salt (or seasoning salt)
1/2 tsp. pepper
1 egg
1 cup milk
3/4 cup breadcrumbs (such as panko)
Oil for deep frying
Instructions
Slice and separate the onions into rings. Set aside. In a small bowl, mix the flour, baking powder, salt, and pepper.
Heat approx. 1" of oil in a skillet (or deep fryer) to 350 degrees.
While the oil heats, dip the onion rings into the flour mixture until all are coated and then set aside.
Whisk the egg and milk into the same flour mixture.
Dip the flour-coated onion rings into the wet mixture and place rings on a rack over foil or baking pan until they stop dripping.
Place rings into the bread crumbs and coat well on both sides. Tap off excess coating.
Fry the rings a few at a time because they cook very fast (2-3 minutes). Flip the onions to brown both sides when using the skillet method. Remove to paper towels to drain.
Nutrition Information
Yield
4
Serving Size
1
Amount Per Serving
Calories

289
Total Fat

7g
Saturated Fat

2g
Trans Fat

0g
Unsaturated Fat

5g
Cholesterol

51mg
Sodium

903mg
Carbohydrates

45g
Fiber

2g
Sugar

3g
Protein

10g
More Ways To Enjoy Vidalia Onions
My Potato and Vidalia Onion Au Gratin is another great way to enjoy these sweet onions. How about a roasted Vidalia onion? You can find the recipe here!
Need a great dip? Try this Baked Vidalia Onion Dip! Yum!