Every time I eat  fried green tomatoes, I can't help but think about the movie.  And I have to eat them at least once a year.  It's a summer thing.  It's a southern thing.  It's a yummy thing.
At my family's recent beach trip, we had fried green tomatoes the night of our big fish fry, featuring our freshly caught ( I only caught a shark that was released back to his mom and a tiny whiting, too small to keep) fish.  Fresh is always best.  The green tomatoes were picked from my parent's garden.  And they were delish!
My sister-in-law, Patty, prepped them (find her Pimento Cheese recipe here), Stan breaded them, dad fried them and I ate them.  Well, not all of them!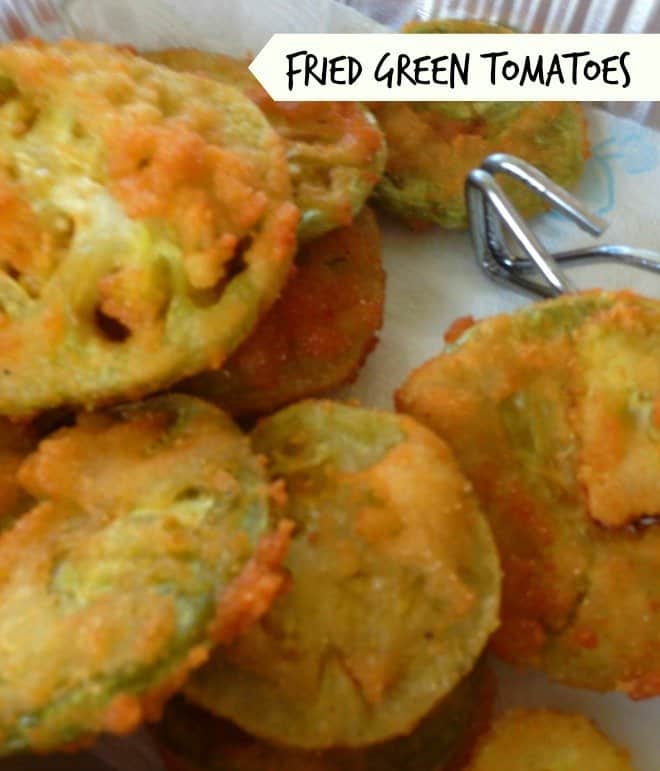 Ingredients
Four large green tomatoes, sliced 1/4" thick
Buttermilk (pour in flat dish with sides), 1 cup
Cornmeal Mix, (in a flat dish with sides) 2 cups
Peanut Oil for deep frying (4-6 cups if using a large, outdoor type fryer) If frying inside, fill heavy skillet about 1/2 way up the sides of the skillet. Don't overfill!
Instructions
Heat oil to 325. Dip tomato slices in buttermilk and then the cornmeal mix, coating both sides. Fry until brown on both sides.
Helpful Hint: Dip tomato slices in buttermilk/cornmeal mix immediately before frying. If you dip them too soon, they will be soggy.
Another Helpful Hint: We also had yellow (summer) squash, sliced and cooked the exact same way, with the same breading. Yum!

Print Friendly