Whatever Floats Your Boat Ice Cream Party has been compensated by Collective Bias, Inc. and its advertiser. All opinions are mine alone. #ShareFunshine #CollectiveBias
Welcome to the most laid-back, fun party of the summer – my Whatever Floats Your Boat Ice Cream Party. Had you rather have an ice cream sundae? Dr. Pepper® Cherry Float? SNICKERS® Ice Cream Cake? Or you can have all 3 – I'll never tell!
Remember, it's whatever floats your boat!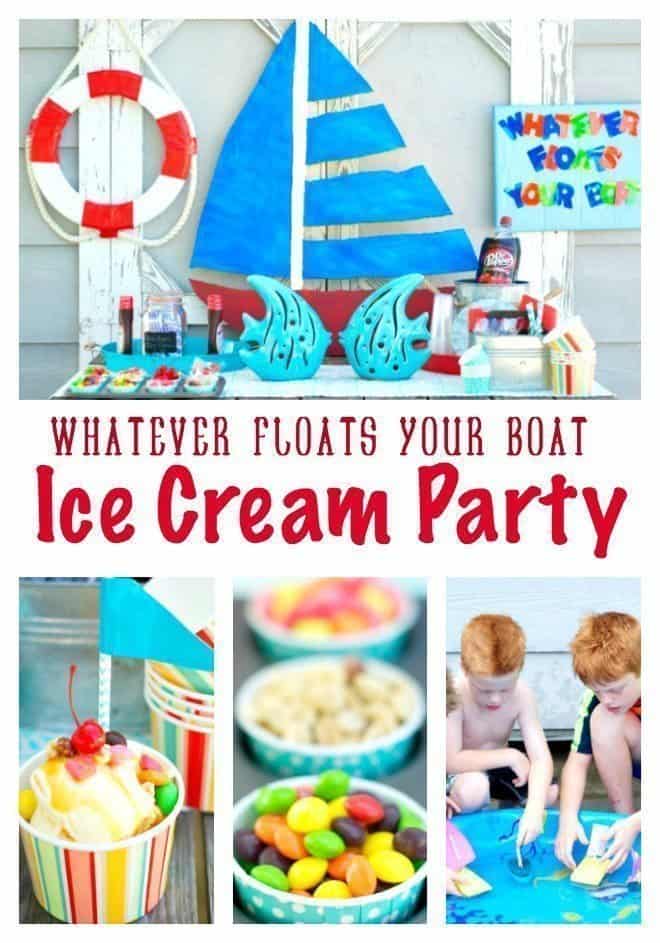 I'll let you in on a little secret: Everyone is still talking about how good my SNICKERS® Ice Cream Cake was! The recipe is below.
First Things First
I headed to Walmart with my shopping list and Blippar app. The app is available from your Apple or Android store and you can scan your packages and receive exclusive content. That was easy!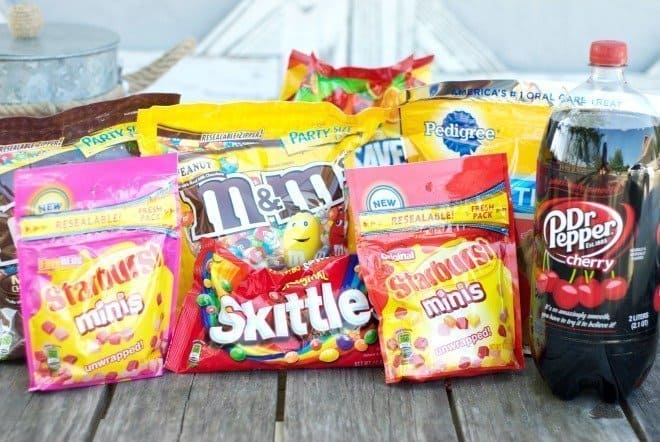 The Decor
My rustic potting table is perfect for the ice cream buffet. My husband and I made it from pallets a couple of years ago and I placed it in front of my old shed that looks like a boathouse.
I didn't want to cover the weathered wood so I used a pretty table runner. The kissy face fish add just a touch of glam.
Helpful Hint: Instead of a table runner, use a large beach towel! It goes perfectly with the theme.
A sailboat to anchor (pun intended) the table and add some color is just what I need. My sweet son-in-law offered to make one out of foam board (you can buy it in large sheets from your local home improvement store). Thank you, Josh!
DIY Sailboat with Foam Board
He printed a simple sailboat pattern onto transparency paper and used an overhead projector to trace the sailboat onto the foam board.
Use a heated knife to cut out the sailboat shape and paint it. It really doesn't take long at all! If you don't have a heated knife, an electric knife works well, too.
DIY Life Ring
In addition to the sailboat, add a cute life ring using a white styrofoam wreath, red duct tape, and white rope. I found the instructions on Pinterest, changed it up a bit, and was done in 10 minutes. I think it's adorable!
The Menu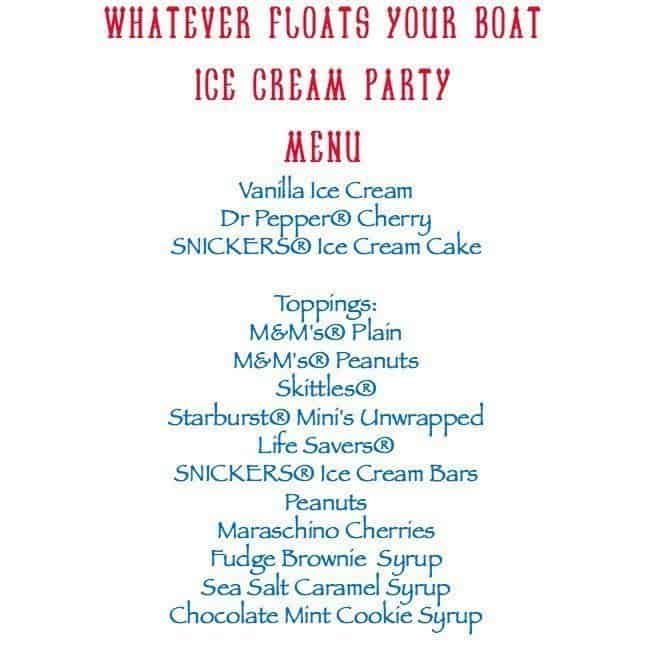 SNICKER'S Ice Cream Cake
The menu is a cinch and my SNICKERS® Ice Cream Cake will be a huge hit at your party! I
Mix up a simple chocolate cake batter, line a jelly roll pan with parchment paper, and baked it for 5 minutes. Invert the cake onto a kitchen towel, rolled it up with the towel, and let it cool completely.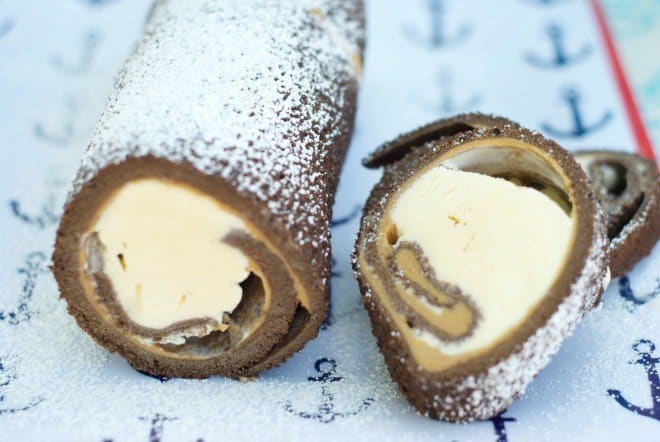 After cooling, unroll the cake, spread the peanut butter mixture, and add the softened ice cream. Then add the sliced SNICKERS® ice cream bars and rerolled the cake without the towel. Place it seam-side down on a platter and dust powdered sugar over the top.
Cracks in the Cake? No Problem!
I had a couple of cracks, but the powdered sugar-covered them and no one suspected a thing!
SNICKERS® Ice Cream Cake
Snickers Ice Cream Cake is the perfect treat during the spring and summer.
Ingredients
1/2 cup all-purpose flour
1/4 cup cocoa
1 teaspoon baking powder
4 eggs
1/3 cup granulated sugar
1 teaspoon vanilla extract
1-pint vanilla ice cream
powdered sugar
4 SNICKERS® Ice Cream Bars
Peanut Butter Mixture:
1 cup peanut butter
1 Tablespoon honey
1 Tablespoon Vanilla Extract
Instructions
Heat oven to 400°F. Spray 15-1/2x10-1/2x1-inch jelly-roll pan with nonstick cooking spray. Line with wax paper and spray again.
Sift together flour, cocoa and baking powder. Beat eggs, sugar and vanilla in small bowl for 5 minutes. Fold in cocoa mixture and spread batter into prepared pan.
Bake 5 to 7 minutes or until top springs back when touched lightly in center. Invert cake onto clean towel; remove wax paper. Roll up cake with towel from short side. Cool completely on wire rack.
After cake is completely cooled, soften ice cream in the fridge for about 15 minutes.
Mix peanut butter, honey and 1 tablespoon vanilla in small bowl.
Unroll cake and spread with peanut butter mixture. Spread vanilla ice cream down the middle of cake. Slice SNICKERS® ice cream bars and place them over the vanilla ice cream.
Reroll cake without the towel and place seam side down on a serving tray.
Sprinkle with powdered sugar.
Store leftover cake in the freezer.
Then I assembled all of the toppings and the party was good to go!
Muffin Tins are Great for Holding Ice Cream Toppings
Helpful Hint: Use muffin tins to hold ice cream toppings! I added little baking cups for a pop of color and cleanup was a breeze!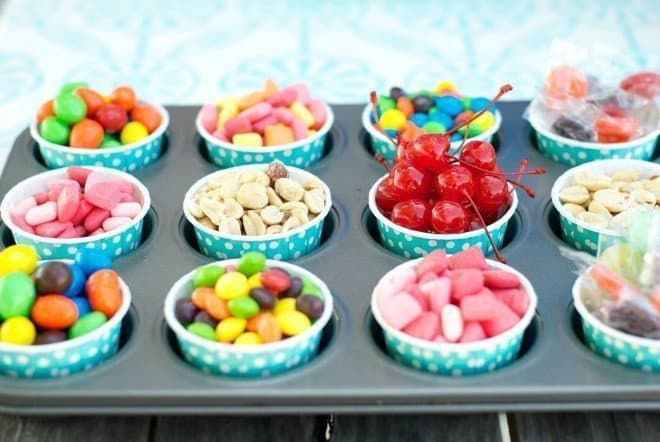 Tips for Hosting an Ice Cream Party Outside
When hosting an ice cream party outside, be sure and leave the frozen treats (ice cream, bars, etc.) in the freezer until time to eat.
The only way you can keep ice cream frozen outside on a hot day is to buy dry ice. I didn't want to use it around the kids, so I went ahead and scooped the ice cream into the bowls and had them ready and waiting in the freezer.
I used a tray to whisk them outside just in the nick of time!
The Boat Race
The boys had a blast racing their homemade boats. We made them using sponges, straws, and foam sheets.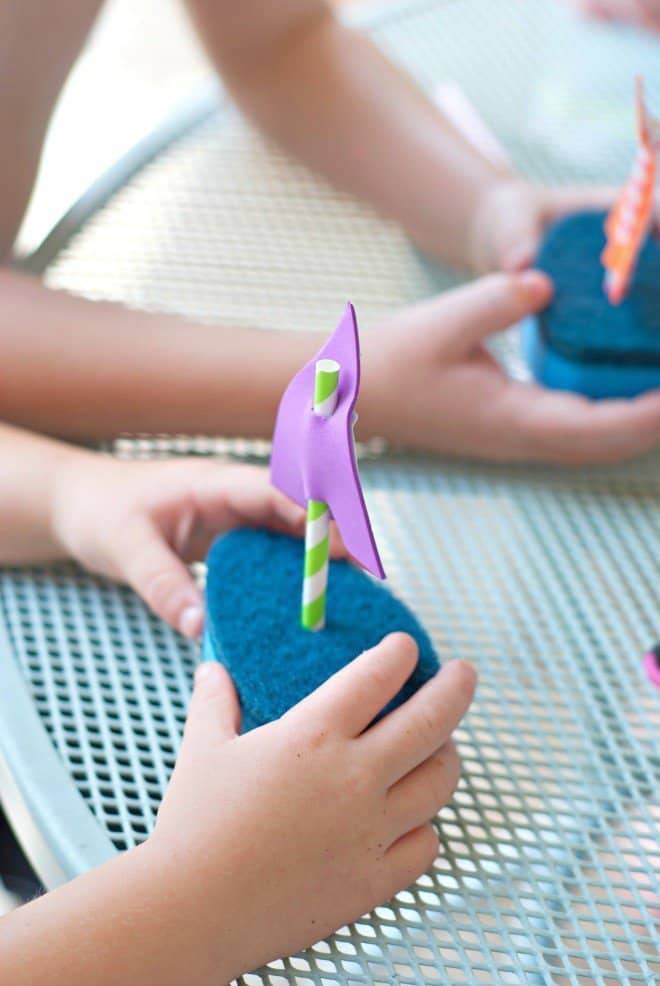 Special Treats for Max
Max had to get in on the action, too! He didn't get to eat any of the people's food, but he had special dog treats, including Pedigree Dentastix® to help keep his teeth healthy.
The adults had a blast, too!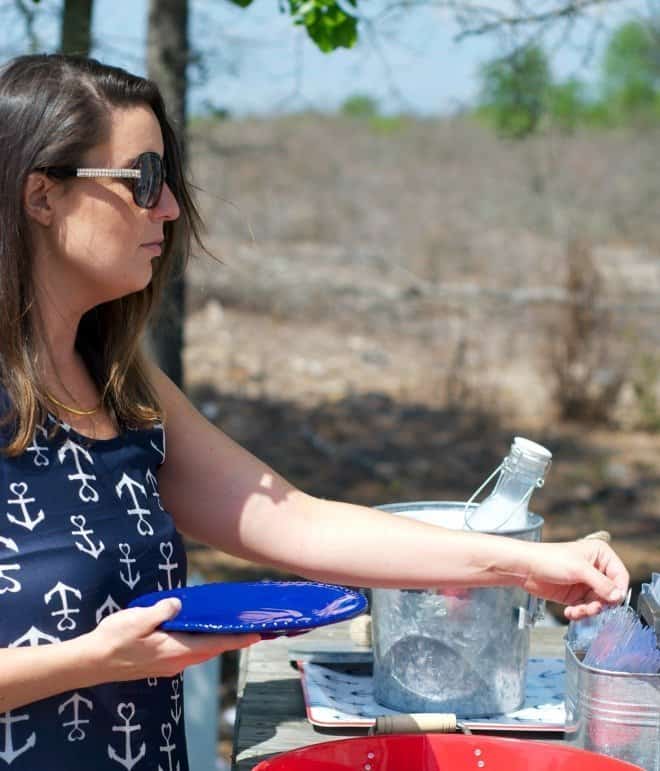 I hope you enjoyed my easy DIY party! How do you make summer fun?
Click on my affiliate link below to find items to add to your Whatever Floats Your Boat party! If you purchase an item, I may receive a very small commission with no extra cost to you.


You May Also Like
30 Delicious Salads for Spring and Summer