These 20 fruit salads are all cool and refreshing – perfect for spring and summer!
I'm a summer girl. It's my favorite season. Bring on the heat, but keep the bugs.
My favorite place to be during the summer is on the beach with a good book, a big umbrella, a tube of my favorite sunscreen, and fruit salads galore. I can almost feel the breeze from the ocean.
Once summer arrives, I crave everything light and bright. I say goodbye to heavy, time-consuming foods and hello to light foods that are quick and easy to make.
It's just way too hot to spend time in the kitchen. So, I have 20 Fruit Salads that are easy to make and gets you out of the kitchen in record time.
Fruit Salads are not only delicious. These salads are pretty, colorful and are perfect as a side dish or dessert.
Whenever I'm entertaining during the summer months, I like to offer something light and tasty. These Fruit Salads fit the bill.
Whether you're in the mood for Orange Poppy Seed Fruit Salad, Watermelon Fruit Salad, or Pina Colada Fruit Salad, there are sure to be a few fruit salads in this roundup that you'll love.
There's even a Winter Fruit Salad for those of you who actually miss winter.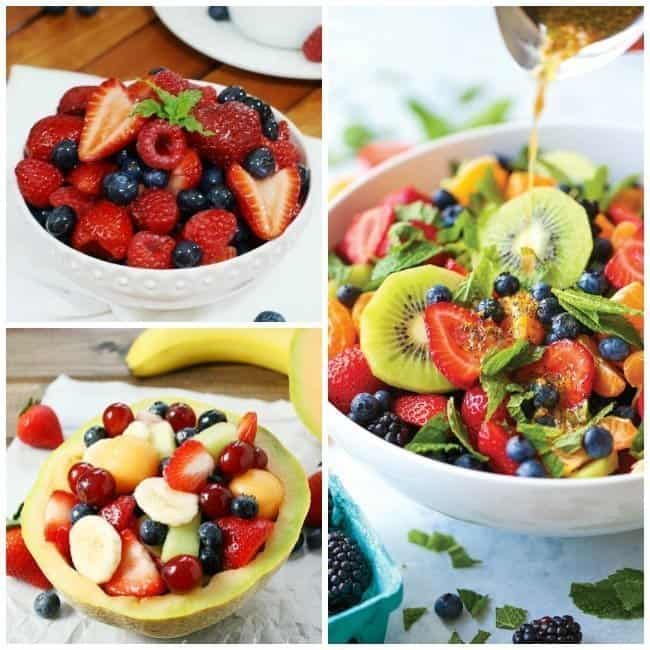 20 Fruit Salads for Spring & Summer
20 Fruit Salads for Spring and Summer
These 20 fruit salads are perfect for spring and summer!
Which fruit salad do you want to try first?
You'll Want To Try These Recipes Too!
20 Fruit Salads was originally published in April 2017 and updated in April 2021.