This shop, Amazing Basket For Holiday Guests was compensated by Collective Bias, Inc. and its advertiser. All opinions are mine alone.
Now that my guest room remodel is finally complete, bring on the holidays!
I can barely contain my excitement as I prepare the house for Thanksgiving. Sure, it's a lot of work and things tend to get messy, but having all the family over for the holidays makes it all worthwhile.
Plus, I have a few tricks up my sleeves when it comes to cleaning the house and preparing the guest room.
When my kids were growing up, we would all pile in the car and take a road trip to visit my parents for Thanksgiving. Mom and dad would run out to meet us as we drove up the driveway with bear hugs for all.
Mom's home was always welcoming and I have such fond memories of spending the holidays with my parents. These days, I try to recreate that same welcoming feeling in my own home.
Whenever I'm preparing for overnight holiday guests, my first thoughts are all about comfort. I like to pamper my guests and let them know how excited I am to have them in my home.
So, with that in mind, I'm going to show you how I prepare for Thanksgiving guests. Plus, I'm including How to Create an Amazing Basket for Holiday Guests and a free printable.
How to Prepare for Holiday Guests
Clean, Vacuum and Dust
A few days ago, I realized I needed a cover for an electrical outlet in my guest bedroom so I headed to Home Depot to grab an outlet cover and to stock up on my favorite cleaning supplies.
When I'm preparing the house for Thanksgiving weekend, I tackle one room at a time.
I have a tendency to get distracted, so I take everything I need to whatever room I'm cleaning. That way, I'm not tempted to do a little here and a little there. This plan keeps me focused.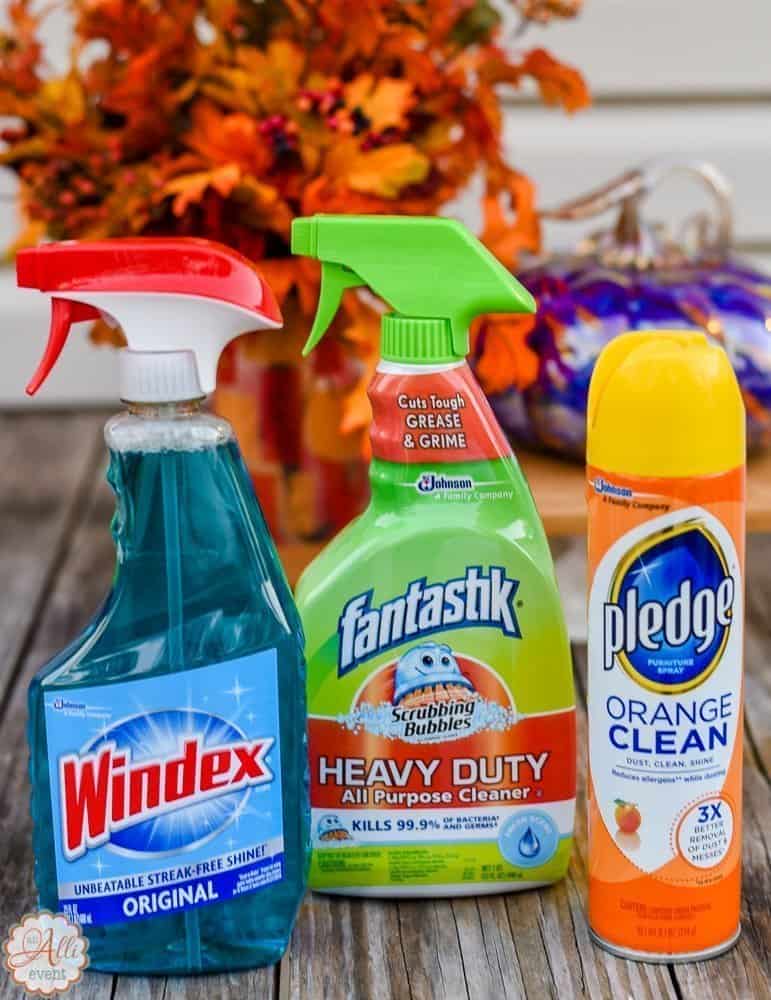 Starting at the top and working downward, I grab coffee filters and Windex® Original Glass Cleaner.
I use coffee filters because they are inexpensive and they don't leave behind any lint. Windex® Original Glass Cleaner gives life a sparkle and leaves my windows and mirrors with a streak-free shine.
Next, it's time to grab a cleaning cloth and Pledge® Orange Clean to wipe down hard surfaces like my dining room table. It leaves behind a fresh smell and cleans, protects, and beautifies my furniture. I also use Pledge® to clean my stainless steel kitchen appliances.
I always rely on the powerful antibacterial, no-rinse solution of Scrubbing Bubbles® Fantastik® to kick dirt and grime to the curb. It helps me save time cleaning the microwave and stovetop because I don't have to rinse. I just spray, wipe and I'm done!
Make the Bed with Fresh Sheets
When I make the bed for my holiday guests, I use quality bedding. I don't want cheap, scratchy sheets for my guests. When they sink into bed at night, I want them to be comfortable.
Don't forget to add an extra blanket in case they get cold during the night.
I also make sure there are lots of clean, fluffy pillows. Pillows are inexpensive and I tend to buy new ones every 3-6 months.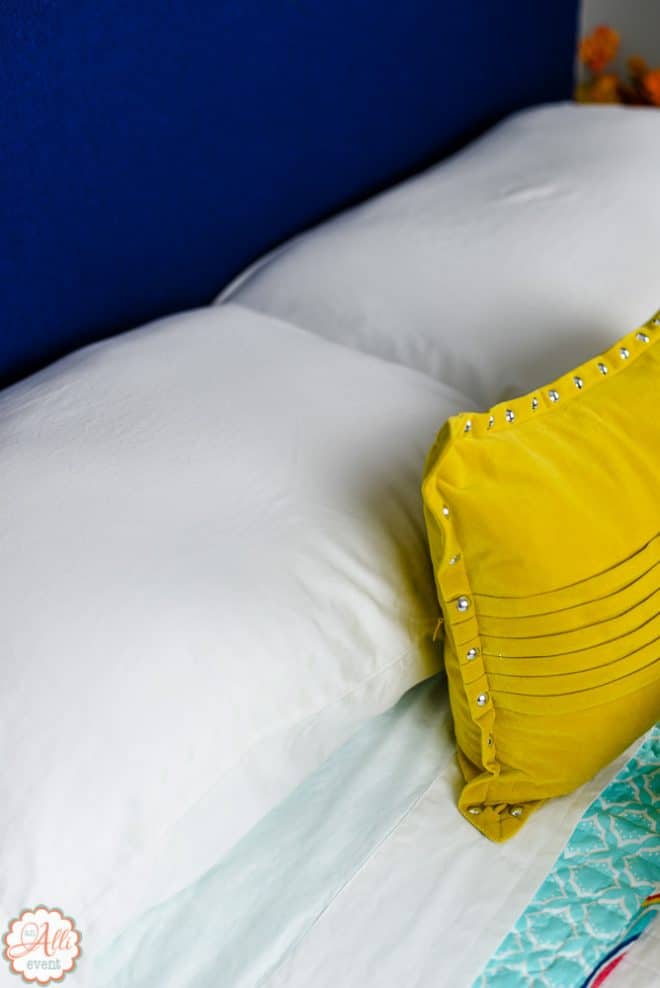 Add Nightstand Essentials
Nightstand essentials should include a lamp, a bedside clock, reading material and flowers.
A small vase of flowers is not necessary, but they sure do add a special touch to the guest room. Remember, you want your guests to feel welcome. I like to add seasonal flowers. They don't have to be real!
Provide a Night Light
I always provide a nightlight for my guests in case they need to make a trip across the hall to the bathroom during the night. It's easier to get disoriented when you're not in your own bedroom.
Clean and Stock the Guest Bathroom
Besides the normal bathroom essentials like fresh towels and toilet tissue, I also include extra toothbrushes, toothpaste, mouthwash, and dental floss.
While I'm cleaning the bathroom, I make sure the tub is squeaky clean and is stocked with shampoo, conditioner, and soap.
Create an Amazing Bedside Basket
For the final welcoming touch, I always create a bedside basket. It doesn't have to be huge.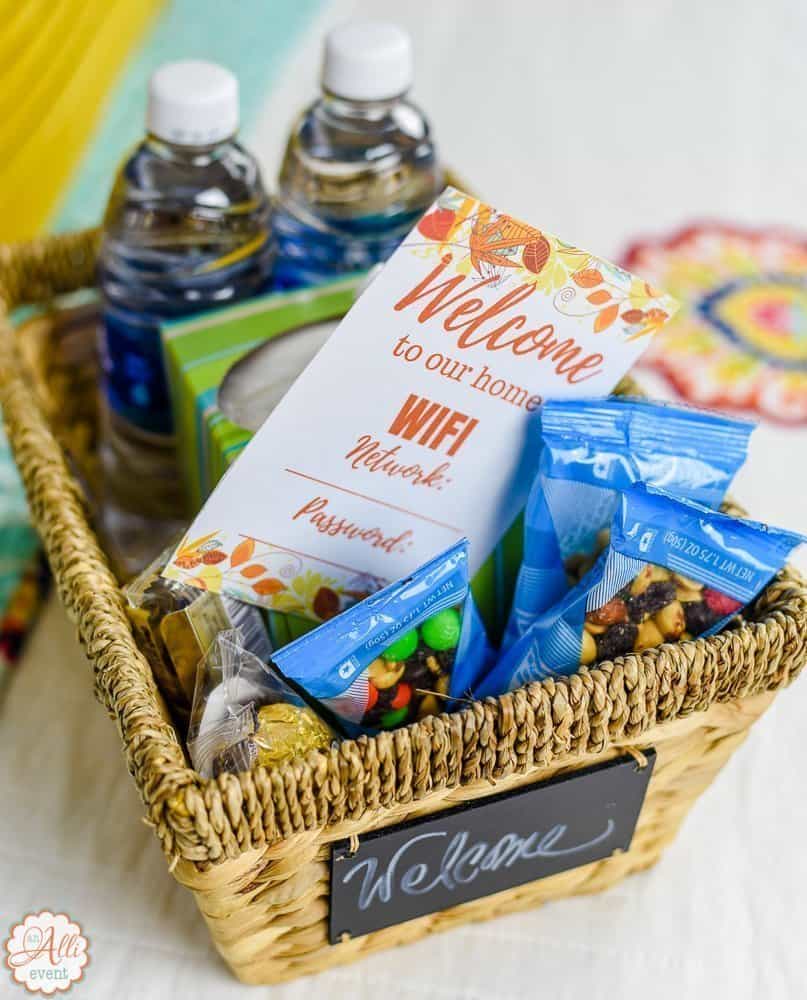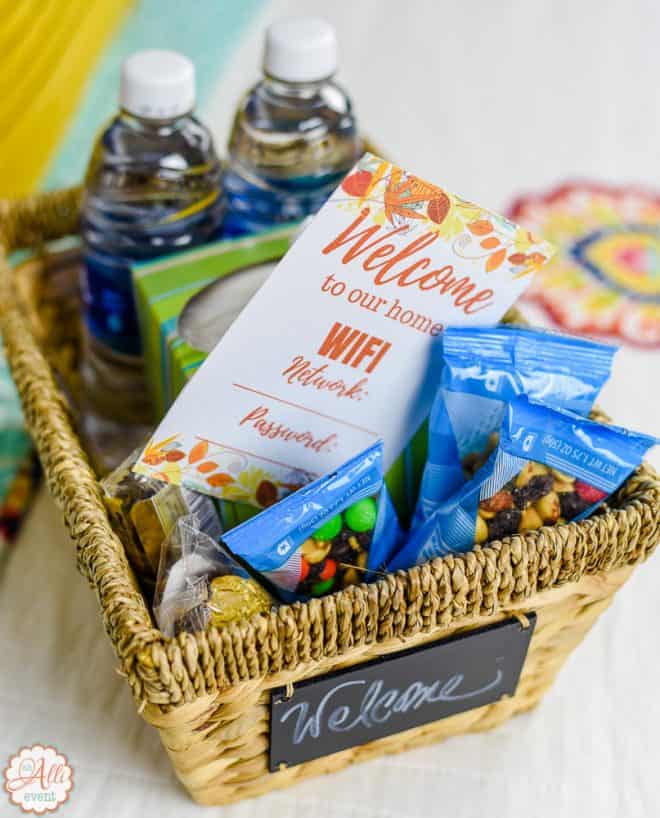 Here is a list of items I always include:
Water
Chocolates
WIFI Network & Password Welcome Tag
Trail Mix
Lip Balm
Tissue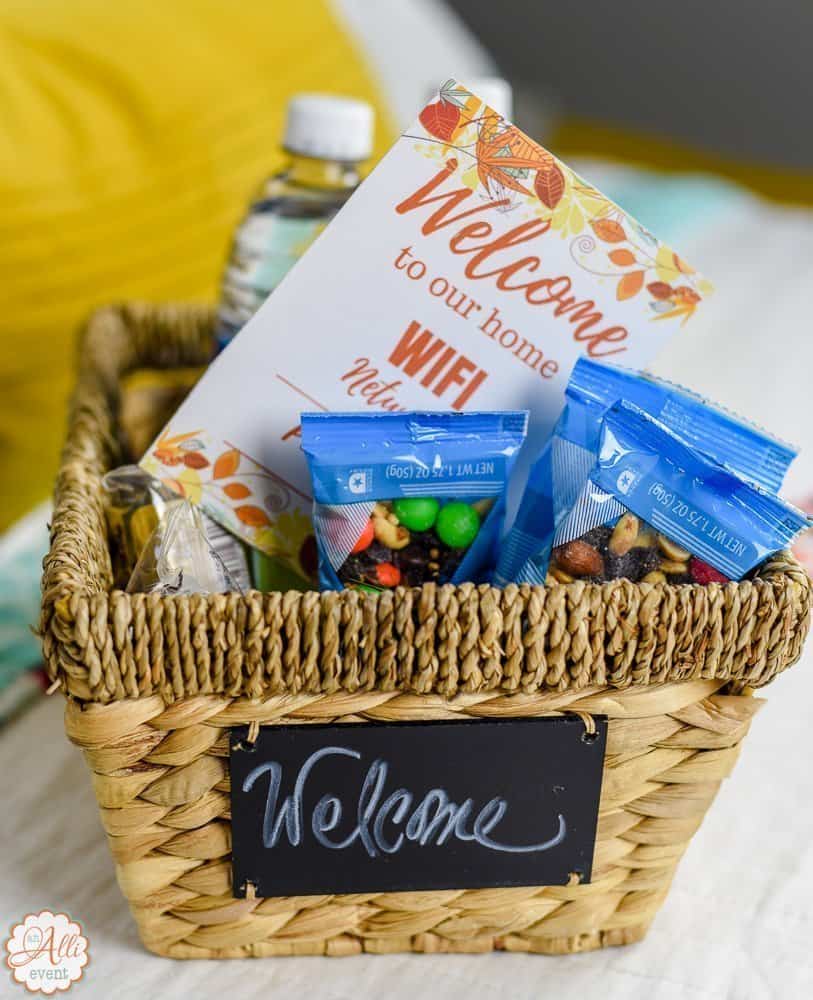 You can print the FREE Welcome Tag here >>> Welcome-To-Our-Home
I always want my overnight guests to feel comfortable and welcome. They know they can help themselves to whatever's in the fridge and coffee is available around the clock.
Plus, they can sleep in as long as they want, especially after a long night of catching up and giggling into the wee hours of the morning.
How do you prepare your house for holidays guests?
You May Also Love These Posts