DIY Gift Baskets are so much fun to give and to receive. You can personalize gift baskets to fit the recipient and the occasion. From birthdays to Christmas and everything in between, gift baskets are just plain fun.
The gift baskets below will surely put a smile on everyone's face!
DIY Gift Baskets For Everyone On Your List
Soup Lover
Add a homemade soup mix and a pack of gourmet crackers to a large soup mug. This is a great gift for the soup lover.
The Person Who Loves To Cook
Place your favorite cornbread mix and a pretty dishtowel in a small cast-iron skillet and you've got the perfect gift.
For the Seamstress
Line a basket with flour sack dish towels. Add needles, threads, sewing gadgets, etc.
Movie Buff
Fill a popcorn container with nuts, microwave popcorn, candy bars, and movie DVDs.
DIY Gift Baskets For Tea & Cookie Lovers
Add assorted bags of tea, cookies, or homemade cookie mix, cookie cutters, a teacup, and tea towels to a gift basket.
Pampered Princess Gift Basket Idea
You can go so many different ways with this one. Some ideas I have: Place a fluffy towel and washcloth, bath bomb, lotion, lip balm, massage oil, a book, and a scented candle in a pretty container.
I have a couple of homemade body scrubs that are easy to make and would be the perfect addition to this basket. My DIY Chocolate Martini Body Scrub and my Pink Lemonade Sugar Scrub are amazing.
Honeymoon Gift Basket For The Newlyweds
Sparkling Cider, champagne glasses, bath oil, chocolates, etc. make the perfect gift basket for newlyweds.
Gardening Gift Basket (for the beginner or pro gardener)
Line a terra cotta pot with tissue paper. Add several packets of seeds, kneeling pads, a trowel, garden gloves, etc.
Chocolate Lover's Basket
Fill a pretty basket with assorted chocolates. They can be homemade or store-bought.
Get Well Soon
Add soup mixes, crossword puzzle books, favorite magazines, body lotion, and hot cocoa mix to a pretty basket.
Kid's Summertime Fun
Fill a plastic pail with bubbles, fruit rollups, finger paints, sidewalk chalk, coloring books, and crayons.
Pasta Lover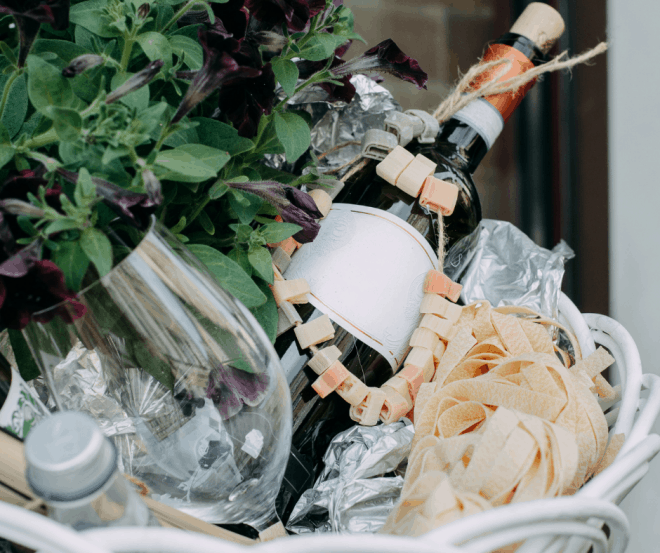 Line a colander with a pretty dishtowel. Place a small cheese grater, some fancy pasta, sun-dried tomatoes, olive oil, pesto or gourmet tomato sauce, and breadsticks. Wrap with cellophane and tie with a pretty bow.
Christmas Gift Basket
Place the following in a pretty basket: Christmas ornament, scented candle, coffee mix, cookies, or cookie mix. A cookie decorating kit would also work well with this basket.
Gourmet Cook's Basket
Line a large mixing bowl with dish towels. Add some gourmet seasonings, kitchen gadgets, an unusual cookbook, and oven mitts.
Alternate Ideas: Add homemade cake mixes with a cake pan and measuring cups, or homemade bread mixes, recipes, etc. placed in a bread pan. This theme could go in many different directions!
The Beginner Cook
Add a simple recipe book to a pretty casserole dish. Highlight one of the recipes and include all the non-perishable items needed to prepare that dish. If it's a pasta dish, you could include sauce in a jar, dry pasta, dried herbs, etc.
The Overnight Guest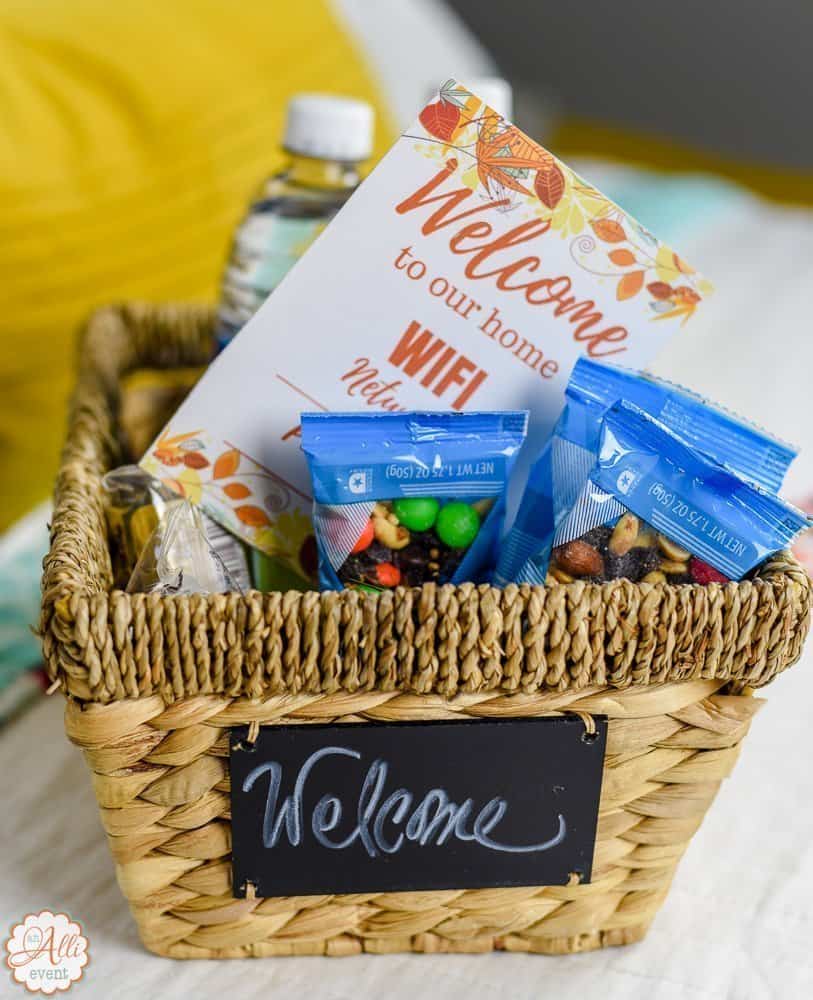 I always like to pamper guests with a nice bedside basket. I always include bottled water, a candle, a book, mints, chocolates, tissue, lip balm, the WIFI password, and night light.
Make sure there are extra blankets and a small clock on the bedside table.
High School Graduation Gift
Fill a beach bag (monogrammed would take it to the next level) with a fun beach towel, sunglasses, flip flops, sunscreen, and a gift card (all grads appreciate money!).
I hope this list of gift basket ideas will get your creative juices flowing.
You May Also Like
I've made a list of a few items you might need to create a gift basket.
DIY Gift Baskets For Everyone On Your List
You may need some of these items when you put together a gift basket.