Bay Gardens Beach Resort & Spa is a 4-star resort located on Reduit Beach in Saint Lucia. The resort is 100% St. Lucian owned and managed. The owners, retired-school teachers, also own two other properties here – Bay Gardens Hotel and Bay Gardens Inn.
My husband and I are enjoying a two-week vacation at Bay Gardens Beach Resort & Spa. This is our second visit to the island of St. Lucia. The first time we visited, we stayed at Windjammer Landing Resort.
Bay Gardens Beach Resort Review
We like Bay Gardens the best because we are right on the beach. Windjammer is built on the side of a cliff and the views are amazing, but there is a lot of walking (or shuttle riding) up and down the mountain.
One of the first things I noticed about Bay Gardens is the cleanliness of the resort and the friendliness of the staff. They go out of their way to make sure guests enjoy their stay.
We did have an issue with the air conditioning when we first checked in. The front desk immediately sent someone from the maintenance department and it was fixed.
Our view from our one-bedroom suite at Bay Gardens Resort and Spa is perfect. We are overlooking the pool and have a panoramic view of the ocean. The photo below is the view from our balcony.
Our Bay Gardens Beach Resort Suite
Our one-bedroom suite includes a full kitchen, living room with a flat-screen TV, 1/2 bath off the living area and a huge bedroom with a full ensuite bathroom.
The kitchen is equipped with a full-size refrigerator, plus a washer/dryer combo, microwave, range top, and oven.
I wish I had known we would have a washer/dryer. I would have cut my packing in half. My husband says I would have over-packed regardless but I don't think so.
Whenever I plan a vacation, I always call the resort before booking online. I want to know a few things about the resort. After I book, I send an email to let the staff know I'm looking forward to our vacation, etc.
When I asked about the washer/dryer, I was told there wasn't one so I'm thinking the rooms don't usually have one. I'm blessed. Now, if I can figure out how to use the thing . . .
Anyway, the view from our room is perfect.
More About the Rooms
You can also choose from a garden view, beachfront, one-bedroom, and two-bedroom units. I love that the units are only three stories. We (yay!) are on the 3rd story so our views are amazing. I didn't bring my pro camera but I did get lots of photos with my phone.
The photo below is one of the beachfront buildings and it was taken from the beach.
If you're on the bottom floor and don't have an oceanfront unit, your view will be a garden or pool. You won't be able to see the beach or ocean.
Speaking of the pool – it's huge! I usually spend my time on the beach, but I'm going to hang around the pool one day because it's so beautiful.
Since summer is the low season, the place is not crowded at all. The beaches do get crowded later in the day and on weekends. Oh, and when the cruise ships dock.
The king-size bed is the most comfortable bed I've ever slept in when I'm not home. My bed (mattress) at home is amazing and this one is too.
Oh, and the housekeeping is on point! Our suite is cleaned daily by the sweetest lady and it's always spotless. She will be getting a good tip at the end of our stay.
The Beach
Reduit Beach is beautiful. It's not the most beautiful beach I've ever visited (Grace Bay in Turks and Caicos is the prettiest but crowded). There's a large roped-off area for swimming and an area for water sports.
A huge sign warns to only swim in designated areas so you won't be hit by a boat. I don't know if people don't read or don't care, but there were always a few people swimming in the motorized water sports area.
All the beaches in St. Lucia are public. That means you will share the beach with lots of locals. They can't sit in the chairs or use the palapas or umbrellas (unless they pay $10 per day.)
The beaches get really crowded on weekends and I enjoy watching the local people enjoy their beautiful island.
The beaches also get crowded when cruise ships dock. Lots of the cruise ship peeps come to enjoy the beach. Again, they can enjoy the beach but must pay if they want a lounge chair/umbrella.
I love that there are almond trees and seagrapes right on the beach.
All-Inclusive Or Not
I like that you have a choice of an all-inclusive meal package or not. We've done the all-inclusive vacations before and we prefer winging it because we like to spend time outside the resort, eating at local restaurants.
You do have to wear colored bands the entire time. Ours was blue. I think it meant "we're not doing the all-inclusive so make sure you bring us the check at the end of the meal." I felt like a kid at an amusement park.
There are two restaurants on the property – Hi-Tide and SeaGrapes Beach Bar & Restaurant. There is also a poolside bar – Pebbles – and Sand Beach Bar. Both of the restaurants are good. During our stay, SeaGrapes is open on Tuesdays, Thursdays, and Sundays. Hi-Tide is open daily.
My husband likes SeaGrapes the best, but the food is good at both restaurants.
One of my husband's favorite meals is the honey glazed chicken (Hi-Tide) with veggies, rice, and peas. He likes everything at SeaGrapes.
One of my favorites is the coconut shrimp and Asian noodles.
Activities for Kids and Adults
When it comes to activities, you can do as much or as little as you want. On our previous trip to St. Lucia, we visited the Pitons, the drive-through volcano, Sulphur Springs, Marigot, botanical gardens, snorkeling trips, etc. We have basically toured the entire island.
At the resort, there are lots of water activities, including sailing, paddle boarding, wave runners, kayaks, etc. The non-motorized water sports are free. The motorized ones are not.
The kids will love the Splash Island Water Park. Guests of Bay Gardens have complimentary passes to Splash Island. I found myself wishing the grandkids were here.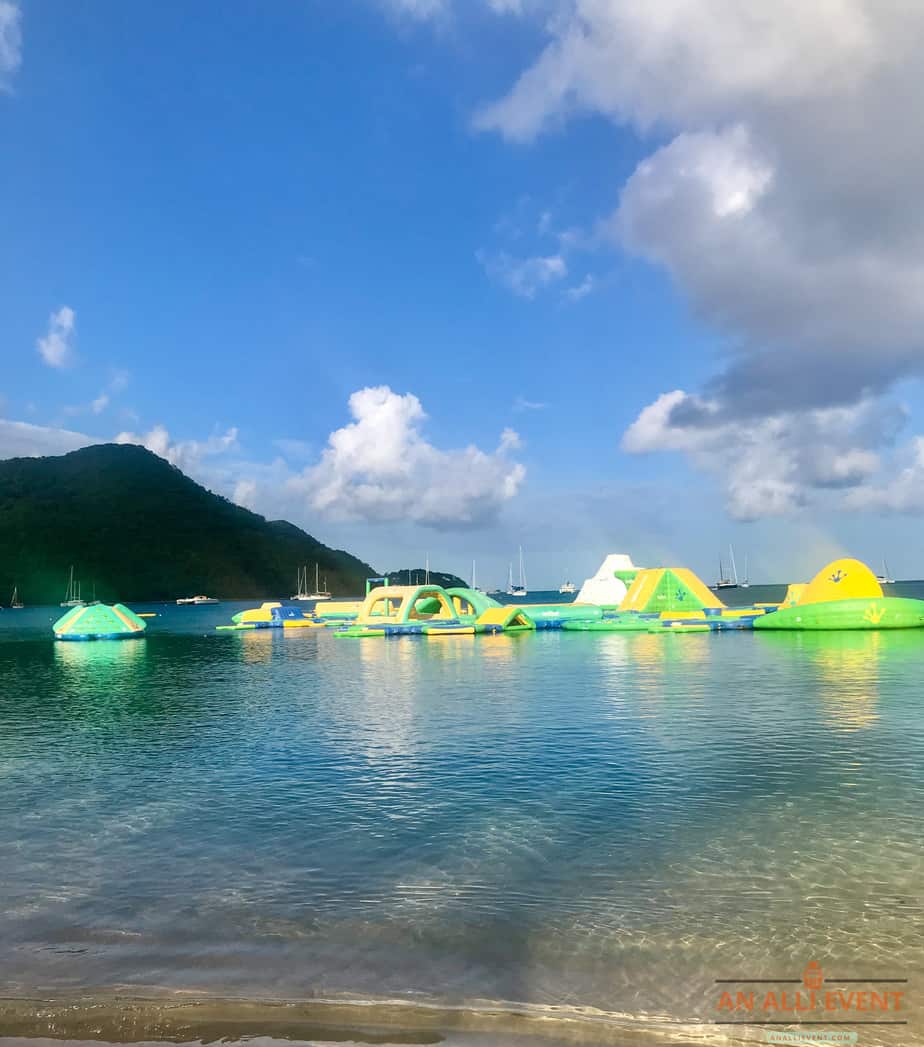 The Spa
Right now, the spa has a fantastic deal going on. I can't guarantee it will be happening when you visit. If you book a spa treatment on Tuesdays, you can choose between three treatments for only $40.00. I chose the 50-minute tranquility massage and a facial ($80 total). It was heavenly. I think I'm going back for round two next week.
Daily Beach Walk
I'm a morning person and I like to start my day with a nice walk on the beach. I walk around six o'clock every morning and feel completely safe. There are no vendors yet (thank God!) and security is everywhere.
Not only are there security guards from the resort. They also have beach patrol (police) patrolling the beaches.
Speaking of Beach Vendors
I've been to many Caribbean islands. It's not my first rodeo when it comes to beach vendors hawking their ware. However, it's far worse here than any other island I've visited.
Usually, all you have to say is no thank you and the vendors will keep walking. However, there are several vendors that will not take no for an answer.
I always try not to make eye contact but some of the vendors don't get it. Then when you say no very firmly, a couple of them say mean things to you. Thankfully, the resort has plenty of security that will run them off when they get too aggressive.
The really aggressive ones are the click-clack man (my name for him) and a guy weaving hats with plant fronds. Click-Clack man was trying to sell kids toys and a coconut carved like a shark (poorly done) and one of the toys make a click-clack noise. You could hear him coming a mile away and I'd tell my husband, "I hear click-clack coming."
The security guards had to encourage the man making hats to leave several times. He's way too aggressive. One night we were enjoying the BBQ on the beach buffet (under the resort tent) and the guy making hats would not leave us alone. Security had to come over and handle him.
Rodney Bay Village Vendors
I'd love to say it gets better when you go into town. It gets worse. Some (not all) of the vendors will not leave you alone. One vendor followed us all over Rodney Bay Village. When we finally ignored him, after repeatedly saying no, thanks, he screamed at us.
He proceeded to ride (right beside me) the escalator with us and when we went into an ice cream shop, he came in and sat down with us. We couldn't get rid of him. He was high/drunk and acting the fool. We heard others complaining about him as well.
One vendor's story (all lies): He's a security guard at our resort (nope). Yes, he sees those awful bands on our wrists that scream Bay Gardens. He has a cricket ball in his hand and they want to take the team (children) to eat at Bay Gardens. They need about $20 to have enough money. All lies! He reeks of alcohol. We reported him to the security at our resort.
I can't help but think (read Trip Advisor) that these rogue vendors will cause tourism to decline. I don't understand why something isn't done about it.
Airport Transfer
It's about a 90-minute scenic drive from the airport to Bay Gardens. I always book the airport transfer through PHVTours.
PHVTours has a car and driver waiting at the airport, holding a sign with our name. They always email me the driver's name and the license plate of the car. The cars are very clean and air-conditioned. (Some taxis have no air). The driver is knowledgeable about the island and has cold drinks waiting for you.
I usually book the airport transfer a couple of months in advance. Make sure you take a trip to the restroom at the airport before you leave. You have a 90-minute ride through the mountains ahead of you.
Last Words
If you decide to visit St. Lucia, you'll love Bay Gardens Beach Resort. The Georgian plantation-style resort is charming, the views are amazing, the landscaping is lush and beautiful, the people are friendly and the ocean is clear and refreshing.
The only negatives of the entire trip are some of the vendors. They're everywhere, they're everywhere. Most of them are honest people – just trying to make a living. A few of them will lie and tell tear-jerker stories to get your money. Beware!
Oh, yeah – the resort has a live band on Saturday nights (BBQ on the Beach Buffet Night – $45 per person) and Wednesday nights (manager's cocktail party – yes, you can get nonalcoholic drinks). The band plays and sings oldie songs and they are pretty good.
One more thing – there are no elevators. There are only three floors. We are on the 3rd floor so that means two flights of stairs every time we go to and from our room. Personally, I love the extra exercise. It makes me believe I can eat more.
If you don't want to climb stairs, ask for a room on the first floor.
You May Also Like
East Bay Resort South Caicos Review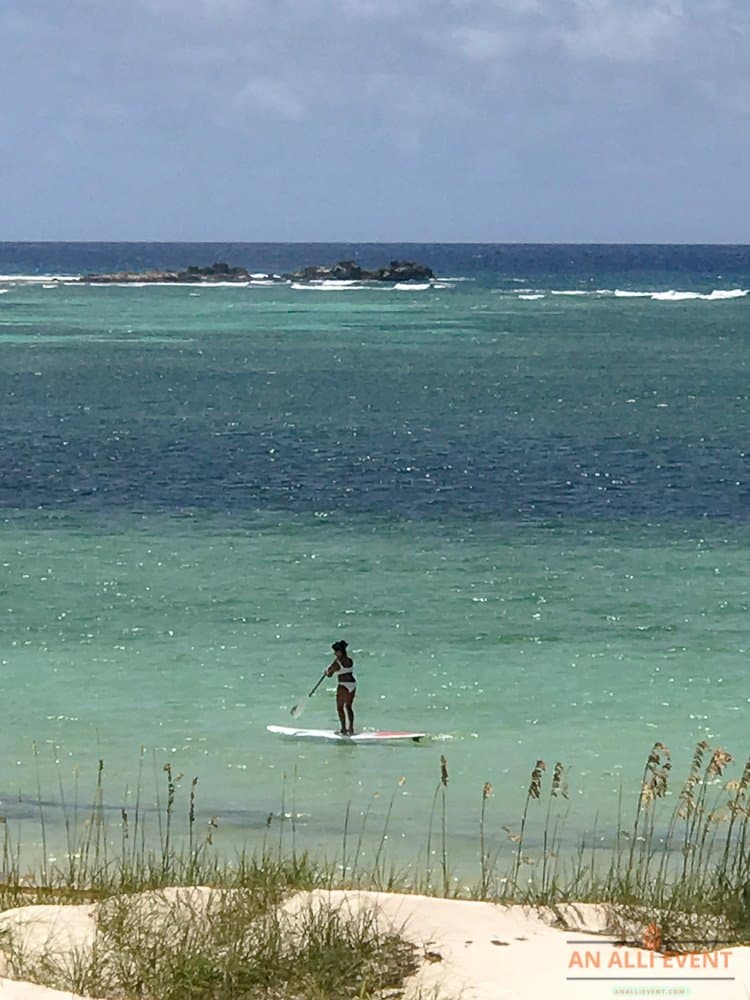 Alexandra Resort – Turks and Caicos