If you ever need to get away from it all and unwind, South Caicos is the place to go and East Bay Resort is the place to stay. East Bay Resort is one of three resorts located on the small island of South Caicos.
I stumbled upon East Bay Resort in South Caicos by accident. I was searching for our annual Caribbean Island retreat. My husband and I have visited 12 islands now. We've revisited St. Maarten three times.
Sadly, some of our favorite islands haven't recovered from Hurricane Irma. That's how I stumbled upon East Bay Resort and I'm so glad I did! It's a hidden gem in the Caribbean!
Below is a sunrise photo I took from my balcony.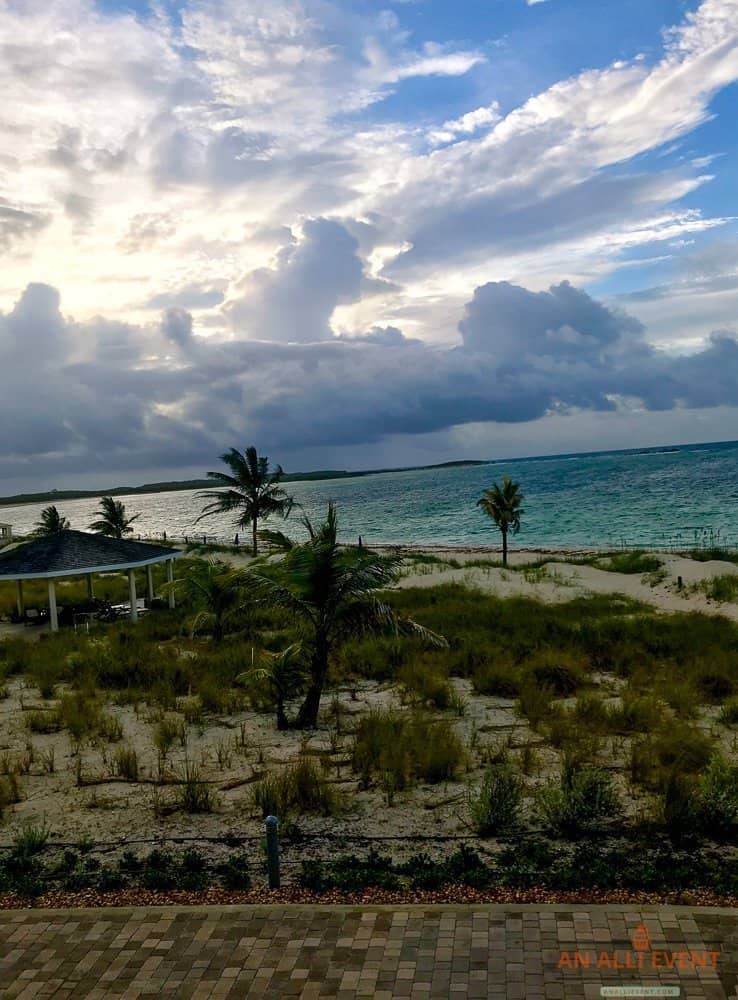 I'll talk more about the island of South Caicos in a different post. Today I want to focus on East Bay Resort.
East Bay Resort is located in South Caicos, in the Turks and Caicos Islands. The resort features 86 beachfront suites and 16 traditional rooms.
We are staying for two weeks in a one-bedroom suite that is huge! It has 1-1/2 baths and the views of the turquoise ocean and white sand beach are breathtakingly beautiful.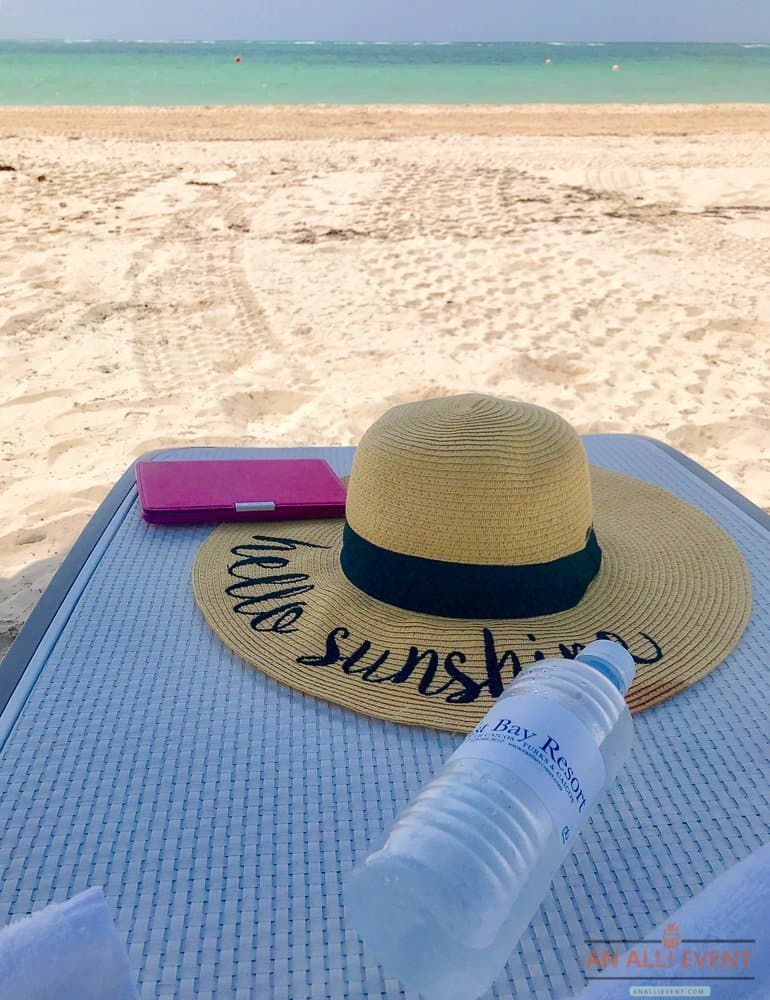 Our spacious and modern oceanfront suite is on the second floor and it's an end unit. The entire wall in the bedroom is glass. You can see our suite below on the second floor. You can see our balcony and the bedroom – with an entire wall of windows.
Our suite also has a washer/dryer! That's such a bonus when you're visiting for two weeks.
Things I Love About East Bay Resort
Secluded
Two years ago, when we visited the number one beach in the world (Grace Bay, Providenciales, Turks & Caicos), it was beautiful but crowded.
Every morning I'd have to rush down to the beach to grab chairs and an umbrella. Not here. It doesn't matter what time of the day you head to the beach, you'll find empty chairs and umbrellas galore.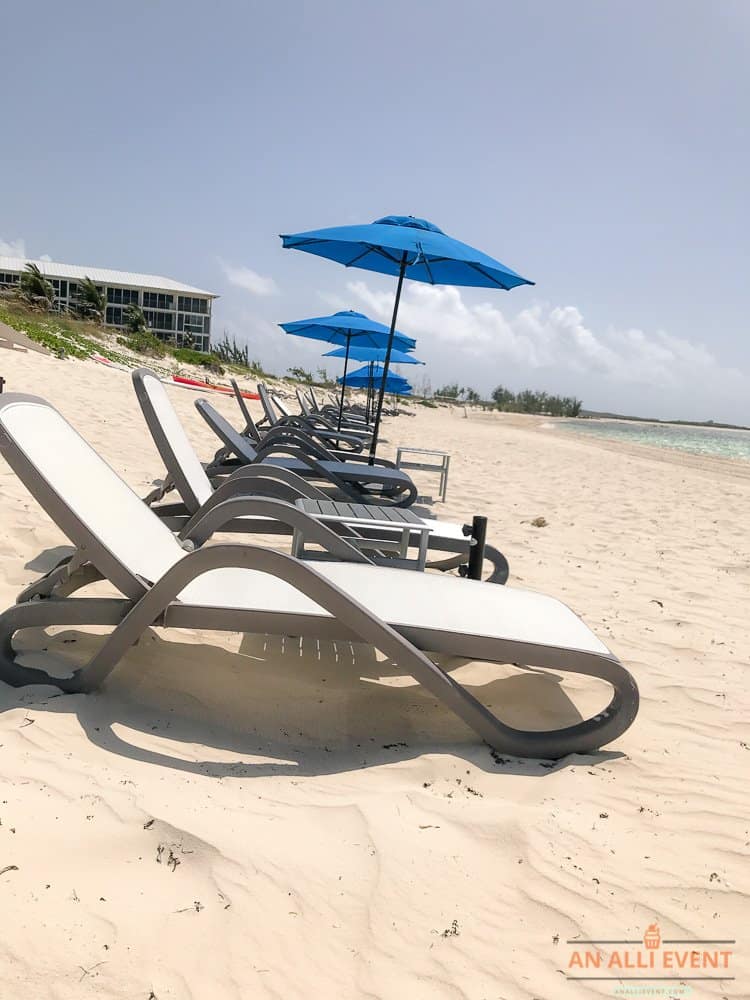 Some mornings, on my daily walk along the beach, I'm the only person out there. I feel like I have an entire island to myself.
The Staff
The staff at the resort are the friendliest people on the face of the earth! From Bert, the manager of the resort, to the housekeepers, they go out of their way to make sure you are enjoying your stay.
On the nights we dine at BLU Bar & Grill, Bert always stops by our table to chat for a few minutes. He even drove my husband to the grocery store a few times when the regular driver was busy.
The local grocery store doesn't sell creamer so Bert makes sure we always had an ample supply. In all my years of travel, I've never met a manager of a resort as nice as Bert. He gets my vote for the nicest resort manager ever!
Housekeeping always leaves bottled water each morning and each night and the restaurant has my favorite Pelligrino sparkling water.
Complimentary Non-motorized Sports
The use of paddleboards, kayaks, and other non-motorized watersports are complimentary. Also, you can grab a complimentary bike and tool around the island (we did and loved it). Tennis and basketball courts are available as well.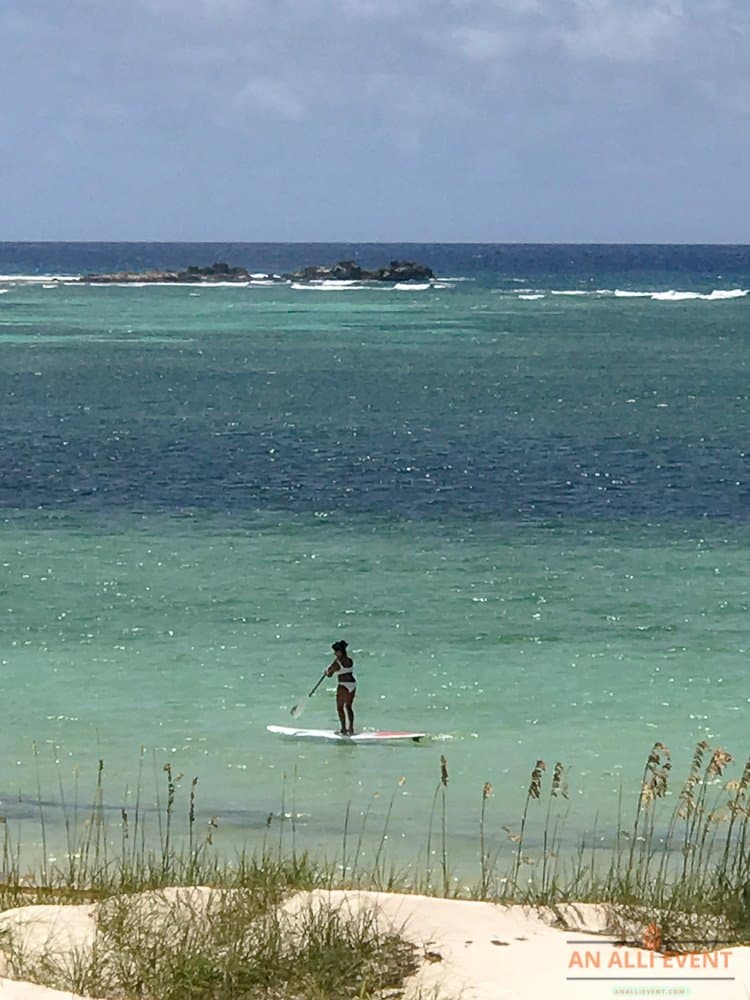 We played tennis and shot some hoops.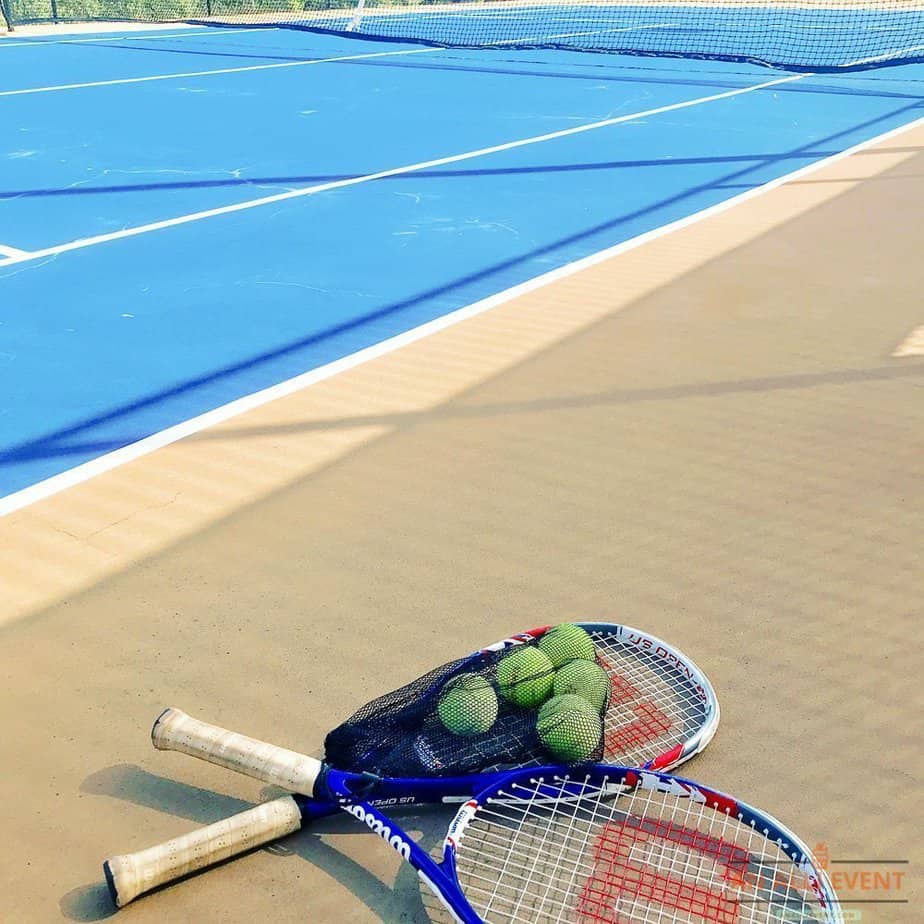 The basketball needed a little air and the tennis balls were half-flat, but hey, who cares? We had fun.
The resort also provides a free shuttle to local grocery stores and restaurants. You need to make reservations with the concierge each day before 5 for restaurant reservations. The shuttle takes you to the restaurant and the restaurant shuttles you back to the resort, all free of charge.
The island is very small and you don't need to rent a car at all. If you want to arrange excursions such as snorkeling, scuba diving, etc, the concierge will organize everything. Of course, there is a fee.
Beach Towels
Beach towels are conveniently located in a hut near the beach. You just pick up fresh ones and drop off your used towels. If you are lounging beside the infinity pool, fresh towels are available there as well.
Security
East Bay Resort has a 24-hour security service and a state-of-the-art security monitoring system in place. I always feel safe and secure here.
AYUR Spa
AYUR Spa offers a huge array of massages, body scrubs, facials, ayurvedic treatments, and body wraps. They also offer waxing, manicures, and pedicures.
Since we are here for two weeks, I'm going to the spa towards the end of my stay. The prices are reasonable and I've decided to get a 30-minute signature massage and a 30-minute AYUR Neem Facial. I think. I will probably change my mind a dozen times.
The facial treatments are exclusively from Decleor and Ingrid Millet from Paris. I have no idea what that means but I like the sound of it.
Spa Update: Spa day was amazing! I felt pampered and wish I had booked at least two spa days.
Pros and Cons of East Bay Resort
I'm having a hard time finding anything I don't like about East Bay Resort.
There are only a couple of things – If you don't want seclusion, this place is probably not for you.
If you've never been to an island, the restaurant prices and the cost of food may be a shock but we're used to it by now and we realize that most of the food has to be imported so naturally, it will cost more.
My husband wishes the menu at BLU offered more selections and he misses lobster because it's not in season. Does that mean we get to return during the lobster season? I sure hope so! (It begins in August)
One More Thing
To get to East Bay Resort, you'll need to fly into Providenciales or Grand Turk and take a ferry or small plane (puddle jumper) to South Caicos. The plane (interCaribbean) is the fastest way and makes two trips a day. Luggage limitations do apply.
We flew into Providenciales from Charlotte, NC via American Airlines. It's a straight flight (less than 3 hours). A representative from East Bay Resort met us at the airport and escorted us to the interCaribbean ticket agent.
We only had a 30-minute wait in an air-conditioned cafe before our 15-minute flight to South Caicos. That's because I'm a planner and I had it all mapped out.
Remember, this is the place to go to get away from it all! If you like the party scene, this place is not for you.
For now, I've got to go. I have a date with my husband and reservations for dinner at BLU.
If you love the Caribbean as much as I do, read the posts below!