When it comes to cleaning products, I've tried them all. I finally found the best ever stainless steel cleaner. I do wish I had found it earlier. This is not a sponsored post. However, I am including the link to the product.
It just so happens that you can purchase this product at Amazon. I always order via Amazon Prime. As an Amazon Associate, I earn from qualifying purchases.
So many cleaners make claims that they don't live up to. I've always been so hopeful when trying a new stainless steel cleaner and was always dismayed when the new product didn't work any better than the last five products.
For a while, I completely stopped looking for a cleaner that actually removed the fingerprints from my refrigerator and the streaks from the dishwasher.
I had just about given up hope. At least my back-in-the-day almond-colored appliances were easy to clean.
Finally, I can now say that my SS appliances and sink are easy to clean!
I rarely do review-type posts like this where I go absolutely crazy about a product. However, I really, really love this product so much that I'm devoting an entire article about it.
New Refrigerator, New Fingerprints
When I replaced my stainless steel refrigerator a few months ago, I ordered one that didn't show fingerprints. They delivered the wrong one and we didn't realize it until it was in place.
Home Depot gave me a $300 discount and the new fridge was very similar to what I had originally ordered, so I kept it.
Except there is one big problem. it doesn't have the "no fingerprint" guarantee. And it was worse than my old fridge when it came to showing every streak, fingerprint, etc.
Researching For The Best Ever Stainless Steel Cleaner
I tried all my old products and they were all meh. When I clean my stainless steel refrigerator, stove, dishwasher, and microwave, I want the appliances to look clean. Is that too much to ask?
I've tried Bar Keepers Friend – nope. A big no to using window cleaner. I've tried so many products, including the wipes, that just didn't cut it.
So I started researching. And I found the perfect cleaner. I'll never use another product to clean my stainless steel appliances.
Drumroll, please . . .
Best Ever Stainless Steel Cleaner – Howard Natural Stainless Steel Cleaner!
Click the link below to order this amazing product! I was completely blown away the first time I used this stuff. It's a keeper.
New Update: They no longer have the formula I fell in love with. They now have a new and improved formula. I've tried it too and I love it just as much as the old formula.
This stainless steel cleaner is amazing and it works beautifully.
According to Howard Products, "Howard Stainless Steel Cleaner & Polish has been reformulated with high-quality ingredients that produce a beautiful shine without streaks to bring your kitchen to the next level. It can be used on many stainless steel surfaces including refrigerators, range hoods, grills, stoves, ovens, microwaves, dishwashers, sinks, trash cans, countertops, backsplashes, and other stainless steel appliances."
This product is ideal for polishing stainless steel refrigerators, dishwashers, microwaves, stoves, countertops, grills, toasters, trash cans, faucets, and sinks.
This product cleans and shines all types of stainless steel surfaces without using harsh chemicals.

The vegetable-derived cleaning power also safely polishes your stainless steel kitchen appliances.

The streak-free formula removes all dust, streaks, smudges, and fingerprints.

I love the Lemongrass-Lime fragrance (You can also get a fragrance-free version).

Natural vegetable-derived ingredients easily clean food grime, and oily fingerprints. It even cleans kitchen grease.

The streak-free formula produces a beautiful shine on appliances and all stainless steel surfaces.

I love that this product is non-toxic and safe for food-handling environments.

And it's also Kid & Pet Safe!
At first, I thought it was too good to be true. I was not expecting such awesome results. Man, was I surprised.
I was so excited that I gushed over the product to my husband over dinner. He is definitely not as thrilled to talk about this as I am.
But then again, he does the dishes and I wipe down the appliances. He has no idea how long I searched for the perfect appliance cleaner.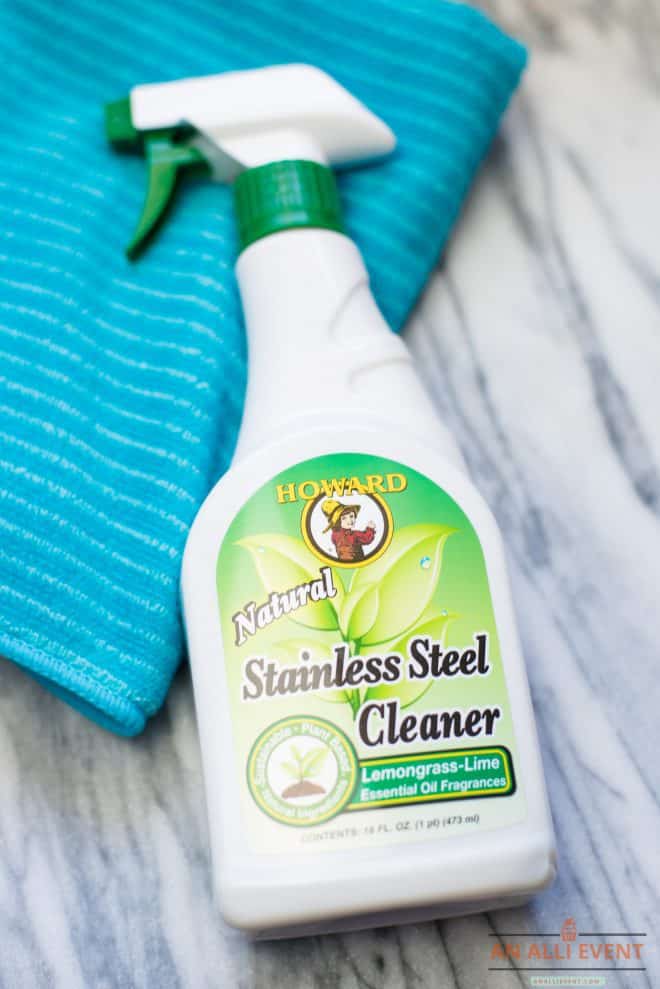 How To Use This Best Ever Stainless Steel Cleaner
Lightly shake the bottle
Spray cleaner onto a(dry) soft cloth or directly onto the surface and wipe clean. I usually spray it on the cloth.
Polish out with the grain to produce a beautiful shine.
Howard also makes other products. I haven't checked them out yet, but I'm going to try them too. (They make a cutting board oil, wood polish and conditioner, Restor-A-Finish, and Wood Soap.) If the other products are anything like their stainless steel cleaner, I can hardly wait to try them.
If you decide to try Howard Natural Stainless Steel Cleaner (and you should!), leave a comment below with your opinion. Trust me on this. I've tried them all and this one is by far the best.
You May Also Like
Post Update!!
Post Update: My husband and I recently built a new home and we've been in it for three weeks now. If you'd like to follow along, I share it all over on My Modern White Farmhouse. I'd love for you to come on over.