Chilled Cantaloupe Soup is colorful, refreshing and delicious. This soup is perfect for a luncheon, baby shower or bridal shower.
This chilled soup also makes a pretty first course for a spring or summer meal. I've even had it for breakfast. Don't judge; it's that good!
I didn't grow up eating chilling soups. I only ate hearty bowls of soup in the wintertime when it was cold outside. Then I enjoyed chilled soup on a cruise. When I returned home, I recreated Chilled Strawberry Soup for a ladies luncheon and I was hooked.
Since then, I've been crazy about chilled soups. Chilled Cantaloupe Soup is so easy to make and is probably my favorite of all chilled soups. There's no cooking involved. You just need a blender or food processor to make this soup. Oh, and pretty bowls for serving.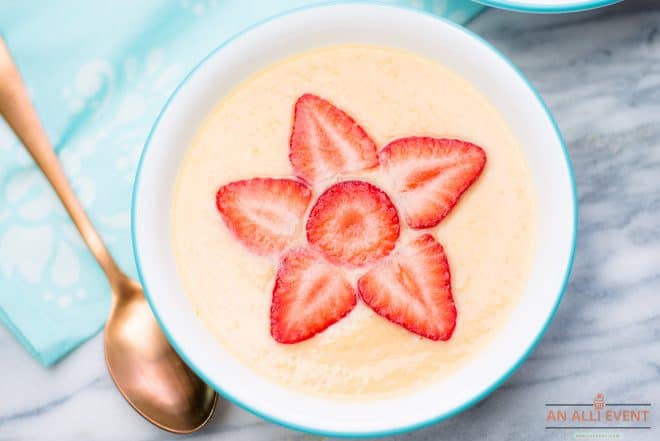 Chilled Cantaloupe Soup Ingredients
For this recipe, you'll need the following ingredients:
Cantaloupes, cut into cubes
Orange Juice Concentrate
Fresh Lime Juice
Fresh Mint
Honey
Nonfat Vanilla Yogurt
Salt (optional)
Fresh Strawberries To Make a Flower Garnish (optional)
How to Choose A Fresh Cantaloupe
The best way to choose a cantaloupe is by using your nose. That's right! Take a whiff of the blossom end – the end opposite of the stem.
Cantaloupes, also called muskmelons, should have a sweet, musky scent. Also, look for a cantaloupe that is heavy for its size.
Take a look at the rind. A fresh melon has a rind that resembles a raised netting surface. Avoid melons with dents, black spots or punctures.
How To Cut a Cantaloupe
If you grew up growing and eating cantaloupes like me, this may be a no-brainer. But if this is your first time cutting a cantaloupe, let me help you out a bit.
Wash the rind of the cantaloupe with water only.
Cut the melon in half with a sharp knife. Use a cutting board or flat surface.
Use a spoon to scrape out the seeds from the center of each half. Discard the seeds or roast them like pumpkin seeds, if desired.
Cut each half into wedges.
Cut into cubes. Then cut along the bottom to remove the cubes from the rind.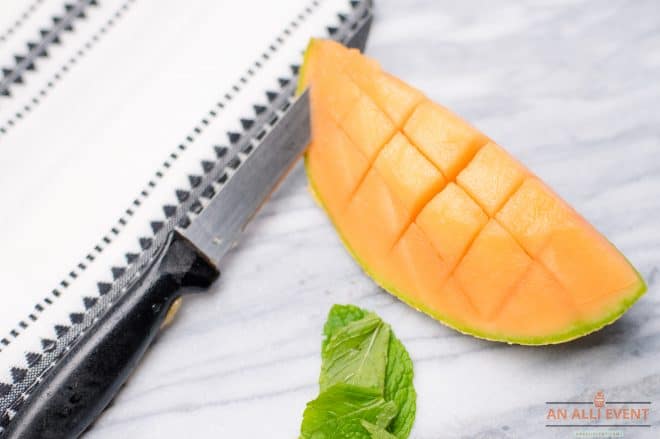 How To Make Chilled Cantaloupe Soup
In a blender, add cantaloupe cubes, orange juice, lime juice, fresh mint, honey, and yogurt. Blend until smooth.
Transfer to a bowl and stir in a dash of salt, if desired. The salt brings out the flavor of the cantaloupe. Chill until time to serve.
This soup can be made a day in advance and chilled overnight. Remember, it makes 8 small servings. When I'm making this soup for my husband and me, I cut all the ingredients in half and it comes out perfectly every single time.
Flower Garnishes for Chilled Cantaloupe Soup
Flower-shaped garnishes are completely optional. If I'm eating leftover soup from the day before, I forego the garnish. However, if I'm serving soup to family or friends, the garnish really adds color to the soup.
After spooning soup into shallow bowls, add a strawberry flower to the middle of each bowl. You will need five strawberry slices, tips pointing out, to look like a flower. For the middle of the flowers, cut horizontal round slices.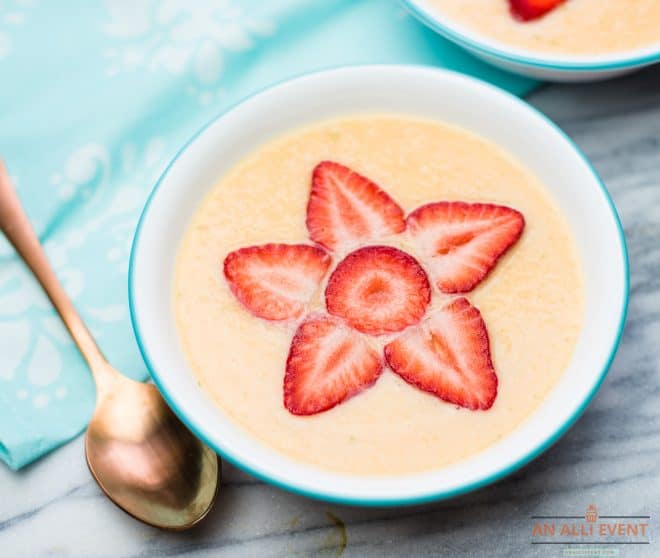 You May Also Like These Recipes
Yield: 8 Servings
Chilled Cantaloupe Soup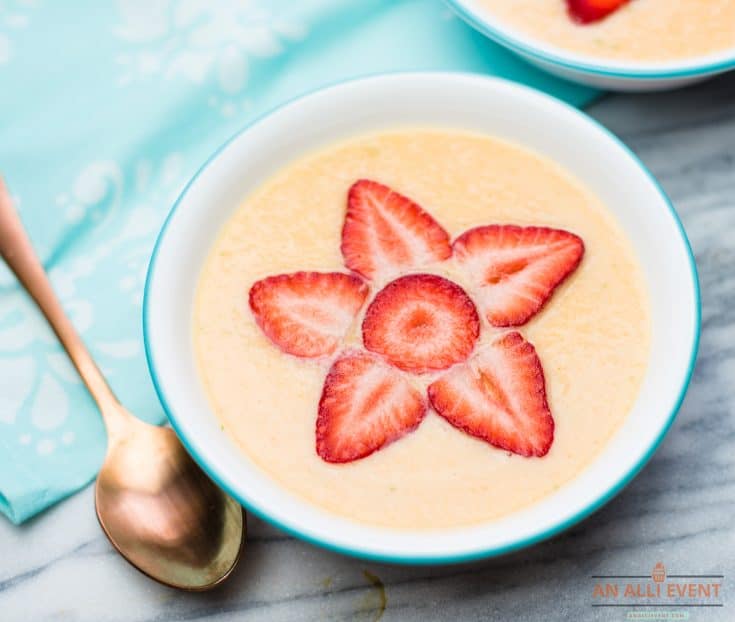 Chilled Cantaloupe Soup is pretty and refreshing. This chilled soup is perfect for a spring or summer luncheon.
Ingredients
2 cantaloupes, cut into cubes
1/4 cup orange juice concentrate
Juice of one lime
2 Tablespoons fresh mint
1 Tablespoon honey
2 cups nonfat vanilla yogurt
Dash of salt
Fresh Strawberries (optional flower garnish)
Instructions
In a blender or food processor, combine the cantaloupe cubes, orange juice concentrate, lime juice, mint, honey, and yogurt. Blend until smooth.
Transfer to a bowl and stir in a dash of salt if desired. Chill until ready to serve (or at least 30 minutes.)
To make the strawberry flower garnishes: Before serving soup, add a rounded strawberry slice to the center of each bowl of soup. Surround each slice with 5 slices of strawberries, tips pointing out to look like a flower.
Notes
Chilled Cantaloupe Soup can be made a day ahead and chilled overnight in the fridge.
Nutrition Information
Yield
8
Serving Size
1
Amount Per Serving
Calories

117
Total Fat

0g
Saturated Fat

0g
Trans Fat

0g
Unsaturated Fat

0g
Cholesterol

2mg
Sodium

70mg
Carbohydrates

27g
Fiber

2g
Sugar

19g
Protein

3g