Here comes the bridal bouquet, but it may look a little different than your grandmother's spray. Have you ever thought about succulent bouquets?
As an Amazon Associate, I earn from qualifying purchases.
While wedding bouquets are still a nuptial mainstay, the flowers may not be automatically mandatory. These days, modern brides are decorating their trendy ceremonies with a different floret: the succulent.
Succulent bouquets are a natural choice for brides who want to show off their personality with a unique take on tradition. Thinking of trading out stems at your wedding ceremony?
Let's dig in to see how these beautiful flower-alternatives are offering brides refreshing benefits for their bridal bouquets.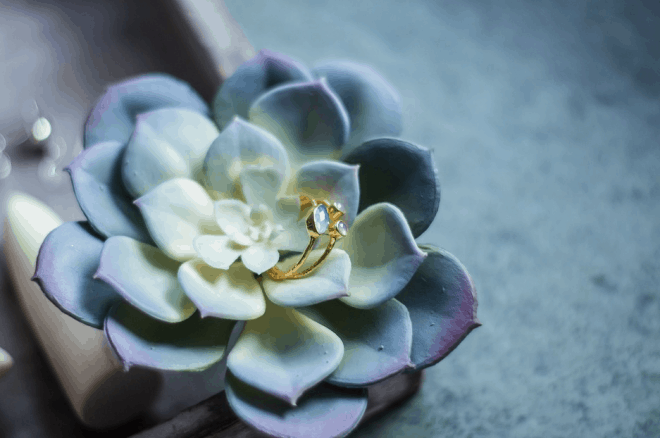 5 Reasons to Think About Succulent Bouquets
Variety
Green succulents, like the ever-popular Echeveria, may have put these hearty plants on the map, but cacti and succulents actually come in every color under the sun. They also offer interesting textures and sizes that set them apart from traditional wedding flowers.
Go soft and supple with a pastel purple or bring on the bright with highly pigmented petals. Just be sure to ask your florist to help you pick plants that don't have spikes. No matter how beautiful your bridal bouquet looks, it's not worth accidentally impaling yourself.
Availability
You may love the look of hydrangeas or peonies, but these and other blooms are generally only available during certain times of the year. If your ceremony takes place outside their growing season, importing them in could seriously stretch your wedding budget.
Succulents, on the other hand, grow all year round. They're also cultivated all over the United States, so sourcing local varieties shouldn't be an issue.
Without any seasonal concerns to hold you back, you're free to pick the bouquet blooms you want and not give a second thought to the weather or seasonal constraints.
Durability of Succulents
Summer weddings are the norm in much of the country, but that can spell disaster for your wedding flowers. A little heat and insufficient water reserves are likely to send your bridal bouquet into retreat.
If you're planning an outdoor wedding, it's important to take precautions so the heat doesn't wilt it. Succulents are made to withstand temperature extremes, making them ideal for that June wedding you've always wanted.
If you don't want to go all-in with succulents, add your favorite flowers. Succulents and fresh flowers are gorgeous in a bouquet.
Succulents are Eco-friendly
Though we often prefer not to think of it this way, flowers are plants cut down at the height of their lives. Once separated from their roots, they begin to die.
Succulents are generally plucked with their root systems intact and can regrow easily, making them ideal for replanting after the wedding reception. Whether you hand them out to guests as party favors or build a succulent garden in your home, they're a great way to let your wedding day live on.
Workability
Budgeting for your wedding is a full-time job. No wonder the DIY wedding culture is in full swing! Succulents make it easy to create beautiful wedding flower arrangements and save some money on pricey florists.
Succulents Add a Unique Touch
If you've always wanted to create your own bridal bouquet, they're one of the best mediums to work with. But you don't have to stop there. Succulents also look fantastic as multi-use wedding decorations.
It's a cinch to create impressive do-it-yourself boutonnieres, cake toppers, centerpieces, or even add them to your updo!
Whether you're after sustainability or savings, succulents offer brides all the verdant variety of wedding flowers but with a trendy twist on the traditional bridal bouquet.
*This is a guest post by Lucille Fernandez on behalf of Dallas Palms
You May Also Like: