This post, How to Create an Easy Pastel Spring Tablescape, contains affiliate links. As an Amazon Associate, I earn from qualifying purchases.
Hello, Spring! I've been waiting and watching for you. Spring is knocking at my southern door and that means Easter is right around the corner, so I've created an Easy Pastel Spring Tablescape that is practically free because I've been decluttering and I refuse to buy anything new at this time.
I'm crazy about dishes. If I didn't control myself, I'd have different colors and patterns of dishes stacked all over my house. I can almost see myself on an episode of hoarders but with stacks and stacks of dishes.
Since I'm also trying to become more of a minimalist, I have to restrain myself. Plus, I have sets of china/dishes that I've inherited from my grandma, my mom, and my aunt. And every time I use any of these dishes, it takes me back to my childhood and all those feel-good memories that come with.
Easy Pastel Spring Tablescape
When it comes to setting my spring table, I tend to lean towards pastels. By now, I'm tired of dark, winter days and I want light and airy. A few nights ago, right in the middle of halftime of my favorite college basketball team, I decided to come up with a pastel tablescape using dishes I had on hand.
The bottom plates are part of a collection my aunt gave me several years ago. The middle plates are from Stein Mart (sadly, they closed their doors forever during the pandemic). The pink bowls are handed down by my mom.
I purchased the egg cups from Amazon and I've had them for several years. I couldn't find the exact ones that I have, but I like these pastel egg cups even better. And these bunny egg cups are so pretty! I may need to add to my collection.
The Table Runner
I almost made my own table runner, but then I found one on Amazon and it was too pretty and too inexpensive ($14.99) to pass up. Plus, it goes well with my easy pastel spring tablescape.
Of course, the one I purchased is no longer available. I love this spring table runner. This runner is gorgeous too.
I have a huge dining room table (seats 14) because I have a large family. I didn't want to set the entire table. So, I'm showcasing my easy pastel spring tablescape on a smaller table for four. It's just easier and I'm all about easy. But you can replicate this easy tablescape on any table, regardless of the size or shape.
Monogrammed Eggs
I used this temporary tattoo paper to create monograms for the lightly colored eggs. These also serve as place cards and I love how they turned out. I created my design over on Canva and printed them out. Remember to flip your initial before printing or it will be backward.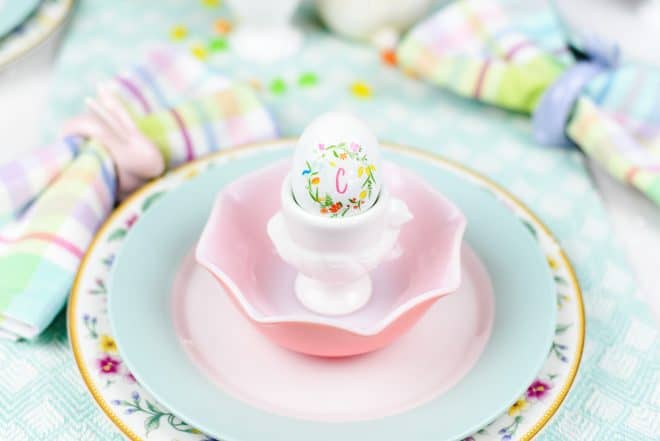 Napkin Rings
These cute little napkin rings are also from Amazon and they are adorable! They come in four pastel colors. The spring plaid napkins are so pretty. I use these napkins all throughout spring and they go with so many different tablescapes.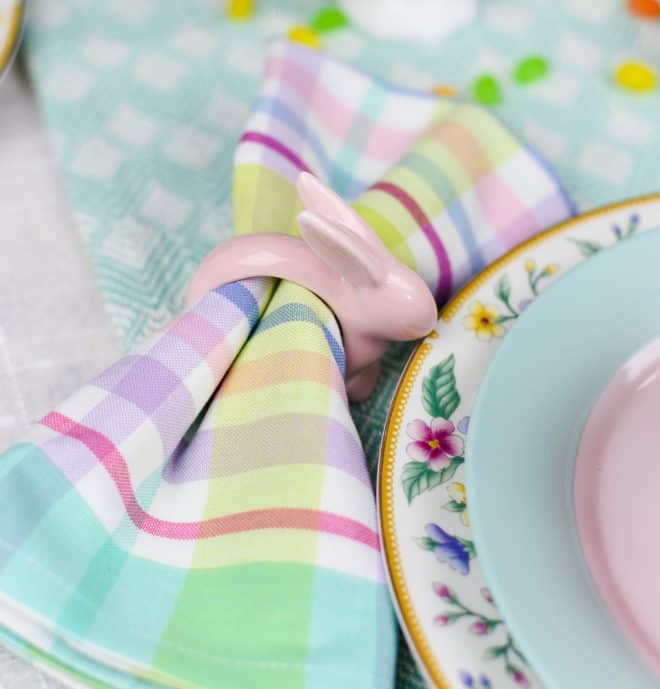 The Centerpiece
I don't care for elaborate centerpieces unless I'm planning on entertaining the queen and that scenario will probably never, ever happen. So, simple it is.
All you have to do is grab a small branch from a tree in the woods and spray paint it white. I gave out of spray paint right in the middle and decided to leave it as is. I like it!
After the branch dries, glue on pastel-colored jelly beans. I do this with my handy, dandy, cordless glue gun I received for Christmas. This glue gun is the mac daddy of all glue guns!
Yes, it was on my list. Thanks to my son for gifting it to me and thanks to Not Just Paper and Paint for introducing me to this glue gun. It's the bomb!
Easter Treat Bags
I never send my dinner guests home empty-handed. These bags are too cute, right? Check out this tutorial on how to personalize Easter tote bags. You use freezer paper to make your own one-time use stencil.
Thanks for stopping by and checking out my pastel spring tablescape. Will you be hosting Easter at your house?
Check Out Even More Spring Tablescape Inspiration Below!
Intelligent Domestications | Shirley
North Country Nest | Brett & Kelly
2 Bees in a Pod | Jenn & Vicki
Life on the Bay Bush Blog | Amanda

Check Out These Spring/Easter Ideas Below!
Peter Cottontail Easter Tablescape
Best Spring Desserts, Parties, and More
Originally posted March 2018 – links updated and reposted March 2021