Sometimes you just want a corn dog. I rarely eat corn dogs, but sometimes, nothing else will do. The sticks come in handy when you're walking around the state fair, trying all the tasty foods. However, when I want a corn dog at home, I make corn dog bites. That way, I don't accidentally bite into that stick or stab myself in the mouth with it.
Corn dogs have always reminded me of the state fair. The fair reminds me of my hometown and high school. We never missed the fair when it appeared magically every fall in a neighboring town.
The fair also reminds me of the time my best high school friend was cheating with my boyfriend behind my back. But that's another story for another day. Or maybe I should just keep that one to myself. So, moving right along . . .
Appetizers are awesome, aren't they? And these corn dog bites can be served at your next party, as an afternoon snack or make a complete meal out of them. I won't tell.
Don't forget to make the honey mustard dipping sauce to go with the corn dog bites. Because you know you got to dip um. I make the sauce first and let it hang out in the fridge to thicken while I cook the corn dog bites.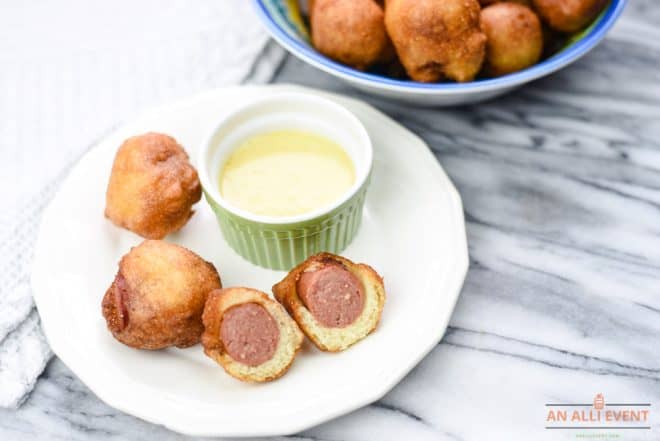 Corn Dog Bites
When it comes to corn dog bites, it's all about the batter. I start by combining cornmeal, flour, sugar, baking powder, salt, and melted butter in a bowl. In a separate bowl, I add an egg, buttermilk, and baking soda until well combined. Then mix the two together, being careful not to overmix.
Note: The batter should be a little thicker than pancake batter. If it's too thick, add a little more buttermilk.
Cut hotdogs into bite-sized pieces. I always blot the hotdog pieces with paper towels to remove the excess moisture. Blotting helps the batter stick.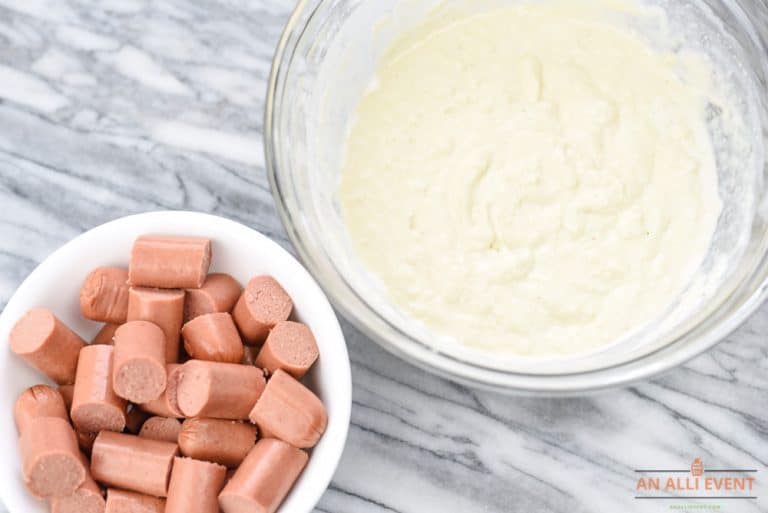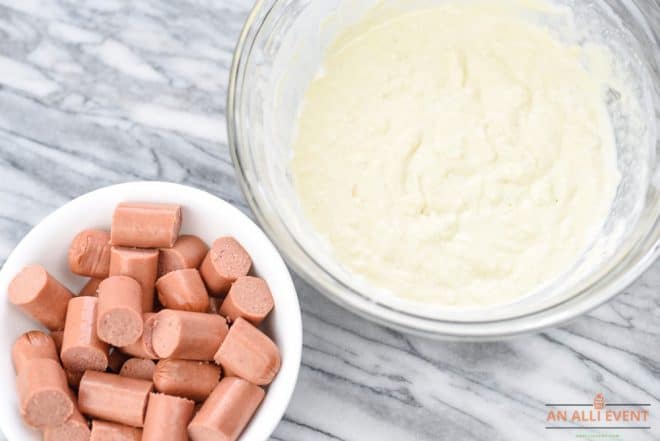 You can use your favorite hotdogs, but I prefer Hebrew National or Nathan's. Those two are my faves.
Dip the hotdog bites into the batter, covering completely. You can use a toothpick to do this if you don't want messy hands. Or you can use a fork.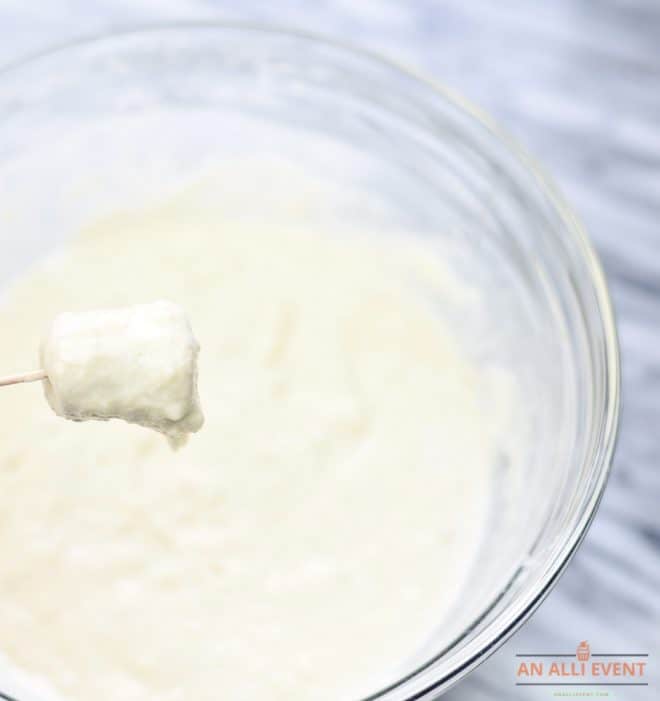 Drop into hot oil (350º) and cook until golden, turning once. It's best to use a deep fryer thermometer when frying food to keep the temperature as close to 350º as possible. If the oil gets too hot the outside of the batter will brown too quickly while the inside is undercooked.
Drain on a rack over paper towels.
Serve with honey mustard dipping sauce.
Yield: 20 Servings
Corn Dog Bites with Honey Mustard Dipping Sauce
Homemade Corn Dog Bites have just the right amount of crunch. Don't forget to make the dipping sauce.
Ingredients
1 cup all-purpose flour
2/3 cup cornmeal
1 tablespoon sugar
1-1/2 teaspoons baking powder
1 teaspoon salt
1 Tablespoon melted butter
1 egg, lightly beaten
1 cup buttermilk
1/2 teaspoon baking soda
1 pound hotdogs, cut into bite sized pieces
2-3 cups peanut OR vegetable oil (for frying)
Honey Mustard Dipping Sauce
1/2 cup mayonnaise (I use DUKE''S)
2 Tablespoons honey
2 Tablespoons yellow mustard
1 Tablespoon spicy mustard
1/2 Tablespoon fresh lemon juice
Instructions
In a large bowl, combine flour, cornmeal, sugar, baking powder and salt. Stir in melted butter.
In another bowl, combine egg, buttermilk and baking soda. Mix well.
Stir the egg mixture into the flour mixture, mixing until combined.
Cut hotdogs into bite-size pieces. Dry with a paper towel. Dip into batter, covering completely.
Fry in hot oil (350º) until golden, turning once. Drain on paper towels.
Serve warm with honey mustard dipping sauce
To make the dipping sauce
Combine mayonnaise, honey, yellow mustard, spicy mustard, and lemon juice. Store in the refrigerator until ready to serve.
Nutrition Information
Yield
20
Serving Size
2 corn dog bites
Amount Per Serving
Calories

435
Total Fat

34g
Saturated Fat

7g
Trans Fat

0g
Unsaturated Fat

23g
Cholesterol

27mg
Sodium

640mg
Carbohydrates

21g
Fiber

4g
Sugar

6g
Protein

15g
The next time you're craving corn dogs, try these corn dog bites. Don't forget to make the dipping sauce.
Since I'm on a fried food kick today . . .
You May Also Like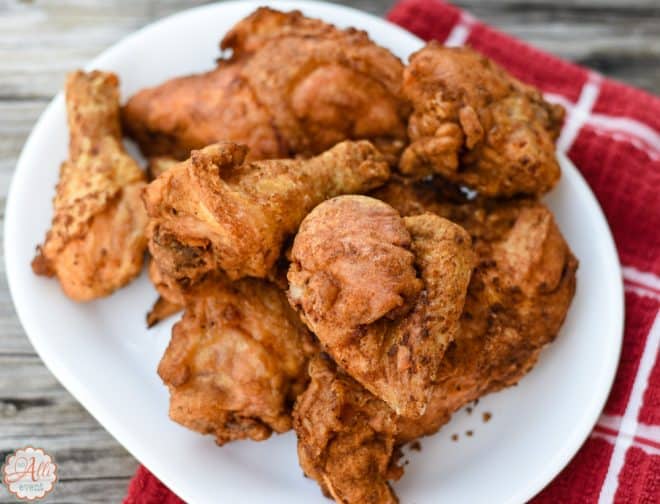 If you click on a link below and make a purchase, I may make a small commission with no additional cost to you.